Recently, thanks to Sports DRC located in Alma at Lac St-Jean, I have tested the 2022 Renegade X-RS which offers extraordinary performances with its 180 HP Rotax 900 ACE R TURBO 4 stroke engine. This one has such a nice sound, it's crazy. The agility of the proven REV Gen4 platform is impeccable. In 2023, the chassis remains the same for this engine, but it will be the new GEN 5 chassis that will make its debut for the 850 E-TEC engine. Don't worry, this new chassis is not that different from the other one. I imagine that next year BRP will integrate the new GEN 5 chassis for the 4-stroke engines as well.
Model under test
The model under test is the one of the sales manager, Dave Paradis. Dave is a snowmobile enthusiast and usually prefers 2-stroke engines. I spoke with him and he told me about his machine. What I understand is that this one won him over, even though it has a 4 stroke engine.
He equipped it with a windshield (optional) and an ICE ripper 1.5″ track (optional). He doesn't suggest this track to those who enjoy top speed. A glove box extension and heated phone holder kit have been added. The latter is a nice accessory that I have used for two winters, I recommend it.
Also, Dave changed his original rails for other rails and replaced the original ones on the outside of the skis. There is a specific place already determined on the Pilot X skis to do this and it really makes a difference. I loved taking turns with these. He told me that every time the season starts, he takes his machine out and makes small, simple adjustments to the suspension to make it as comfortable as possible. He adjusts the center shock and the transfer blocks in the back. He makes sure that the track is well adjusted and that all the bearings are doing their job.
In short, I did not find any flaw on his machine. Everything is in order, no noise in the tunnel or in other places. It fit me well and like Dave, I was very pleased with it.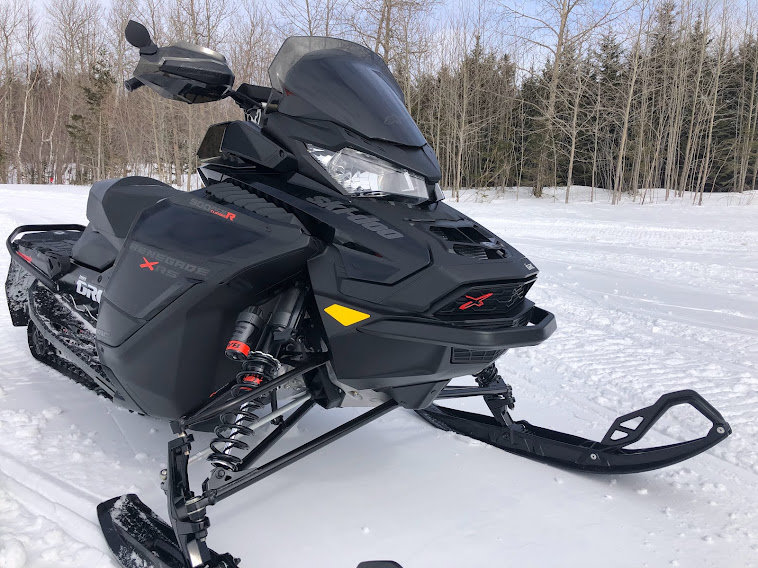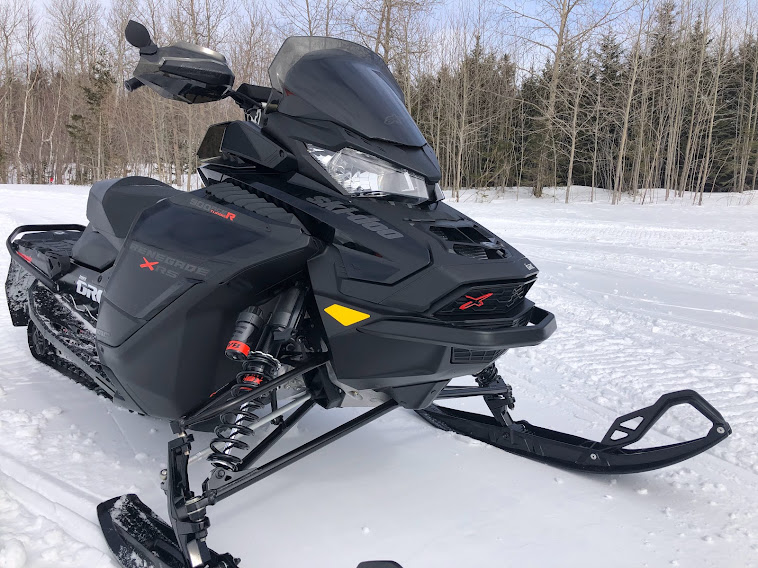 What's new compared to the 2021 X-RS?
Available Smart-Shox semi-active suspension (SAS), which reads and sends 50 inputs per second to the computer to adjust in real time how much force the shocks should have depending on what's going on below us. It can be configured in three modes with a conveniently located button. This system acts on the front and rear shocks of the snowmobile but not on the central one. It's really efficient, whether it's to avoid the ski-lift in curves or to have the necessary comfort when the trail gets rough. I would even say that it helps to take the curves.
The 900 ACE R turbocharged 4-stroke 3-cylinder 180 HP engine is the same as in the legendary 2022 Mach Z, still with the 3 driving modes that we found. This engine is very powerful and would take the hair off even the baldest man.
Launch control available (2023) on the 900 ACE R turbo: This one allows users to have a very fast start. This is a very interesting feature. However, I don't think this is used very often.
Cable throttle box for the 900 R turbo: New? Yes and no, because they actually changed this intelligent throttle system (ITC) to avoid throttle response lag. Basically and to make it simple, they moved the control box that communicates the position of the clutch to the computer. That's what the cable is for. Before this same box was on the handlebars. Having experienced this on my 2019 model, I find this little change really effective. The response is instantaneous and is identical to the two-stroke engines.
Electromechanical reverse gear

Standard equipment
KYB PRO high performance shock absorber kit;
7.2″ LCD screen
RAS X front suspension (helps reduce ski lift);
Rear suspension rMotion X;
Electric starter;
Transparent hand guards;
Pilot X skis (they perform really well);
Backlit multi-function handlebar controls;
Adjustable elevation block;
Two sets of LinQ mounting points included
Features
Super unleaded fuel – 91 octane
Fuel tank capacity: 36 L
Drive clutch type: pDrive
Driven clutch type: QRS Vent
Dry weight: 531 lbs
Skis spacing: 42.1″ to 43.9
RipSaw track: 137 x 15 x 1.25
Front Shock: KYB® Pro 36 Easy-Adjust ;
Rear suspension: rMotion X
Center Shock: KYB® Pro 40 Easy-Adjust
Rear shock absorber: KYB® Pro 40 Easy-Adjust
Bodywork: Wide Design (4-stroke engines)
Seats: Trail with storage (4-stroke engines)
Handlebars: U-shaped aluminum with J-hooks / Clear hand guards
Elevator block height: Adjustable – 120 mm / 4.7 in.
Braking system: Brembo racing brake with stainless steel braided brake line.

Optional
Ice Ripper XT track – 137 x 15 x 1.25 in. and 137 x 15 x 1.5 in. (this is the track I had on the model I was testing)
BRP Connect
Windshield
Front shock: KYB PRO Smart-Shox
Rear suspension: with QAS (QUICK AJUST SUSPENSION) on the footboard
Rear shock absorber : KYB PRO Smart-Shox
Skis: Pilot TX
7.8 inch wide color LCD screen
Conclusion
This snowmobile had already charmed me last year when I tested the 850 E-TEC model, but as a fan of 4-stroke engines, I was eager to test this one. I have to say that for me, it's the perfect combination and I wouldn't hesitate to buy it. A few years ago, I would have hesitated since these machines were known to have stiffer shocks and the comfort for long rides was probably less. The Smart Shox system (optional) and its three modes that can be changed, adds to our experience and it is a pleasure to ride it in all trail conditions. It is very appropriate to ride for many kilometers.
For more details, check out the great gang from Sport DRC that I thank once again, visit Ski-Doo website and our articles on Motoneiges.ca.
Have a great end of season!