This season, I have the chance to try a product a little (a lot) out of my snowmobile comfort zone. Today, I'm presenting you my test of the Ski-Doo 1+1 Linq Seat System. In a mission to make my personal 2022 Backcountry the ultimate hybrid snowmobile, this passenger seat was the last box to check in order to comfortably ride two people.
1+1 seat, how it works?
The 1+1 Seat System is a set of three distinct components: an all-new seat, a set of attachments to be installed on the snowmobile and the backrest for the passenger. Thanks to the Linq technology, the passenger backrest can be quickly removed and reinstalled to go from a fun solo snowmobile to a very enjoyable two-up touring. And when I say "quickly", it really is a matter of seconds!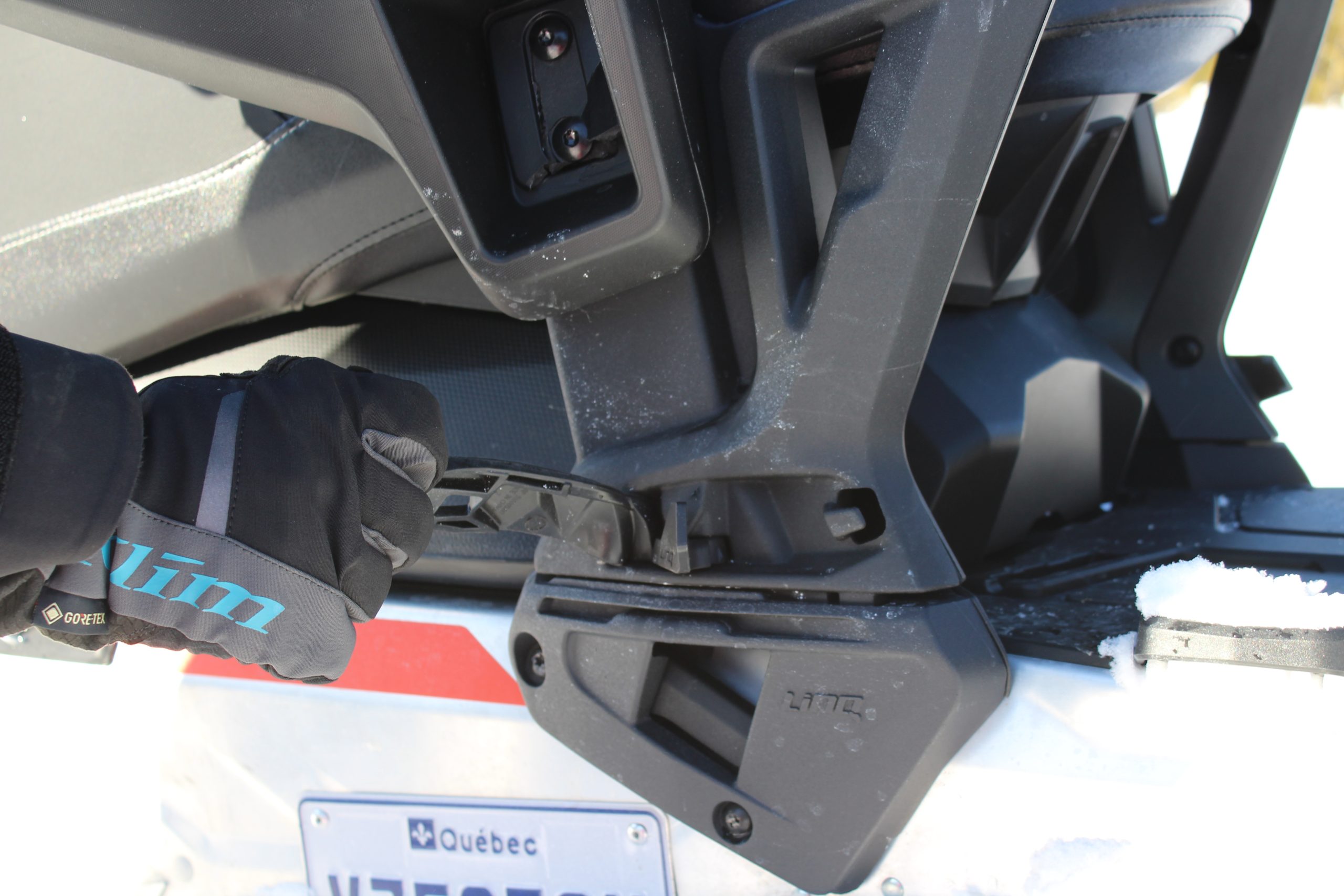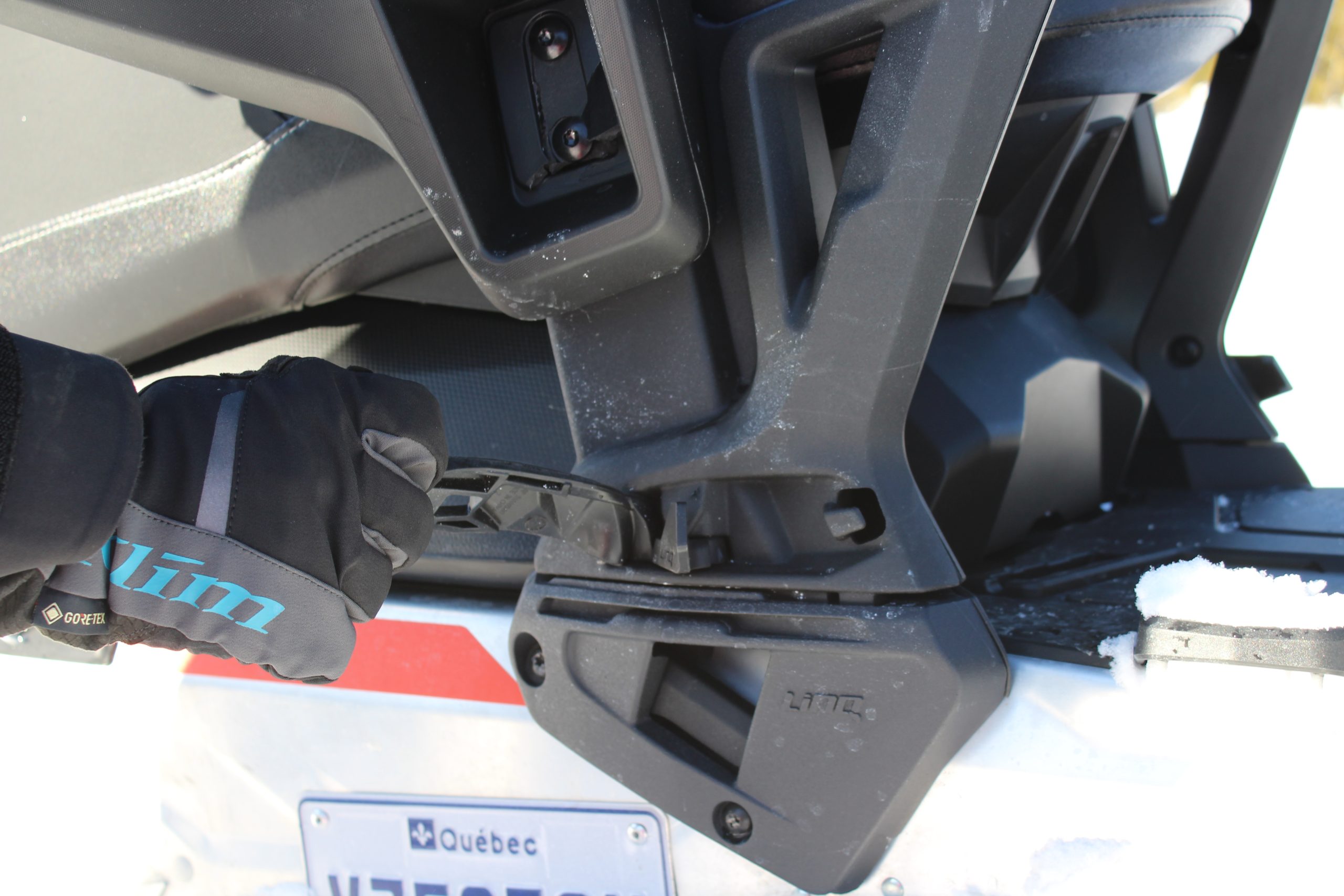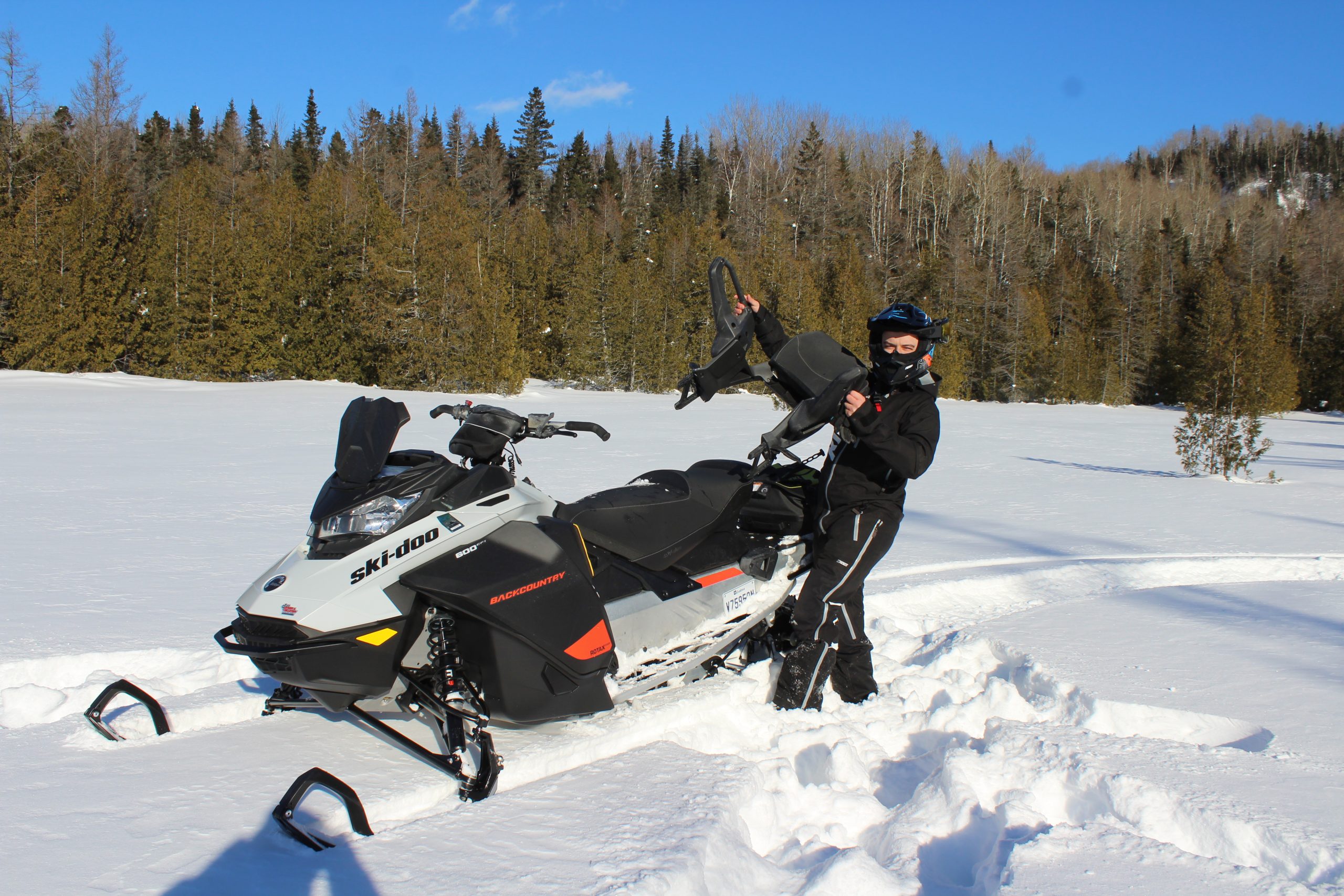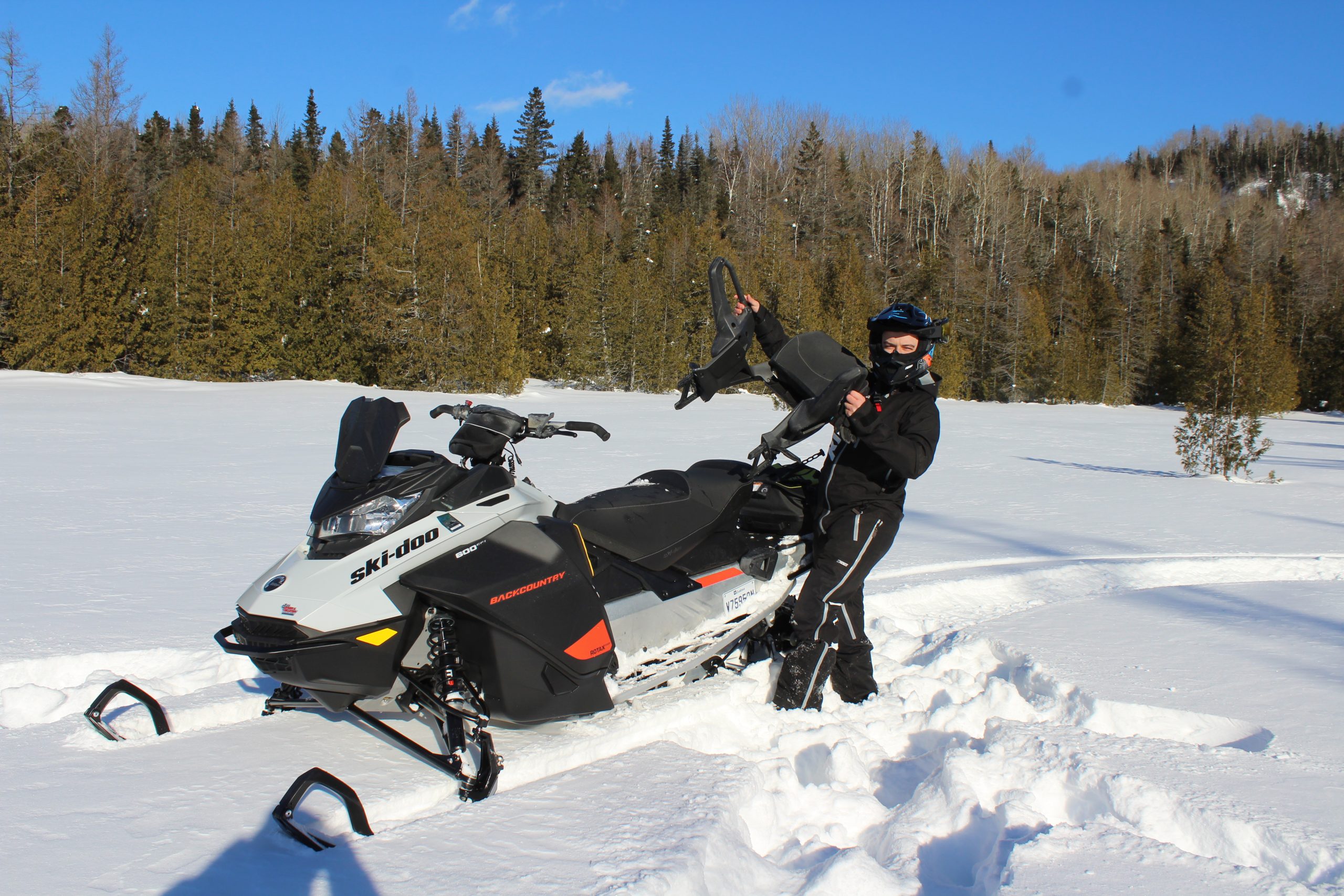 The first thing you notice when two people get into the seat set is how much space you have. The bench is much longer than the standard one on my Backcountry, and I really notice it when I'm on board with my spouse. I've even caught myself a few times checking with a quick glance that she's still on board!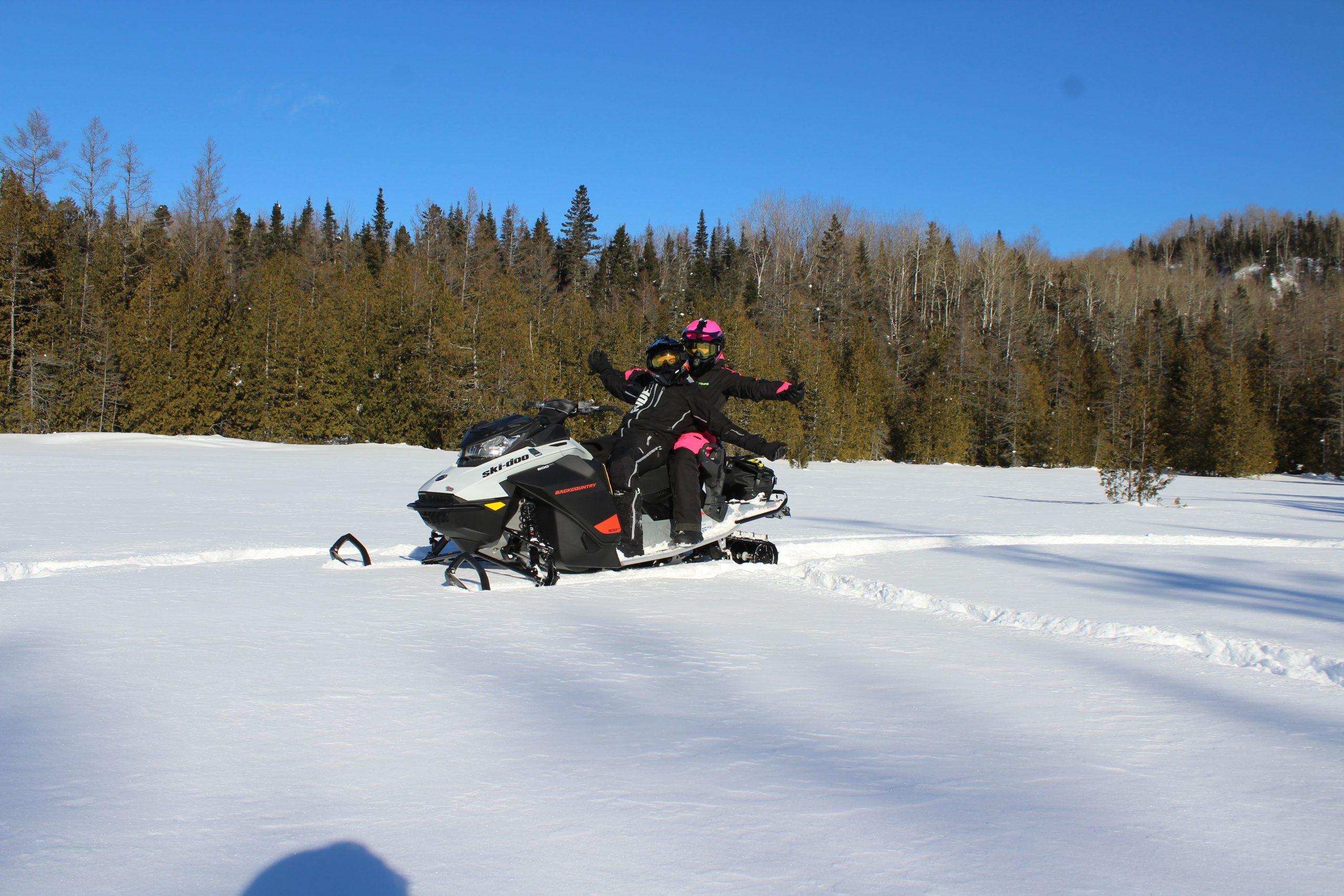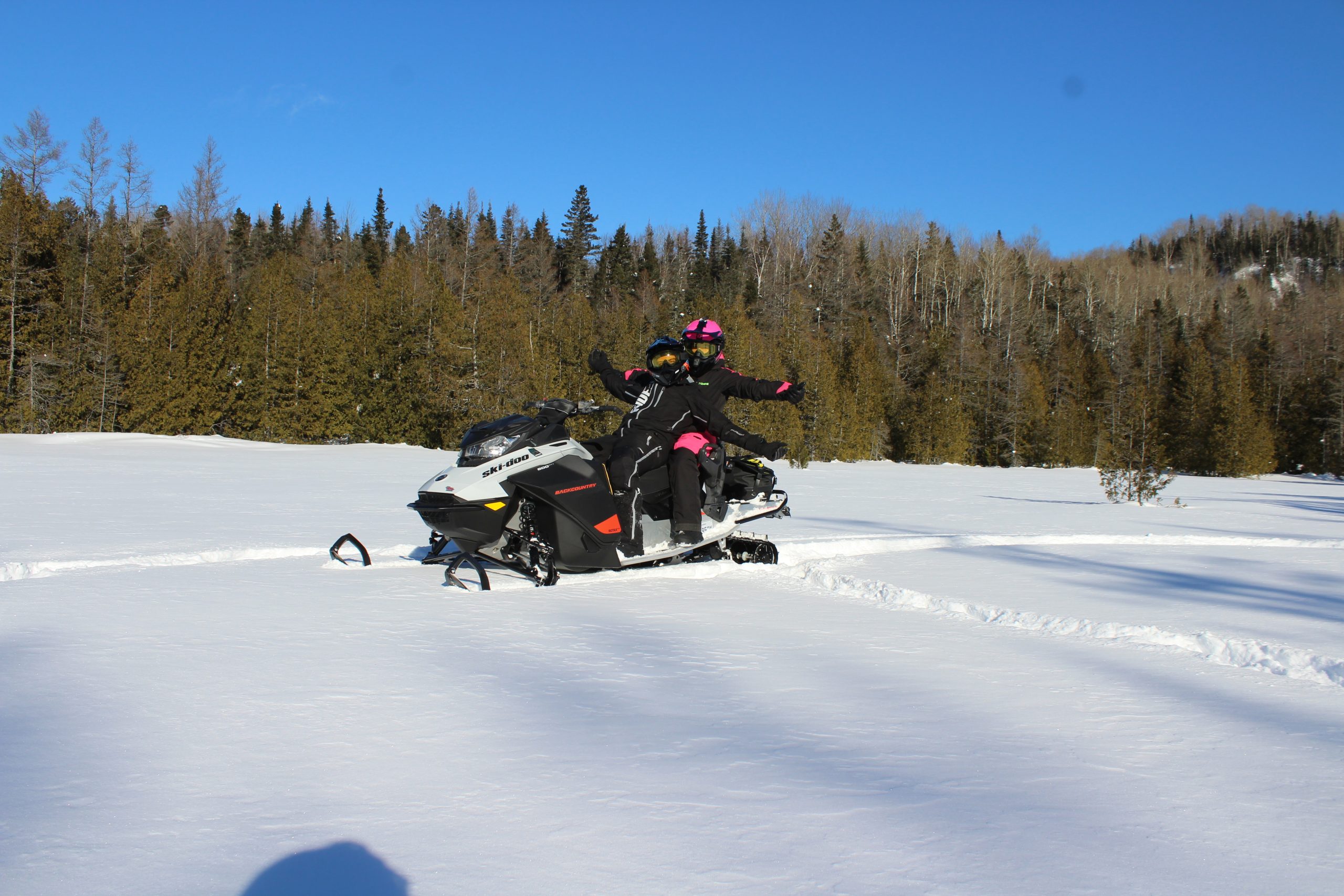 Confort and space
For both driver and passenger, we also noted that the seat was very comfortable, even on longer rides. We agree, we are not talking about a "Grand Touring" level of comfort, but definitely comfortable. Same thing for the passenger's visibility: not excellent, but good enough to not feel claustrophobic or sick. No negative comments from my girlfriend, even after long stretches in denser woods. Note that my wife is 5′ 2″ and can rest her feet comfortably on the snowmobile's running boards.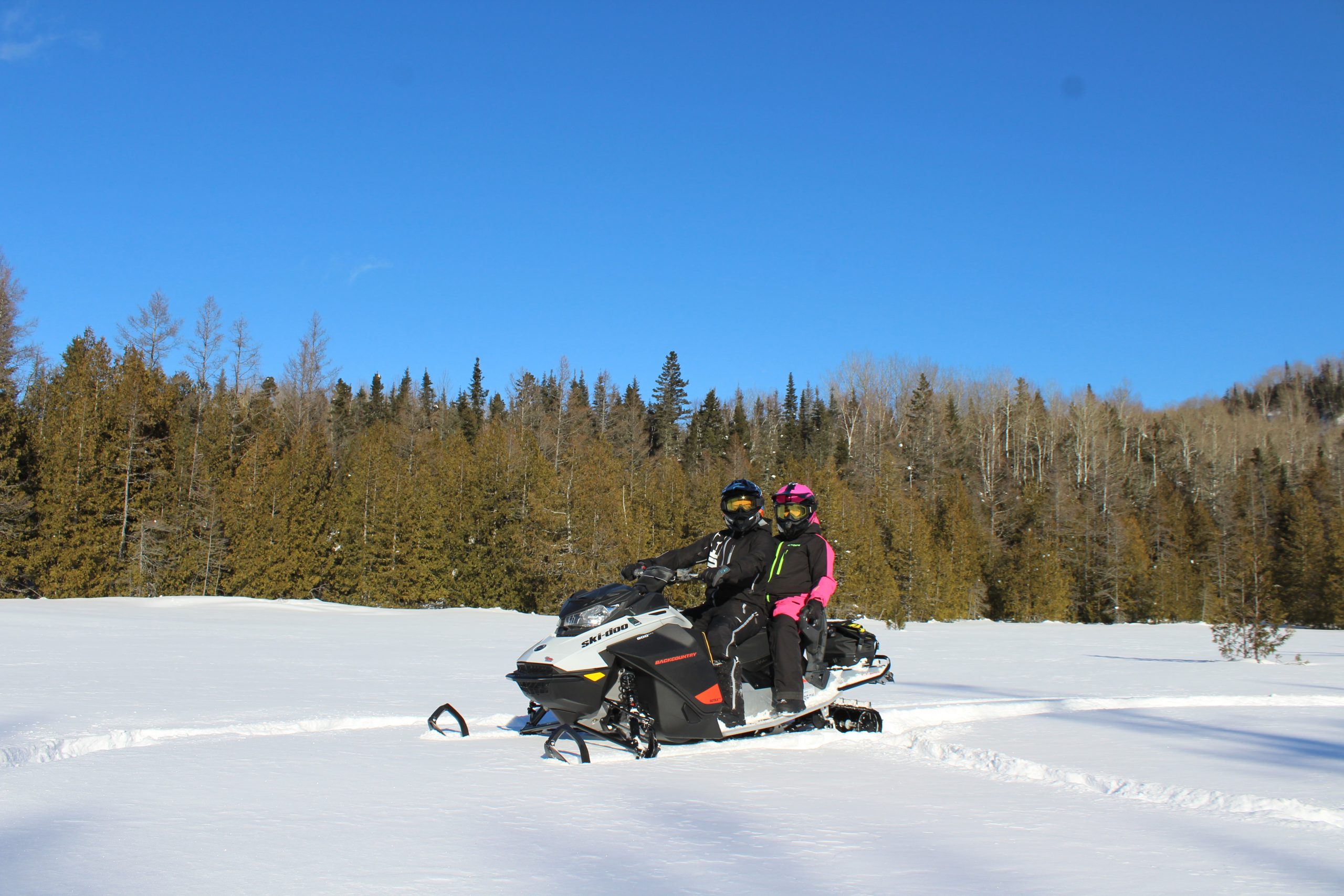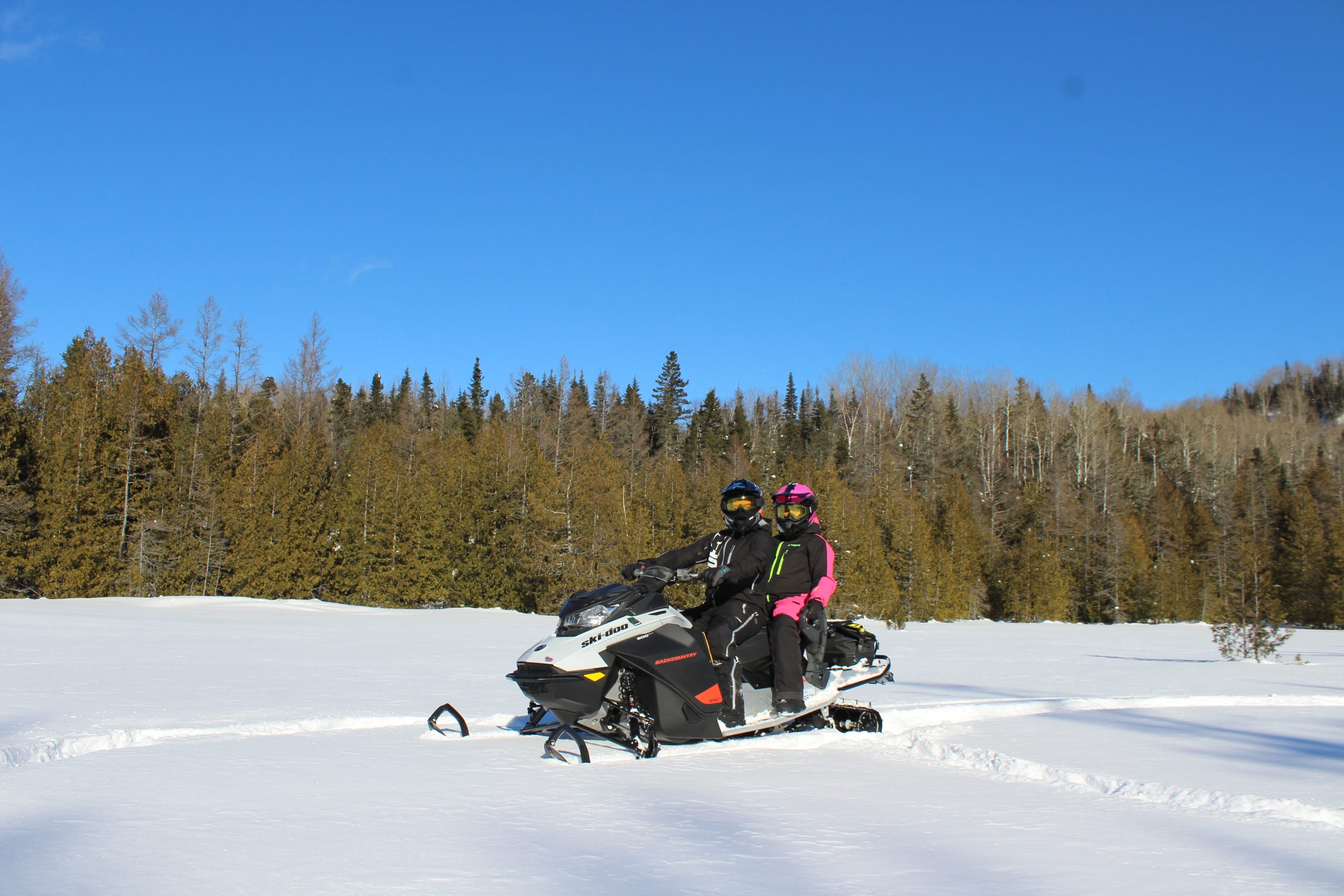 We had the opportunity to test the seat during a "long" ride of about 250km (for us, it was long!). Nothing to say about both the driver and the passenger! As it was rather cold that day, we bought the mittens specially designed for the Ski-Doo 1+1 seat. This turned out to be a much less expensive purchase than the heated passenger handle kit and did the job nicely!
With the relays closed for a good part of the season, we used the bench in an unusual way and took full advantage of the fact that it inherited the Linq platform. In fact, many times we used the bench to… go to off-trail snow holes together! Since my partner loves photography, I can take her with me, remove the backrest, and then do my maneuvers in total freedom while she takes pictures! No need to say, it's really the best of both worlds!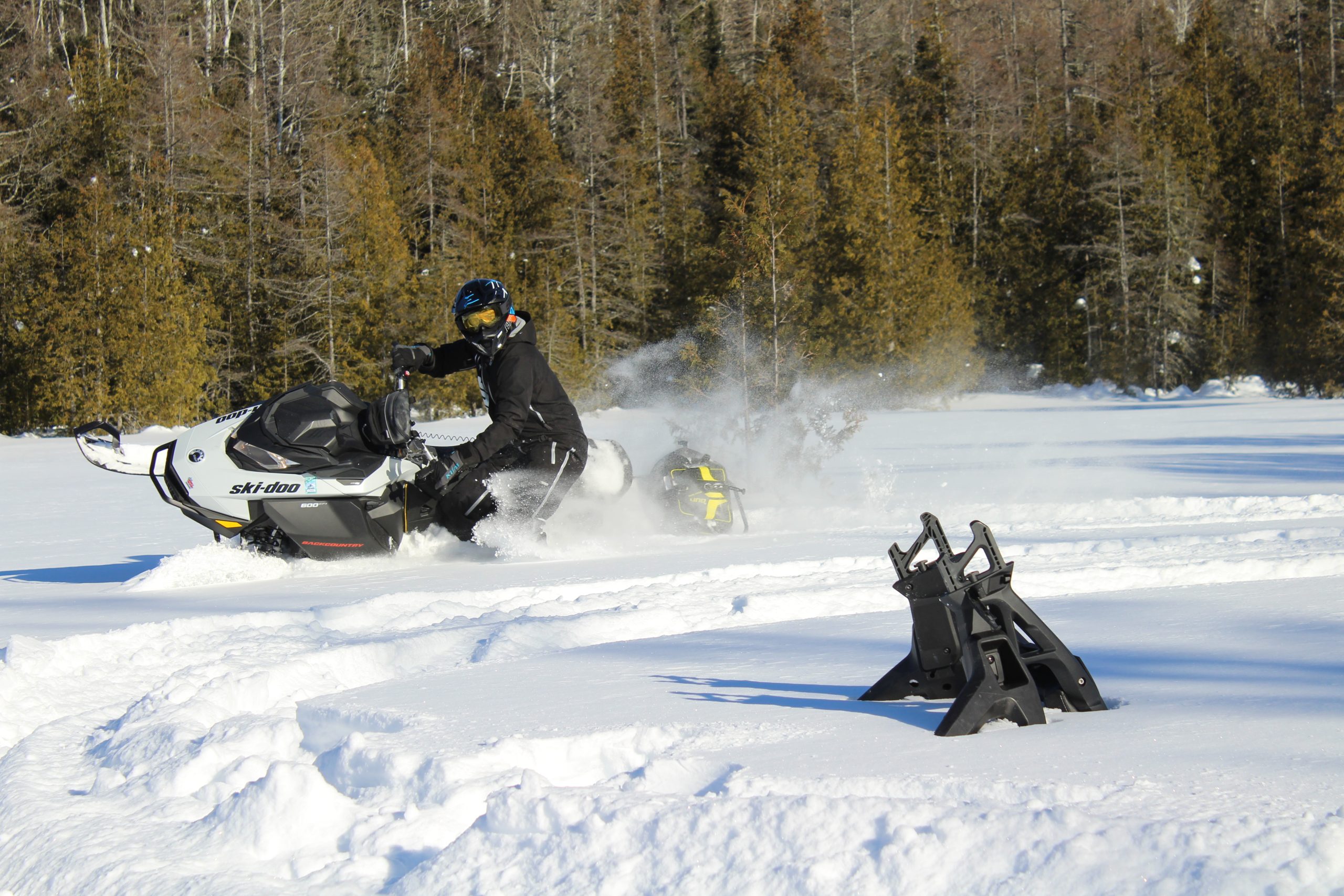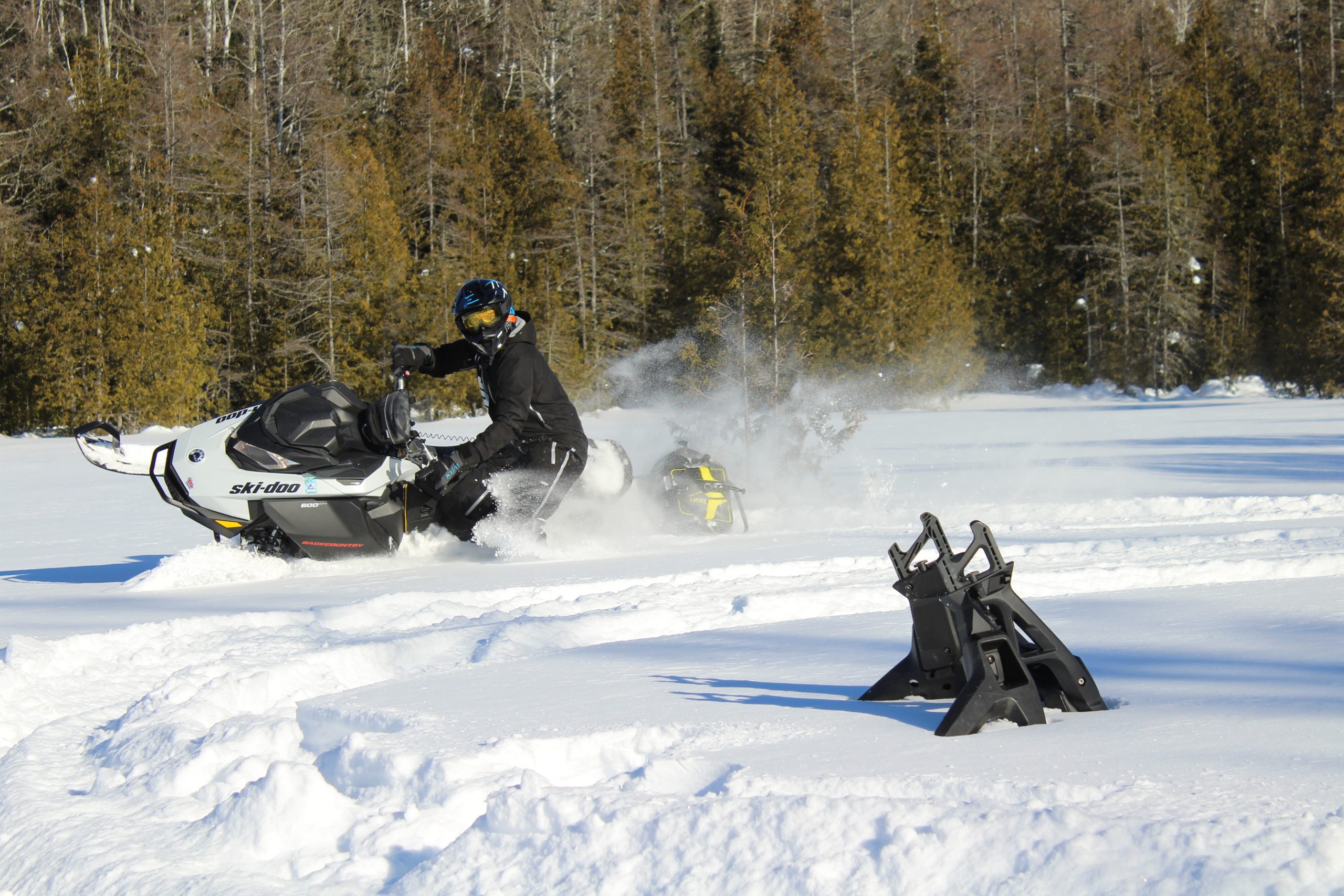 Improvements
This special use made me realize that snow can easily accumulate in the bindings, which makes it extremely difficult to put the backrest on afterwards. Even worse, if you wait too long, the snow hardens or turns into ice. I am aware that going for a powder run before putting the seat back on is a rather extreme case, but this problem could still be present in a more "normal" case where the snow would tend to be volatile on the trails. I've noticed that it really doesn't take much snow accumulation to make installation very difficult. Having a way to prevent snow from accumulating when the backrest is not in place would be a big plus.
We agree that the Ski-Doo 1+1 seat Linq kit is rather expensive. However, it has the potential to turn your snowmobile into a touring snowmobile for a lot less than getting a two-up touring snowmobile. If like me you do more snowmobiling alone than with two people, being able to remove the backrest in seconds (literally) and enjoy a better freedom of movement is really worth it. Plus, for those days with two people, it's a comfortable ride for both the driver and the passenger. I would like to thank Ski-Doo for allowing me to try this package this season. It was really interesting to bring a touring flavor to my Backcountry!