Gen 5
This year's Snowshoot did not disappoint. Many of the manufacturers stepped up to the plate again and delivered some impressive offerings. One of the biggest came from Ski-Doo with a brand-new Gen 5 platform. First things first there is definitely some strong opinions on the overall aesthetics of this new platform seems to be an I love it, or I hate it sentiment. I personally was not overwhelmed with the pictures but seeing this platform in person is a different experience. I feel the pictures did not do it justice and I personally really like the look and design. Throwing a leg over the new platform you are immediately aware that this feels much different than the previous platform. This sled feels incredibly narrow and smaller three inches narrower than the previous platform. I like the ability to look down and see the spindles.
It seems they have literally touched and improved every aspect of this machine starting with the LED headlights, improved cooling for both the drive system and engine. New engine mounts to help assist with belt life. The rear suspension is mostly new as well as being 3lbs lighter with 90 percent new parts to handle very technical terrain. Although not new the adjustable limiter strap is also a nice feature to really change the characteristics of the sled.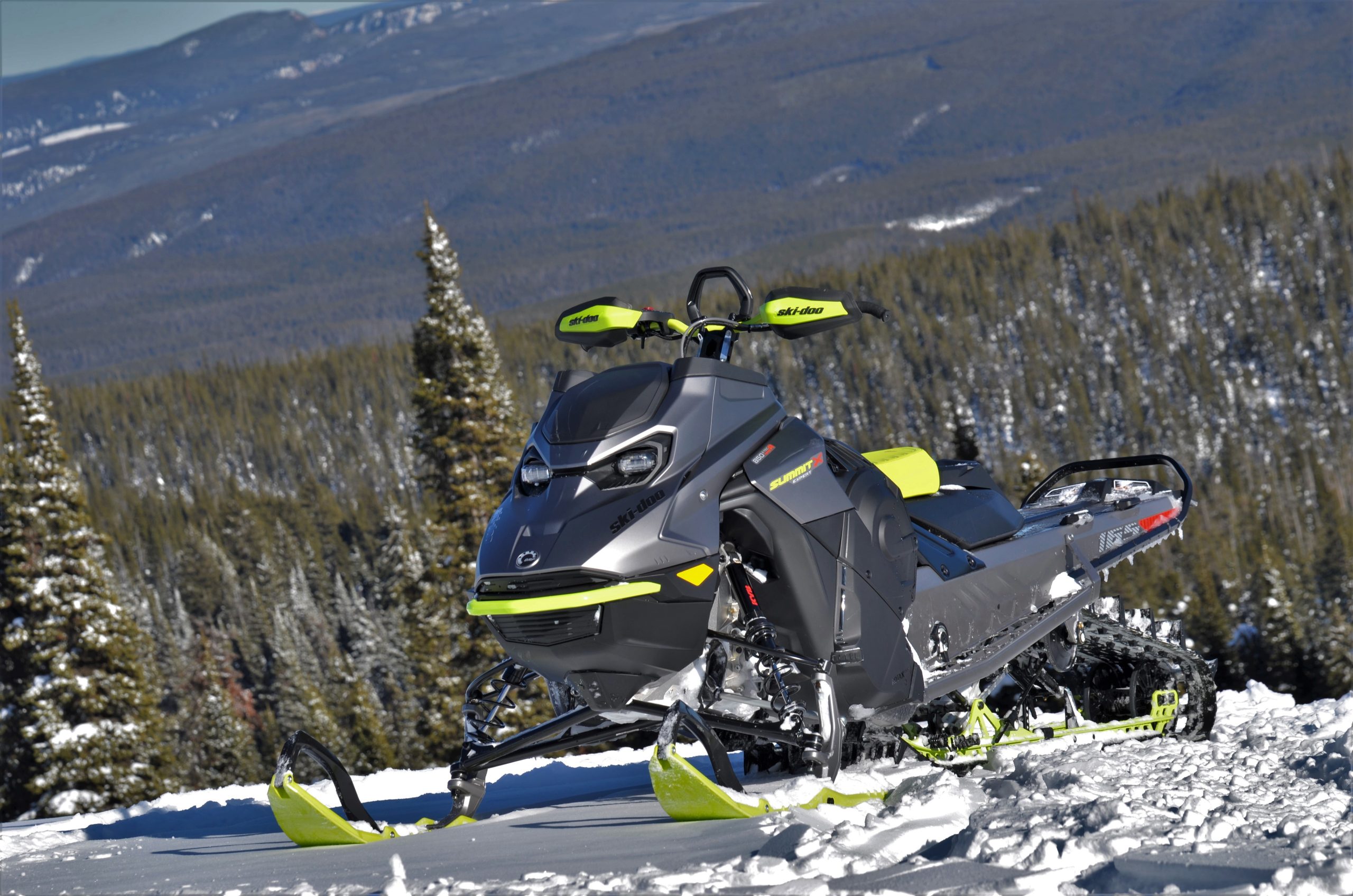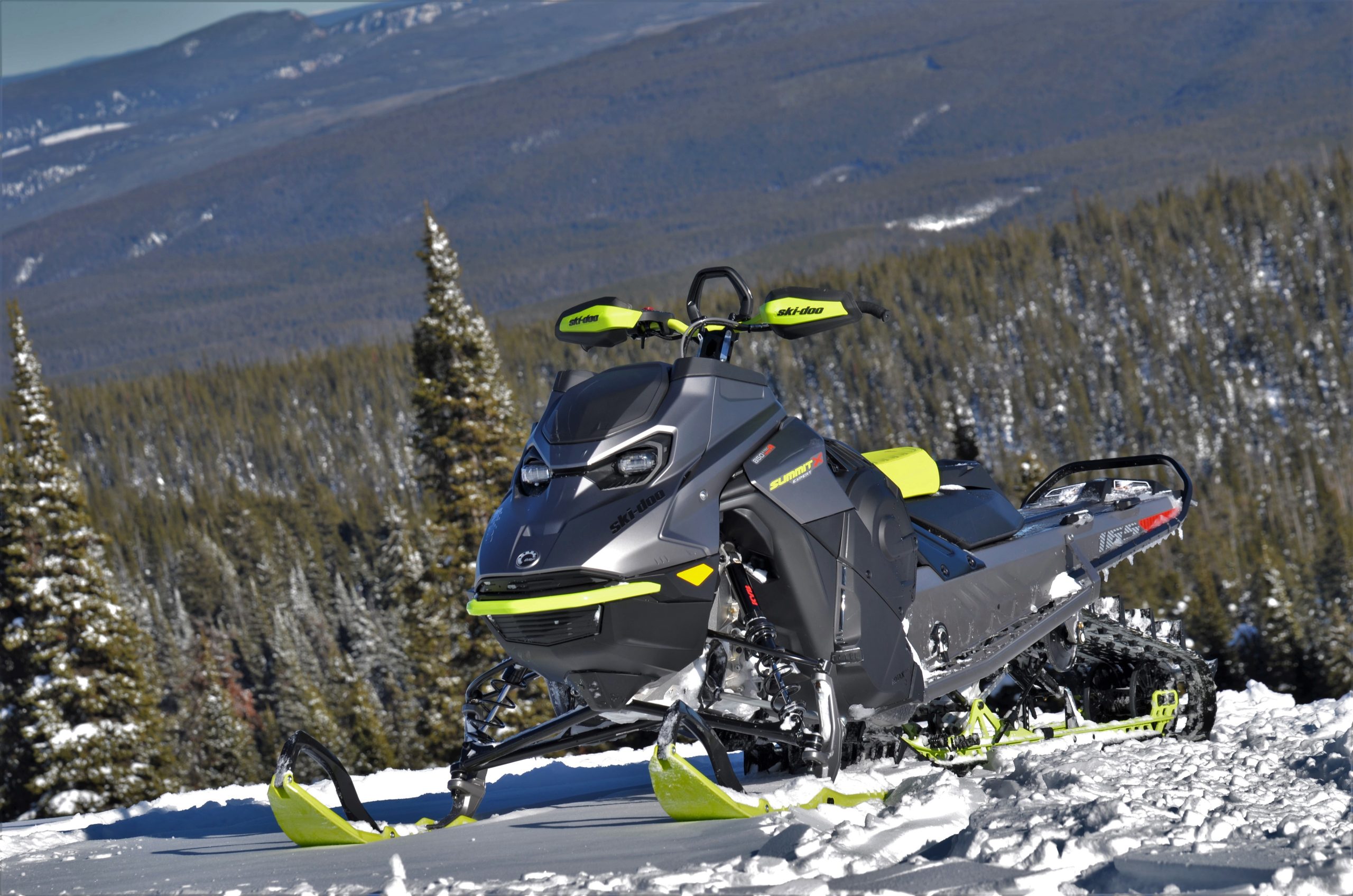 Turbo R
Ski-Doo did not just come to snowshoot with a brand-new platform they also came with an updated turbo R motor. My personal sled for this season was a 2022 Ski-Doo Expert 850 turbo 165 so it was really fun to get to feel the difference in power plants. I can say without a doubt the difference is very noticeable. You can really feel all 180 hp when you want it. With that much horsepower I truly expected it to be a bit less smooth then my 2022. That was not the case it was incredibly smooth and manageable but let you know there is more than last year under the hood.
The new 10.25 touchscreen is also a needed and much improved addition to the lineup.
This screen was a hit and really gave a modern and updated function to the sled. It really is liking having your iPad along for the ride.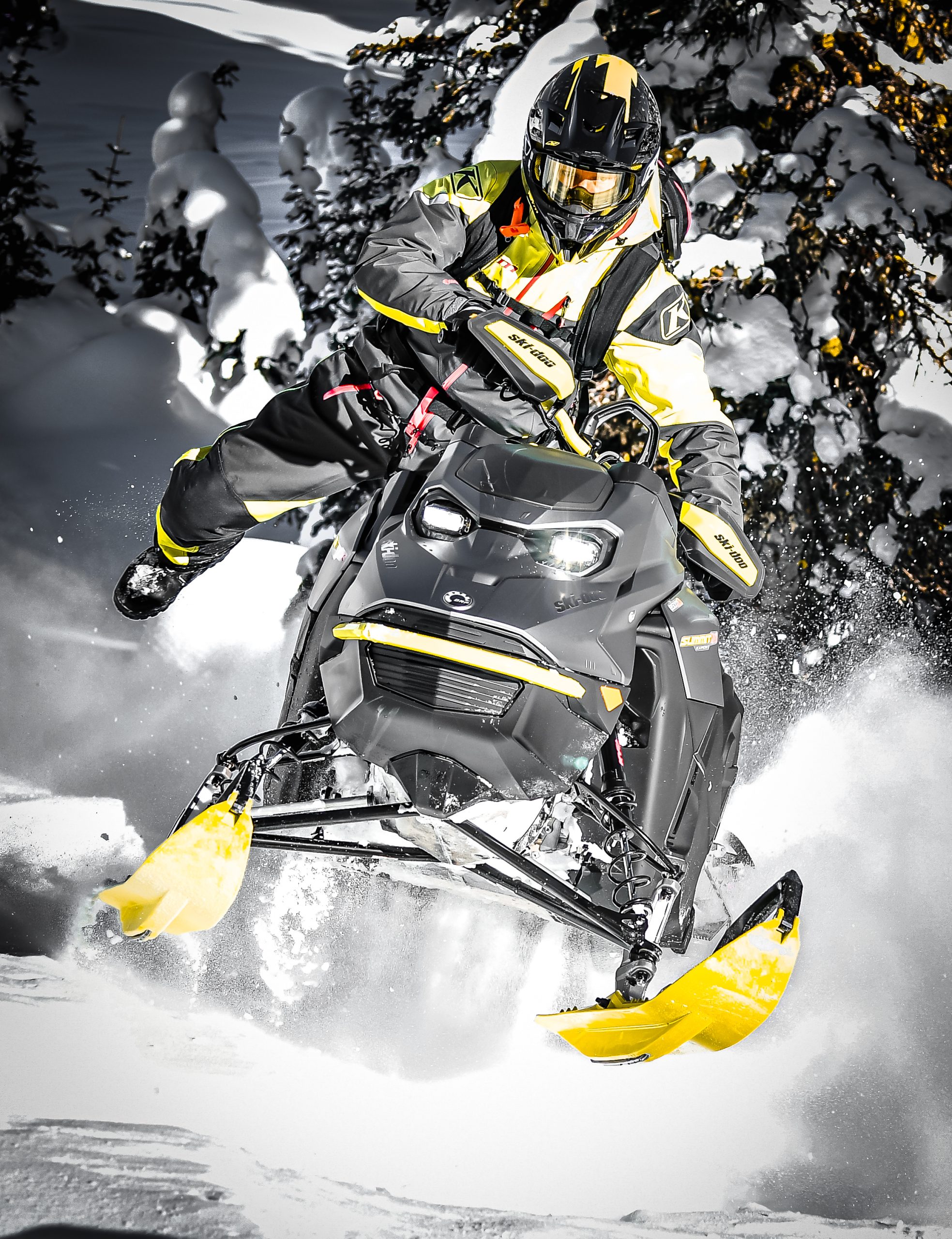 So how did all these new and improved changes transfer to the snow? First of we really needed more snow to even begin to challenge and properly test this machine. For me, this snowshoot was a bit of an epiphany I came in with the mentality that I needed a big horsepower and long track to get around and have fun in the back country. I left having sold my turbo and looking at shorter track lengths to fit my riding style. I am no longer wanting to just try and get up the steepest thing I can find. I want a sled that I can ride in all types of backcountry terrain and enjoy for multiple days without being sore and tired. That being said I really liked the way this sled performed if you currently have a Gen 4 you will feel right at home on the new platform. It is incredibly easy to get on edge with a predictable balance point. The turbo for me is like killing a mosquito with a bazooka. I truly feel there are only a handful of deep deep days a season to truly need this much power over the normal 850. I could definitely feel the extra weight of the turbo when maneuvering the sled and the turbo while fun is definitely more tiring and a bit harder to ride than the naturally aspirated 850.
If you are in the market for a new backcountry pony this one should be one to strongly consider. The new platform feels narrow and nimble, and those features directly translate to the snow. I will be anxious to ride this again in deep snow and let the new rear skid show what it has to offer in the really technical terrain.