Just like a good part of the Sledmagazine.ca team, I am pleased to be dressed in TOBE gear for the 2023 winter season. Actually, this is not a manufacturer of clothing and accessories that I was not aware of. They are renowned for their high-quality one-piece ensembles. No doubt about it.
However, what I didn't know was that they also produce products for trail riders and, as luck would have it, I am one of them! Therefore, I had the difficult task of selecting my kit through their website. When I say difficult, it is because the choice of clothing and the variety of colors confronts us with dilemmas.
Nevertheless, after consulting the sheets and specifications of each one, my choice was made for a set with little insulation that will offer me the possibility of adding insulating layers depending on the weather conditions. I'm not the "cold" type and very average insulation is more than adequate for me. However, don't worry, there is something for everyone among the garments that TOBE offers, depending on the degree of protection they provide.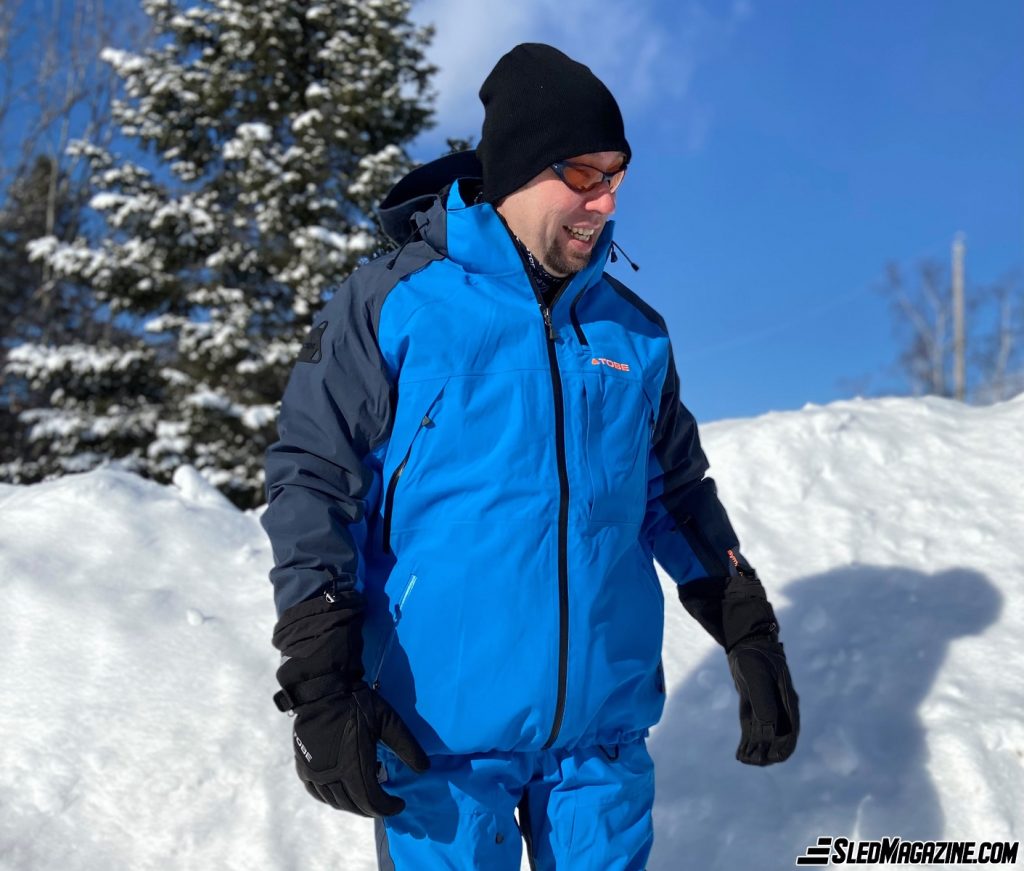 – TOBE Vivid Coat
As mentioned at the beginning, I selected the Vivid model from TOBE because of its very low insulation. It could also be used by off-roaders, but I'm more of a 100% trail type. I decided to order a size larger than the one I usually use to allow me to wear an insulating layer when the need arises.
While I'm at it, I decided to go against my usual habits. Normally, I'm pretty conservative and my color choices are pretty plain. Nevertheless, I went bold with the Blue Aster version with its 2 shades of blue and its discreet orange TOBE logo.
To tell the truth, I am not disappointed with my choice at all. The quality of the fabrics is totally superior to what we find on the market. The finishing and the seams are of exemplary perfection and it is worthy of a world-famous manufacturer.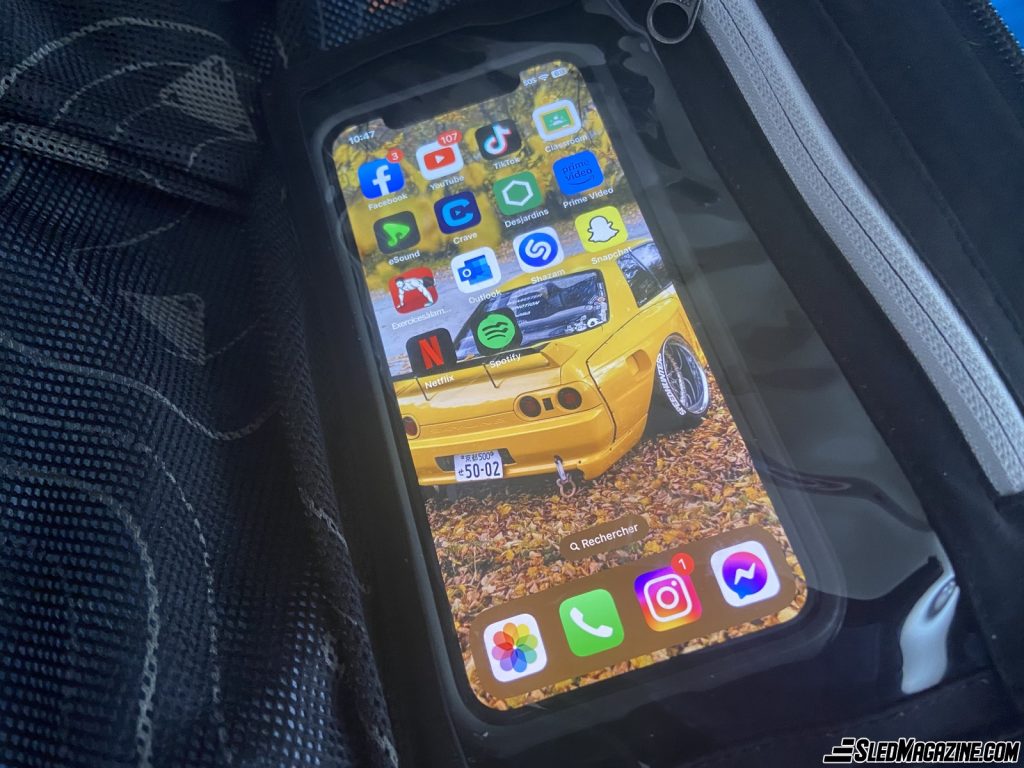 A pocket well thought for our cell phones:
The designers thought of designing a pocket where we can put our smartphones. So far, nothing innovative you will say. However, this inner pocket is equipped with a transparent window made of touch-sensitive silicone. It allows us to stay connected and communicate faster, so we can spend less time pulling out our phones and more time having fun.
The Vivid jacket is 100% windproof and waterproof. However, they designed a ventilation system to accommodate an influx of cool air as needed. Micro-stretch panels keep rain and snow out. In addition, the chest vents are close together to work optimally with the backpacks.
The fabrics are used to keep their flexibility even in the coldest weather and that's a great feature. We are not restricted in our movements and I love this feature.
This jacket has the particularity to have a length allowing to protection the buttocks. In addition, we can also connect it to the pants for better overall tightness. To be honest, the cold stays 100% on the outside, keeping my body warm.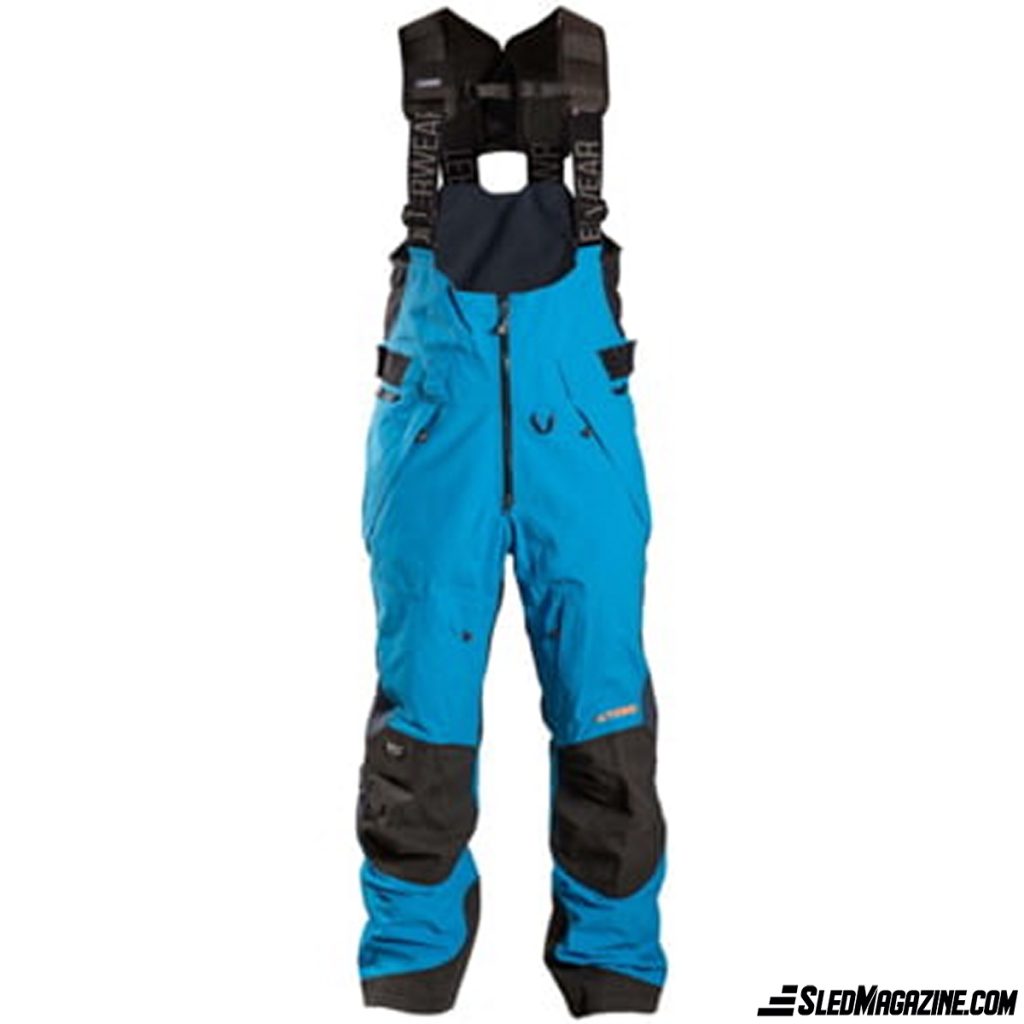 – TOBE Vivid Pants
To complete my coat, I had to go with the pants that go perfectly with it. These are in the same blue hues and offer similar protection.
On the first time I put it on, I immediately noticed the straps that we can rightly refer to as a harness. Futhermore, the whole thing is custom-built, padded for comfort, and has three adjustment points to keep everything in place and two judiciously placed clips. The mesh panel between the shoulder blades offers an ergonomic fit without sacrificing breathability.
These pants offer flexibility no matter what the weather throws at you. Wide Velcros allows for a perfect fit at the waist. In addition, durable textile materials have been applied to the areas most likely to wear out prematurely.
Only one negative point:
The only recommendation I could make is the lack of a zipper along the leg. Usually, this makes it easier for me to lace up my boots and insert the wires connecting my heated insoles to the battery. Nevertheless, I manage to do these exercises, but with a little more difficult than usual.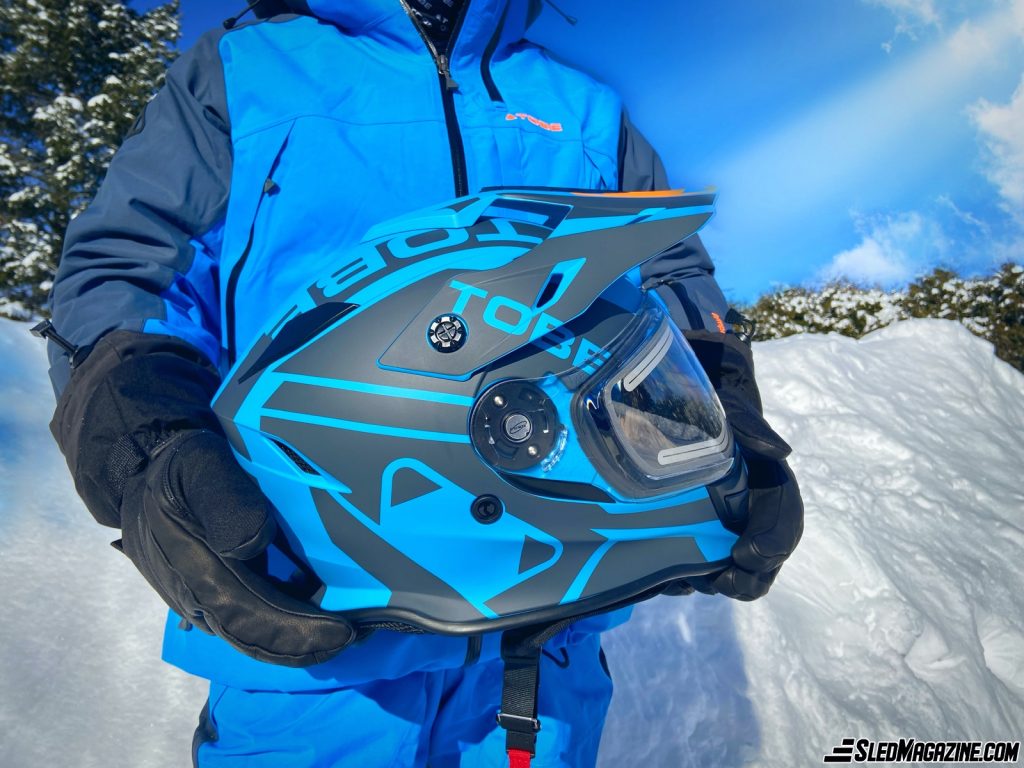 – TOBE Ventus Helmet
I selected the TOBE Ventus helmet because it's the only one available with an integrated full-face shield rather than a motocross-type helmet with a removable face shield. Also, the Ventus has a heated power window.
I chose the one that matched the colors of my coat and overalls perfectly. Its aestheticism gets an instant "WOW" and I am constantly talking about it because it leaves no one indifferent.
Beyond its appearance, I love its design and its ventilations bringing a necessary freshness during a hot day or during an increased effort.
Can be used for more than one season
Additionally, it is modular when I want to use it on a motorcycle during the summer season. The sun visor and breath deflector are easily removed. The dual electric visor can be replaced with a road-certified shield.
This helmet has good padding and fits easily. Nevertheless, my vision is impaired by the large heated filaments in the visor. In the long run, I forget it's there, but it's a point that sometimes hinders my vision.
The bottom part is poorly protected!
The neck protection that comes with this helmet is simply ineffective. I could describe it as an 8-inch-long neoprene curtain that is inserted to supposedly prevent air from seeping into the helmet through the base. I just don't understand how I can use it. When I insert it into the top part of my coat, it pulls out as soon as I turn my head. After that, it flaps in the wind in a very unpleasant way. Therefore, I prefer to avoid this curtain and use a fixed neck guard and a good-quality hood instead.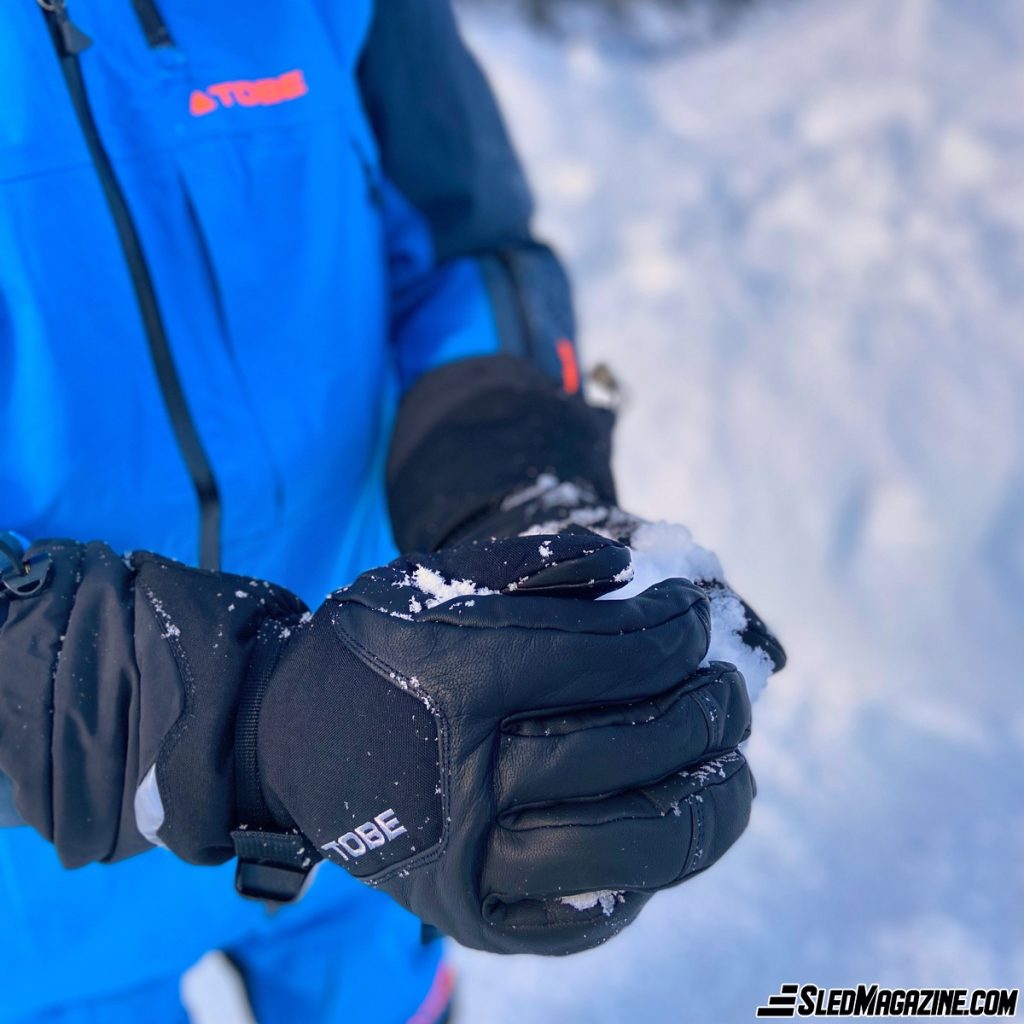 – TOBE Heim Gauntlet gloves
It's a must to complete my outfit with a pair of TOBE gloves. The model I selected is, in my opinion, just right for trail snowmobilers.
For me, the first criterion is that they are of an appropriate length to cover the wrists well. These are unequivocal on this point. They are very surprising in the protection against the cold they provide. According to the specs, their insulation is 460g. Let me tell you, this is more than enough for snowmobiling.
In addition, they offer absolute comfort with 100% wind protection and are 100% waterproof. An adjustment band offers the perfect fit at the wrists. Without a doubt, they are worth the price and a great discovery.
TOBE Gear: my Conclusion
In conclusion, the TOBE clothing that I wore during the season had an effect that was much admired everywhere I went. Many questions were raised and many snowmobilers discovered this manufacturer through me. As for me, I am totally convinced!
More clothing reviews here: