Yamaha Sidewinder LT-X GT EPS 2023: what can I expect?
The snowmobile season is well underway everywhere. We, the trade press, are no exception and are also experiencing delays in the delivery of our test sleds, including the 2023 Yamaha Sidewinder LT-X GT EPS.
Nonetheless, we have been waiting for confirmation to announce our long-term test ride in collaboration with Yamaha Canada. We will have the chance to test the now famous Sidewinder model from this world-renowned manufacturer.
The Sidewinder
Now, I can already hear you mentioning that this snowmobile has nothing new to offer and that its package is a rehash of the last few years. Well, you're not wrong in a way, but if we scratch the surface, we'll be able to point out the improvements this model has undergone since its introduction.
Need we remind you, launched in 2017, the Yamaha Sidewinder was the first snowmobile to sport a turbocharged 4-stroke engine with triple-turbine nickel alloy throttle bodies. Its performance was staggering, immediately exceeding consumer expectations.
Upon its arrival, comparisons were made with the turbocharged Suzuki 1100 found in previous Arctic Cat 9000 models. But we quickly realized that these comparisons didn't hold water once we got behind the wheel. The acceleration feel of these new machines really stood out from anything that had been produced before. It was the new benchmark and for many, it still is!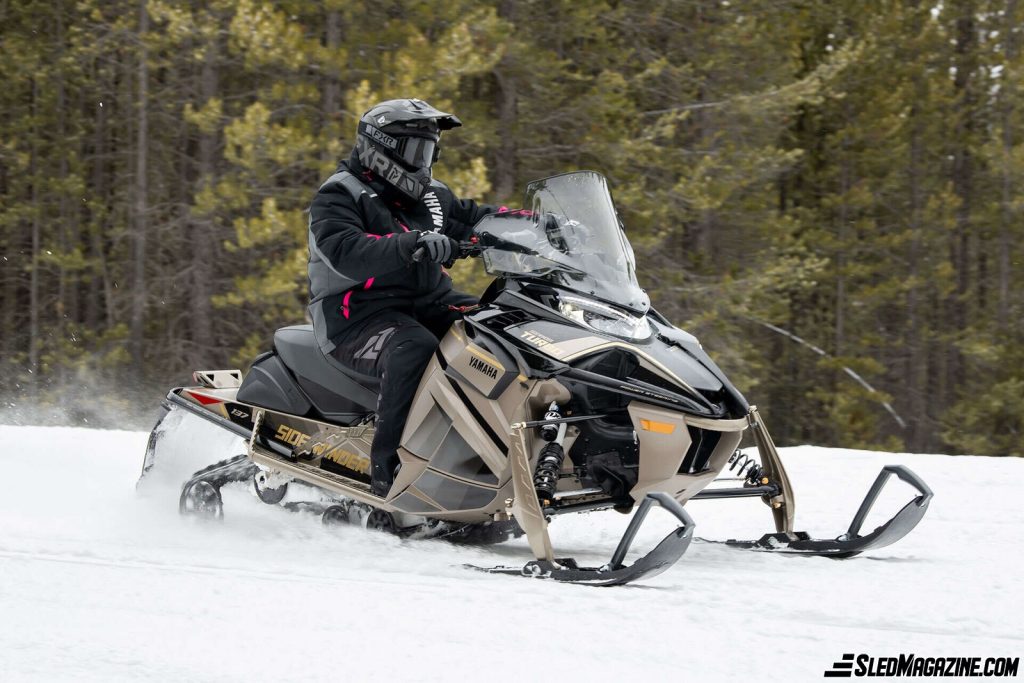 The 2023 Yamaha Sidewinder LT-X GT EPS
Our test model is in a version that could be described as "performance touring". The Genesis 4-stroke engine is the result of Yamaha's dedication to bringing the most advanced and capable engines to the snowmobile industry.
Yamaha's North American managers coyly claimed at the time that the engine produced "over 180 horsepower". However, they were quick to dismiss this figure, noting that it was a conservative figure provided by their Japanese headquarters, which notoriously offered low numbers compared to how engines are dyno-tested.
As for me, with the multiple restrictions we've been plagued with during the latest pandemic, I found myself riding a Sidewinder for the last time in February 2020. I was at the Snowshoot in West Yellowstone, Montana for the 2021 snowmobile test. I have to confess that I have a certain respect for this very vitamin-rich engine. On my last day of testing on American soil, I had a blast on this snowmobile.
Despite a high altitude and consequently reduced engine performance, I explored West Yellowstone National Park in near-record time, because this engine is so spirited. I expect the same level of excitement with every roar of this 3-cylinder engine.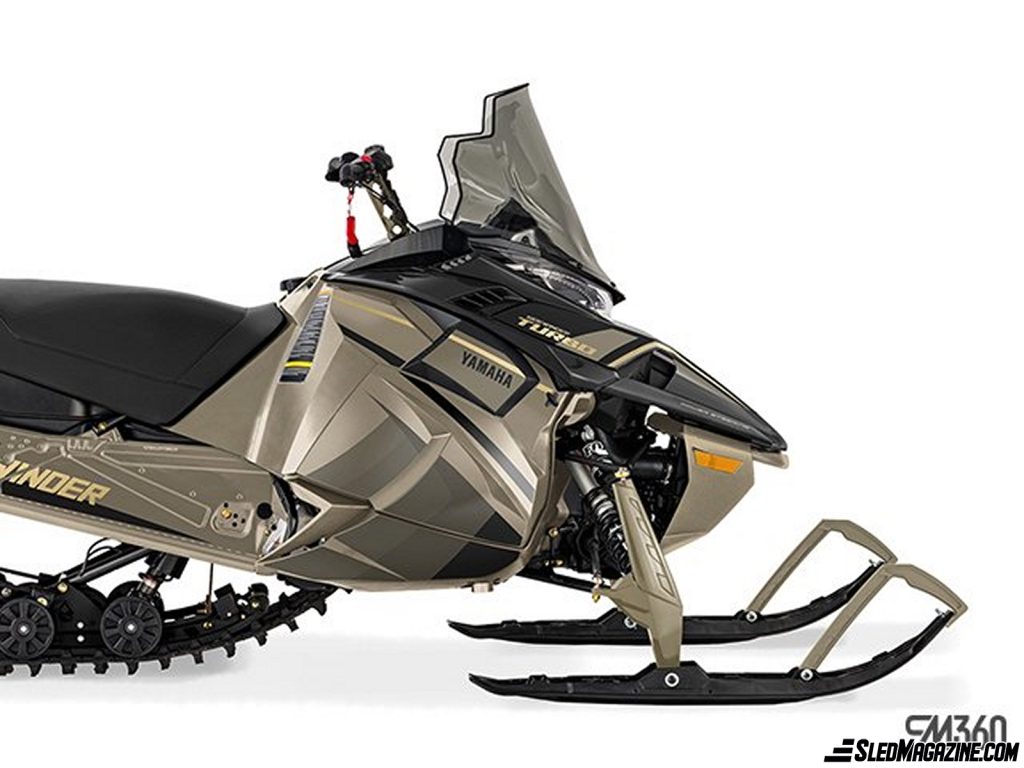 Changes for 2023?
Let's be honest, for 2023, the Sidewinder LT-X GT has not seen any real improvements. In fact, the only one we can mention is its exterior aesthetics. On this aspect, we like it… or not! For my part, it doesn't give me a "Wow" effect.
Its colors are called matte gold and black. I have a hard time describing the dominant hue perfectly. However, I don't think it will appeal to a young clientele that prefers attractive colors. This snowmobile shines more in the sobriety of its presentation.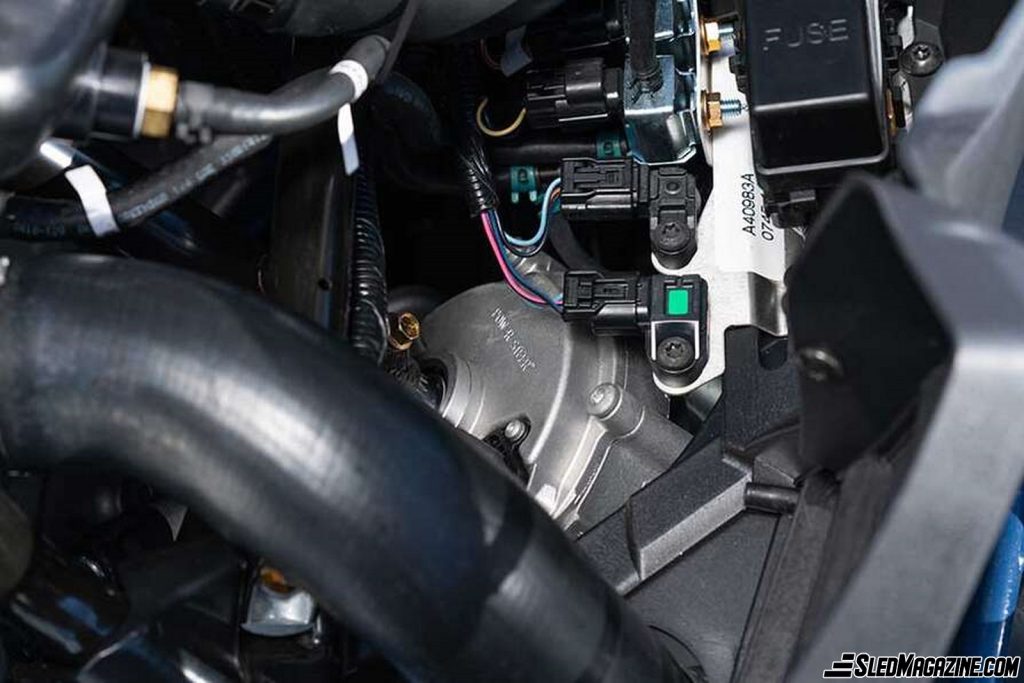 A variable power steering system was introduced last year.
One aspect that should not be overlooked is the introduction of electronic power steering in the 2022 model year. Overall, it should give me a more balanced and natural feel or "connection" to the terrain, effectively reducing the steering effort required while improving predictability for greater confidence and less fatigue.
It must be emphasized that this power steering is variable. This means that it adjusts according to several parameters. It uses a magnetic torque sensor that measures steering effort based on steering column movement (handlebar pivot and ski resistance).
The non-contact magnetic torque sensor transmits this data to an integrated control module which then instructs the servo motor to provide steering assistance through its worm drive mechanism. Let me tell you that my expectations are very high and I am looking forward to putting this steering aid to use.
This power steering is a great innovation, as I will be able to see its contribution in close collaboration with Yamaha's Stryke single-pin ski package. It should add more control to the ride, while at the same time providing improved steering response due to its staggered carbs.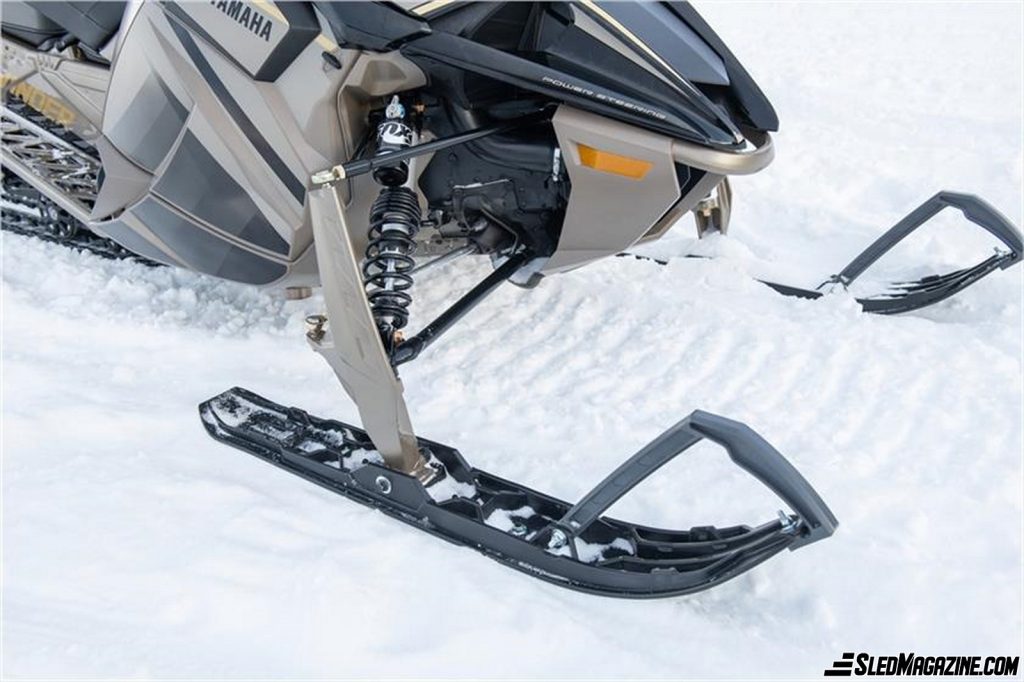 Easily adjustable suspension
Finding the perfect fit on a snowmobile can be difficult for most riders. However, the 2023 Yamaha Sidewinder LT-X GT EPS is equipped with FOX QS3 shocks in both the front and rear. These shocks are my favorite on the market because of their ease of use.
They will offer me the choice of 3 position Quick Switch compression damping settings. They allow you to quickly adjust the shocks to suit the trail conditions.
For example, they offer to set setting 1 for a smoother ride on smoother trails. Setting 2 is an excellent all-around setting and setting 3 is for jumps and very aggressive riding.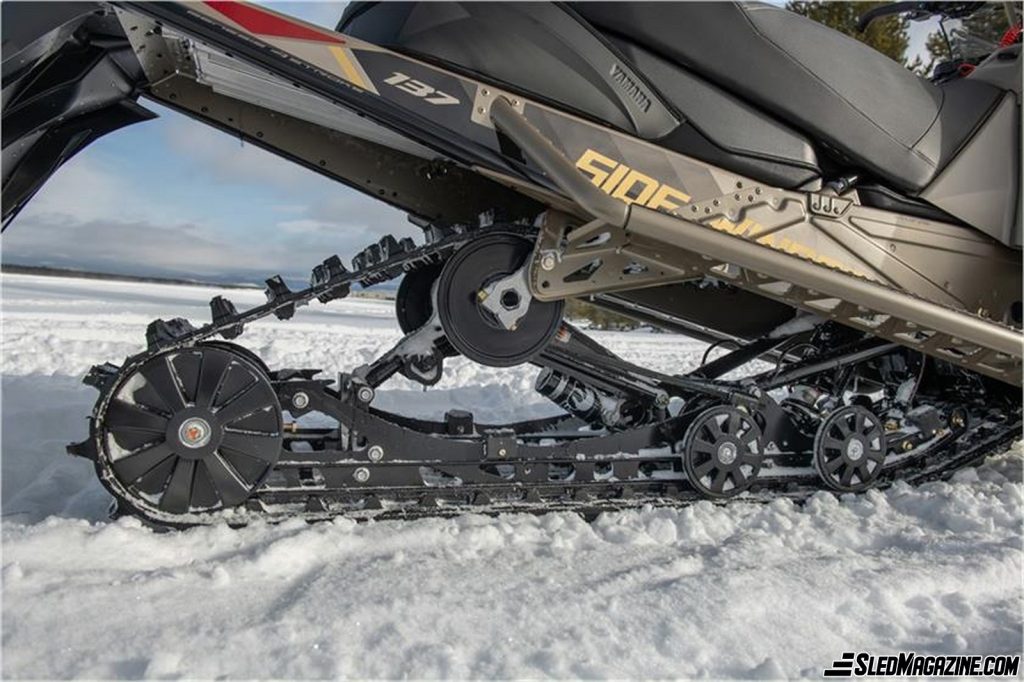 An Exclusive Snowmobile Trail
Its overall configuration in conjunction with its 137-inch Ripsaw II track puts it in the category of a trail sled. In addition, its 42-inch adjustable ski spread should give me a sense of poise when I'm attacking the curves on the trail. These features and their higher-than-average weight will probably be an advantage on freshly groomed trails.
Also, its "very" high windshield will protect me from the cold. To tell you the truth, I am at an age where I appreciate comfort. As such, this 2023 Yamaha Sidewinder LT-X GT EPS is also equipped with a heated seat. It has everything you need for long rides, which I will be able to share with you in a subsequent review.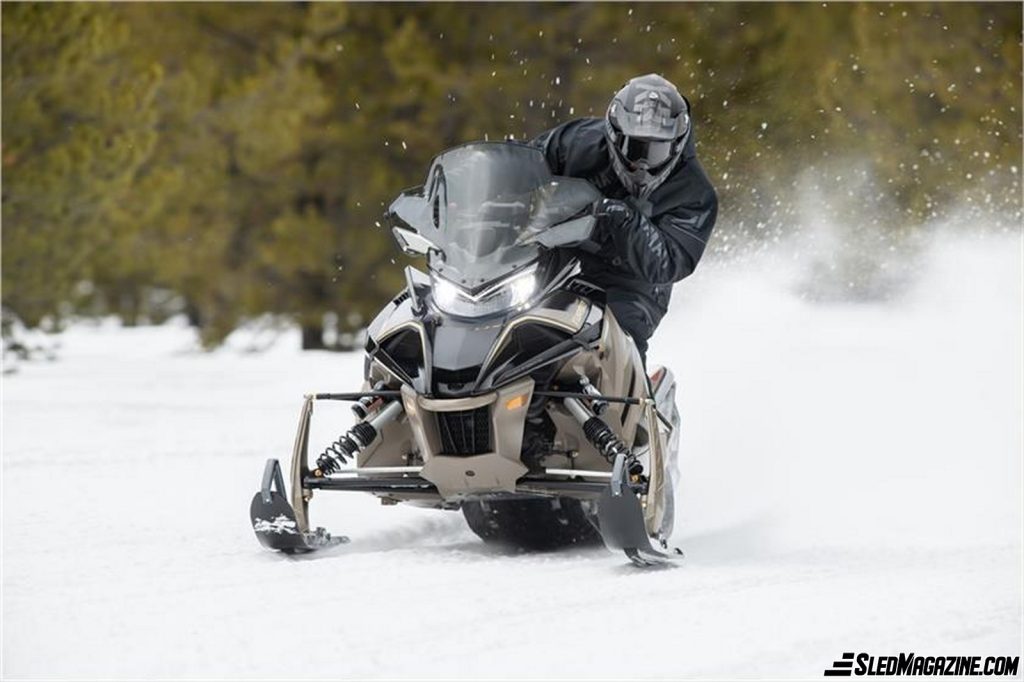 In conclusion, there is no doubt that the Yamaha Sidewinder LT-X GT EPS 2023 snowmobile will make me enjoy our winter in all its glory. I'll be able to find out why it has been a fan favorite since its introduction.
Other Yamaha-related articles here: