The Viper LTX LE was one of my 2016 pre-season best picks and now the final judgement is in on our 2016 Long term Viper LTX LE trial.
At SledMagazine.com, we don't just want to proclaim what we feel is a best pick for the coming model year, we want to prove it!
After thousands of miles of experience with the 2016 Viper LTX LE the Jury is back. After lengthy discovery and deliberation, the verdict is in and it's unanimous.
I originally gave the LTX LE best pick status due to the 137" length, the SR 137 coupled, dual shock rear suspension design, its' QS3 shock package and extra features. Now it's time to review the evidence.
Track
The 137" length has previously been proven to be near perfect for my predominant on trail use and the 1.25" RipSaw (when mildly studded) has provided well matched acceleration and braking traction.
This was once again my experience as this length and track design proved to be extremely well mated to the power and chassis dynamics of the Viper's SRV chassis. The 1.25" Ripsaw had just enough energy releasing slide in the corners and (with the added safety of 96 Mack Studs 1.325 carbide studs), secure grip characteristics during both acceleration and braking.
Rear suspension
The SR 137 Race rear suspension of the 2016 Viper LTX LE is a strengthened version of the coupled, drop link, dual shock, slide action design.
The unique slide action design controlled ski lift, keeping the skid in contact with the trail, ready to react to the next trail contour under both full acceleration as well as heavy braking.
Shocks
At the time of my best pick announcement, I wrote that the simplicity and anticipated adjustment range of the Fox QS3 shock package could return Yamaha to shock performance prominence.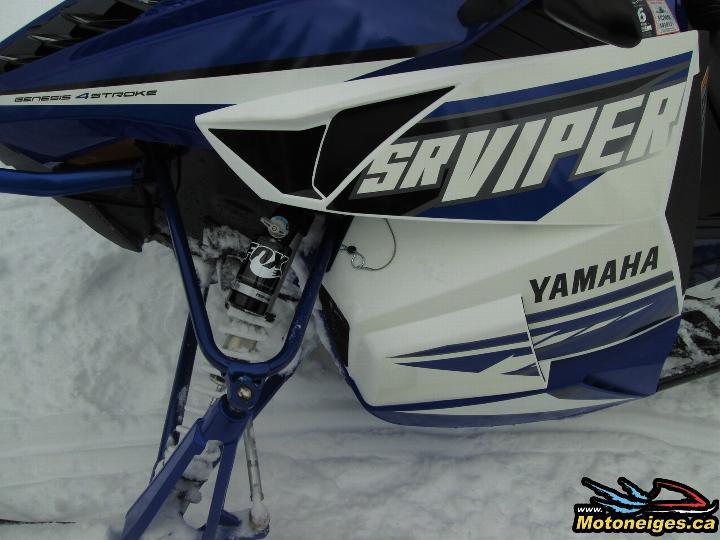 After thousands of miles, I found that the Fox QS3 package was indeed very well suited to the Vipers SRV front and SR rear suspension. The ease of adjustment and performance change between #1 and #2 settings were very effective in meeting my needs, desires and comfort all season long. However, I did not encounter and can't think of a trail situation where riders would want to select the current extremely firm calibration of the #3 compression setting.
One of my attractions to the QS3 package was its coil over design and the ability to independently adjust suspension preload and ride height from the compression setting of the shock. This infinite adjustability was indeed a welcomed and real benefit throughout the miles and smiles of last year's trial. QS3, easy adjustment with noticeable effect on the shock's dampening profile and independent spring preload adjustment. No further questions.
Engine/clutching/brake
The Yamaha 1050cc Genesis 4 stroke remains a proven and reliable workhorse with great torque and reasonable top end capability. The exclusive to Yamaha YVXC clutching gives the Vipers a unique calibration and was always responsive with consistent performance and limited engine braking effect. The Hayes Performance braking system gave positive, reliable feedback and fade resistant performance throughout our trial.
Skis
One of the unexpected surprises of the production 2016 Viper LTX LE over the prototype units that we experienced in Montana was a ski update.
Just after our original introduction to the 2016 LTX LE, the included ski was changed from the Tuner II design to the  Tuner III's, deeper keel, relocated spindle mounting point and replaceable grab handle.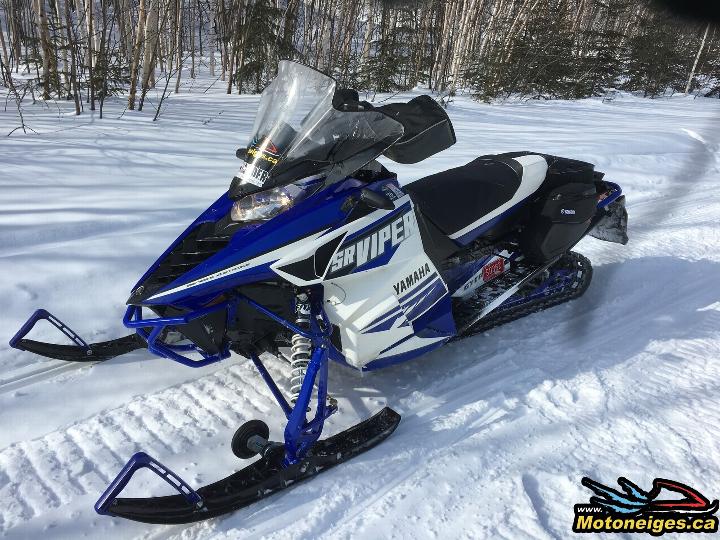 In previous SledMagazine.com trials we experienced many miles with the Tuner II skis. During our 2016 long term experience with the Tuner III, we found that the new design was a definite and notable improvement. The Tuner III offered easier steering and much less tendency for the Viper to understeer or "push" in the turns. The predictable ability to exit turns under acceleration from the turn's apex and off was significantly improved. With our rotating addition of always "Biteharder sharpened" Qualipieces Top Gold series carbides and 6" Mack Studs carbides, the Tuner III Skis were a definite performance advancement. The Tuner III ski proved to be a very nice late addition. Nice job Yamaha!
Note: Yes it's true; if you want the convenience and carbide saving capabilities of Qualipieces self retracting RollerSkis, you will need to order model Y-4007 which is specific to the Tuner III ski.
Yamaha Performance Dampers YPD
The 2016 Viper LTX LE included Yamaha's chassis shock package called YPD. The goal of YPD was to bring the benefits of controlled flex, reduced vibration and greater vehicle stability found in the automotive industry to snowmobiles. Due to a supply timing issue the shocks came to the dealers separate from the sled in many cases. This gave us the perfect opportunity to ride the Viper both with and without the effect of YPD. Whether it was that the LTX length was inherently more stable than our reference point of previously tested RTX models or that we were more acclimated to the LTX by the time we installed the YPD units, we have a hung Jury. We were hoping to feel a difference, but our seat of the pants evidence was inconclusive. We tried, we really did.
Heated seat
Since our original selection of the LTX LE for our 2016 real world test, I was curious about this feature and if in reality it would be frivolous or fact. Do we really need or want a heated seat on a performance trail sled? I must now admit that extra bottom warmth was enjoyed more often than I would have thought. This added comfort was most notable and welcomed during the earliest hours of frigid morning miles. Softer than an otherwise frozen seat and comfy warm, I liked it.  Will you want it on all the time? ……… NO.  When you do use it, will you be happy that you did? ……….YES I think you will!
One drawback that I experienced with this feature was that the rocker switch would more than occasionally get ice underneath it, locking it in the ON or OFF positions. This switch is made of hard plastic, so forcing it to crunch out the ice obstruction always seemed like a bad idea. The result was that on occasion, I would have preferred that the heated seat was off. A rubber covered toggle switch would be preferred.
Accessories
An important part of our Yamaha long term trials over the past 2 years has been our partnership with Yamaha's Accessories/Apparel division. The mission is not only to visually expose Genuine Yamaha products to snowmobilers across the Northeast, but also to use and offer them feedback on their products.
On our 2016 Viper we added, exposed, enjoyed and used the following accessories:
Medium smoked windshield SMA-8JP96-20-SM, A welcome and comfortable addition that in my opinion did not negatively affect the contours of the Viper or result in any distortion to the rider's field of vision.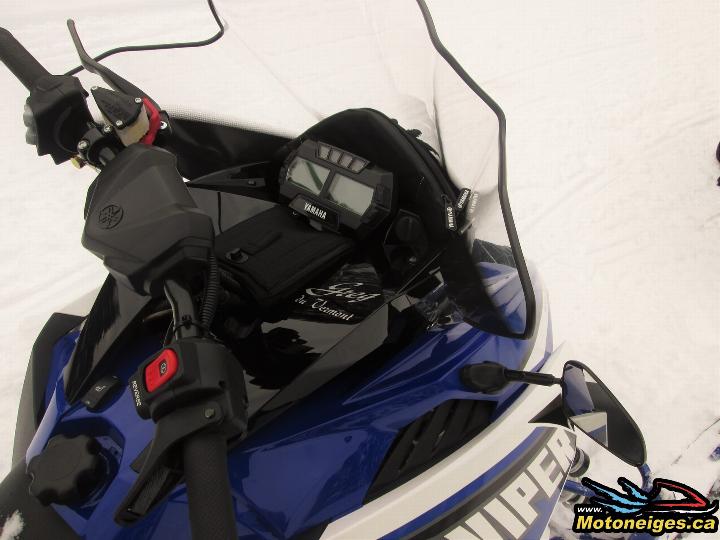 Telescoping mirrors SMA-8JW26-28-00,  Stylish, fit well, offered adequate visibility and stayed in position all season long.
Goggle bag SMA-8JP53-00-00,  A must have hidden warm place to keep stuff. Also eliminates windshield fogging by blocking the release of engine heat that would otherwise come from its installation location.
Windshield bag SMA-8JP21-00-00,  Can be used with all windshields and is great for riders who like quick access or to be well prepared with additional items they may never need.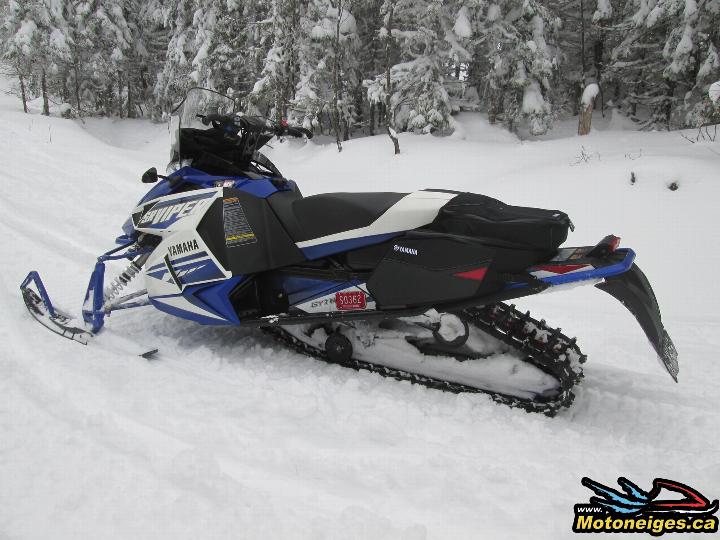 Combo trunk bag SMA-8JW63-00-00, Throughout thousands of miles of use this stylish saddlebag design carried everything needed and desired. It remained securely attached without failure or premature wear to straps, hooks, seams or zippers. This bag is water resistant, but not water proof. We recommend that anything you want to stay dry be put in gallon sized Ziploc freezer bags.
Sport bumper SMA-8KGFT-BU-BL, Stylish addition that offers better front end protection as well as increased grab area. Ours was blue, future color match to the stock bumpers could/should be better.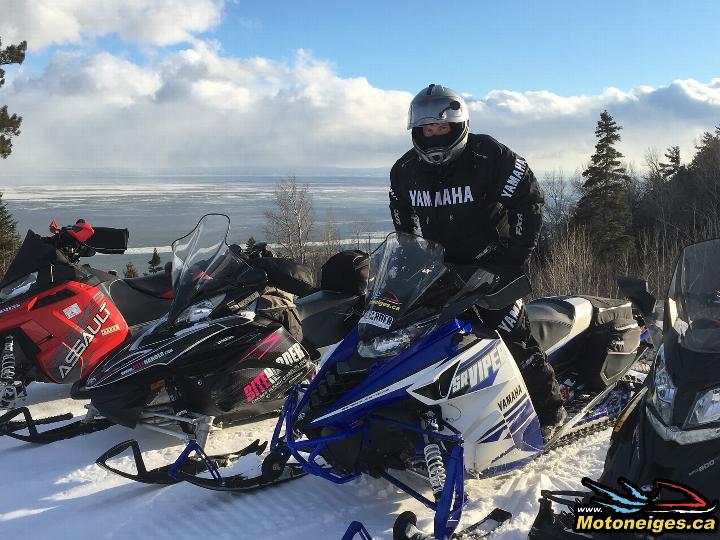 Genuine Yamaha Apparel, On occasion we diverge from our SledMagazine.com/Motoneiges.ca apparel and take a spin and photo shoot with a premium Yamaha jacket by FXR. During our occasional test use they have proven to be quality made, stylish, feature packed, functional and comfortable in a very wide range of riding environments.
By a preponderance of thousands of miles of evidence, our verdict is unanimous.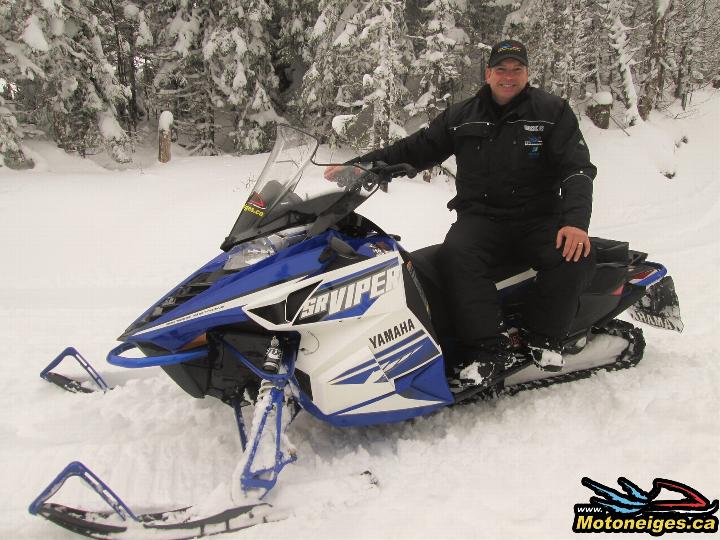 The 2016 Yamaha Viper LTX LE was worthy of the 2016 Yamaha Best Pick status that it was given by SledMagazine.com
We thank Yamaha Motors and Yamaha Accessories/Apparel for their continued support of our trials. We also offer our sincere recognition of the efforts of our supporting dealer Frank's Motorcycle of Essex Center Vermont. Another season of no leaks, no errors and no issues in the preparation and maintenance of our long term trial Yamaha.
Our 2016 long term trial of the Viper LTX LE is now adjourned.