This year's snowmobile season has started out with a bang. With all the deep snow days, I'm not sure I could have picked a better year to be riding and testing a big horsepower, turbo mountain sled, the Polaris Matryx Khaos Slash Boost 165". Steep mountain terrain on deep powder days has been a great environment to test and challenge one of the most capable and high-performing mountain sleds on the market.
After riding the Polaris Boost for the first half of the season, here are a few of my favorite things about this sled and its specific design and features:
2023 Polaris Matryx RMK Khaos
850 Patriot Boost
165 Slash Tunnel
75" Series 8 Track with QuickDrive2
Walker Evans Velocity Shocks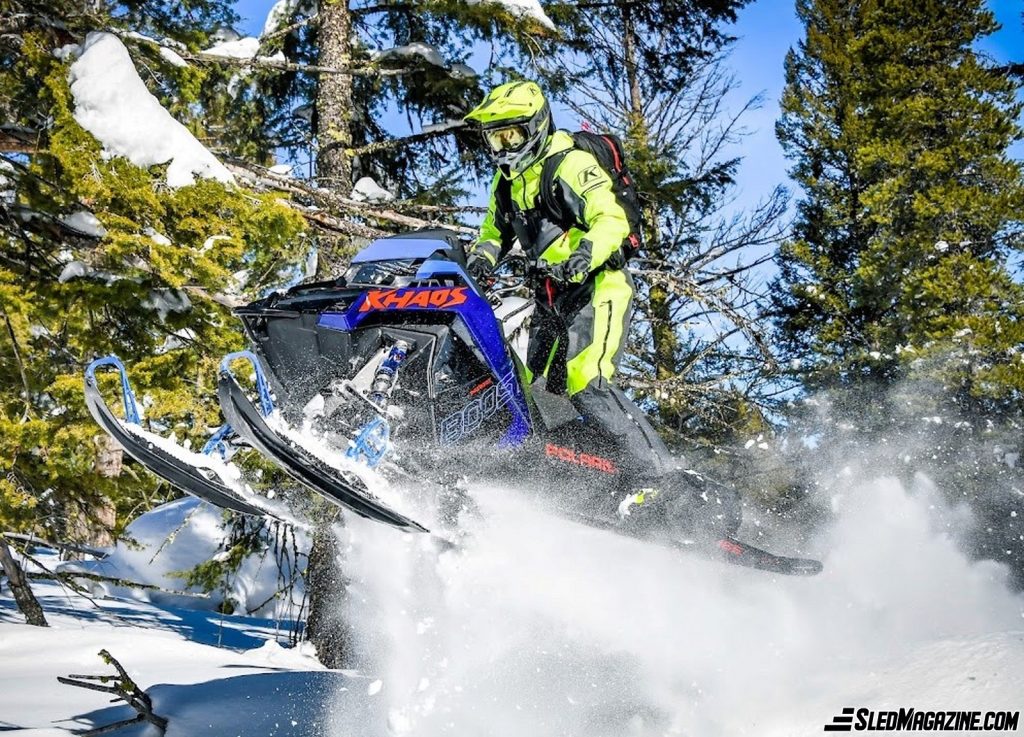 Patriot Boost Power
Big Patriot Boost turbo power is at the top of the favorites list. The power of the Patriot Boost is, to say the least, impressive. It's a combination of extreme power with linear and smooth power delivery. This gives the rider the big power they're looking for in a turbo sled but in a manageable package. Polaris doesn't release their horsepower numbers, so that's a little bit of a guess. However, they have released that with 9psi, the Patriot Boost has 10% more power than the naturally aspirated 850 at sea level, and 50% more power at 10,000ft. After riding the Patriot Boost in the 10,000ft elevation range, I can attest to the power.  It feels way more powerful than the naturally aspirated 850 I was on last season, and definitely pulls hard in the steep, high-elevation climbs.
How's it Climb?
Having 50% more power at 10,000ft changes the game in the hill climbing world. Areas that you would never try with a naturally aspirated 850, you're charging up with the Patriot Boost. A rider with a sled that has this much power can now look at the mountain in a different way. You can go places that you never thought possible before, climbing some of the steepest sections of the mountain.  Is there a catch? Yes, and here it is. If you're going to be riding a sled with this much power, you're also going to need to convince your riding partners to get one. It's more fun being on the top of the mountain with your friends than all alone.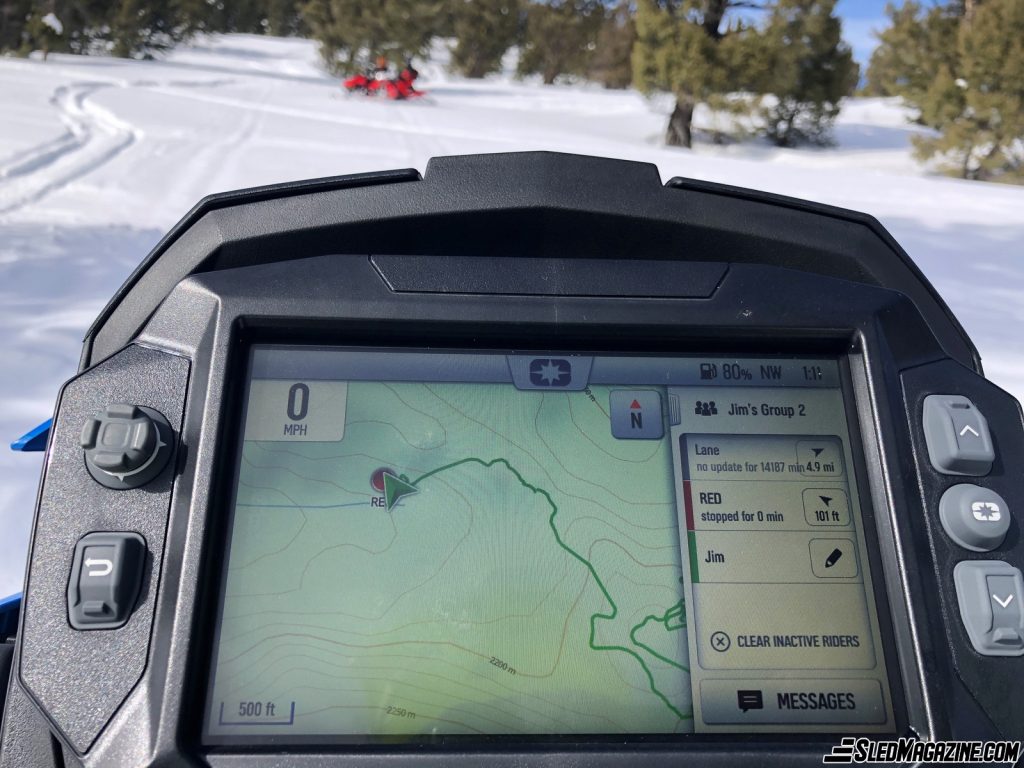 7s Display and the Group Ride Feature
The 7s display is a feature on this snowmobile that continues to impress me. It not only looks great and is easy to use but has so many handy aspects that help aid in the enjoyment of your ride, such as lots of gauges that show all the usual, important information: fuel level, RPM, speed, hours, and temperature. However, it also has a few other features that I use a lot and really enjoys having in the mountains. My favorite feature of the 7s display is, without question, the map and group ride feature. This is an interactive, color map on a large screen where you can see topo lines, and zoom in and out easily, even with your gloves on.
Other riders with 7s displays can now be linked with your sled by using the group ride function. As you ride, you can see where they are in relation to you and if they're moving or how long they've been stopped. If they don't have a radio, you can send them a preprogrammed message or quickly and easily type up a custom message and send it. The message will display across the screen of your friends' 7s display. With the 7s display, keeping in contact and knowing where your friends are is really easy and convenient.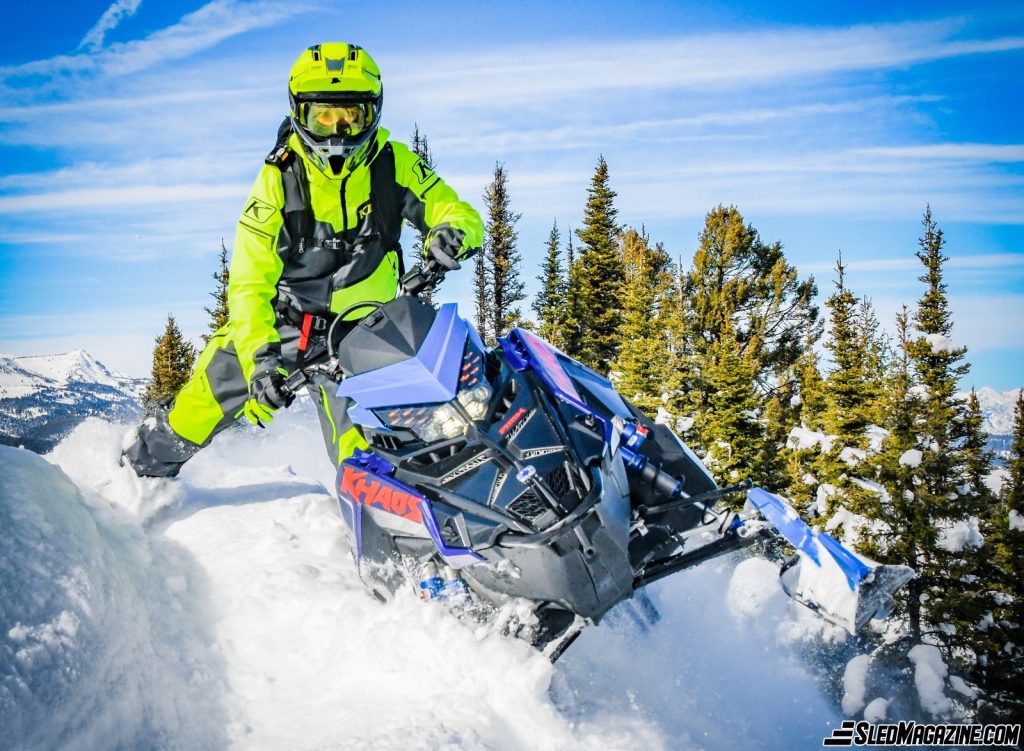 Can the Khaos Hold a Side Hill?
The stability, when side hilling on this sled, is inspiring. Because of the longer 165" length and the slight bit of extra weight from the turbo, it takes a little more effort to initiate a turn and get the sled up on edge. However, once you get it there, the sled wants to stay on the balance point and go right where you aim it. It also feels more like an RMK pro chassis than the Khaos 155 that I rode last season.
Most of the time, I prefer when a sled is more on the wild side, but not when holding a technical side-hill. With the 165" length, the track stays planted, holds the steep hillside well and doesn't want to wash out, giving me extra confidence in the steeper, treed sections. One thing is for certain: this 165" track set up, and length will hold your sidehill line and is predictable in extreme mountain terrain.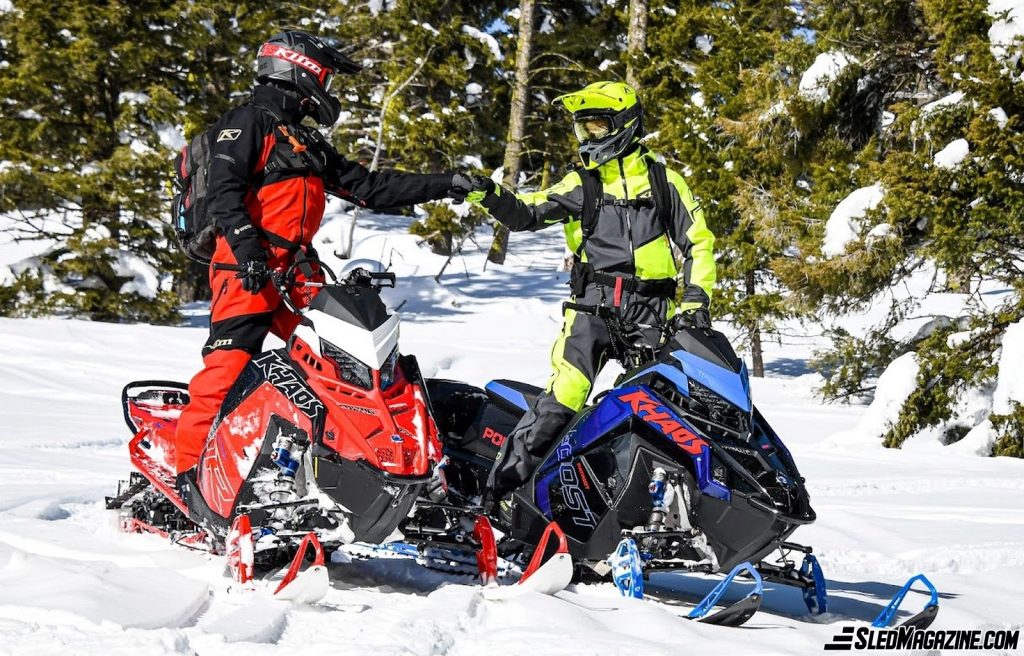 Polaris Matryx Khaos Slash Boost 165": My Conclusion
Without a doubt, the Polaris Matryx Slash Boost 165" is a big mountain sled that performs extremely well. This sled has been pushed, and challenged, but continues to impress me with its abilities, and performance. I look forward to riding this sled for the rest of the season and trying to find its limits.
Thank you to Polaris and SledMagazine.ca for allowing me to experience this testing.
Continue reading our other Polaris-related articles: