When I was last in Montana for the SnowShoot event for trade press, I was privileged to test all the snowmobiles available for the next vintage. This year, the snow conditions were at their peak and almost unheard of. It was fascinating to see the houses that disappeared from the landscape because of the impressive piles of snow.
For us, it was an advantage for some and a small handicap for others. To be honest, the trail sleds had a little more difficulty shining in such conditions while the mountain sledders had a blast in these envious circumstances.
That being said, on the Ski-Doo side, I was excited to put the new MXZ X-RS to the test with the competition package. Its new 2-stroke turbocharged engine developing an impressive 180 HP is simply amazing. You have to live the experience to understand what this snowmobile feels like.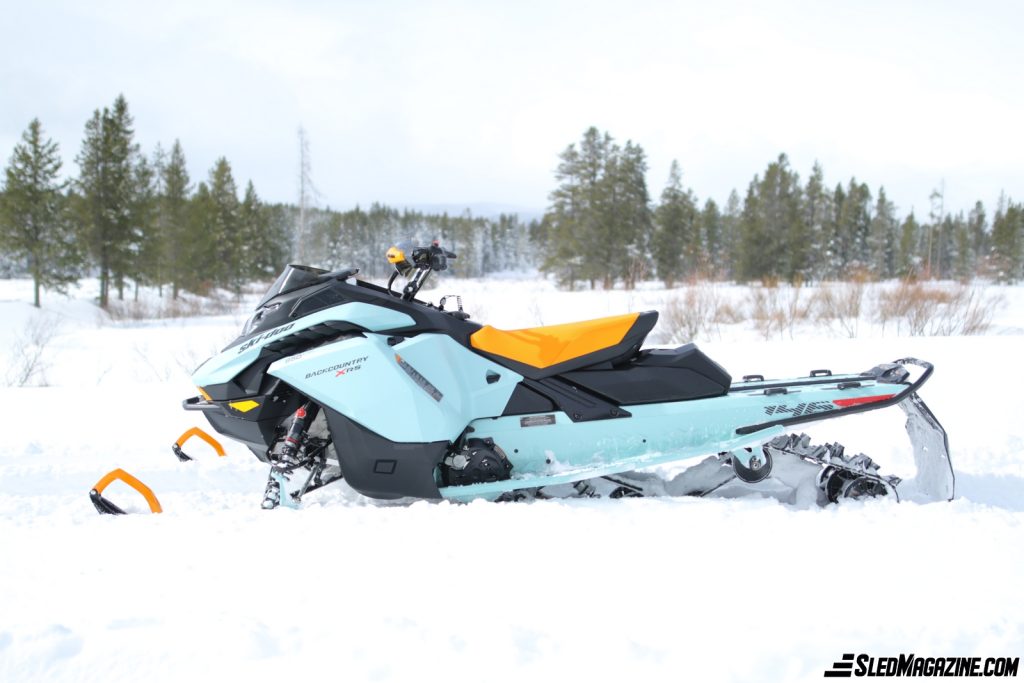 Nevertheless, my favorite Ski-Doo snowmobile of the year 2024 was one I had no prior expectations of. The Backcountry X-RS 850 E-TEC 146 2024 literally surprised me and almost threw me off.
A New Chassis for Ski-Doo 2024.
Many of you know that Ski-Doo has introduced its new iteration of the REV chassis for 2023. However, the REV Gen5 platform was not available for all Ski-Doo models last year, which was the case for the Backcountry version. For 2024, this chassis is now available for almost all versions.
For my part, I found several advantages to this chassis compared to the previous version. Concerning the Backcountry, given its 50/50 hybrid claim allowing it in off-trail areas, its panels are less intrusive allowing more latitude in my movements. Far from being a proven expert in stunts of any kind in untouched snow, I am however able to pull my weight when the situation arises.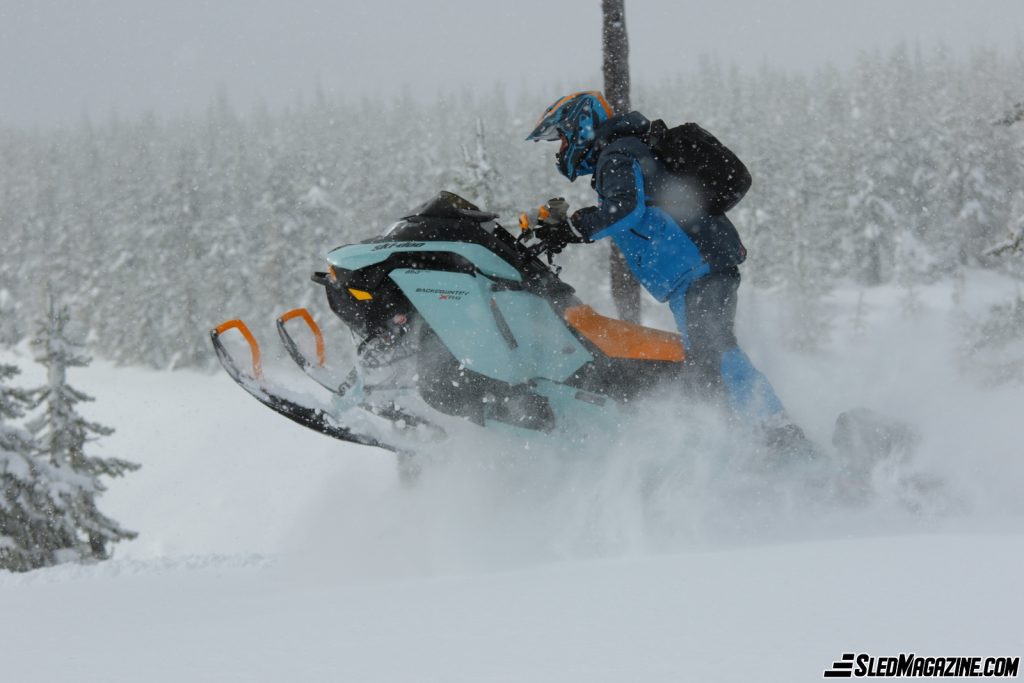 This Backcountry X-RS gives me the confidence I need without holding back. I think that's its strength and what makes it so popular with snowmobilers. There's no denying that its 471 lbs weight is also a factor that gives it the agility to perform feats that we are proud to tell anyone who will listen.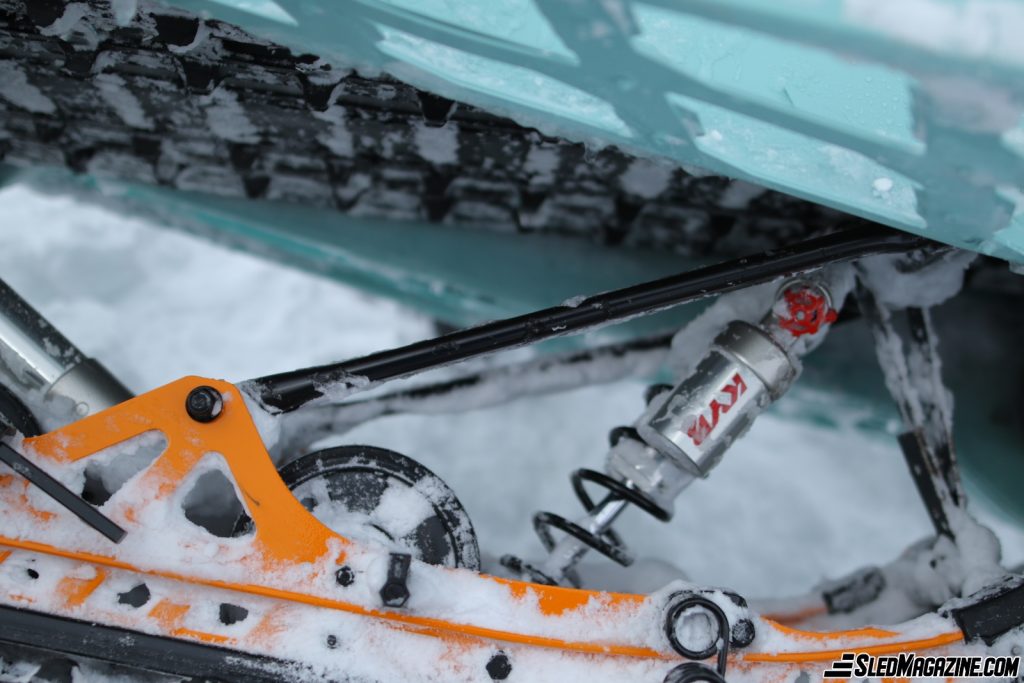 Some Improvements:
The Backcountry X-RS, Backcountry X 850 and Backcountry Adrenaline 850 and 600R all feature new geometry in the cMotion X rear suspension that has a more extended, flatter front arm. It offers more transfer for a higher fun factor, more travel for more comfort, and reinforced rails for more strength. It definitely improves the handling of this crossover on the trail without sacrificing off-trail capabilities.
In addition, the Backcountry X-RS and X versions also benefit from a rack and pinion steering system. Based on the MXZx racing model, this system increases steering precision and the ability to maintain a straight line over big bumps. 
Impressive Results
The results were impressive during my brief test on this pre-production Ski-Doo Backcountry X-RS 850 E-TEC 146 2024 snowmobile. I noticed early on that it could be pushed harder on the trails with more confidence and stability in the turns.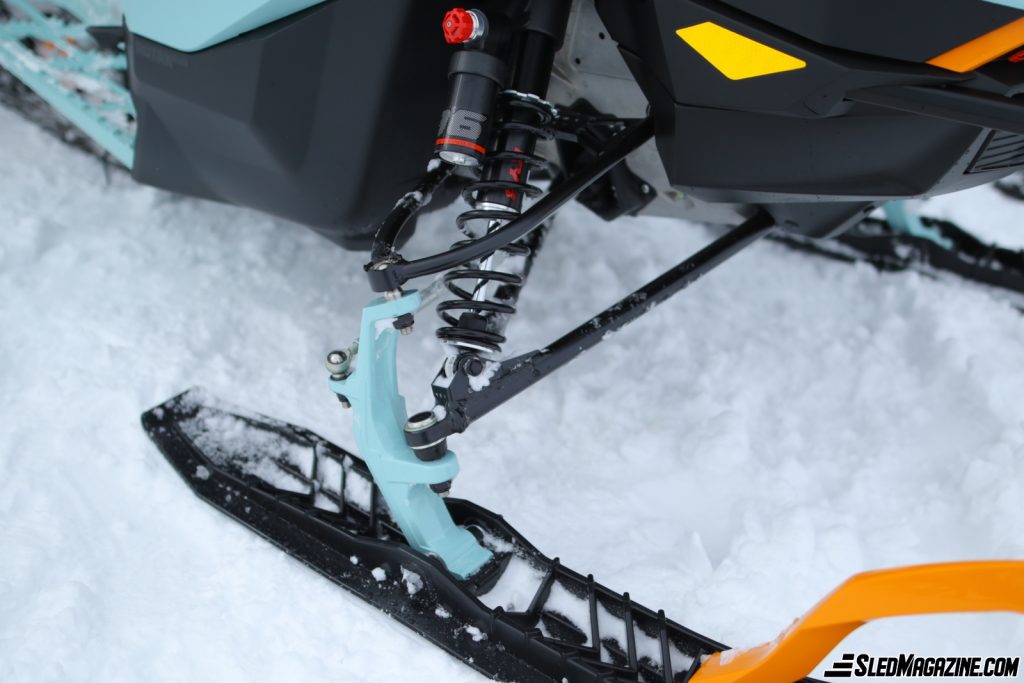 The Backcountry models retain their 39-inch ski stance, and Ski-Doo officials have stated that changes in the rear suspension frame and steering system will not compromise off-trail prowess. I was able to see this firsthand and was surprised at how well this snowmobile handles in any situation.
KYB Pro High-Performance Shock Absorbers
The X-RS is a high-performance snowmobile with high-performance suspension. The X-RS is equipped with KYB Pro shocks and the Easy-Adjust system to easily adjust compression and rebound. Customization is done in seconds for a perfect fit for the playground at hand.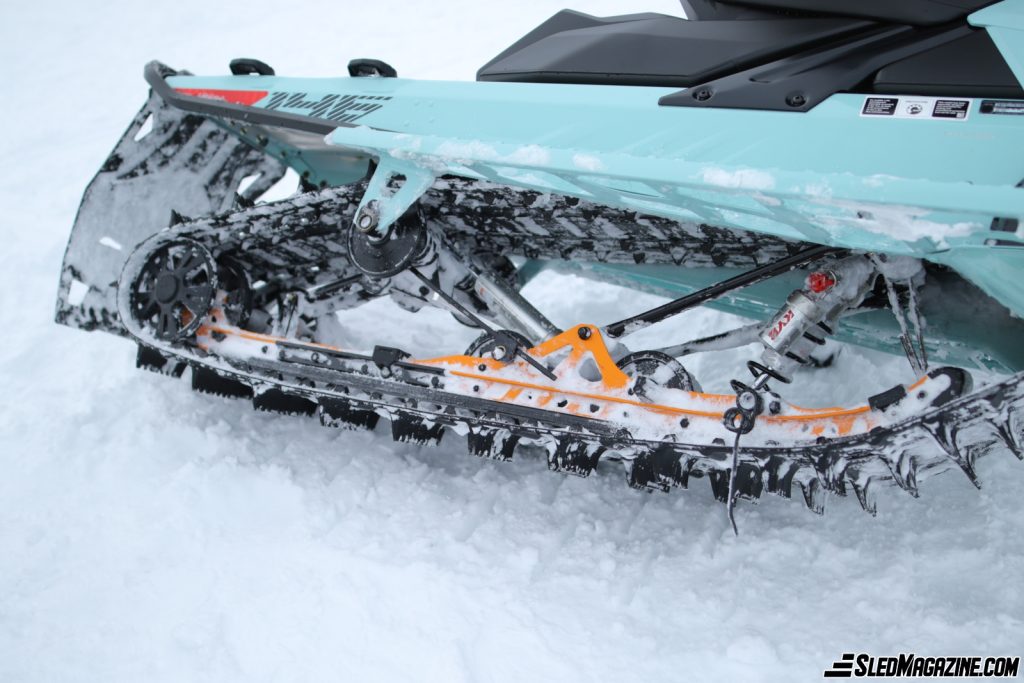 The Traction has its Limits…
In our case, this Ski-Doo Backcountry X-RS is equipped with the 146 x 16 x 2.0 PowderMax track. However, when we are aware of its limitations and capabilities, we can afford to venture into uncharted environments with some restraint. I tried several nose-ups, but without success in crazy snow. Its lack of traction in these conditions was really lacking. I found that it is a good compromise, but it just can't compete with its counterparts with higher crampons.
Colors that… won't appeal to everyone!
I have to admit, I wasn't too sure if I liked the Mint Neo and Orange colors. For me, it's unheard of for a snowmobile and I don't think that the majority of enthusiasts will be won over by this color scheme. However, you'll be happy to know that a Black version is also available for the more restrained riders.
An adjustable Brake Levers
One of the great new features Ski-Doo is offering for 2024 is the introduction of a new adjustable brake. With a toolless adjustable design, it's designed so that riders can find their preferred position for their riding style (20mm reach).
We all have different hand sizes and driving habits. I personally prefer to have two fingers on the lever ready for a quick maneuver. This lever allows for perfect adjustment and equally fast and efficient braking. In fact, after having tried it, I wish all manufacturers would equip their snowmobiles with this great addition.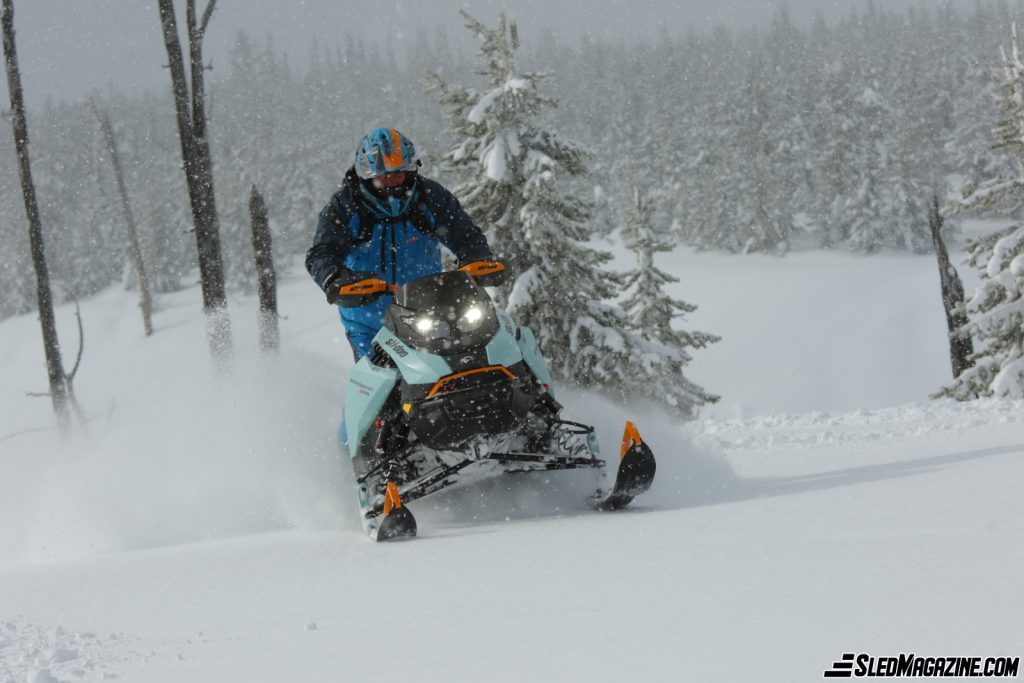 In conclusion, this hybrid snowmobile proved to be a nice surprise, especially for its ability to make me feel confident in any situation. I am sure that it will get me from point A to point B without any constraints, no matter what the environment and snow conditions are.
Continue reading our Ski-Doo-related articles: