When BRP offered me these boots for my test, I was eager to see if they would meet my expectations, which are to be comfortable, warm without overheating, waterproof and moisture-wicking.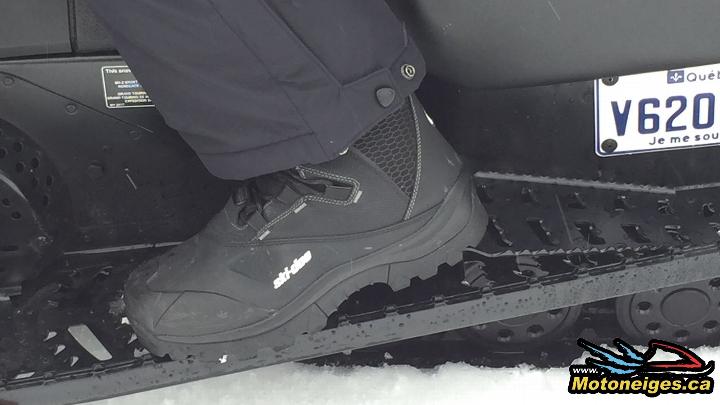 Ski-Doo Tec+ boot
These boots are designed for active pilots who want performance and comfort.
Here are my observations.
The outsole is made of robust rubber, supple enough to have a good traction, and its design evacuates snow adequately. It keeps a good grip to the running board.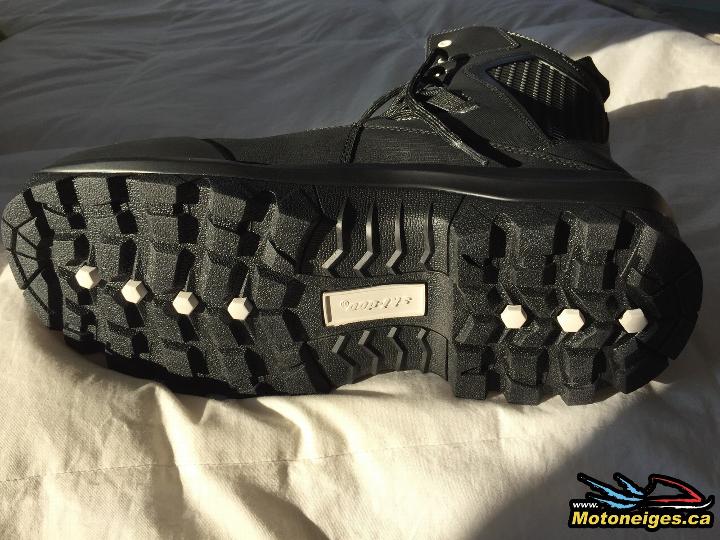 The boot outsole
At front of the boot, to the toes, BRP put a reinforcement called ice breaker toe piece. Its double function is to protect against impacts and to offer better resistance.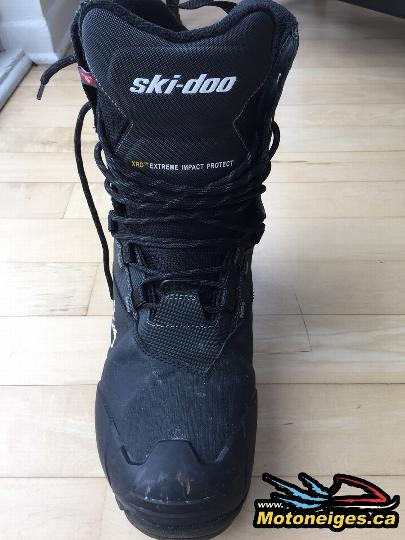 Ski-Doo Tec+ boot front end
The top of the boot, at the foot, is also padded for the same purposes.
For pilots who like to set their boots deep into the snowmobile, the laces begin higher than usual to avoid damages.
These Kevlar reinforced laces are sturdy, which should prevent repeated replacements. Eyelets are very robust.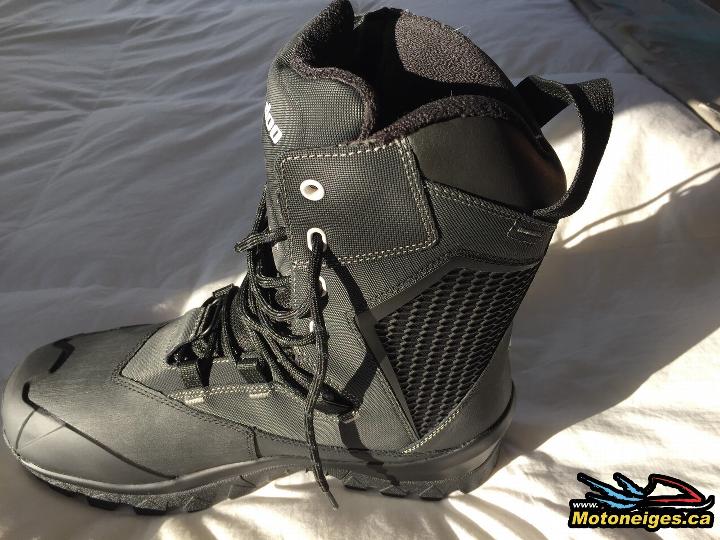 Side view of the Ski-Doo Tec+ boot
Another interesting characteristic is the honeycomb-shaped side of the boot for more resistance and the tongue with foam named PoRon XRD offers extreme impact protection all while remaining flexible.
To be waterproof, the boot has the COSMO HydroGuard membrane that, added to the liner, evacuates moisture.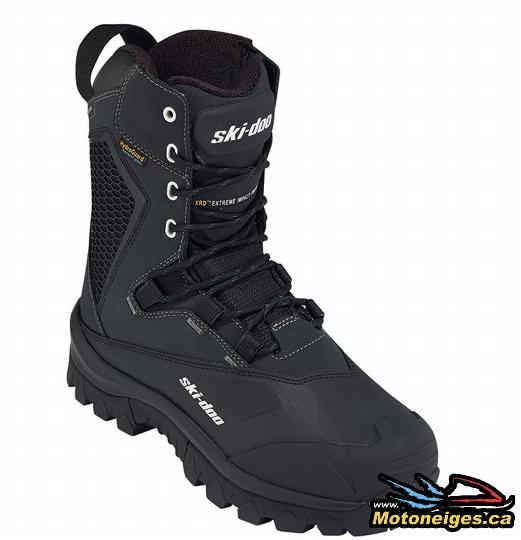 Before, when I was getting indoors, I used to take off my boots to avoid perspiration and to evacuate heat. But with these boots, I never needed to do so.
In matter of waterproofness, I rode and walked in wet snow and rain and my feet remained dry.
To be efficient, a boot must be warm and this model is made with 600g PrimaLoft Eco insulation. I tested it at about -20 °C and I never had any problem.
Other characteristics that make this boot comfortable no matter our riding position or when we walk, are the tapered rear shape and the rear upper cut away.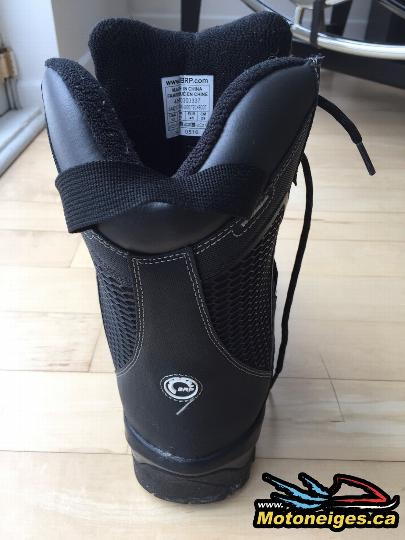 Rear view of the Ski-Doo Tec+ boot
The Ski-Doo Tec+ boot has a tab at the beginning of the laces to make the gaiter of many highpants stay put.
The tab to fix the highpants gaiter
Here is a summary of the boot characteristics explaining its high performance.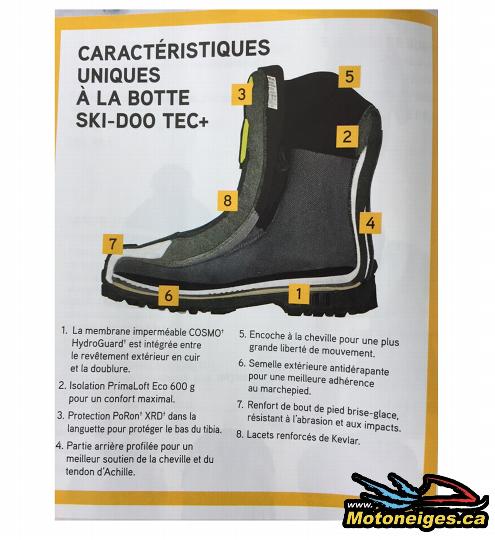 Built with the best materials for optimal fit and comfort while keeping feet warm and dry.
Moisture-wicking inner liner material.
Offered in half sizes with insole inserts.
It is recommended to wear technical socks for best performance.
Characteristics that are unique to the Ski-Doo TEC+ boot :
The waterproof COSMOTM hydroGuardTM membrane is integrated between the leather outer layer and the liner.
PoRon® XRD® extreme impact protection in tongue for lower shin.
Kevlar reinforced laces.
Ice breaker toe piece to resist abrasion and impact.
Rear upper cut away for more freedom of motion.
600g PrimaLoft® insulation for maximal comfort.
Tapered rear shape for better achilles and ankle support.
Anti-slip outsole for better grip to the running board.
Meramec® Ultron® removable technical insole.
I would like to add that to appreciate these boots to the most, it is better to wear technical socks that evacuate moisture adequately.
BRP also offers Ladies' Ski-Doo Tec+ boots with the same characteristics and a very nice look.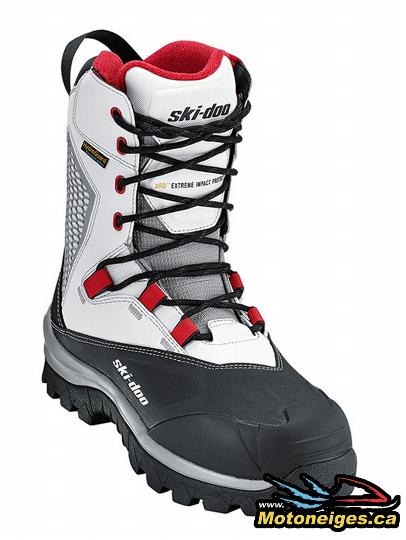 Finally, I would like to thank BRP for giving me the chance to test the Ski-Doo Tec+ boots.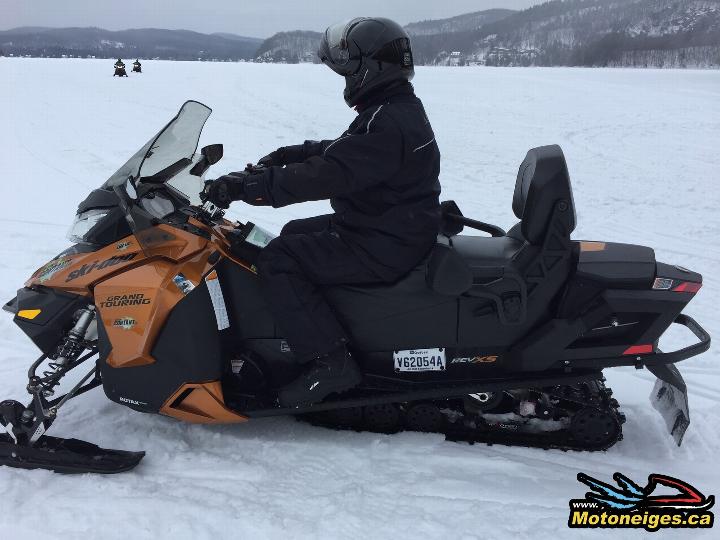 Daniel Sasseville, test pilot, wearing the BRP Absolute Trail suit, the BRP Performance Outdry gloves and the Ski-DooTec+ boots