In our journalistic universe, even if the snowmobile seasons are underway, we are informed each February of the following year's news. We wait feverishly for this moment, because it coincides with the tests scheduled during the SnowShoot. These tests have been held for many years in West Yellowstone, Montana.
If you're not familiar with this well attended event, it's the place to be for journalists to get all the information about improvements and new products from the various manufacturers. It is an annual invitation-only event that sets the table for the following weeks. All the information you need to buy the right snowmobile for your needs is provided.
Our pilgrimage is often preceded by speculations on our part that more often than not turn out to be true. However, manufacturers also surprise us with their audacity and ingenuity. So here are my two predictions that are sure to be found in the next Polaris 2023 model.

1- The first Polaris electric snowmobile!
I am convinced that we will see the first electric snowmobile from the Minnesota manufacturer. My prognosis is based on specific facts and a firm will of this manufacturer to extend electrification to all its recreational vehicles.
As a reminder, on the 28th of September 2020, Polaris announced a 10-year partnership with Zero Motorcycles, a world leader in electric motorcycle powertrains and technology. This exclusive partnership in all-terrain vehicles (ATVs) and snowmobiles is a key component of rEV'd up, Polaris' long-term strategy to position the Company as the leader in powersports electrification. Through rEV'd up, Polaris aims to offer customers an electric vehicle option in each of its major product segments by 2025, with the first vehicle from the Zero-Polaris partnership debuting by the end of 2021.
As a result, the timeline is well underway, as the first side-by-side vehicle was introduced on December 1, 2021 in partnership between these two manufacturers. The Polaris Ranger is the first base of what we can expect in the future. With its new version named Kinetic, this 110 horsepower vehicle is available in Premium and Ultimate versions. The Premium version is equipped with 14.9 kWh of lithium-ion battery capacity and offers an estimated range of up to 73 kilometers, while the Ultimate version has 29.8 kWh of battery capacity and offers an estimated range of up to 129 kilometers.
So, knowing that this electric side-by-side vehicle is in the utility category, it would be quite conceivable for the first electric snowmobile to be in a similar category to begin with. In correlation with the previously mentioned figures regarding autonomy, let's take a closer look at the characteristics regarding the recharging time available to this green energy.
It would be true to say that it is more appropriate for a vehicle that requires shorter trips. It is worth mentioning that the Ranger Kinetic requires a 5 hour recharge time when fully charged with standard equipment and this time is reduced by half with an optional accessory charger. So, I think that a snowmobile considered sporty, like an XCR, would be very unlikely to be the first standard of this electric technology.
So which one will it be?
In all modesty, I consider that Polaris snowmobiles such as the Titan or Voyageur would likely be the platforms that could accommodate the fruit of the joint work between Polaris and Zero Motorcycles. Their attributes are well known and they are used mostly by customers who demand vehicles with traction, towing and storage capabilities.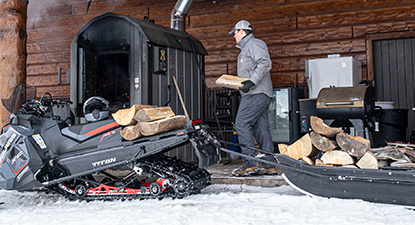 Maybe I'm wrong and we'll see a newcomer with a brand new name, but one fact remains, it will definitely be a utility snowmobile.
2- A semi-active suspension!
My second prediction will delight many enthusiasts, as it will greatly increase comfort and performance on the trail. Let's not forget one fact: Polaris and Ski-doo are great rivals.
What was Polaris' response to Ski-doo's first 2-stroke turbo engine? The response was swift with the introduction of the Patriot Boost, which does not equal, but surpasses what the Valcourt-based manufacturer had previously suggested. As a result, the Patriot Boost not only maintains 100% HP at altitudes up to 10,000 feet (compared to Ski-doo's 8,000 feet), but also offers 10% more power than the original 850 Patriot.
There is another reality we are witnessing in the side-by-side category. Each one pushes the power of their turbocharged vehicles year after year to boast that they produce the most powerful vehicle in this category.
Finally, each one offers us entertainment screens that are beyond belief. The functionality of each is almost surreal and we feel like we're driving a vehicle of the future.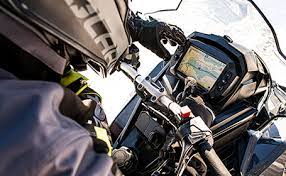 As a result, Polaris is expected to answer for its guns with the SMART SHOX semi-active suspension offered on some of Ski-doo's high-performance snowmobiles for 2022. To get you up to speed, this innovative SMART SHOX suspension is a set of self-adjusting KYB shocks that provide incredible shock absorption and anti-roll, but also compensates for vehicle roll and pitch. The system monitors multiple variables and inputs from 5 sensors. The front ski shocks and rear rail shock are all electronically controlled, with the center shock being a traditional shock design without electronic controls. Considering many of the snowmobile's inputs, these shocks electronically adjust up to 34 times per second in compression and 50 times per second in rebound to provide precision and control of the ride and handling like you've never experienced before.


Therefore, Polaris' response to Ski-doo should be felt very quickly, as our American manufacturer already has a very similar technology introduced in its RZR side-by-side in 2018. The RZR DYNAMIX was the world's first intelligent suspension system designed specifically for off-roading. The system includes sophisticated sensors that continuously monitor seven vehicle inputs to make adjustments – 200 times per second – to optimize the ride. Whether the vehicle is cornering, braking, accelerating, at high speeds or in the air, the system adjusts the suspension for the best response to the current driver input and terrain. These continuous changes offer enthusiasts a more comfortable and confident driving experience.
Although the DYNAMIX suspension was developed for auto-quads, it's a safe bet that Polaris engineers will be able to adapt it to a production snowmobile in the very near future. Will it perform as well with a reactivity of 200 times/second? Time will tell, but in the same range that this Ski-doo offers would certainly be a step forward.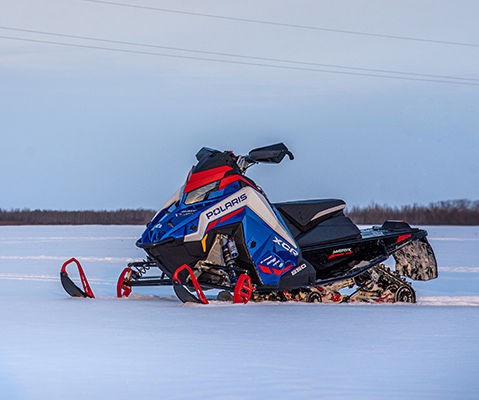 What will be the first representative?
Without a doubt, a Polaris Indy XCR will be the perfect choice to receive such advanced technology combined with its powerful Patriot engine. This conjunction with the Matryx chassis would likely make for a very enjoyable snowmobile to ride. One thing is for sure, Polaris has what it takes when it comes to semi-active suspension, and it's surprising that we're still speculating about the year it will arrive on a production snowmobile. Polaris purists would be happy with this addition and this already very competitive sled would be a hard missile to catch for its closest pursuers. The question that comes to mind is: do we need this technology? Probably not if you're a conservative snowmobiler, but for us journalists in the trade press, we'd be in for a treat with so much performance and comfort.
In conclusion, you will probably be disappointed to see that I do not mention a 4-stroke engine in my predictions. Thousands of you have been asking for it year after year, and I am one of them. It seems that it is not in the priorities, but I could be wrong. Could Polaris pull a rabbit out of its hat and finally offer us a new 4-stroke turbo engine when we least expect it? To be continued…