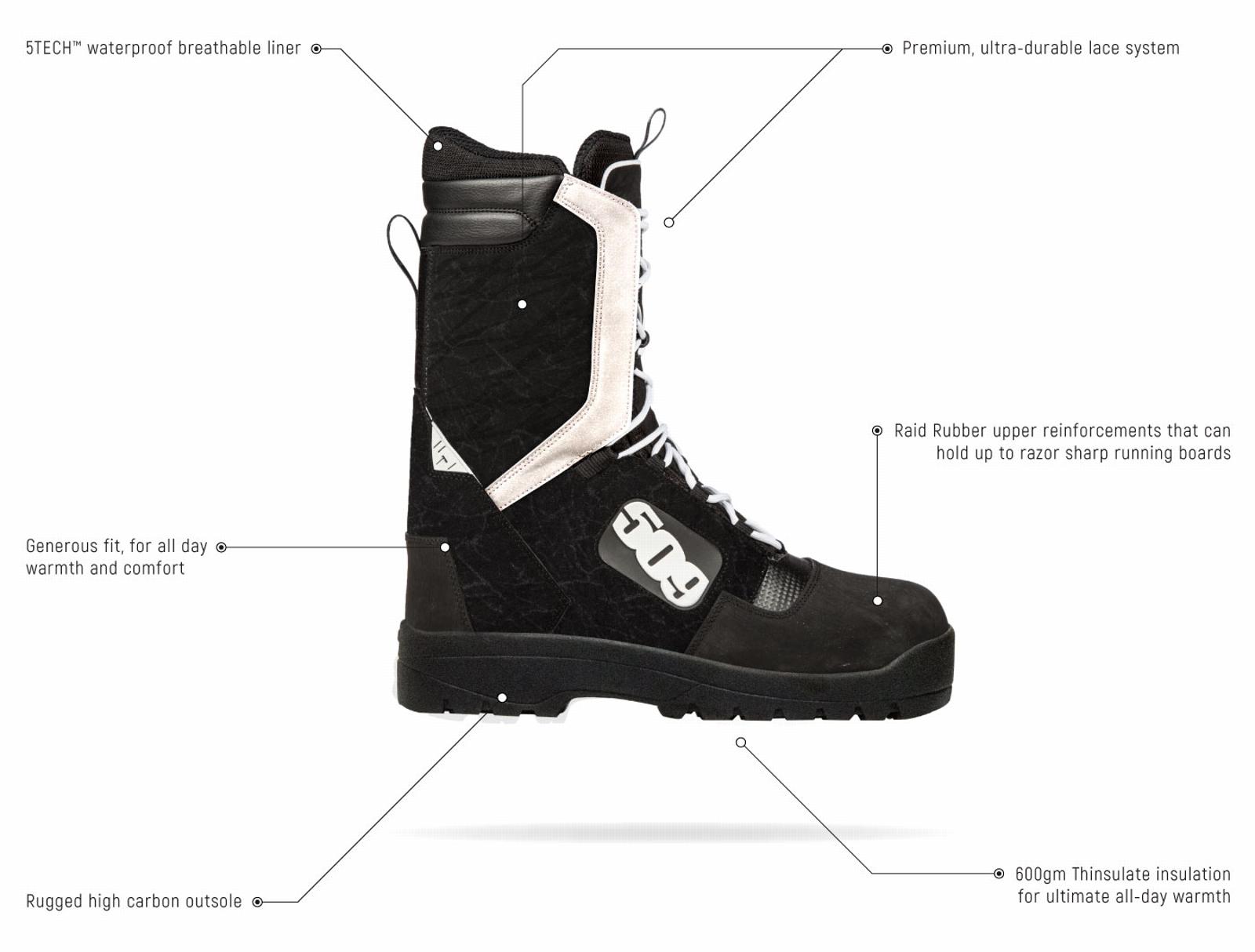 Source: 509
This season, I was lucky enough to try the 509 Raid boots in its laced-up version. Not being a fan of technical boots like Boa types or anything else, I was super happy to be able to try a pair of boots that are as simple as possible.
As soon as I opened the box and laid eyes on these boots, I was surprised by the quality of the workmanship and the design's relative simplicity. No frills, but the essentials were there. I'm talking about small details like the buckle at the boot's back that makes it easier to put it on. There's also a second buckle in front of the boot, which has the same utility.
The rugged high carbon outsole adheres well to icy surfaces, and the finish on the outside of the boots is sober yet attractive.
When I put the boots on for the first time, I knew they would become my main pair for the season. It's easy and effortless to put them on. Since I have big calves, the boot's tongue should not be too thick so that I can easily close the bottom of my snowmobile pants over it. It's a perfect fit for me. All that was left to do was to test these boots against the elements and the cold.
Throughout the season, these boots were up to the task. Even during filming where you sometimes stay 30-40 minutes practically motionless, the boots kept me warm even if the temperature was below -20 C. On the other hand, if the temperature drops below -30 C or -35 C and your feet get cold easily, and you are rather stationary, I would advise you to choose boots that are more insulated, mainly at the sole level.
The boots are waterproof as well as wet snow proof and will keep your feet dry. Since these boots are not equipped with felt or booties, be sure to dry them well when you return home to be ready for the next day.
I wore these boots on all my snowmobile outings this season, and even though some snowmobile running boards are quite aggressive (studded), the sole does not show any sign of wear. After a full season, my boots' condition lets me guess that these boots will be part of my snowmobile kit for many years to come.
I have no hesitation in recommending the 509 Raid laced boots.