Ski-Doo brings back childhood memories
We all have a great story to tell about our first steps on a snowmobile. Whether it was funny or full of emotions, those first steps were surely witness to a good dose of fear, doubt and shyness. These feelings are understandable, as they are related to the process of learning a new activity that brings with it a certain amount of mistrust towards a vehicle that can be intimidating for some.
Ideally, our beginnings should be progressive, to acquire the confidence and assurance that will bring us to the greatest heights in this world.
Snowmobile manufacturers have realized that they need to offer a wider variety of snowmobiles for all types of riders, including the novices who will be the next generation of riders. In a supervised learning environment, novices will be able to take full advantage of vehicles adapted to their size and caliber.
Who doesn't remember, in the early 2000s, Ski-Doo's youth snowmobiles were available in reduced sizes. These machines, called Mini-Z, were coveted by young children in search of adventure who wanted to copy their parents' actions. Unfortunately, they disappeared from showrooms after a few years of production. Well, for 2023, Ski-Doo is coming back with snowmobiles that will certainly arouse passions…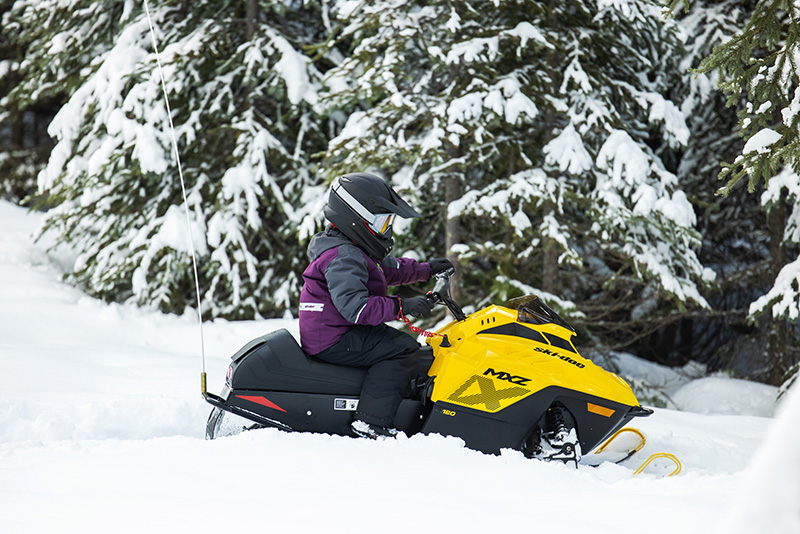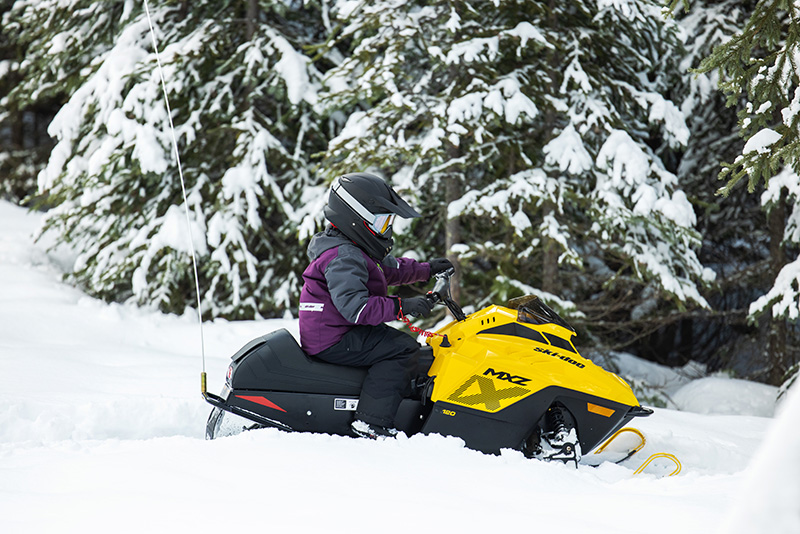 THE MINIS ARE BACK…
Ski-Doo is more than proud to present a new line of snowmobiles adapted for our budding recruits. These will allow our youngsters to experience the joys of winter and become familiar with snowmobiling in a supervised environment in complete safety.
These new Ski-Doo products for 2023 are the MXZ 120 and MXZ 200, tiny youth snowmobiles that should look remarkably familiar to those in the youth market because they are very closely related to the products available from two other brands.
These two new snowmobiles arrive at Ski-Doo under a licensing agreement with Textron (owner of Arctic Cat) and use a Yamaha engine, which Textron gets because of its development partnership with that brand. Take away the plastic, and the new MXZ 120 is more or less the same as an SRX 120 or ZR 120, and the MXZ 200 is very similar to a ZR 200 or SnoScoot.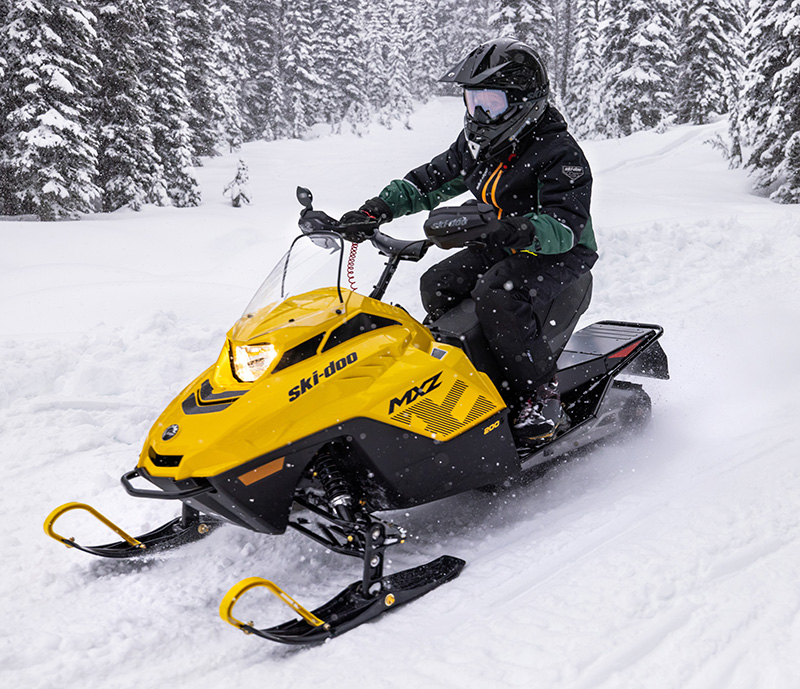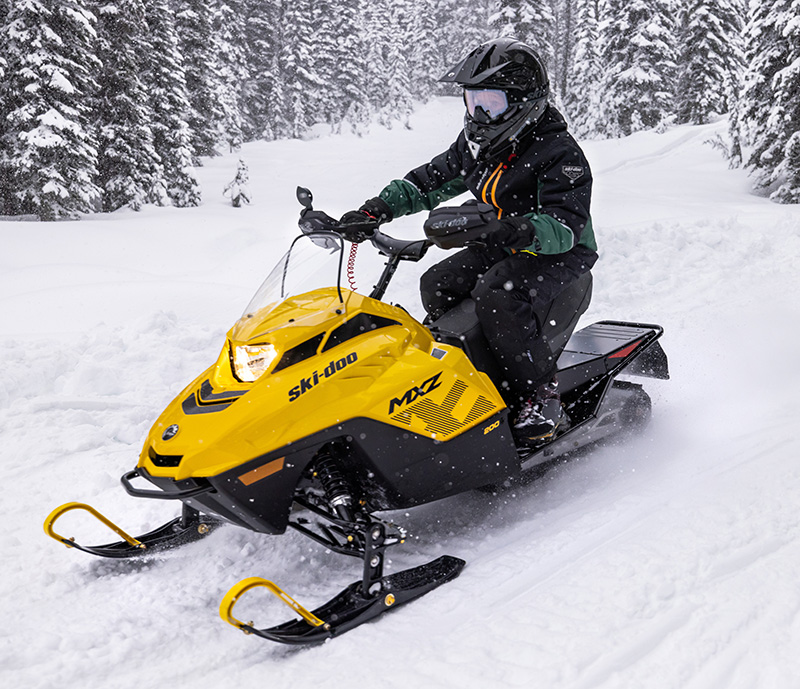 Perfect for the kids
The MXZs will have a separate body from the competition snowmobiles and a Ski-Doo snow guard, but otherwise, they are pretty much the same snowmobile. The 120 features a 67 x 10 x 0.75-inch Cobra track and a 123 cc four-stroke engine that produces 6.5 hp, while the 200 generates 9 hp using a 93 x 10 x 1-inch Cobra track.
They have everything needed to provide hours of fun. They are equipped with electric starters for easy starting without mom or dad's help. These minis have a safety cord that allows you to cut the power in case of an incident. Like full-size snowmobiles, they also have heated handlebar grips for added comfort.
Don't worry, the MXZ 120 is limited to 13 km/h while the MXZ 200 can reach a maximum speed of 50 km/h. Ski-Doo understands that the passion for snowmobiling is passed down from generation to generation. There is a new way for riders to carry on the tradition and share the fun and excitement with the whole family.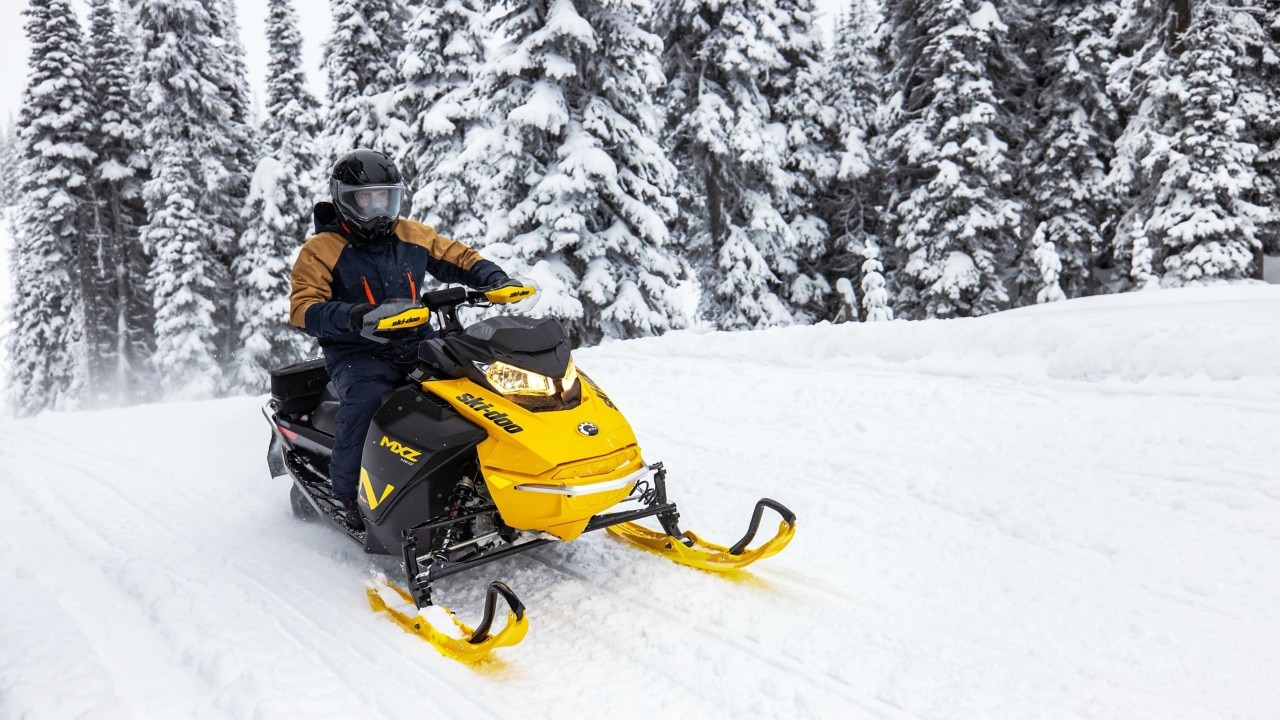 Affordable snowmobiles, the NEOs
Ski-Doo has introduced new full-size snowmobiles that will initiate adults who want to own a new snowmobile without breaking the bank. Based on the REV GEN4 platform, the NEOs models will undoubtedly be a bridge for neophytes who want to experience the ecstasy of riding a snowmobile.
Available for the trail in an MXZ version and for the off-road category in a Summit version, it is a more reassuring approach for newcomers.
MXZ NEO
Compared to their predecessors, the two MXZ NEOs are 3 inches closer to the ground, use a 120-inch track and are equipped with Pilot 5.7 skis spread out at a 39-inch position. In addition, for better maneuverability, the handlebars are smaller in diameter and narrower in width. Electric start and reverse gear are standard. Ergonomics, we were told, were designed for people between 4 feet 10 inches and 5 feet 10 inches and under 185 pounds. Even the brake and throttle travel is smaller.
The base NEO and its NEO + sibling get their different power levels from the fuel-injected 600 EFI engine. Previously, it was offered at 85 horsepower in the MXZ Sport, but that power is limited for this new variation at Ski-Doo.
The base MXZ NEO is priced at $7,999, develops 40 horsepower and its track measures 14 inches wide X 1 inch. For an additional $1,000, you can purchase the MXZ NEO + with 55 horsepower and a track measuring 15 inches wide X 1.25 inches. They both use a new single-shock rear suspension.
The MXZ NEO models feature the same advanced suspension technology as the full-size models, the RAS X front suspension, providing cornering stability and precision handling.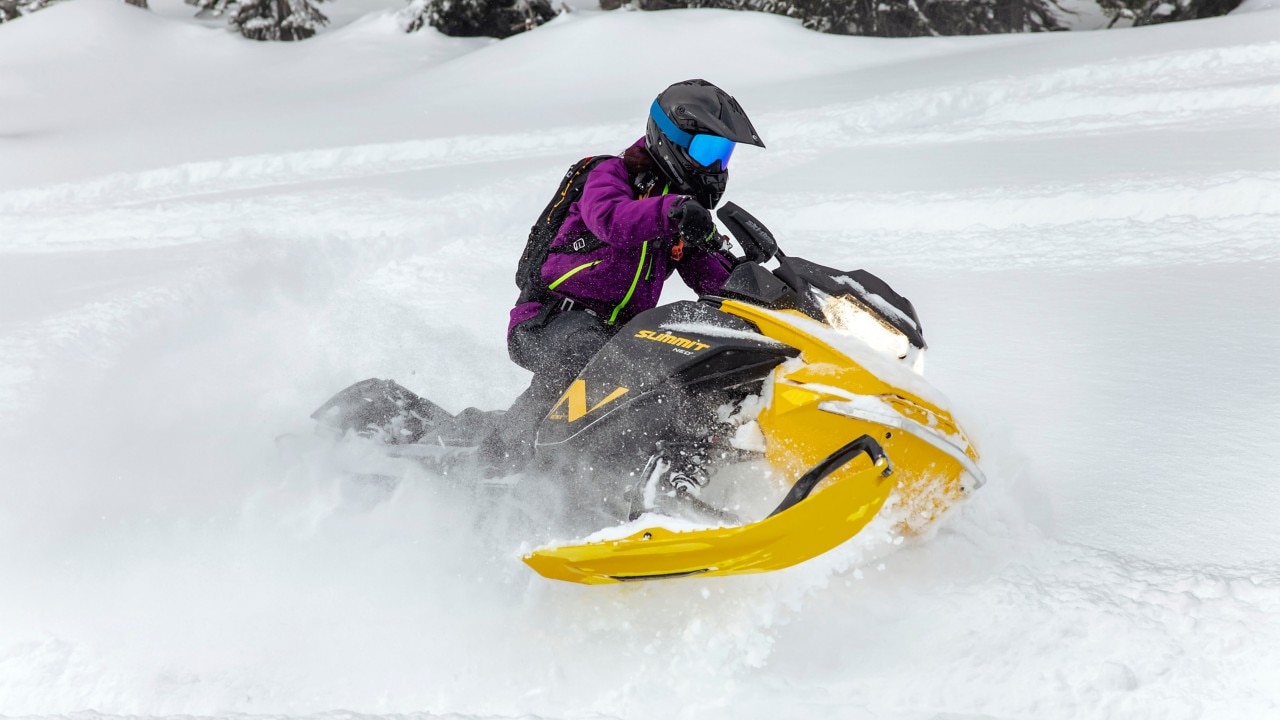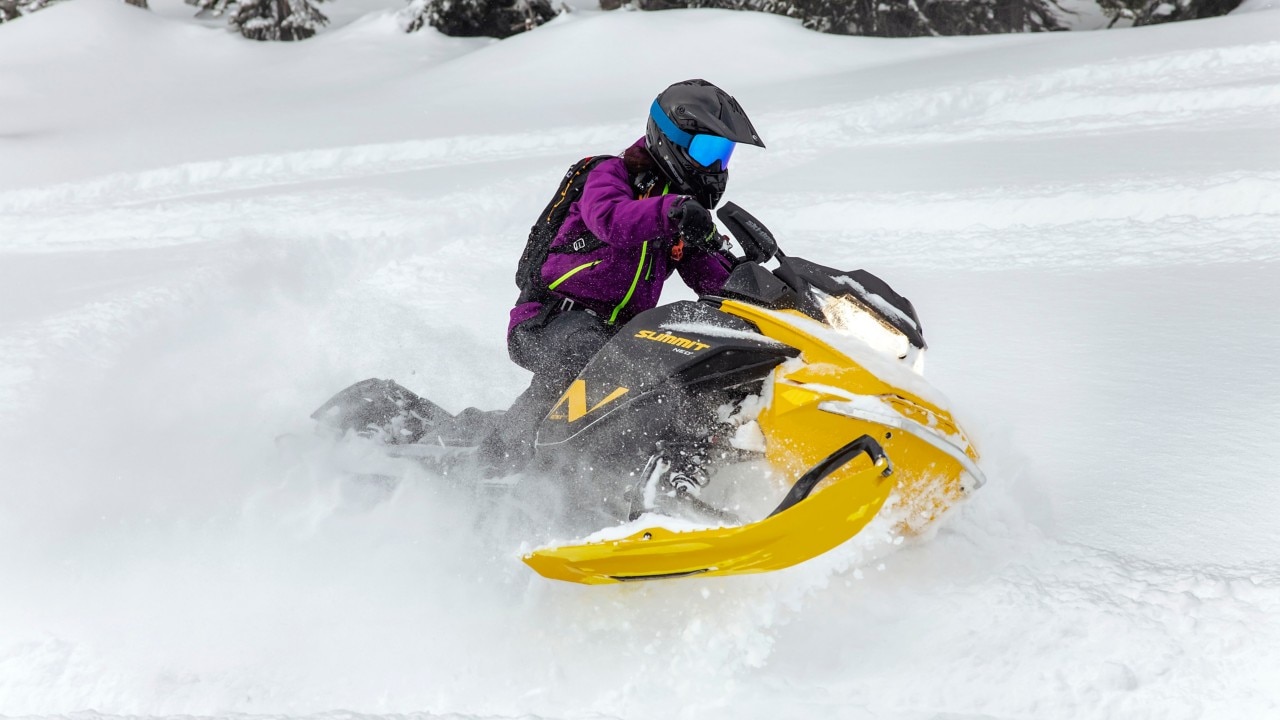 Summit NEO
As for the Summit NEO, it has similar specs to those previously discussed except with a 34-inch ski position. Designed to give riders the confidence and precise control, the RAS 3 front suspension performs just as well in the powder as it does on the trails.
The base Summit NEO has a 14 x 146 x 1.35-inch Cobra track, while the Summit NEO + gets a 15 x 146 x 1.75 Hurricane, both with FlexEdge. Its perfect balance conferred by its centralized mass makes it easy to ride for deep snow thrills. Its starting price is set at $8699 for the 40-hp base model and $9699 for the 55-hp version.
It should be noted that NEOs snowmobiles are limited to 80 km/h for safety reasons. They will certainly fill a gap between the youth snowmobiles and the more powerful full-size ones.
In conclusion, Ski-Doo shows once again its firm intention to offer snowmobiles for all types of riders. They will be able to transmit values and good behaviour to future generations.
To learn more about 2023 Ski-Doo lineup