For sure DO NOT put your helmet into a snow bank of self pity. Get out there and get in the game of anything snowmobile. Volunteer with a local club, do some trail work, clean up a clubhouse, polish the groomer or in my case last weekend, attend one of many vintage snowmobile events.
Enjoy this short trip down memory lane and let it take you mind off your wait as may be applicable.
A vintage event can warm your snowmobiling soul by keeping you in touch with our roots and stimulating memories. Vintage events give us and those we share one with, a deeper appreciation of how far our sport has progressed and how much fun the new sled will be when it finally arrives.
This isn't really an article, as much as it is a photo expose' with random commentary.
A little trip in the past
On a beautiful sunny and crispy cold Saturday morning, I took my passion, my Dad and my patient wait to Washington. No not Washington DC, but the small Central Vermont town of Washington, found just outside of East Barre on Route 110.
On this special day the Washington Snow Flyers snowmobile club hosted a heavily attended down home, grass roots celebration of the nostalgia of vintage.
From beautiful restorations, preserved originals to right out of the barn, memories were all around.
I was surrounded by names from the past, some revered, some easily recognized and some more obscure.
Here is some of what I saw and thought. What do you remember about these machines from the past?
My personal memories were full of meaningful recollection.
I hope that through my photos and remembrances, you may recall and enjoy some of your own.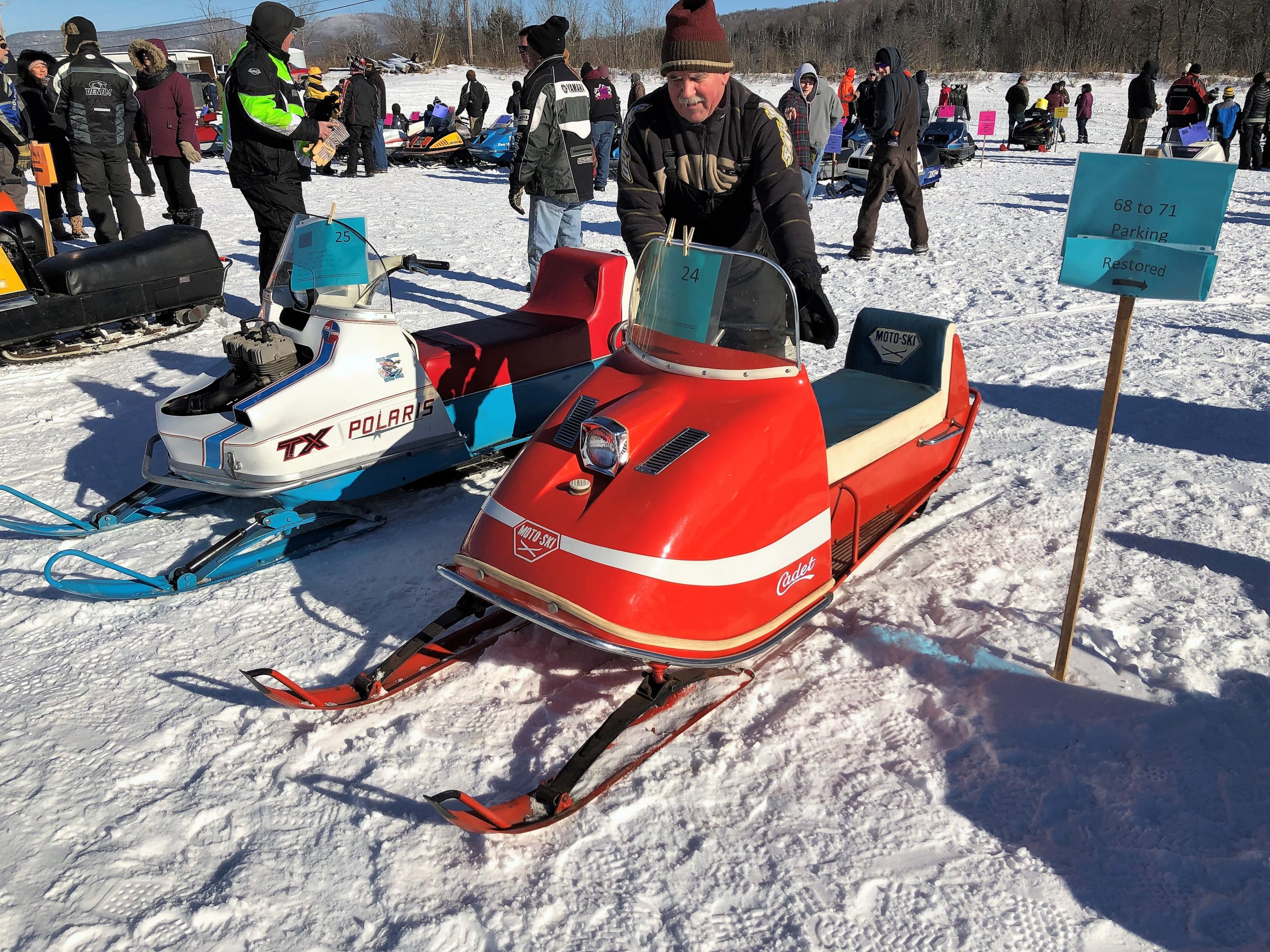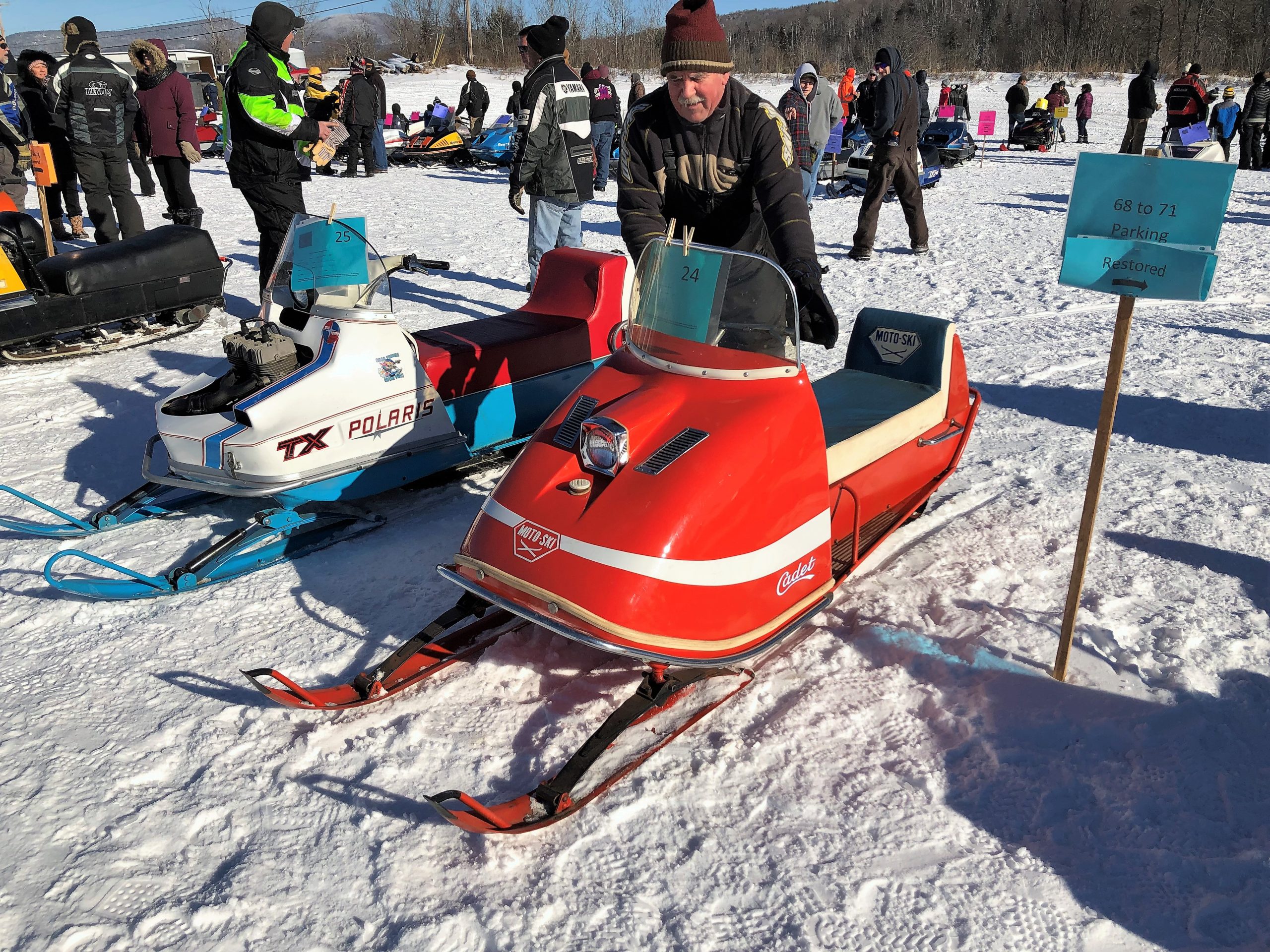 This one is in absolutely pristine condition. I know a guy in Northern New York with a whole fleet of these. Some might say he has a "more than" small vintage snowmobile problem. Fortunately there are lots of guy like him.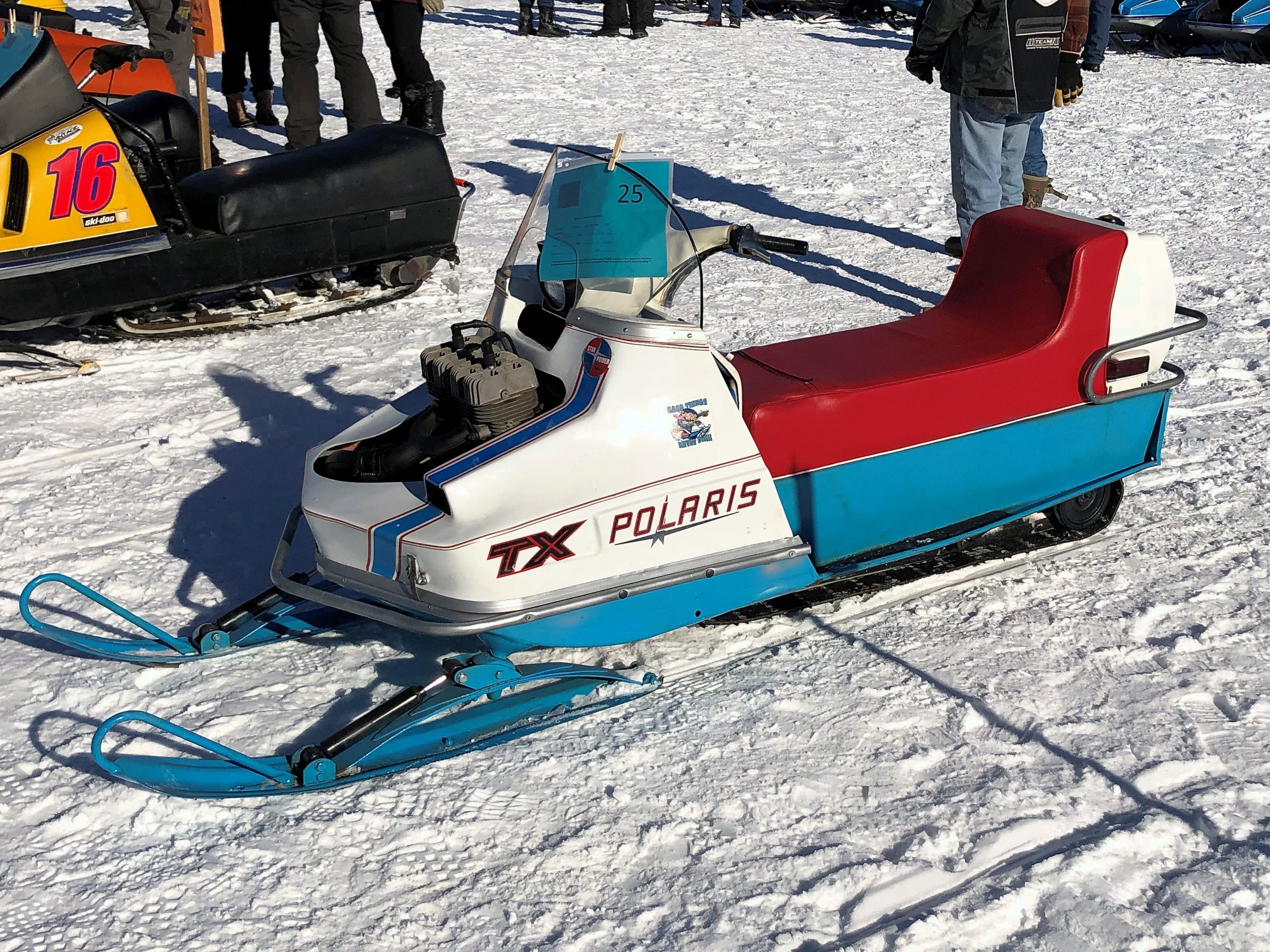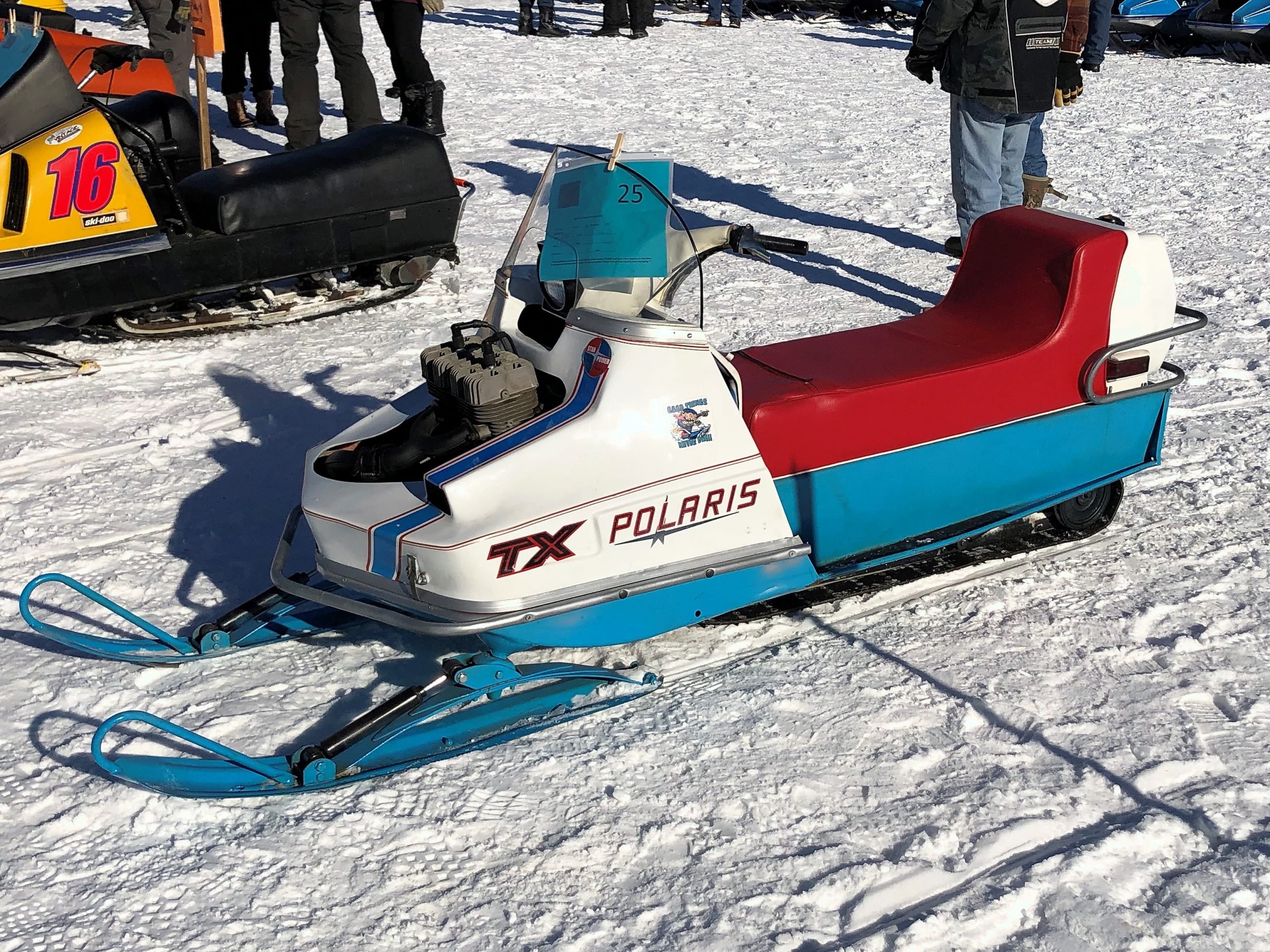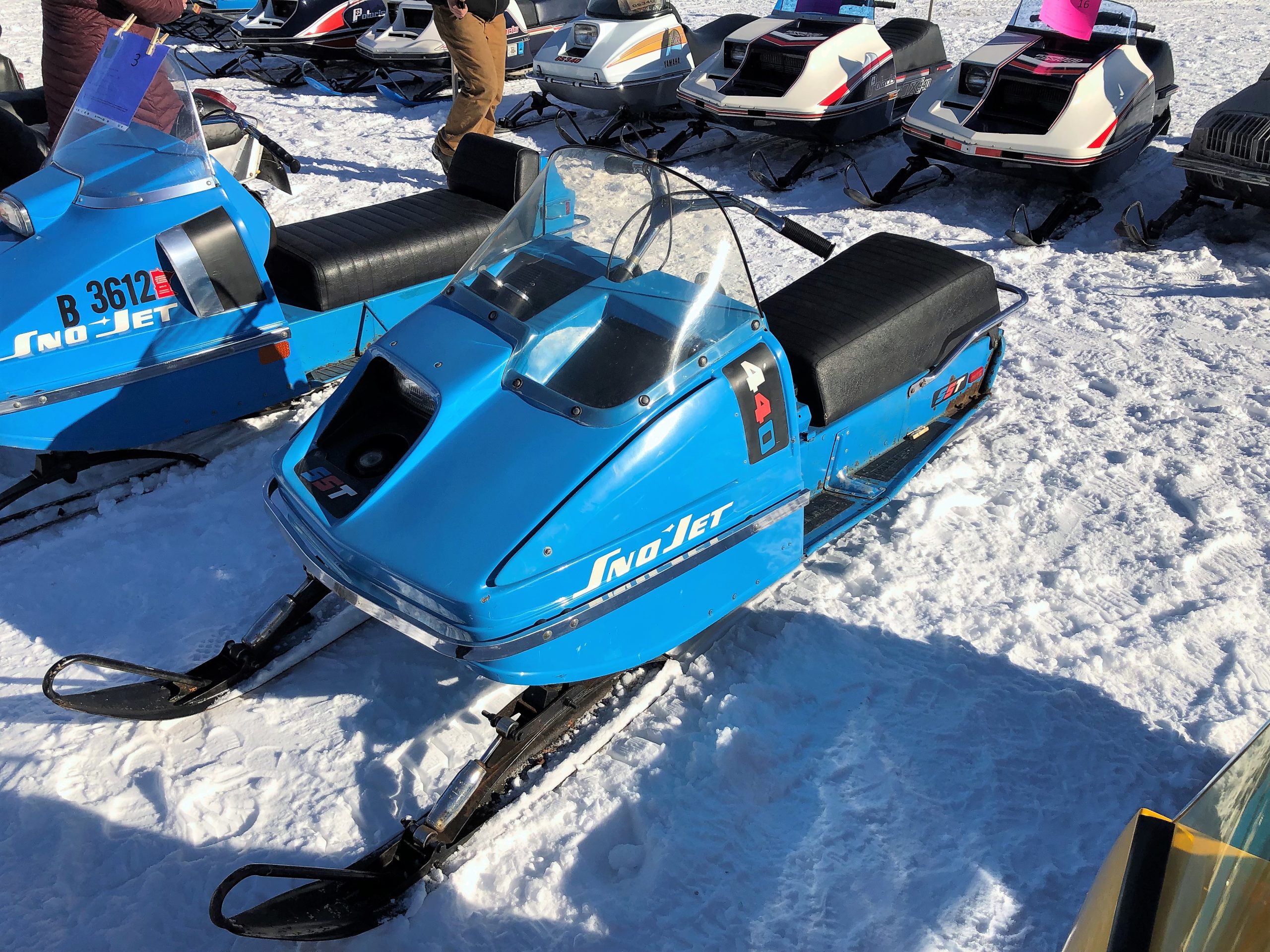 Can you imagine if they survived into the modern era? Did you know that at their peak in 1970 this Thetford Mines based manufacturer sold 30,000 units in over 20 models? Wow!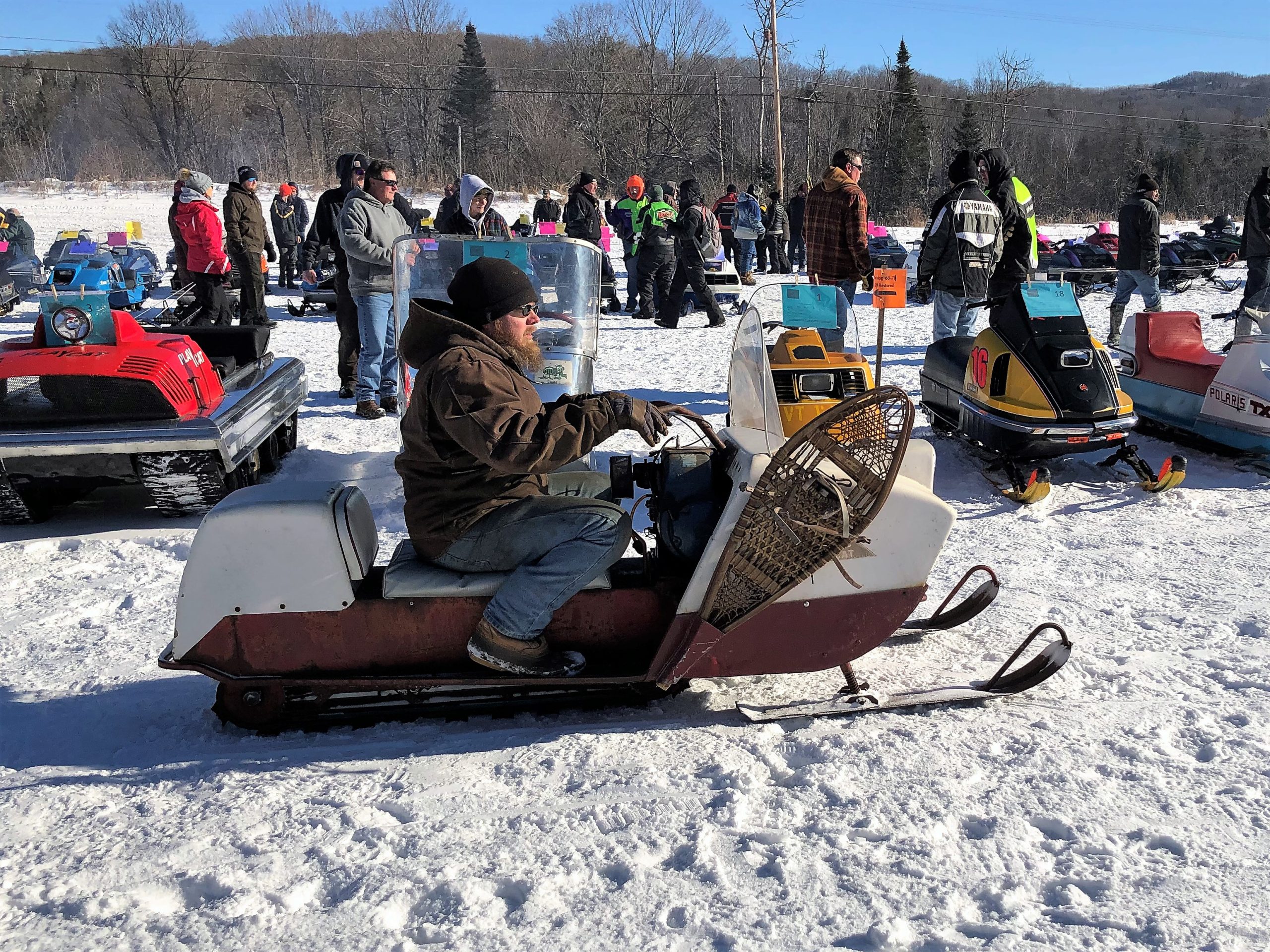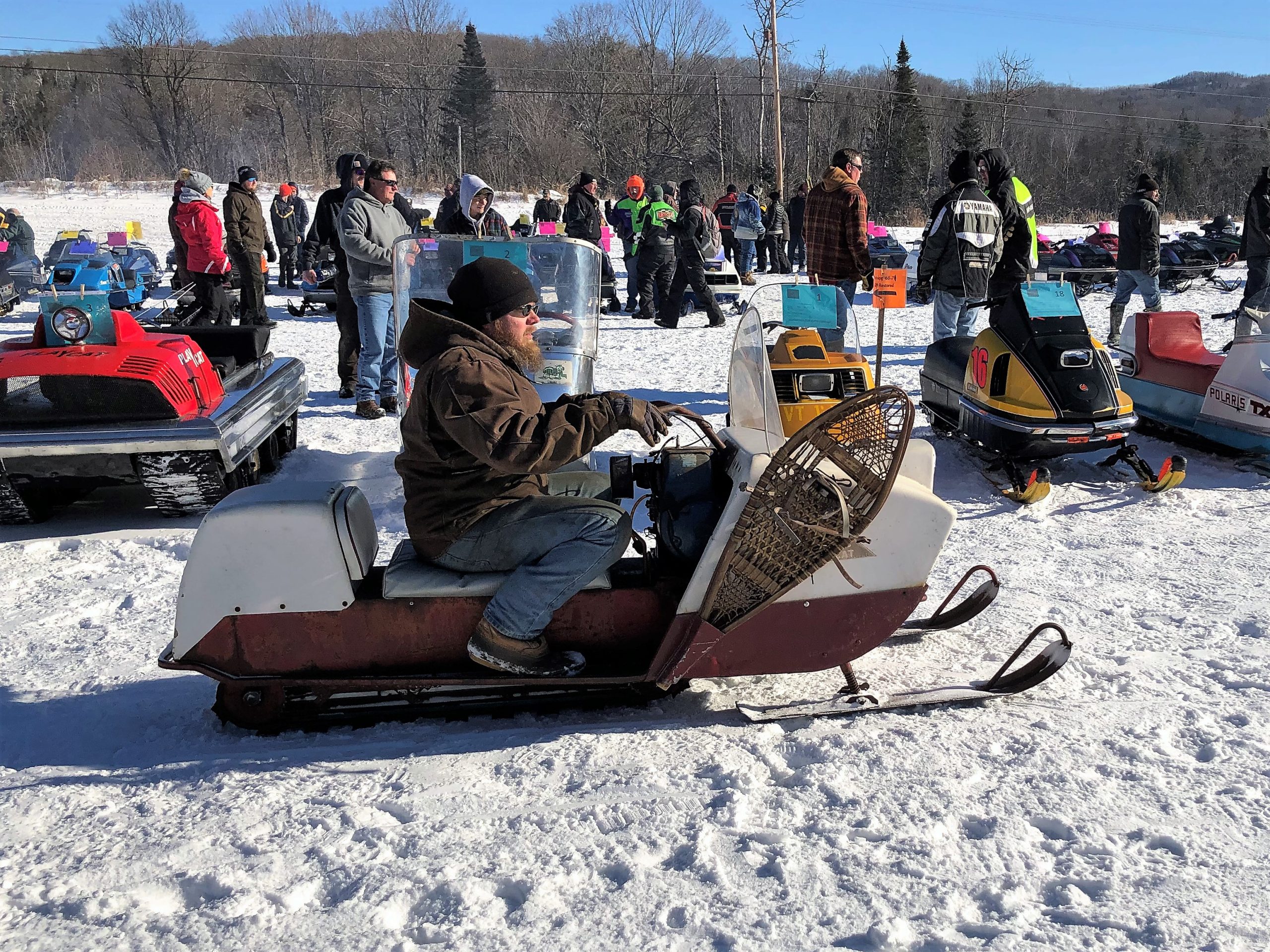 That was definitely equipped with the latest in deep snow capabilities. Definitely a hybrid!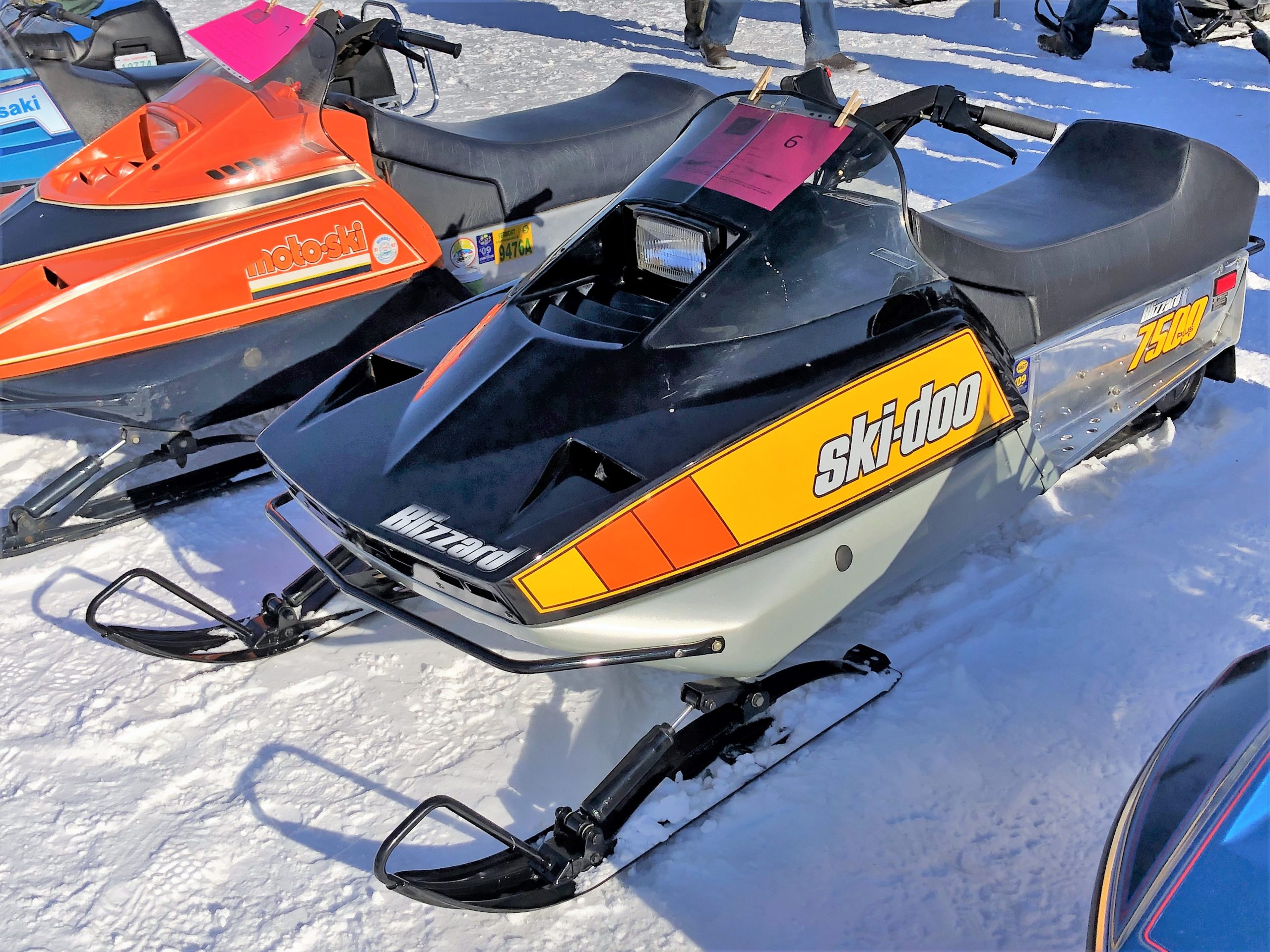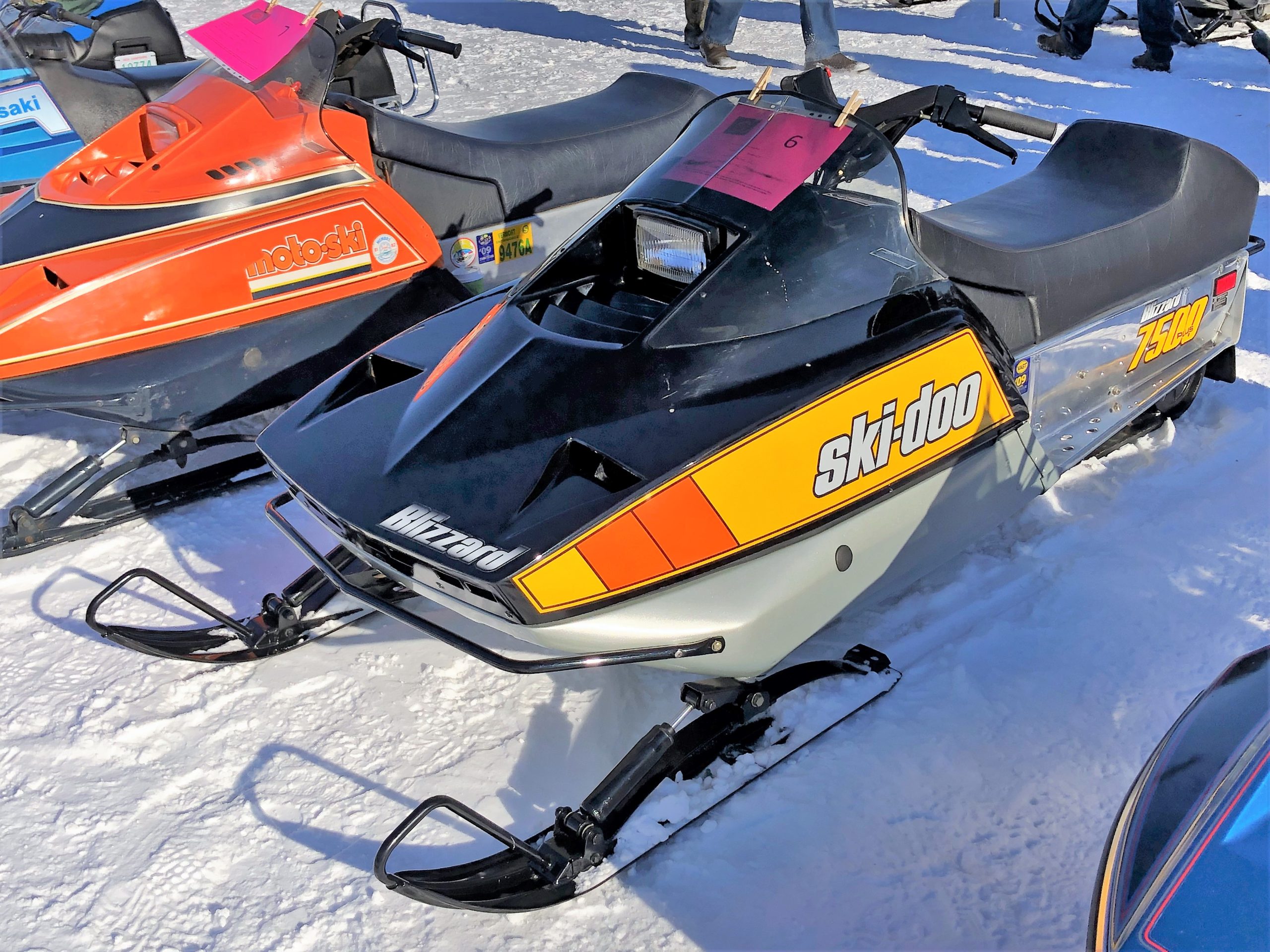 A Ski-doo Blizzard always reminds me of my first big boy ride with Vermont stock car racing legend Beaver Dragon and gang. I was honored, scared and excited all at the same time. I recall that seasoned snowmobile hot shots Randy Cary, Fred Nye and Larry Everest were part of my important mission.
Blizzards were offered in 7500 and 9500 models and of course this group had the big ones.  I was on a 1973 white stripe 340 tnt and determined to keep the big boy pace without complaint. I remember that if during any trailside stop,  you noticed Beaver starting to slip his hand into his glove, you had better get your shit together because the crazy train was about to leave with or without you.
At about the half way mark of this monumental ride, my throttle cable broke. But, there was no way this kid was going to fall off Beavers big dog pace, slow the group by stopping to make a quick repair or worse be left trailside.
I rode the rest of the way to our lunch stop, running the throttle at the carburetor with one hand and turned the bars with the other. When we reached our destination my steering arm was pumped up to the size of my thigh, but I had kept the pace without anyone noticing. We made repair during lunch, I earned a little respect for my determination and the ride home was much easier. That's what Blizzards make me think of, how about you?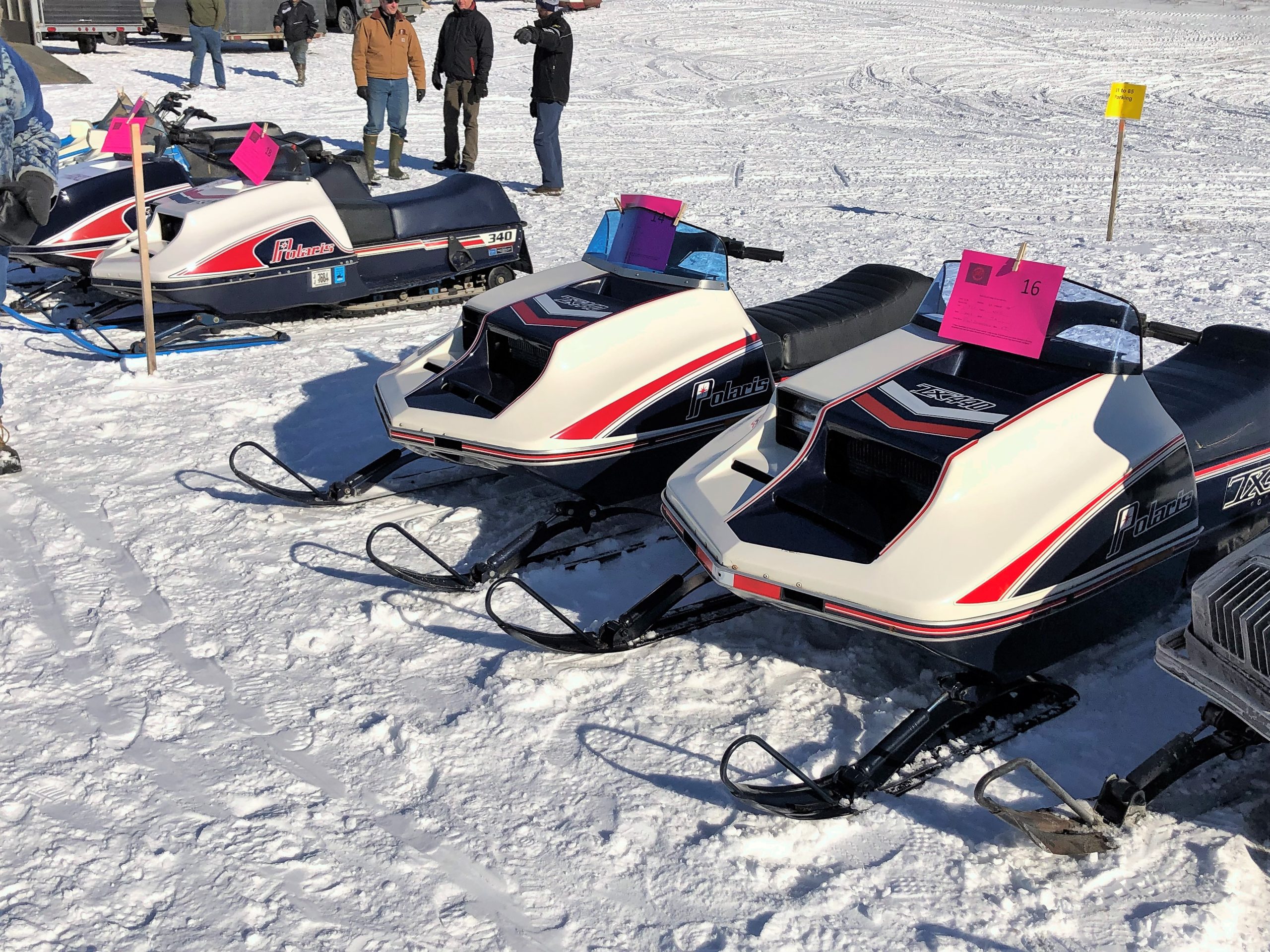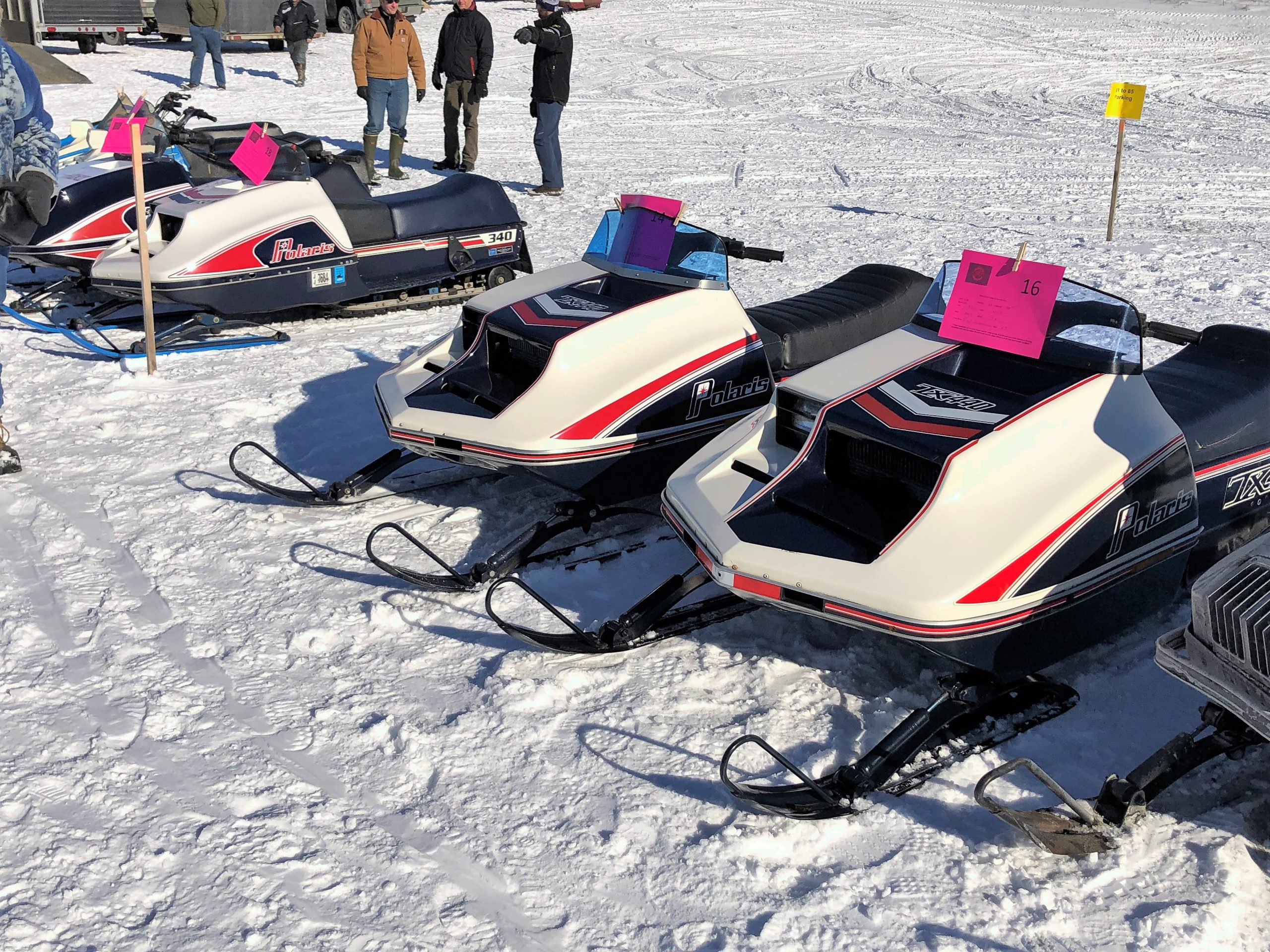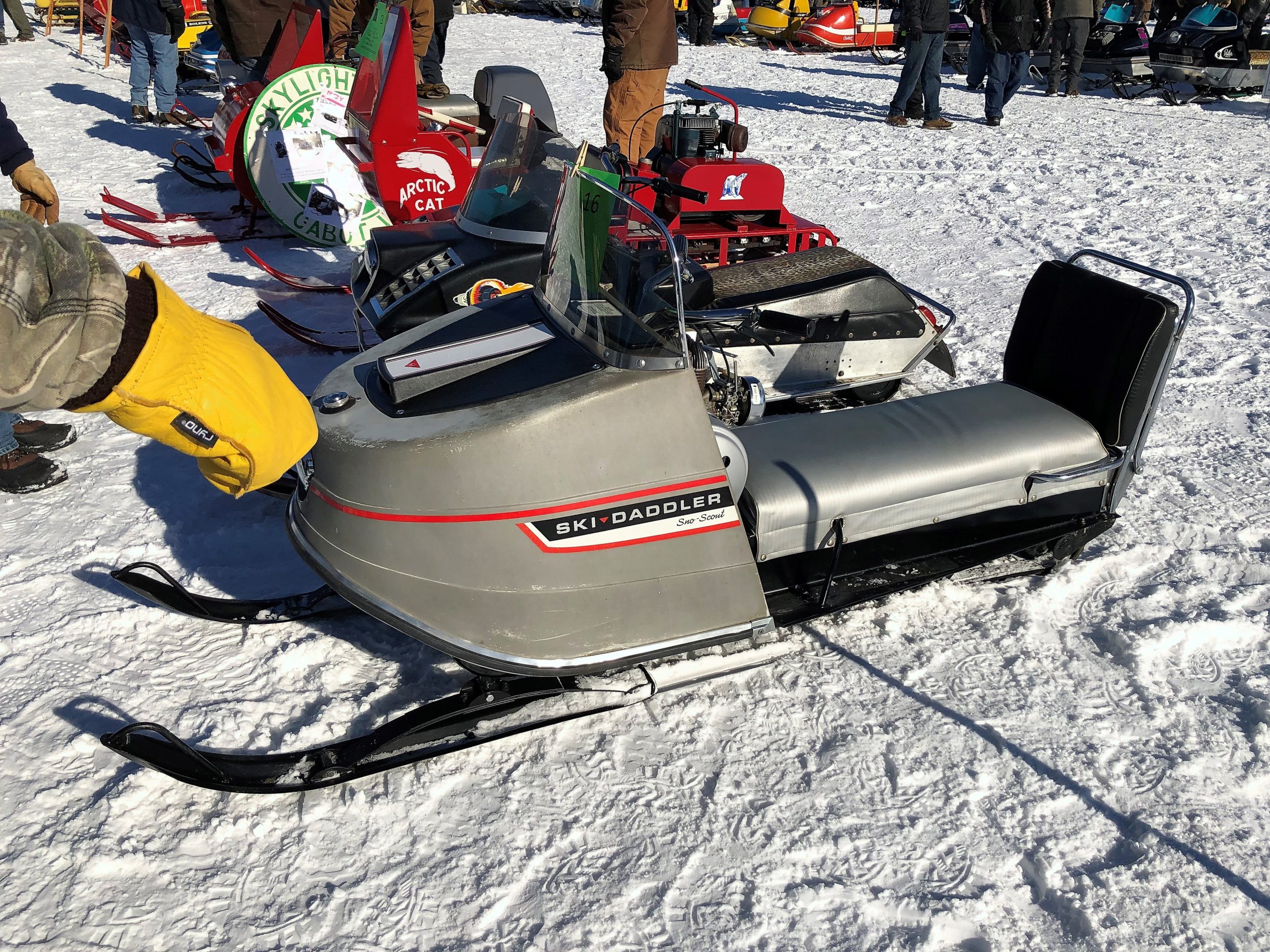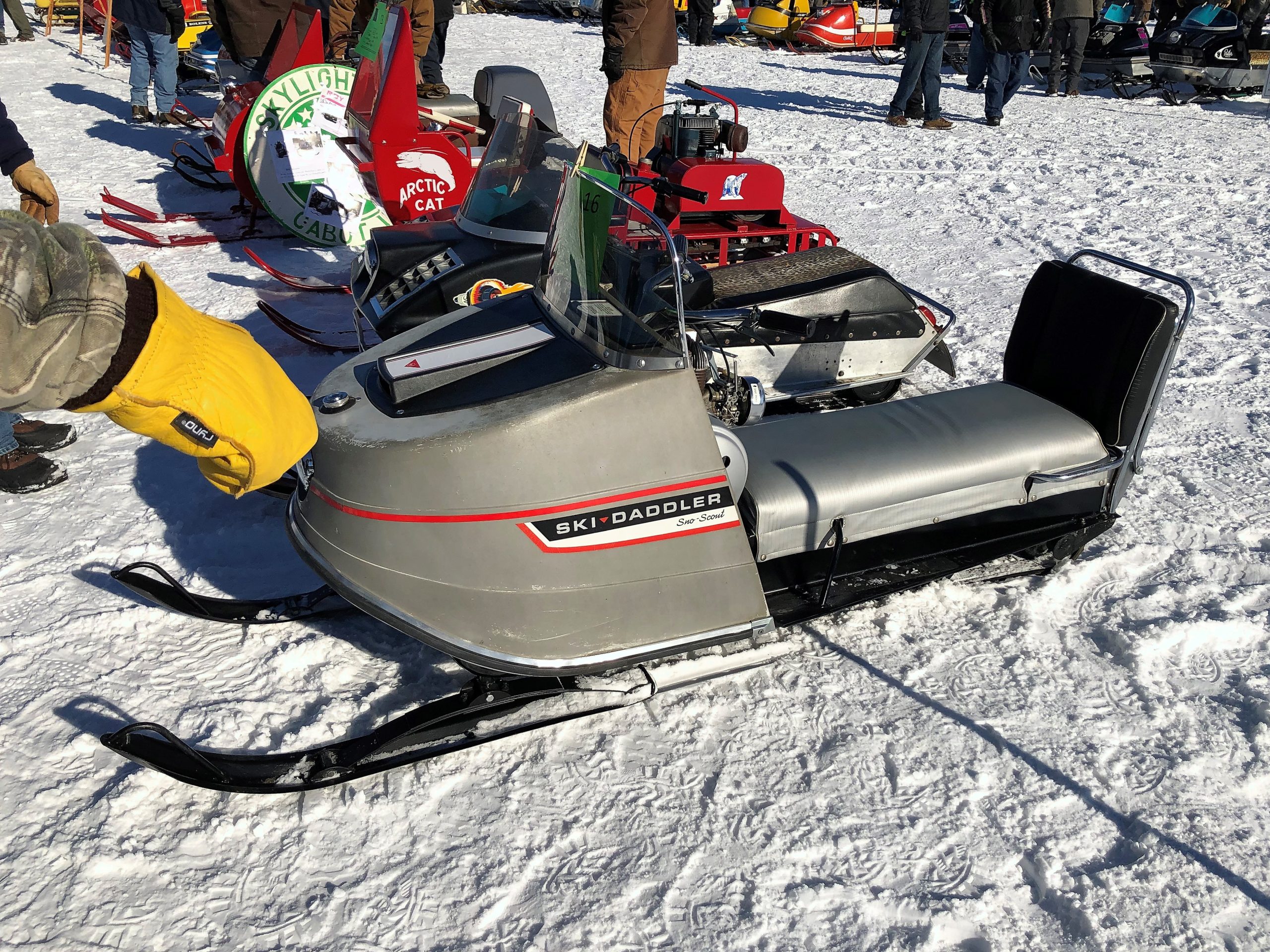 How about a Ski Daddler? I always thought that it looked like the cowl was modeled after a trash can. In later year Ski-Daddler's got some more lively style and color. Do you recall what color those more stylish models?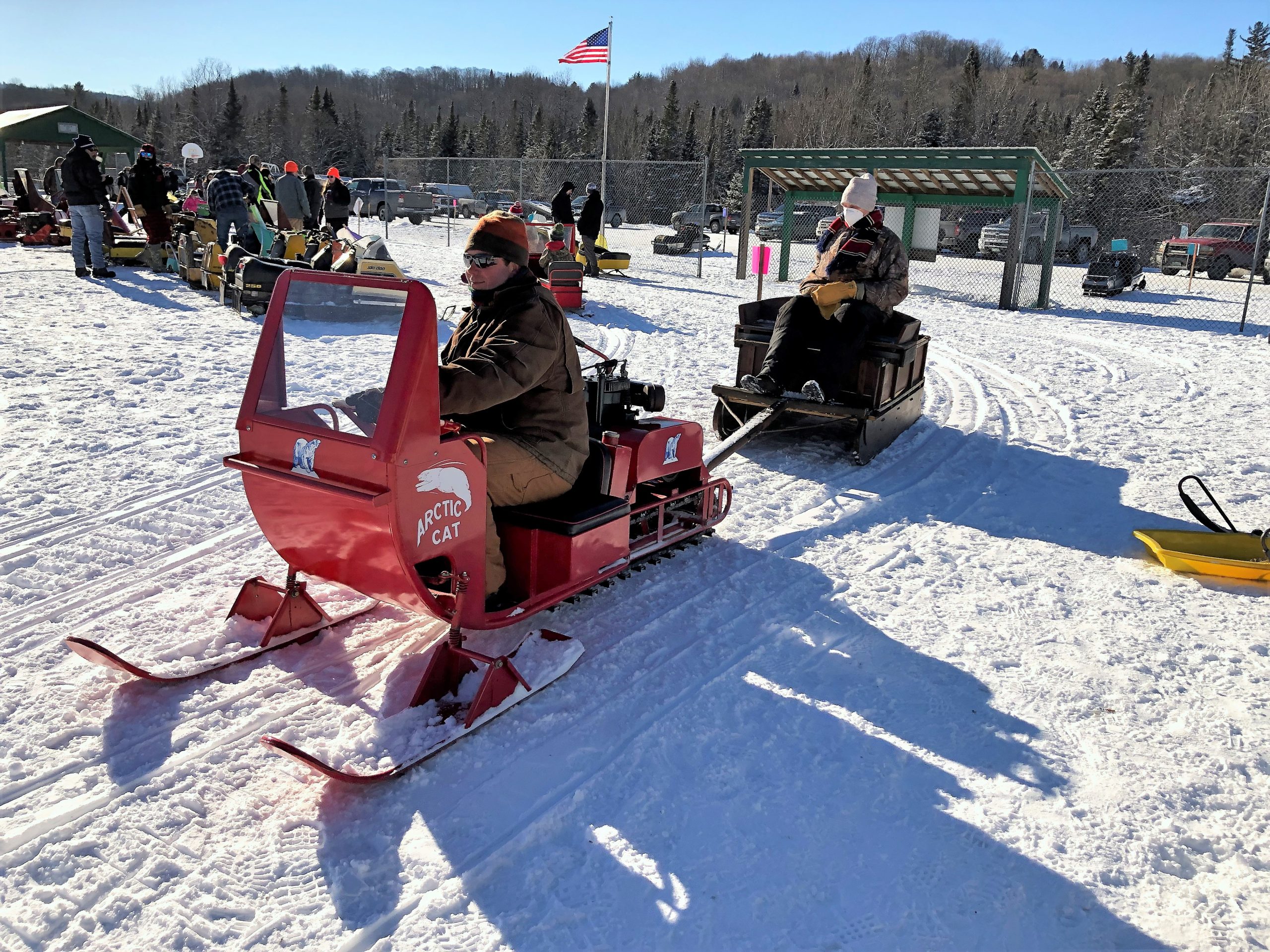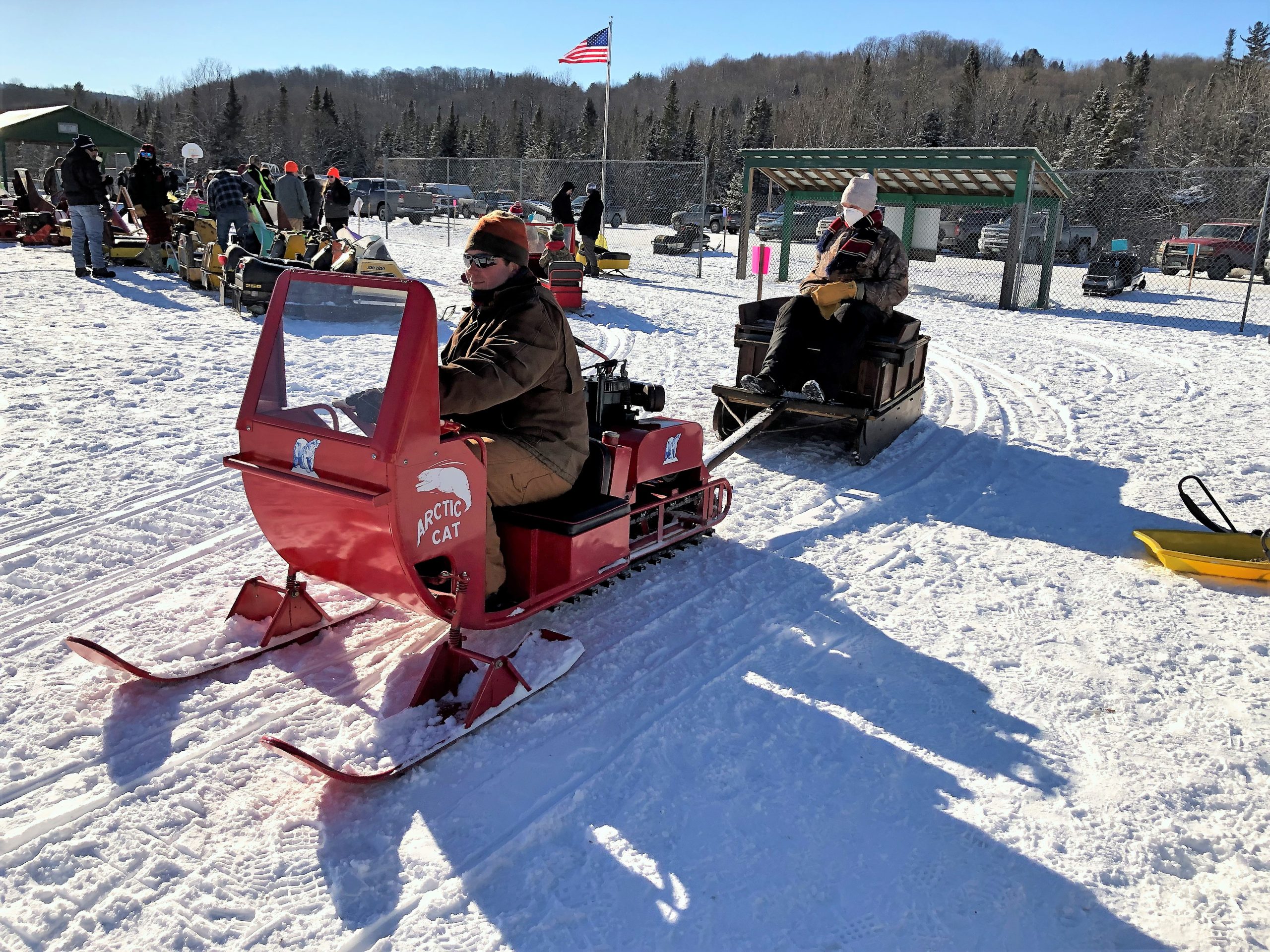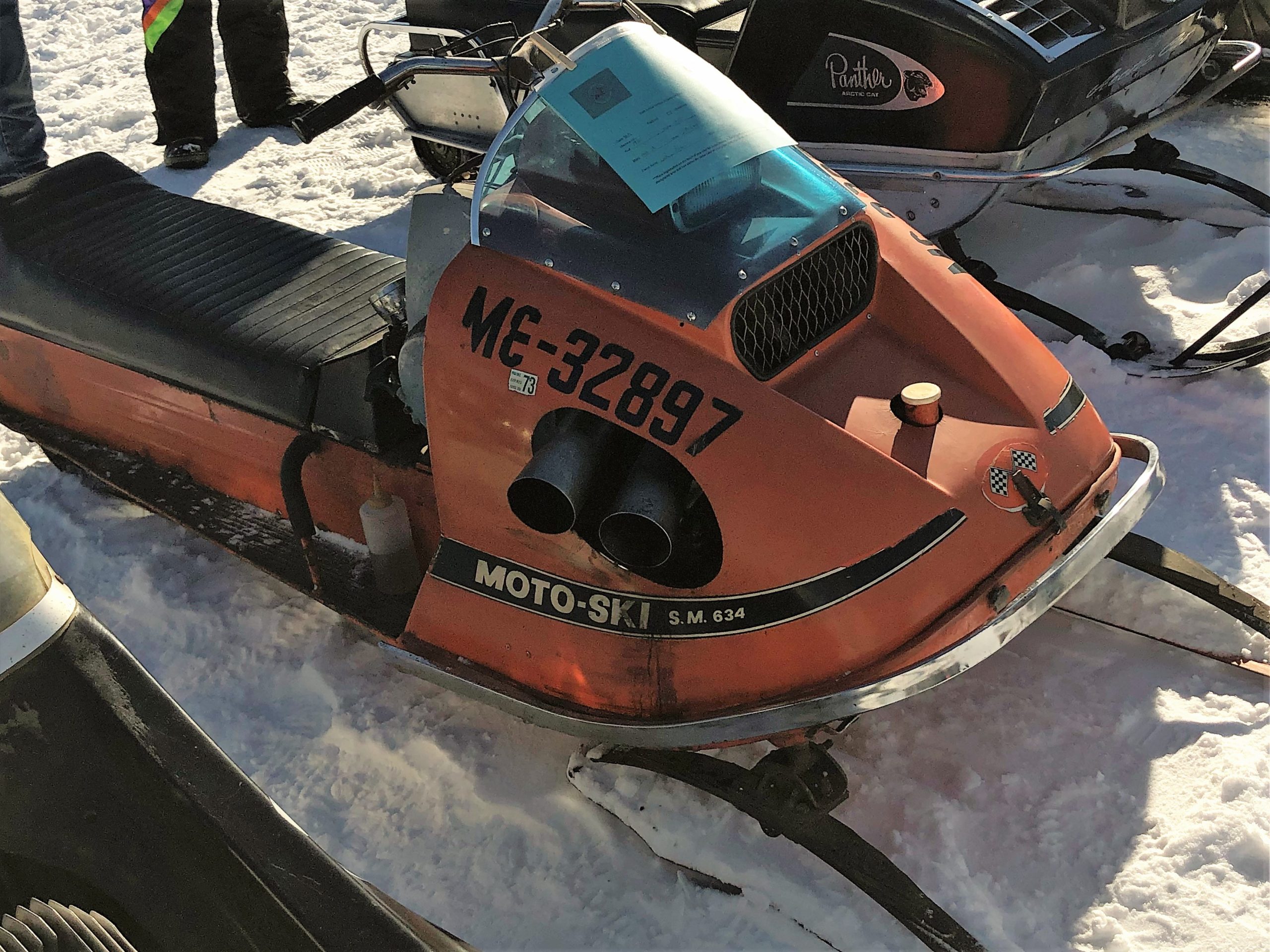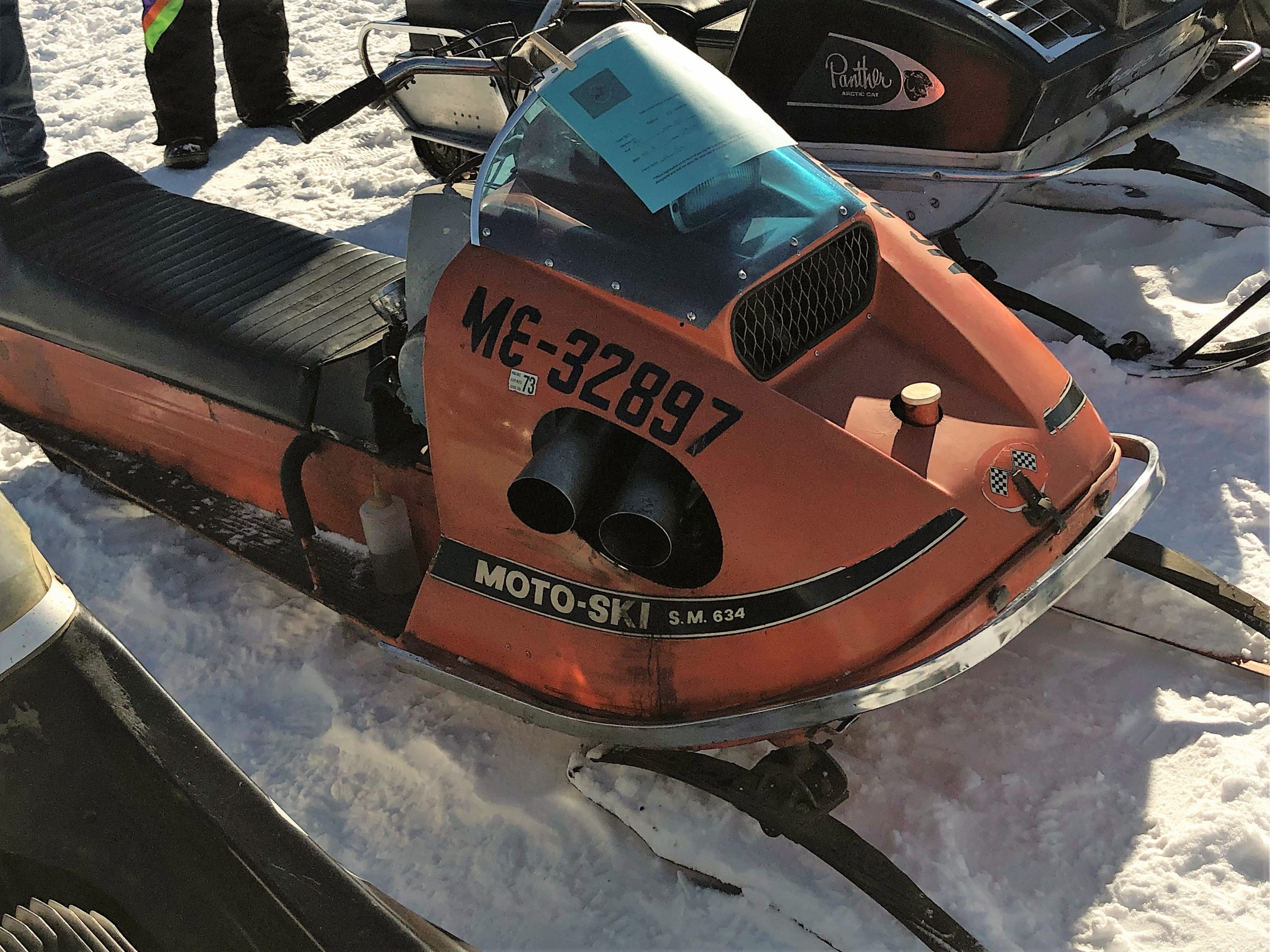 The photo of this rare 1970 Moto-Ski, 634 does not do it justice. Yes…you read it correctly, a 634 Moto- Ski. I can't say that I have ever seen one. Check out to coffee can size exhaust. Would love to hear it run, can you imagine the bark of this Moto-Ski? Have you ever seen one?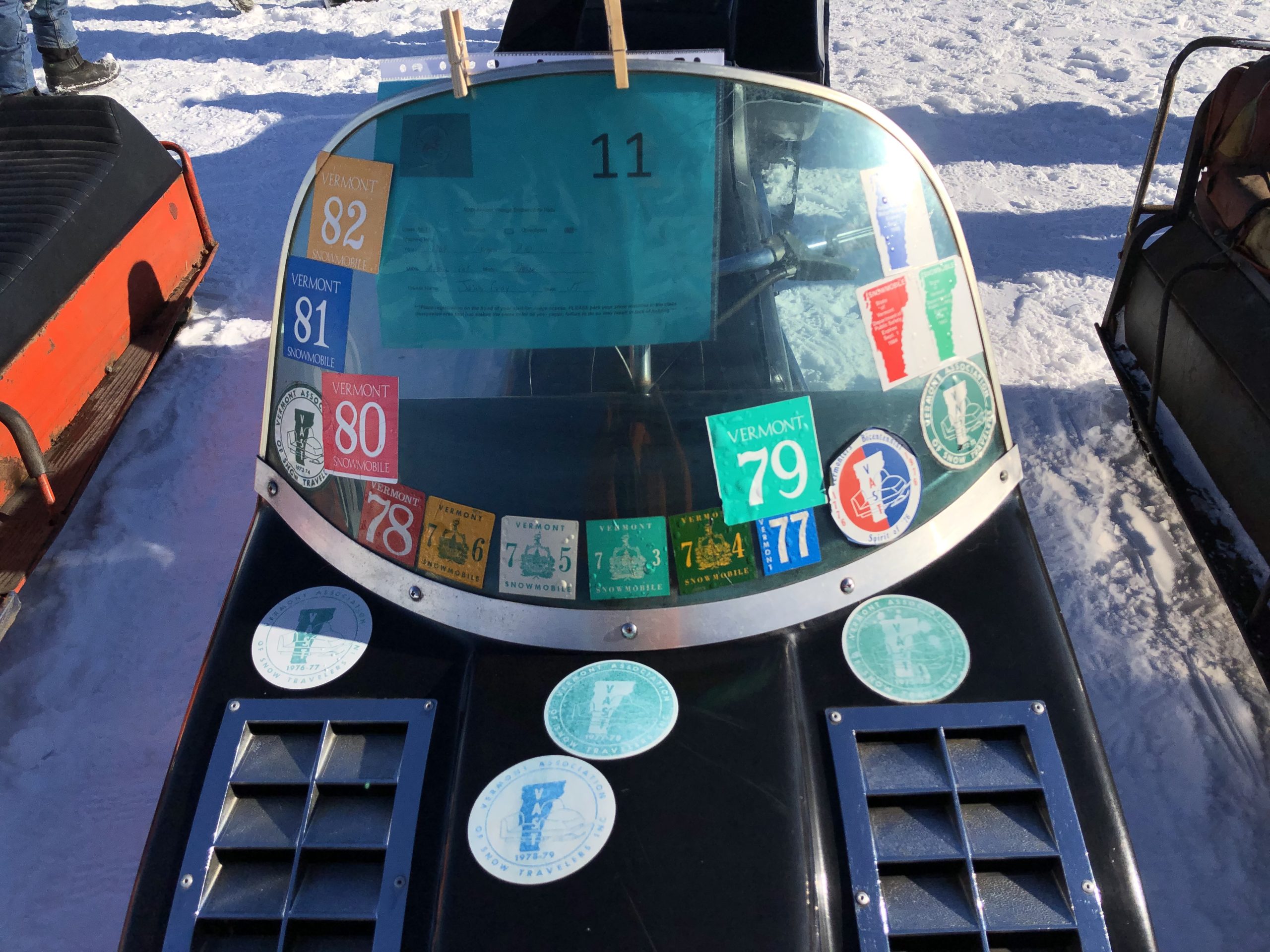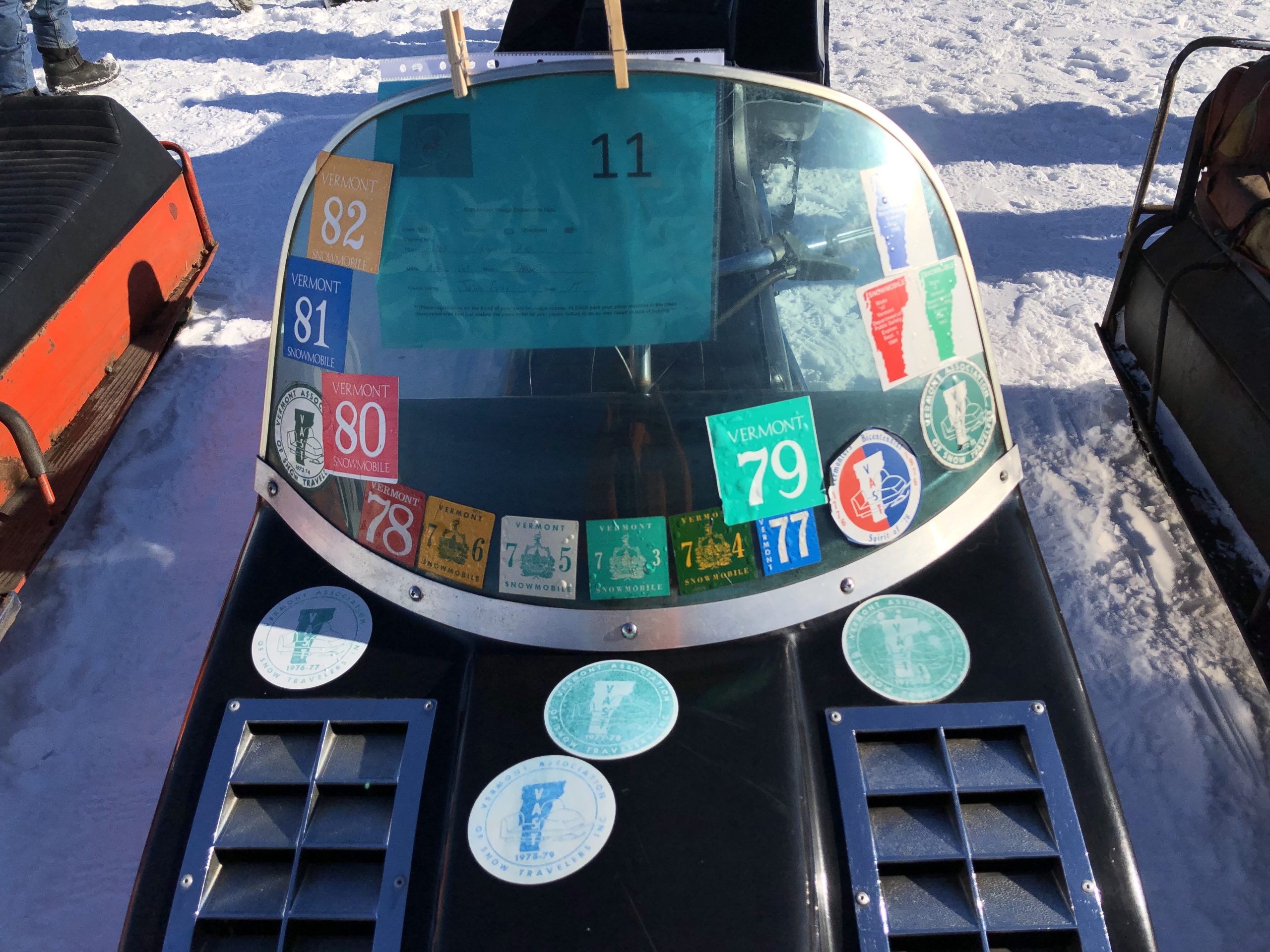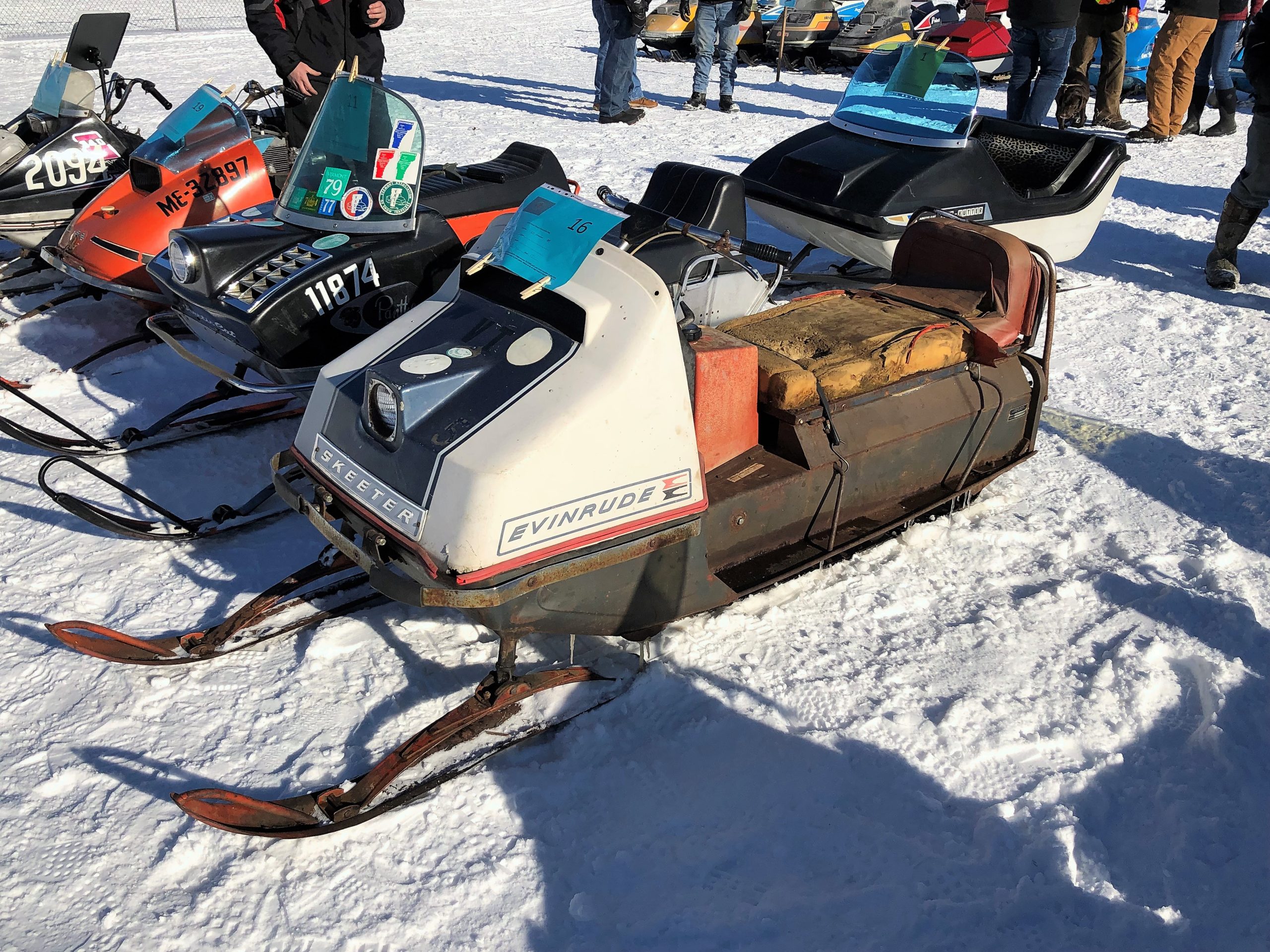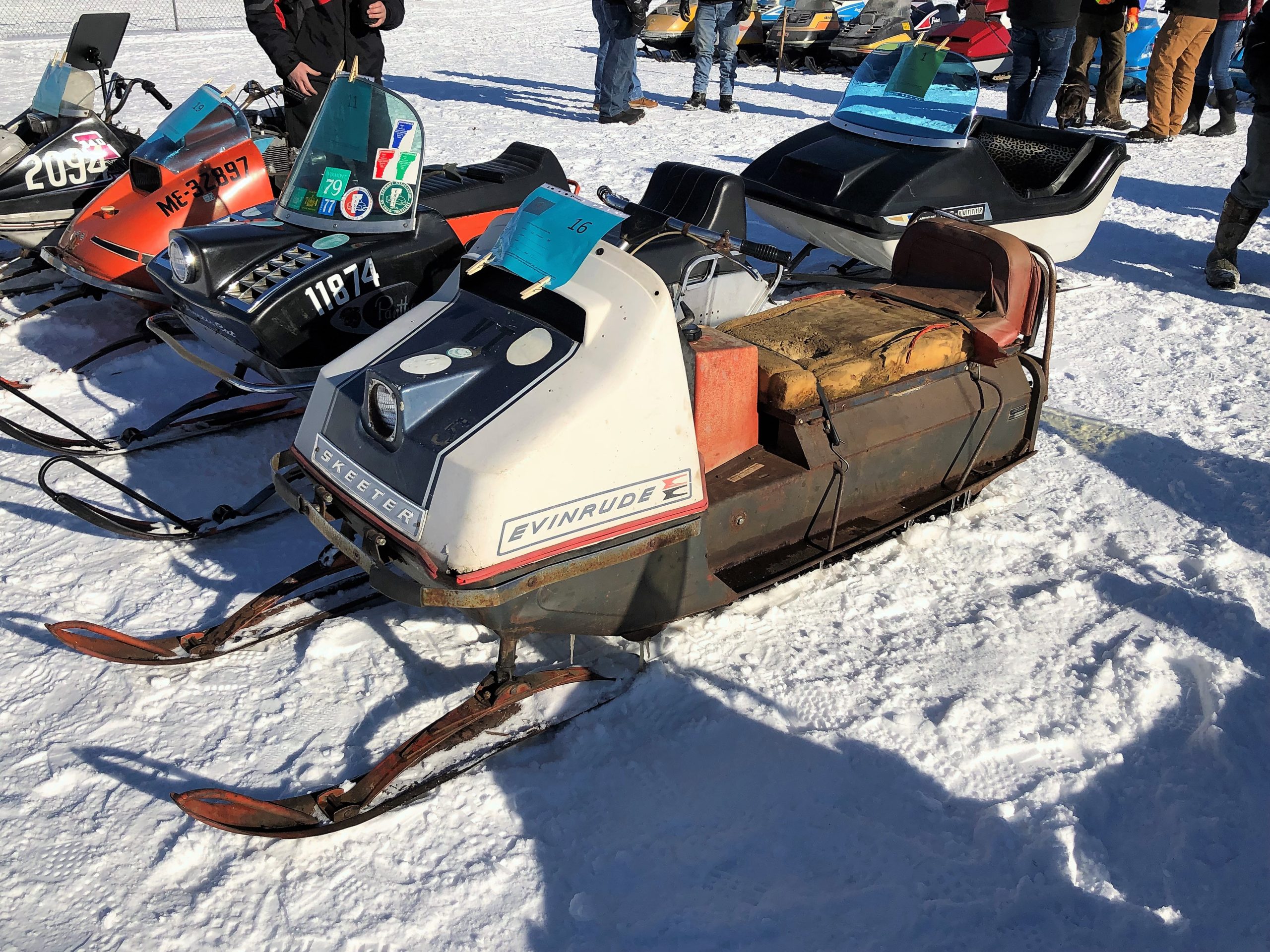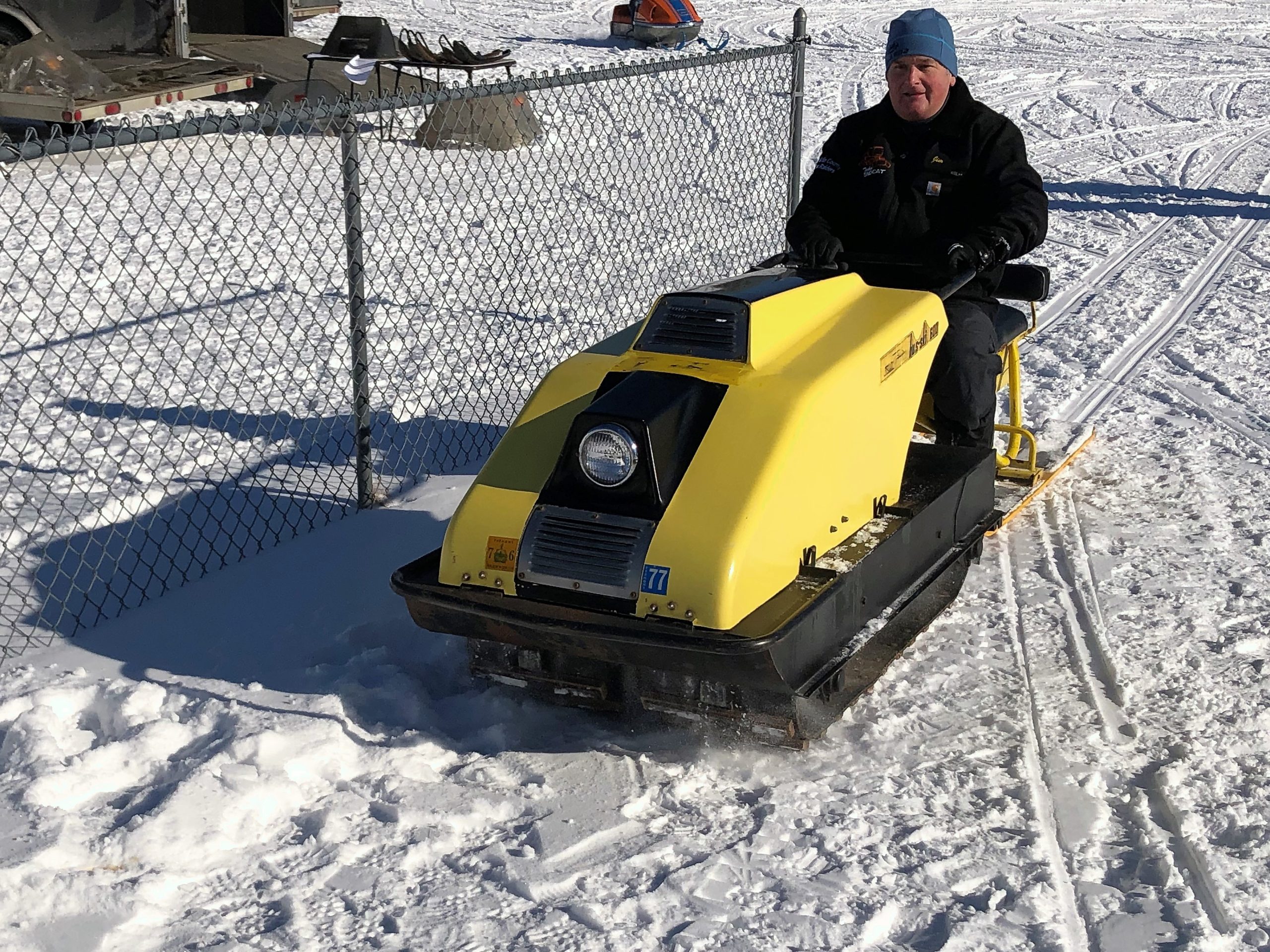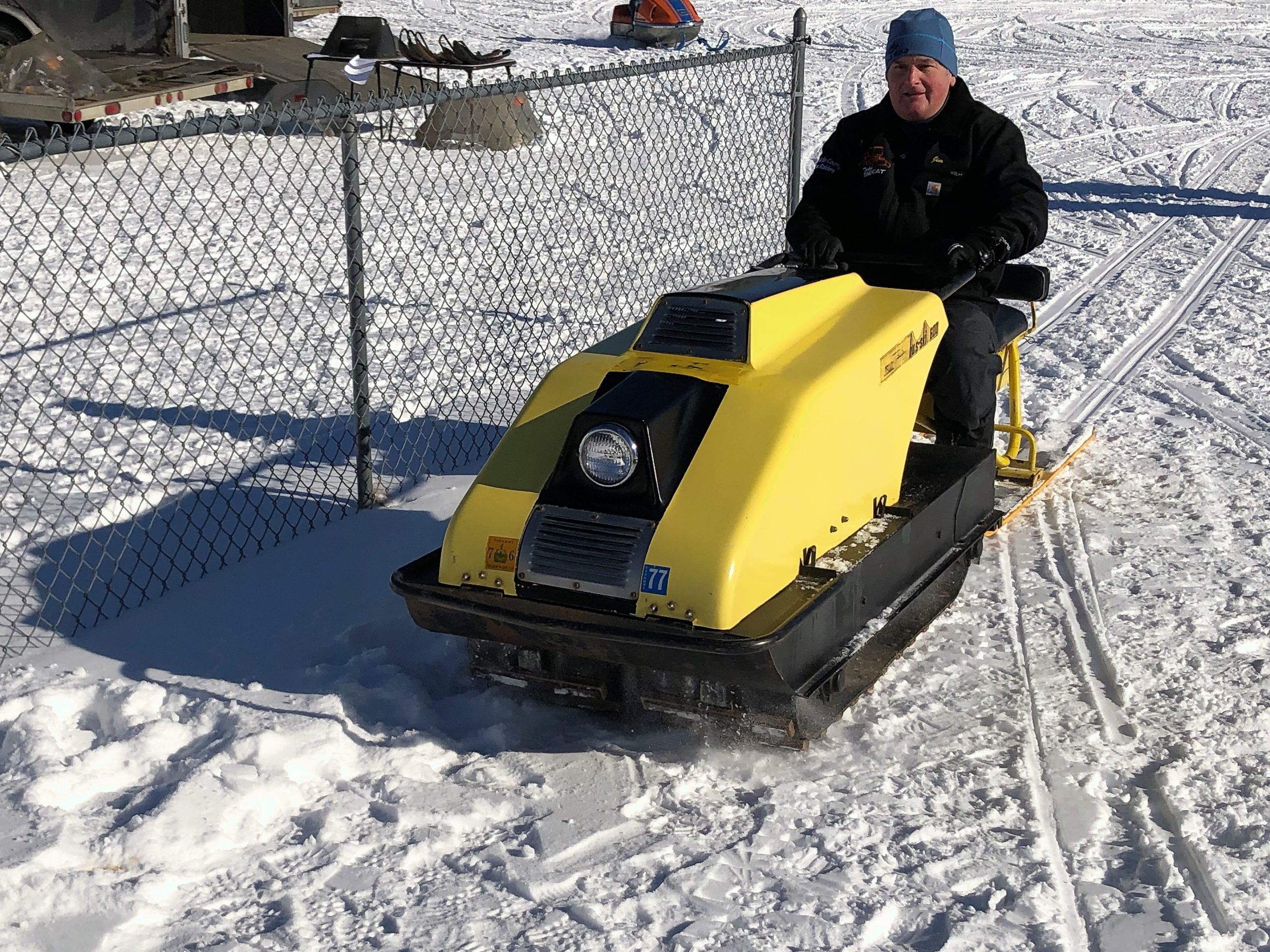 An early Hus-ski, Can you imagine if this concept had become the direction that snowmobiling took? Just think about the core strength needed to hustle this thing through some twisty trails at speed. I feel my gut tighten just thinking about it.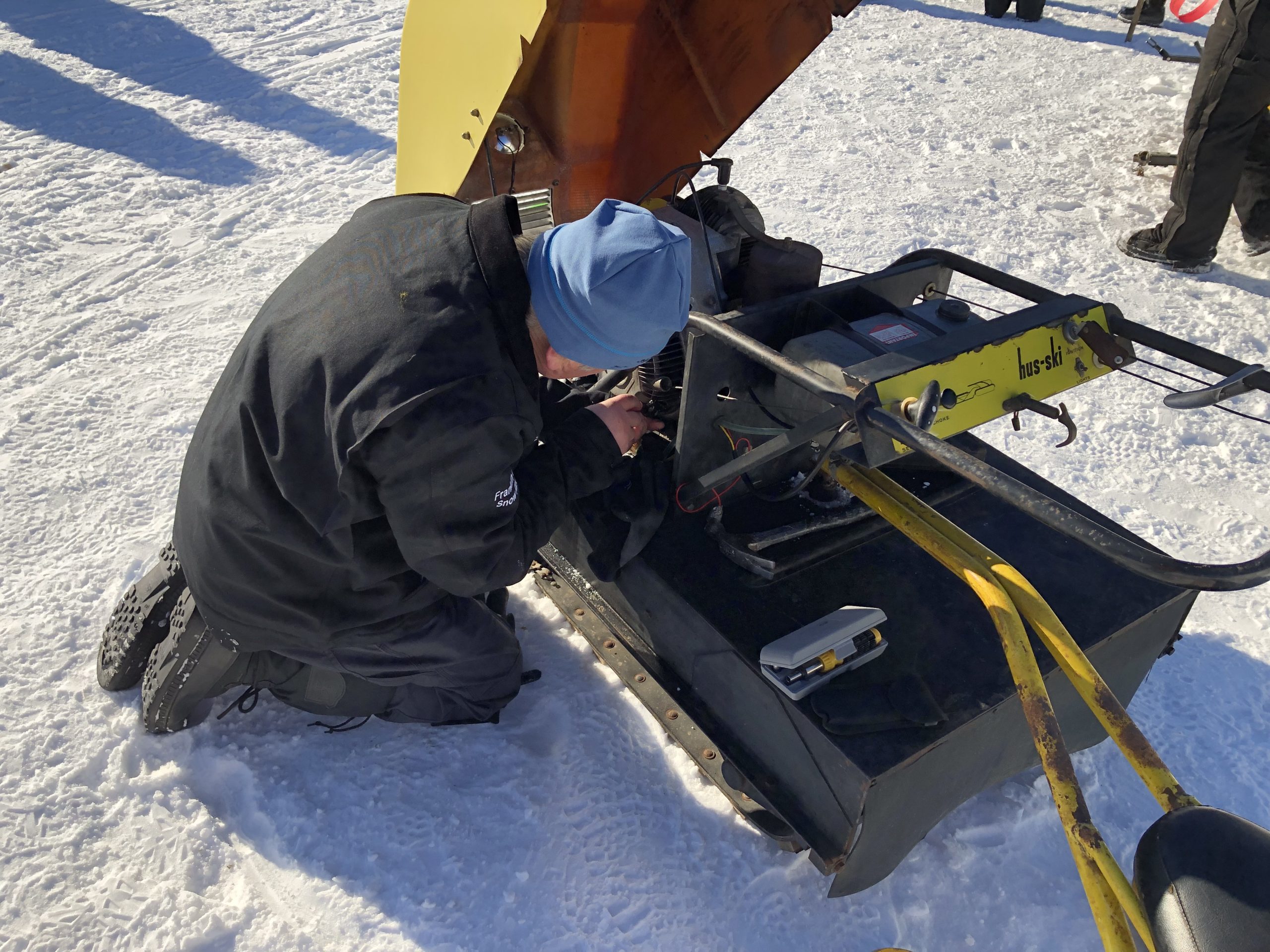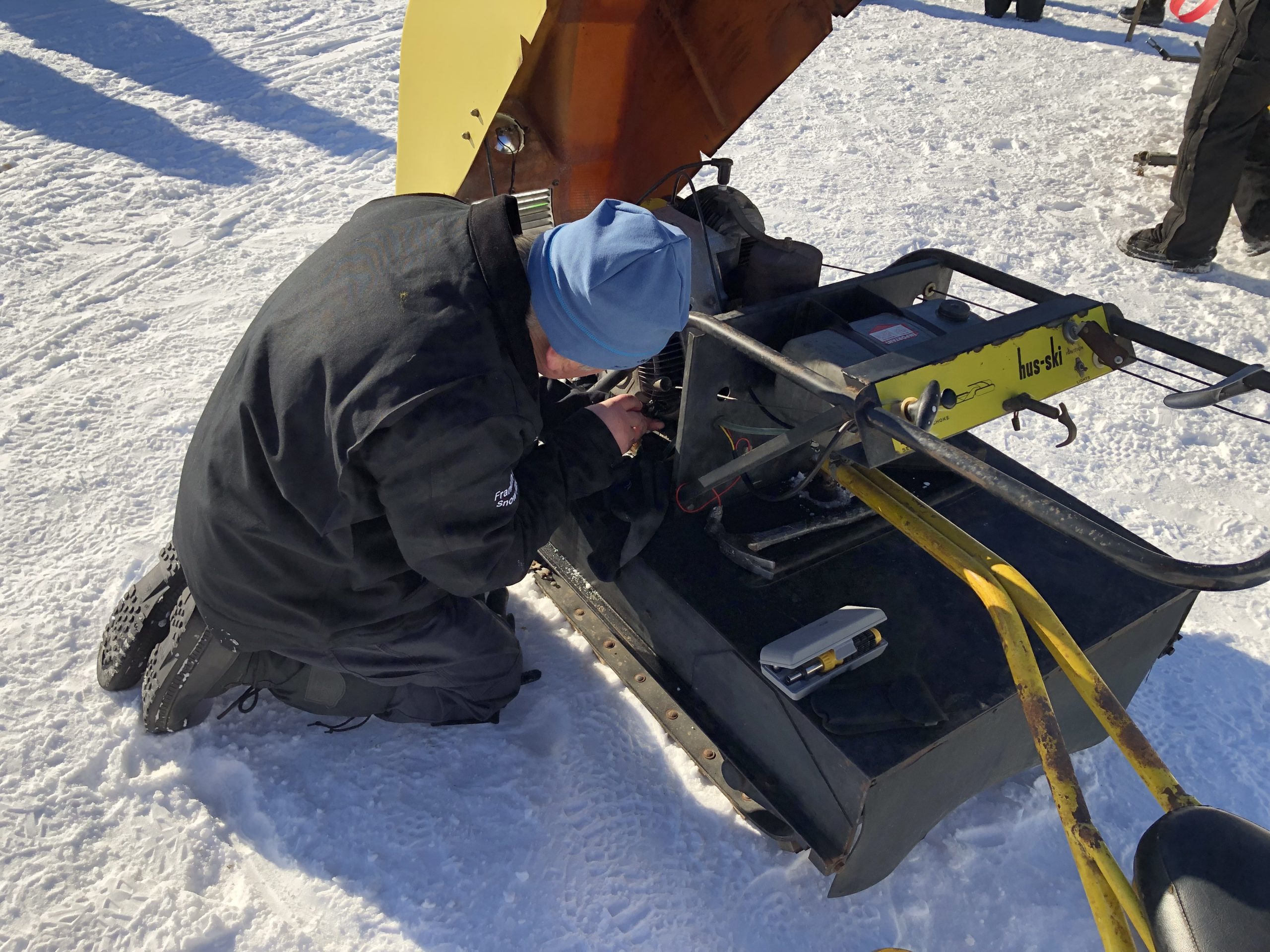 And true to the vintage era, tinker, tinker, tinker. Strong work Jim! Do you remember gas on the front of your suit and pockets full of Spark plugs? I do!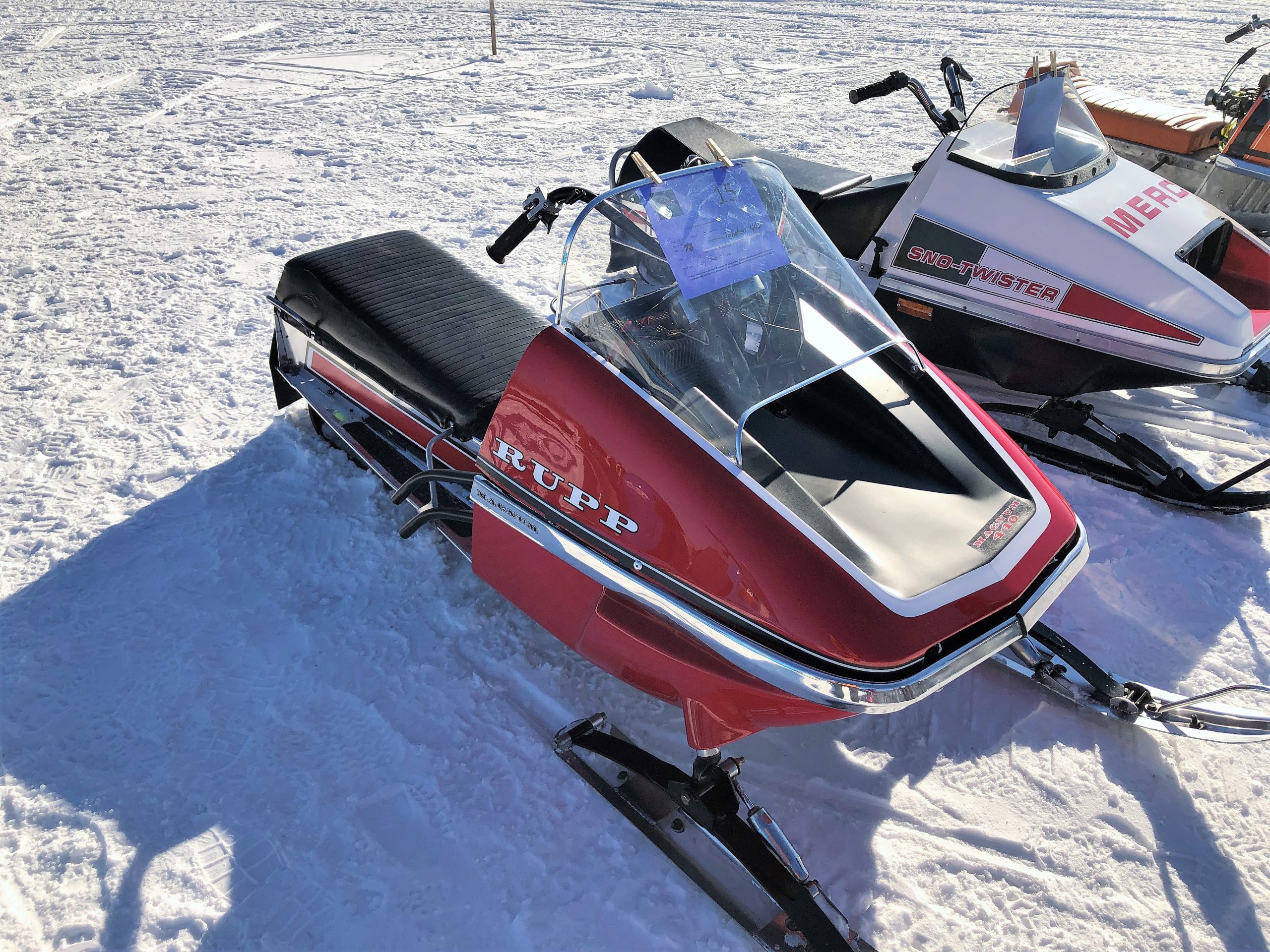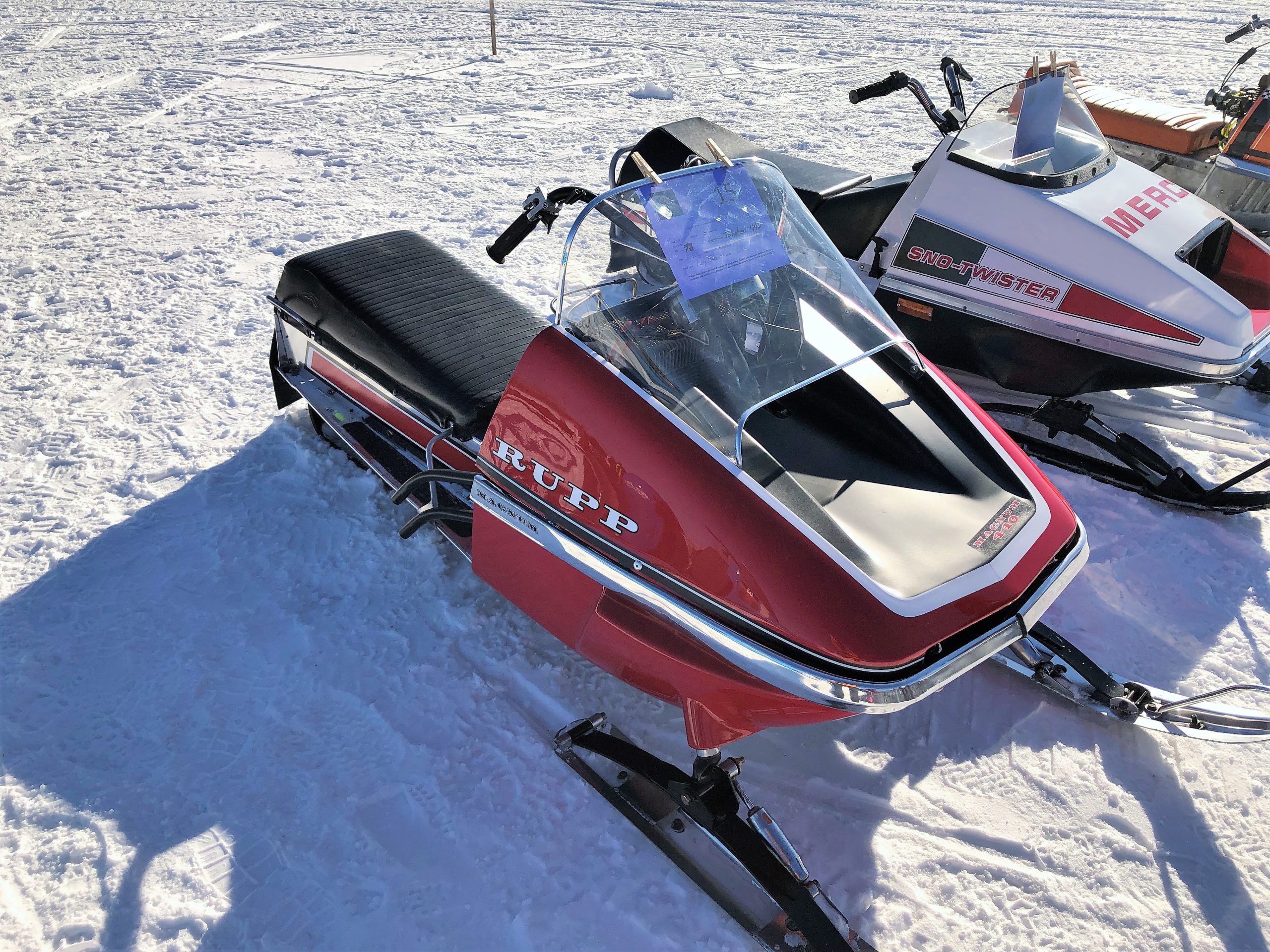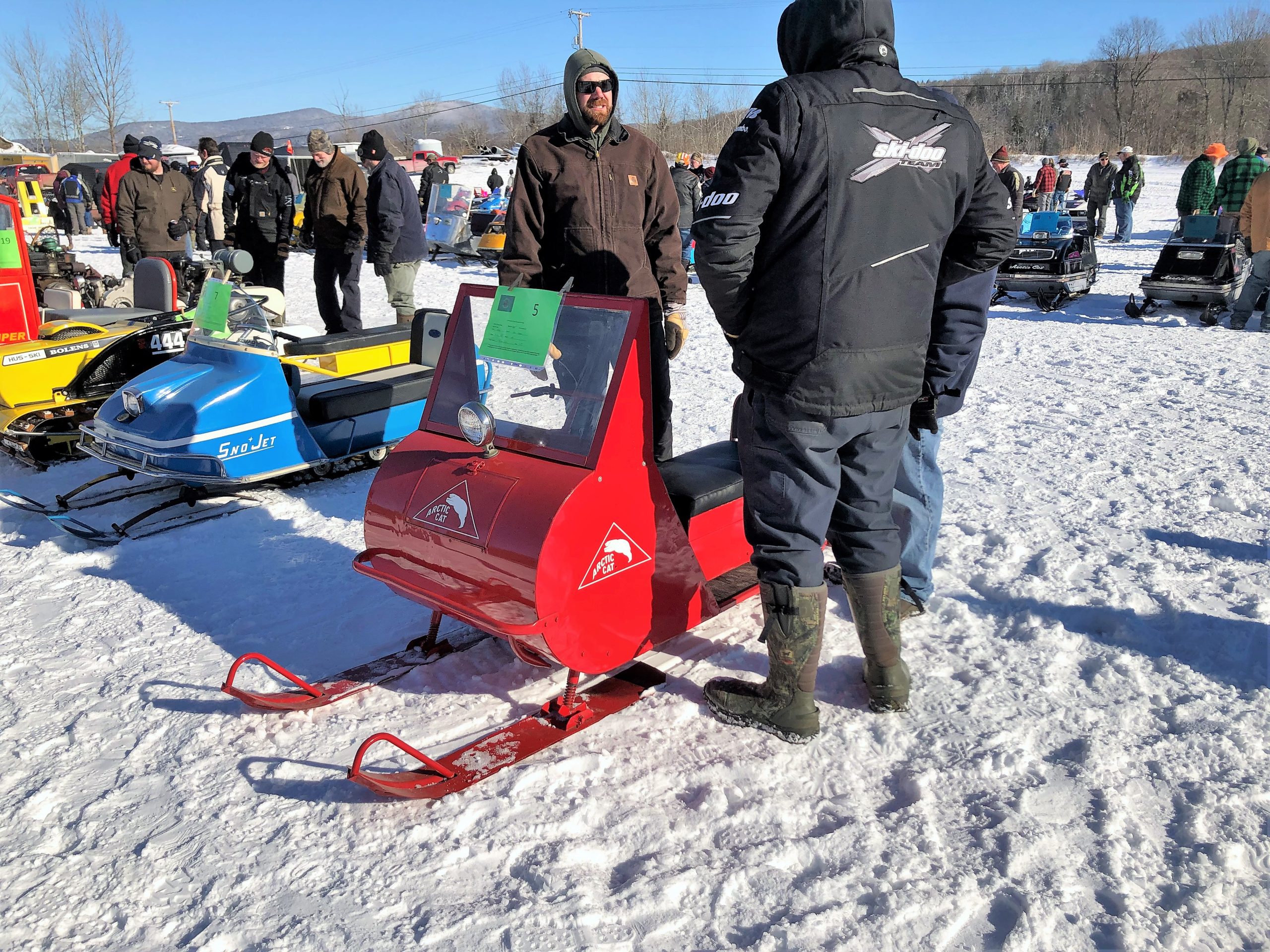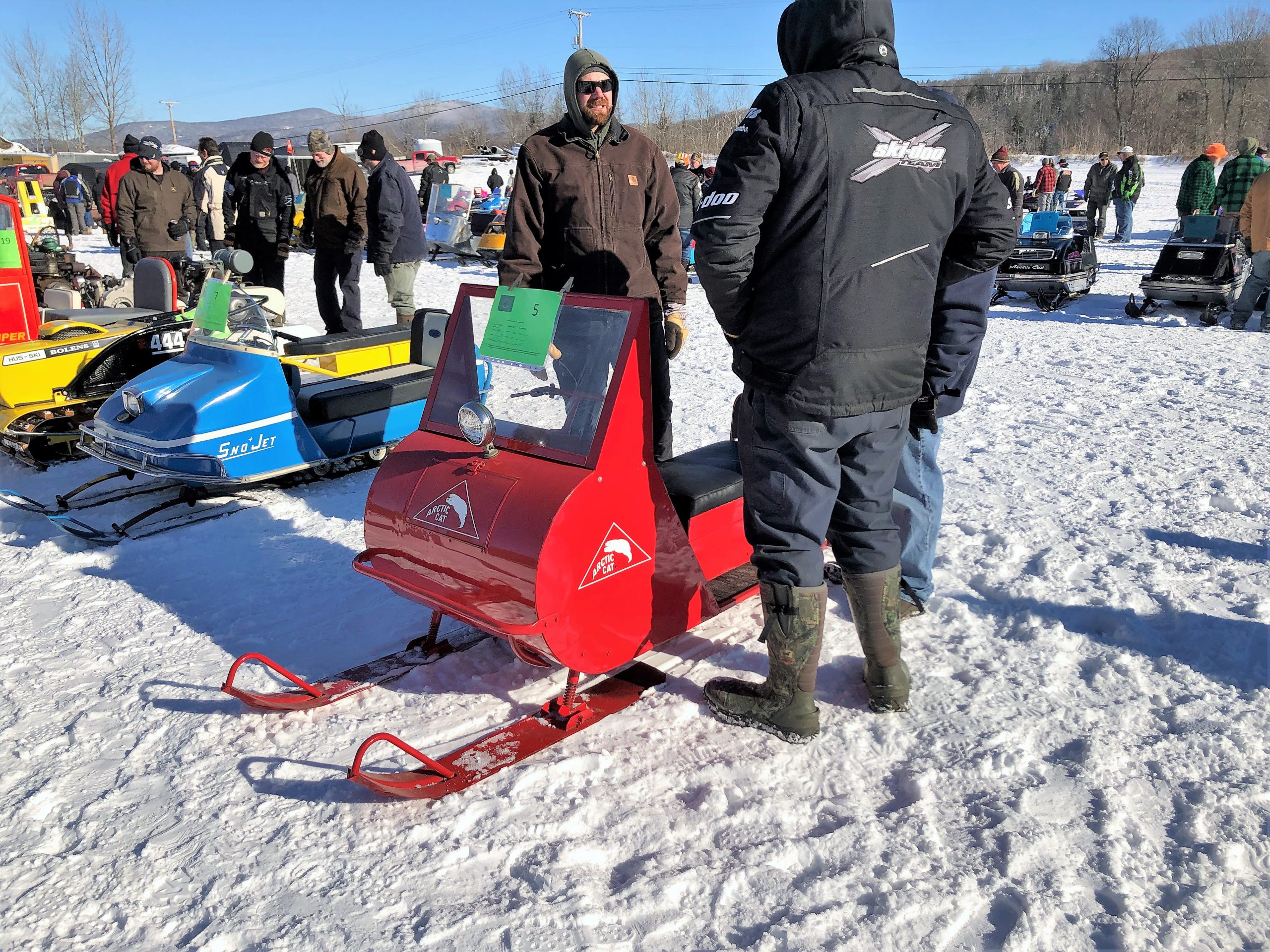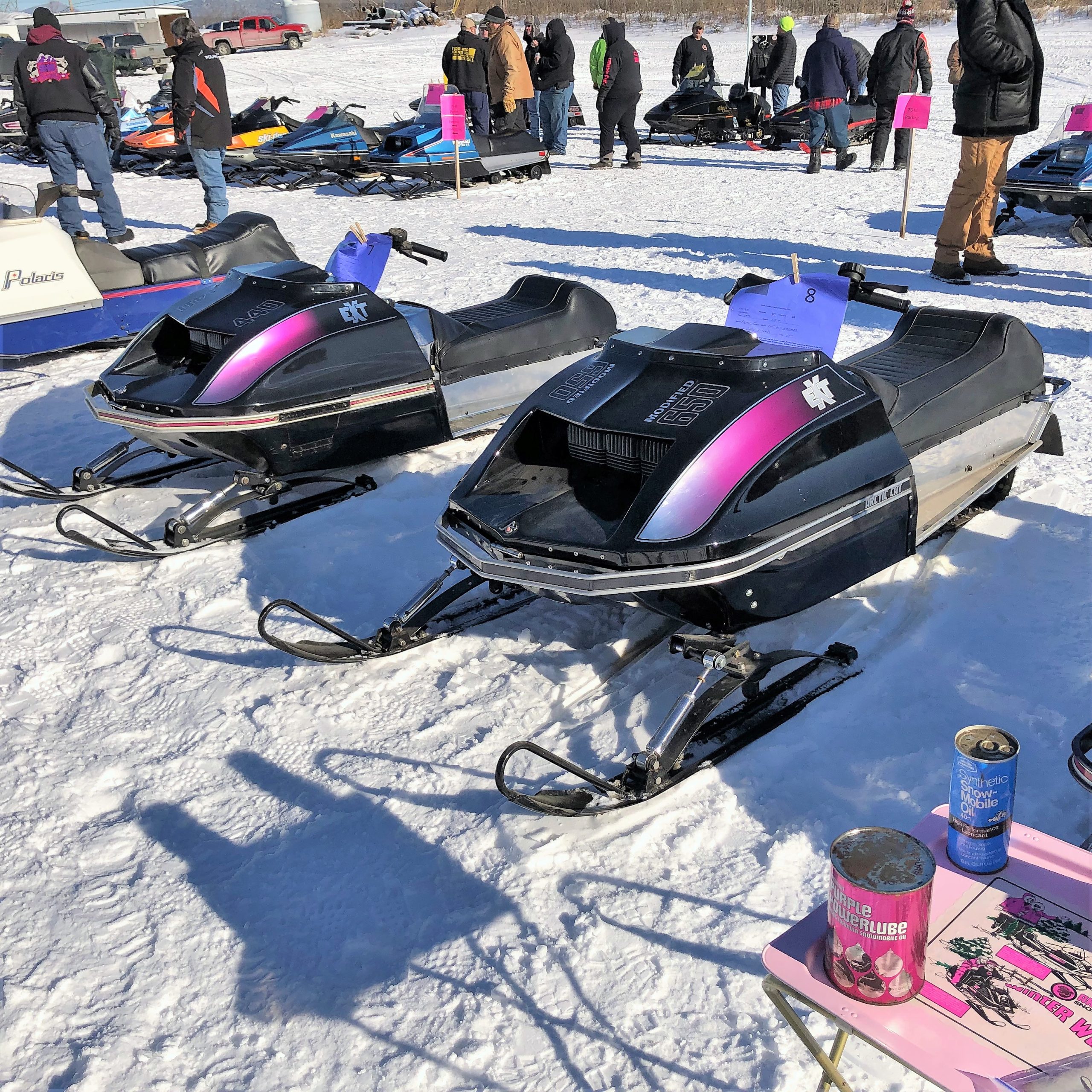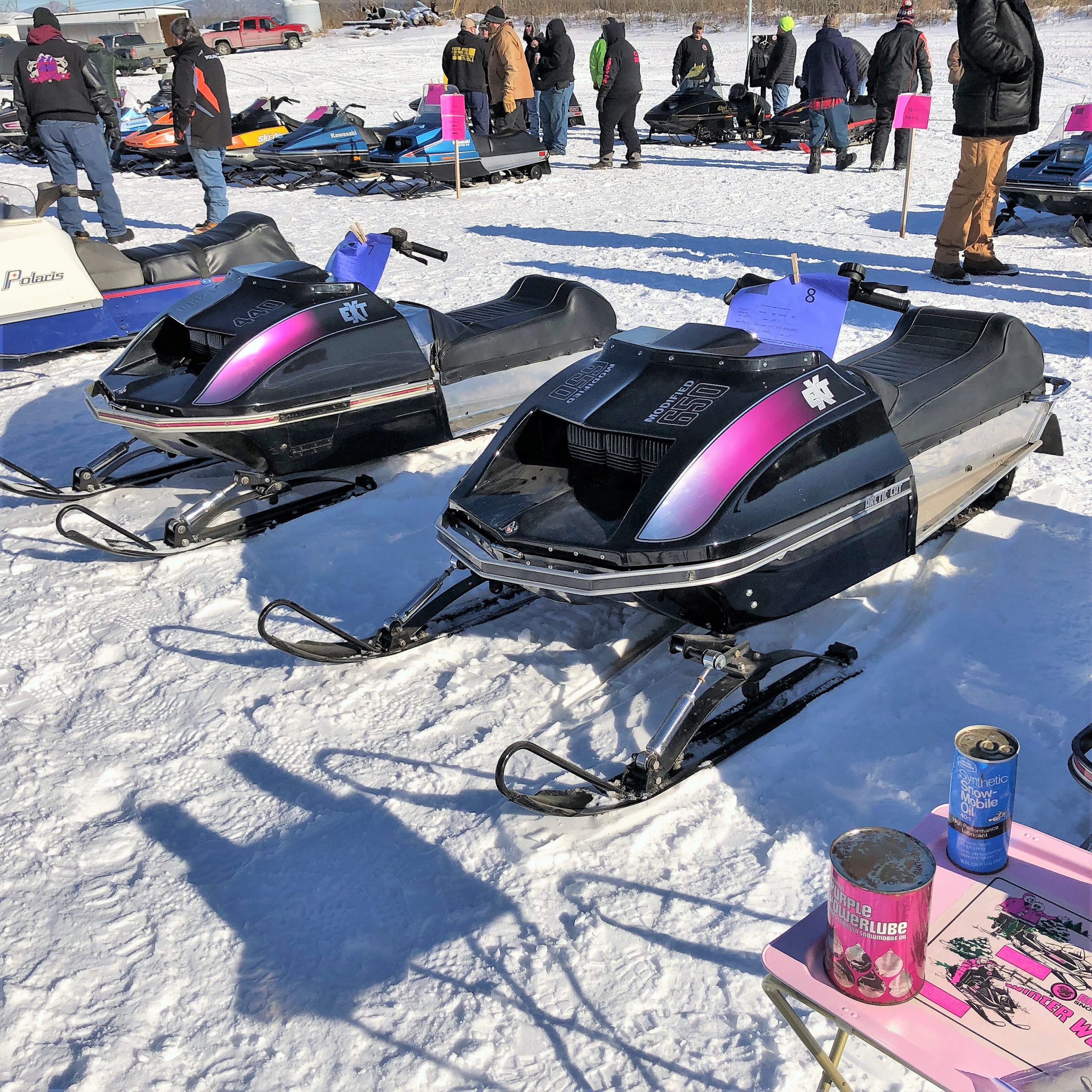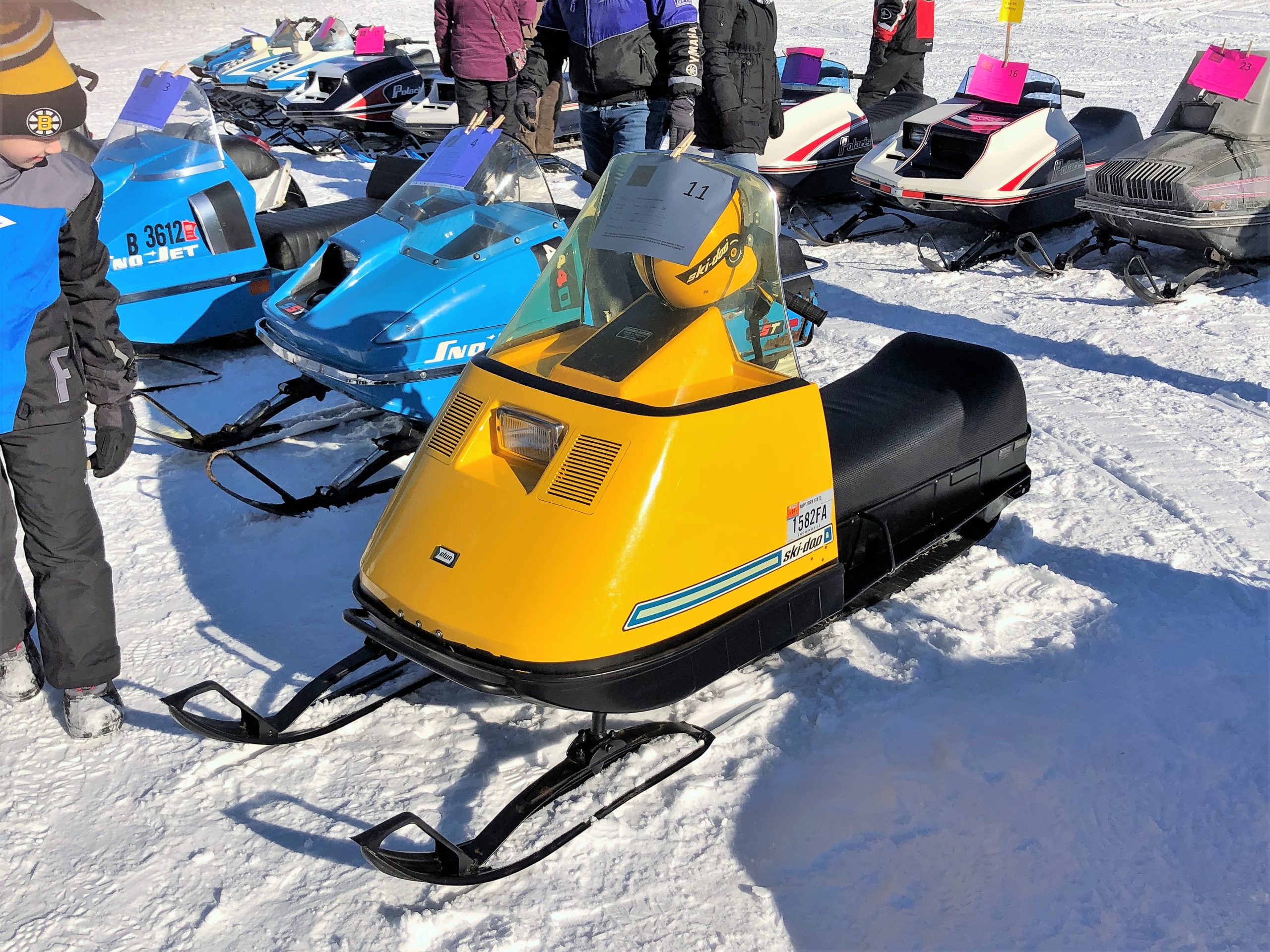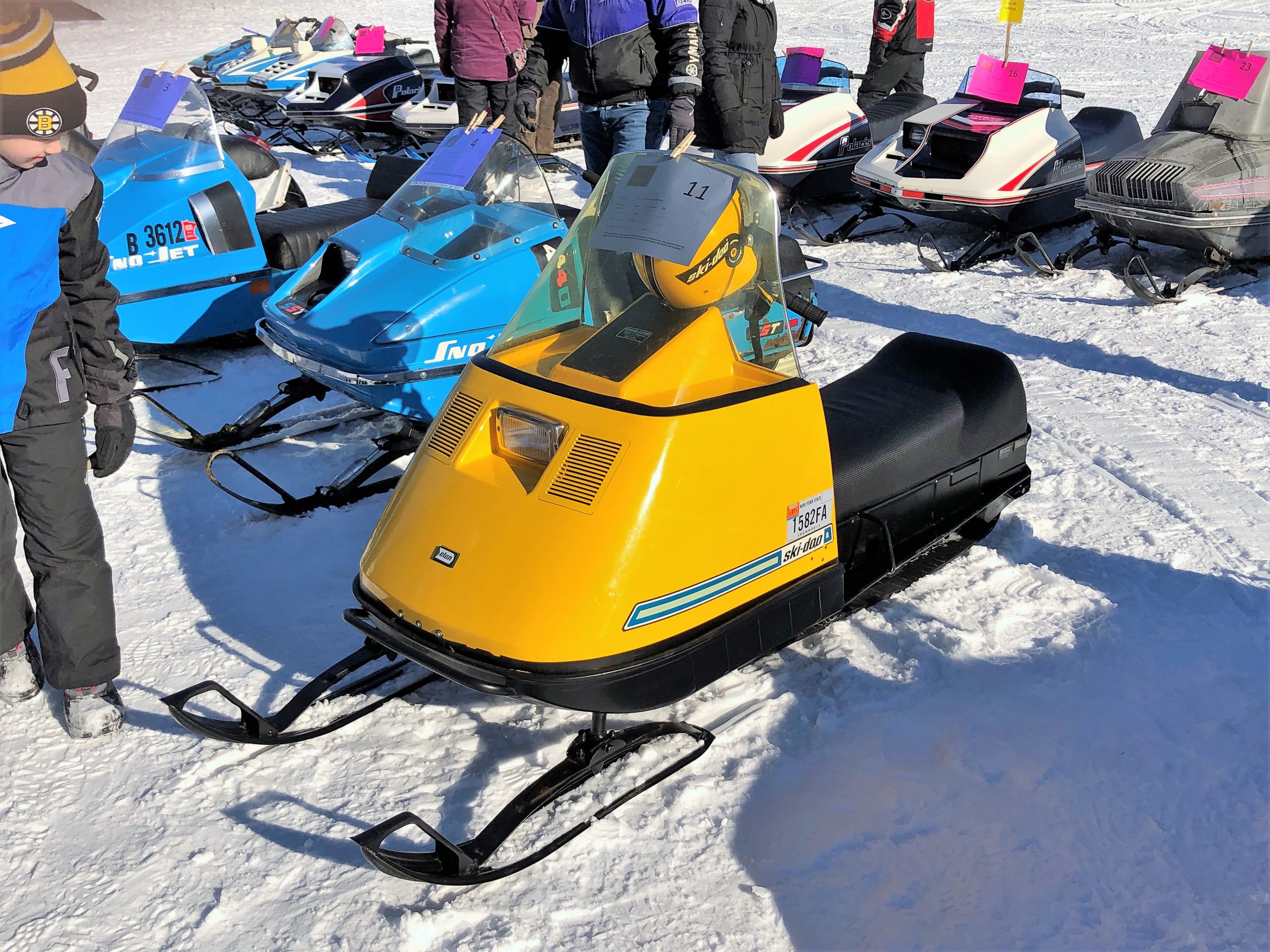 Congratulations to Brandon and family. From every angle this Elan 250 is in remarkably untouched showroom original condition. Fantastic! Notice the kid in the corner of the picture checking out this just right size machine. It's really nice to see manufacturers returning to these important entry level gateway snowmobiles.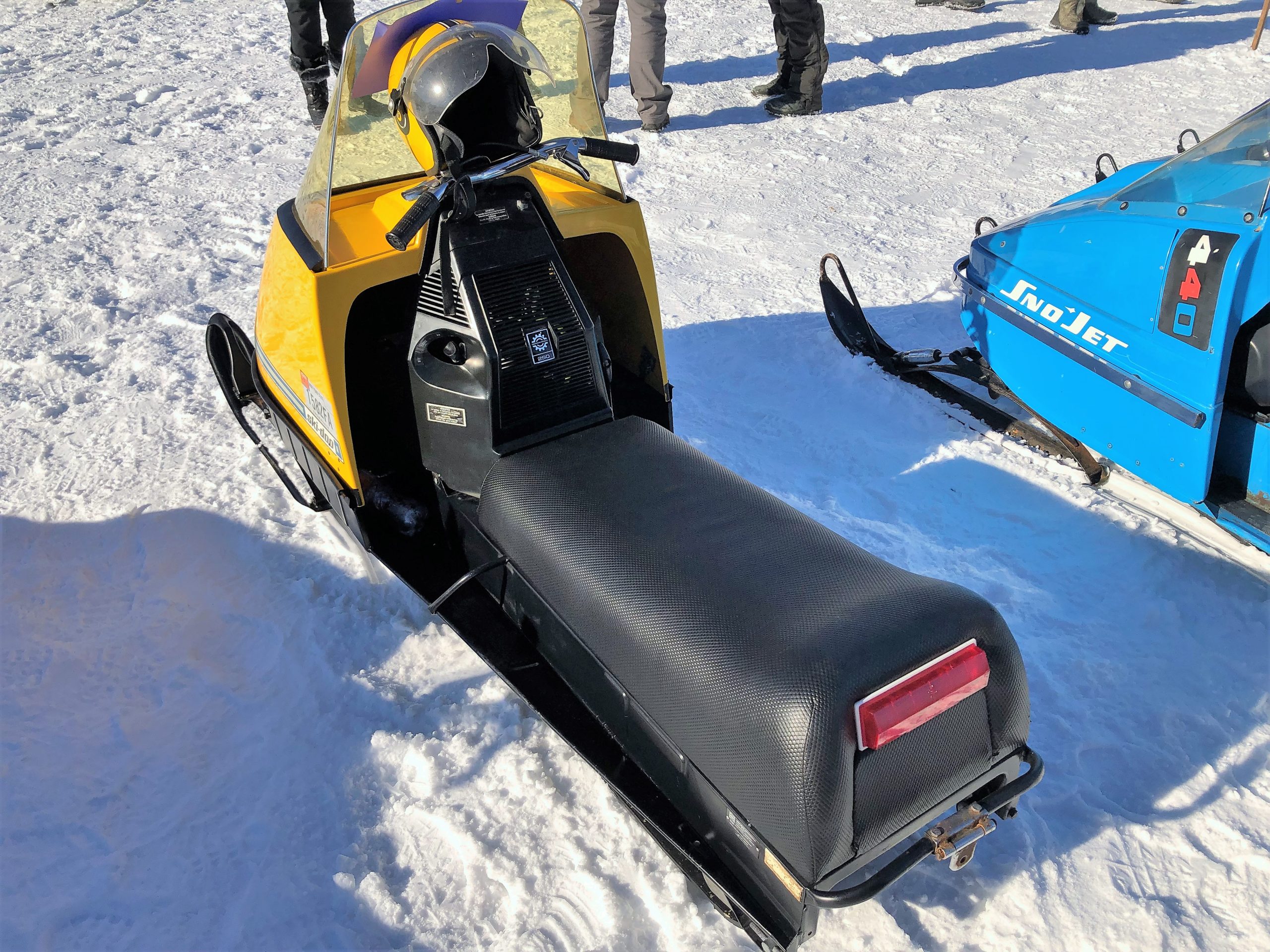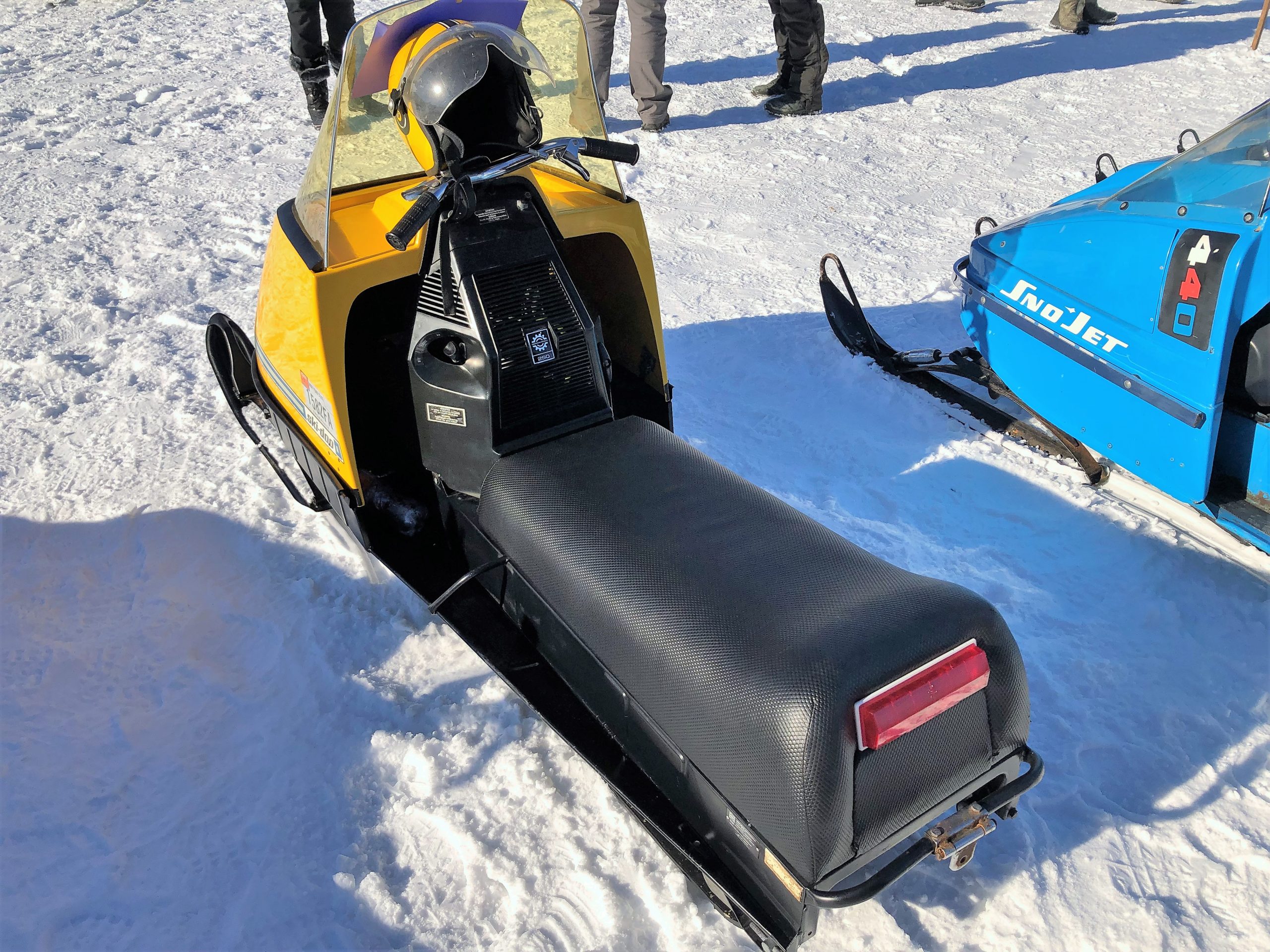 How many of us got or start behind the handle bars of sleds like these?
My memories were not just stirred by what I saw, but also by some models and makes that I did not see. I did not see a Raider, Kawasaki, Skiroule RTX or a near to my heart 1969 Nordic but they were all on my mind with memories that kept me warm all afternoon.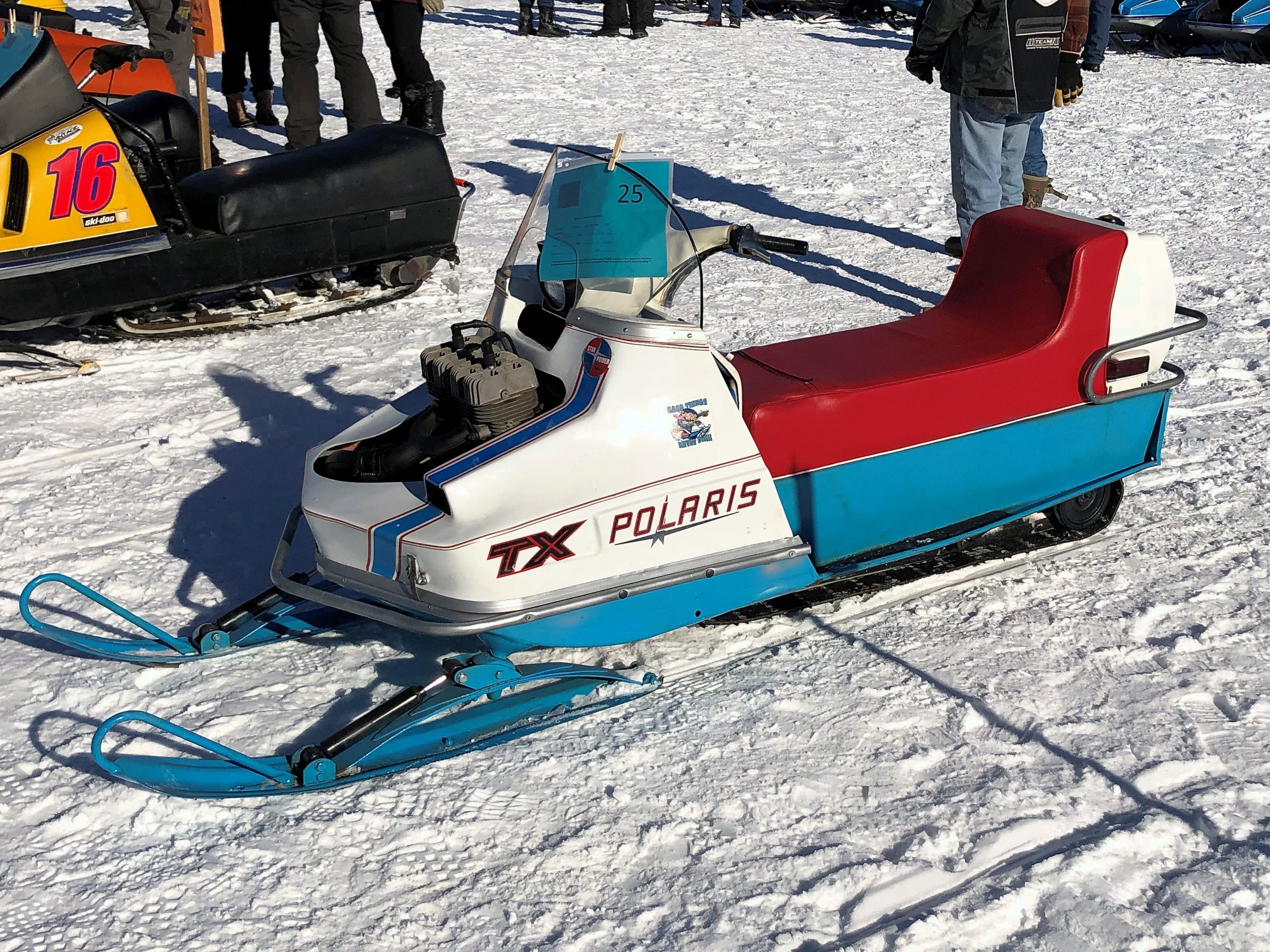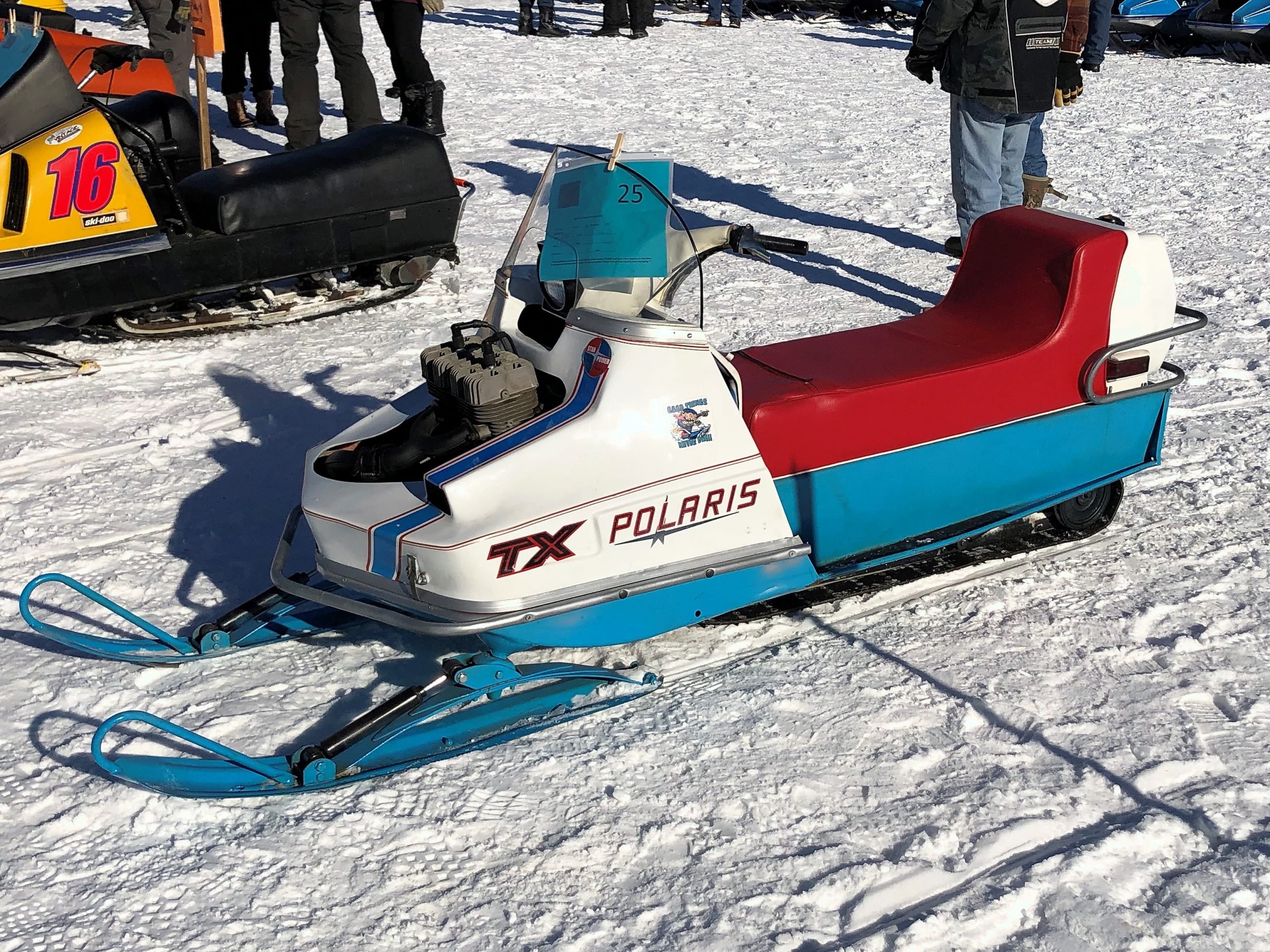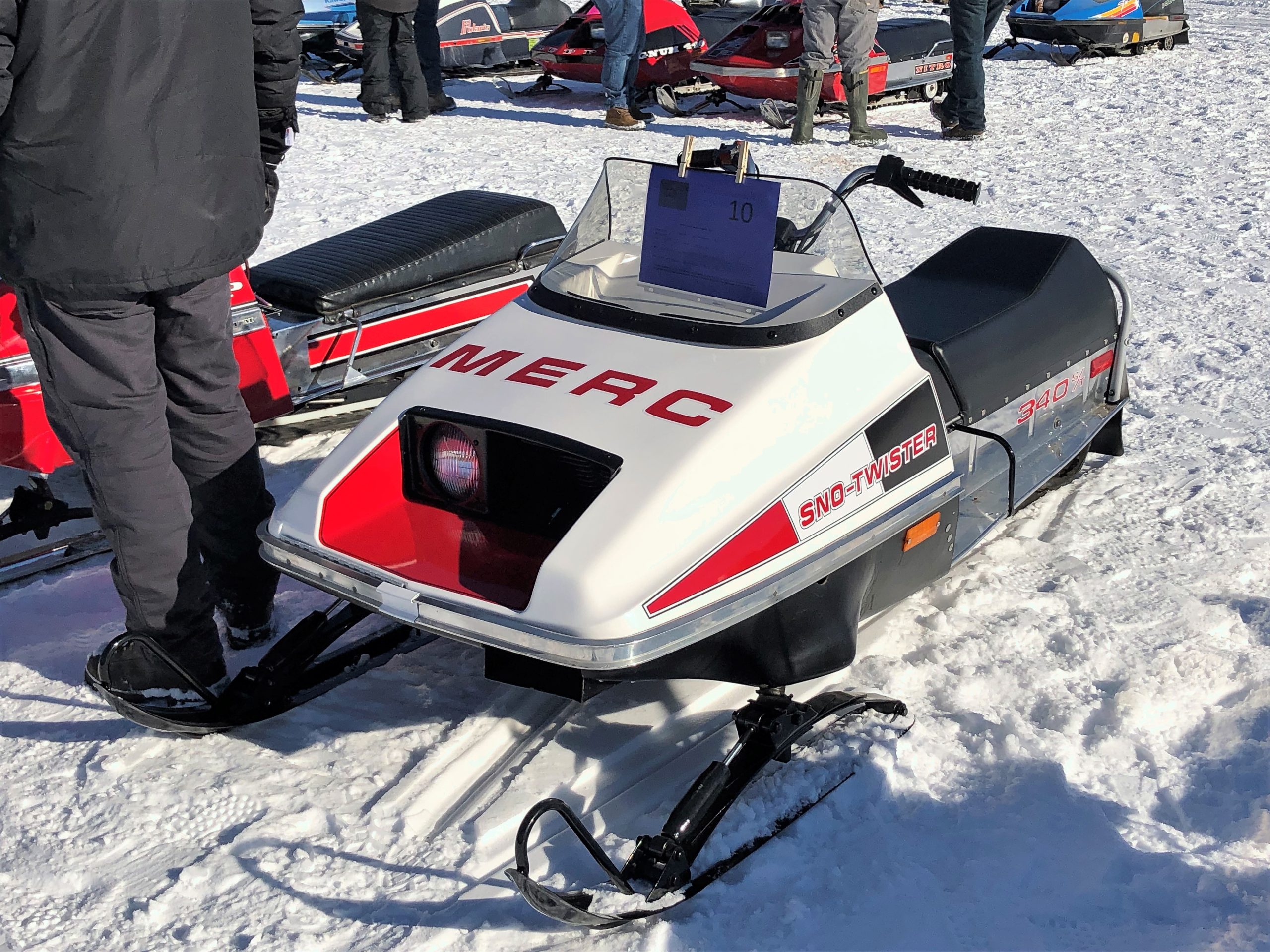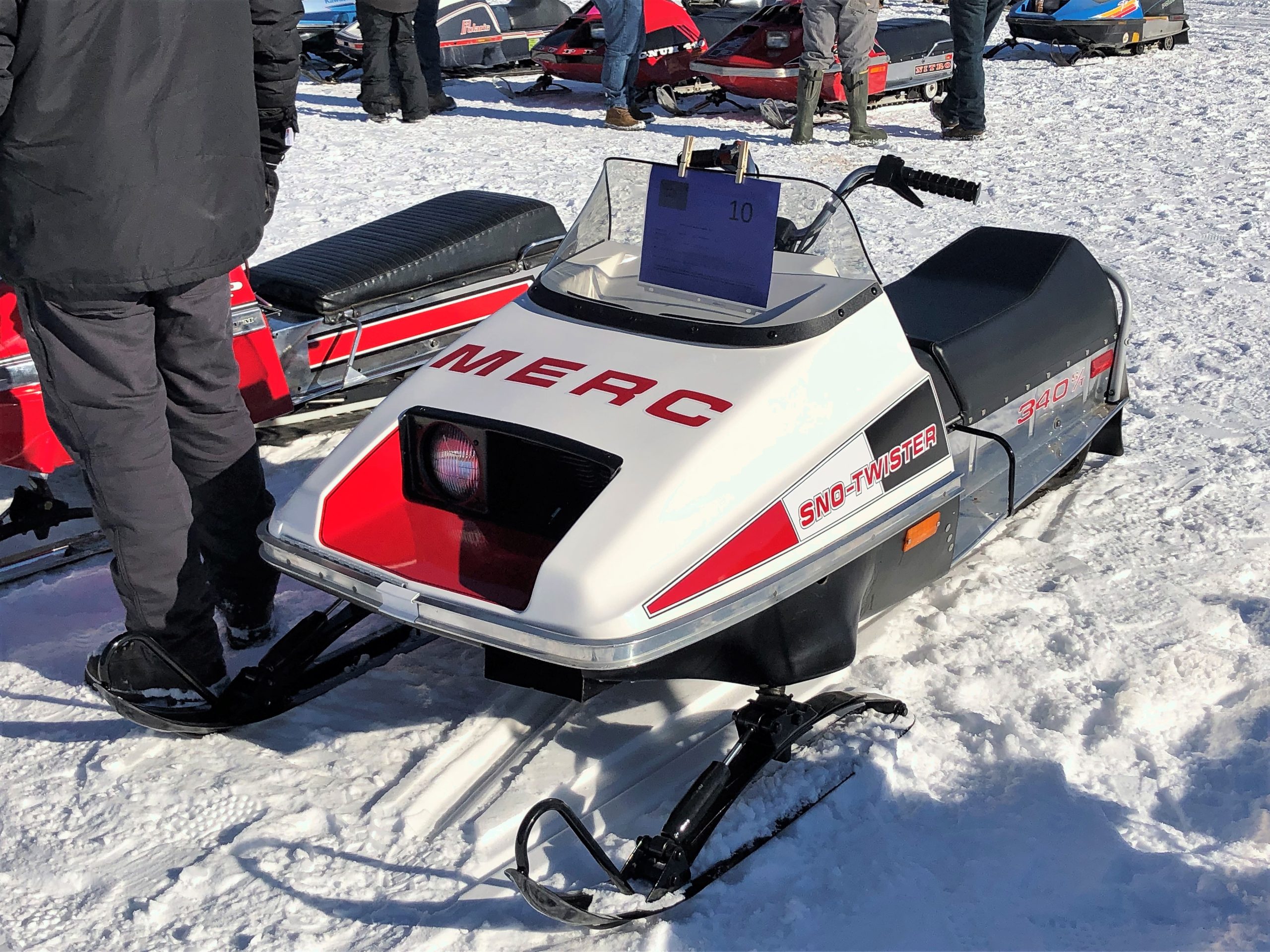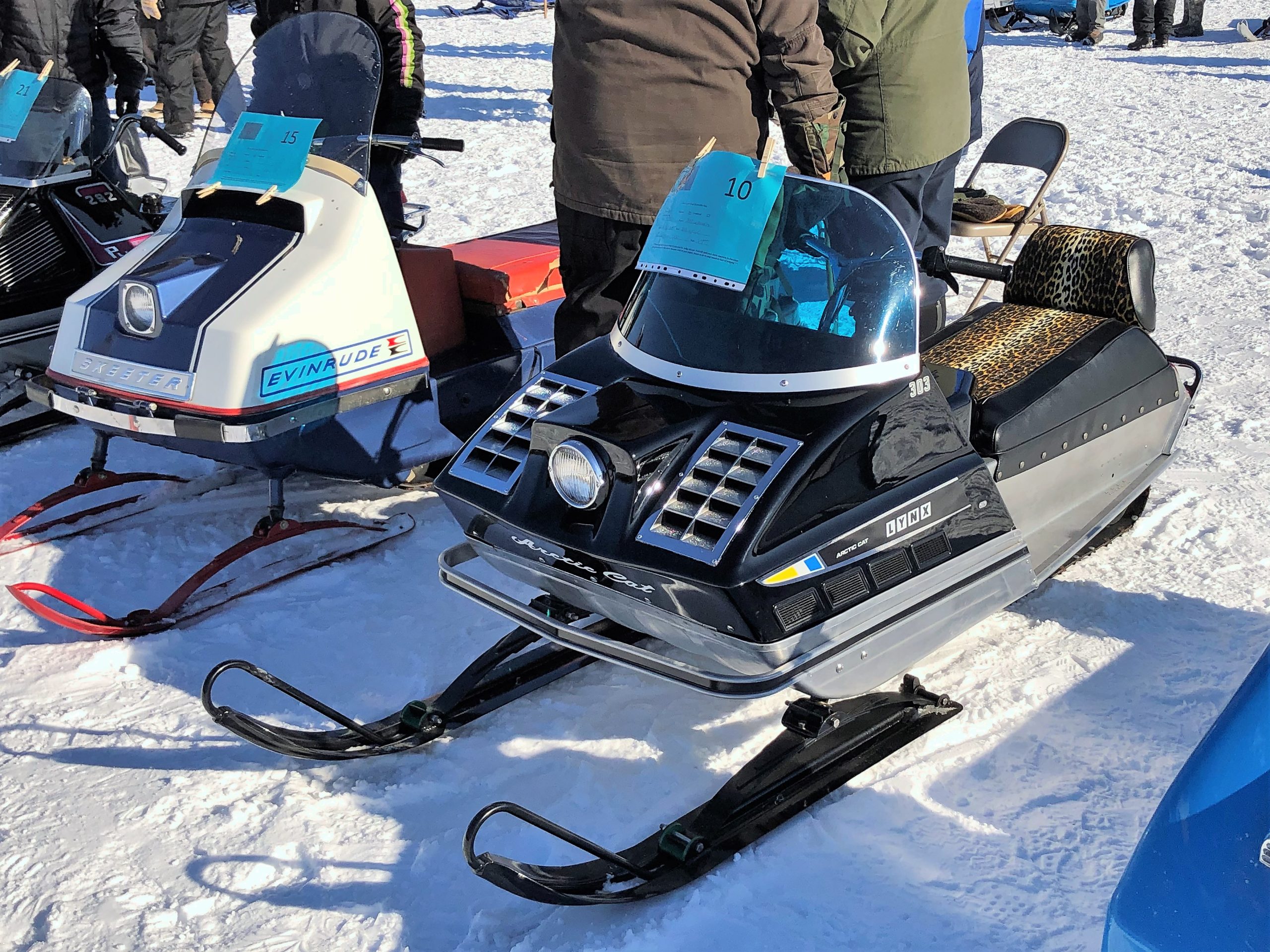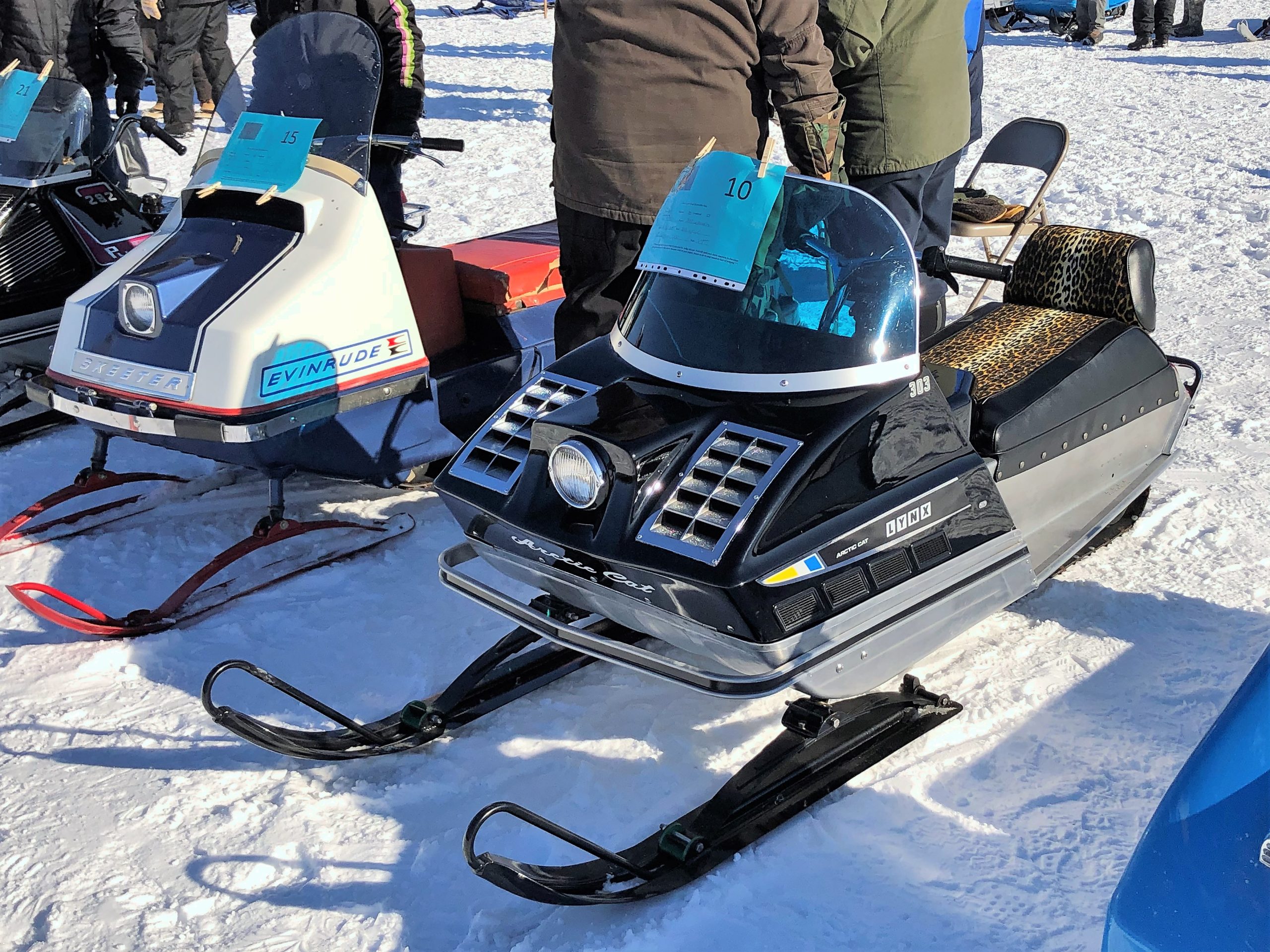 I hope that this little ride down memory lane provided temporary relief from the anxiety of a delayed delivery date. It did for me!
If you are currently on the snow and already living the high life of winter, give thanks and thoughts to the machines that paved the way and the snowmobilers who keep them and our memories alive. Vintage rocks!
Stay positive, test negative.