Van Strydonk, Wahl, Chartier, MacDonald and Villeneuve to Highlight the 2014 Grand Prix Ski-Doo of Valcourt Presented by Intact Insurance
The Grand Prix of Valcourt presented by Intact Insurance will once again offer fans gathered around Circuit Yvon Duhamel ice oval track from February 14-16, the ultimate snowmobile ice racing competition featuring the elite riders of the sport. Valcourt Grand Prix winners from the last 10 years will all be on site trying to win the illustrious trophy.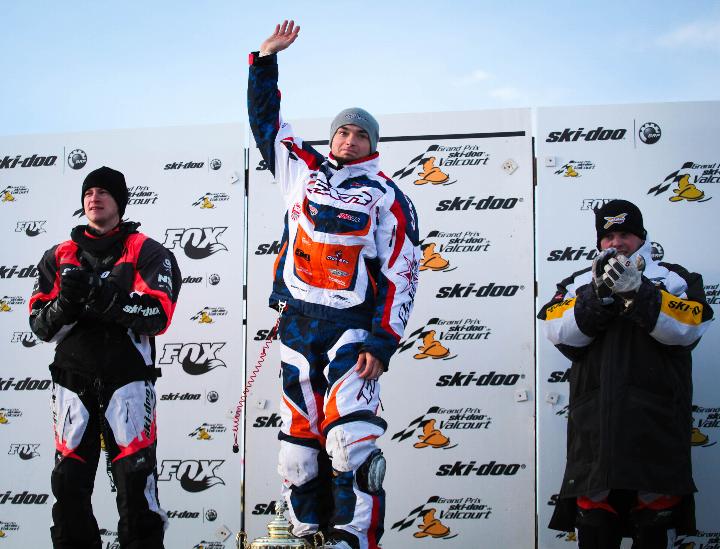 2013 Grand Prix of Valcourt winner Nicholas Van Strydonk raises the prestigious trophy for the third time of his career following is victory ahead of second place finisher Ryan Kniskern and Malcolm Chartier on the rightPhoto credit: Hani Ferland, courtesy of the Grand Prix of Valcourt
According to George Samson, promoter of the Circuit Pro Tour who went to the World Championship in Eagle River (Wisconsin) last weekend, all the leading American Pro Champ 440 riders will be competing in the 32nd running of the great winter motorsport classic. Defending race champion Nicholas Van Strydonk of Tomahawk, Wisconsin will once again face off against rival Dustin Wahl of Greenbush, Minnesota. Each rider won Sunday's finale three times in the last six years. Facing them will be Quebec's Jacques Villeneuve, also a three-time winner in Valcourt, who is returning to Pro Tour competition this weekend in St. Evariste, located on the south shore of Quebec City, after a year off following a dreadful accident last season.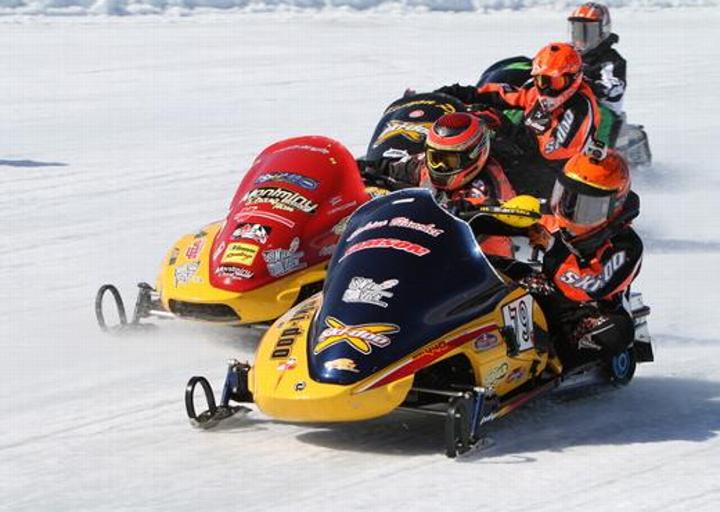 Several top contenders will be joining the fray in the hopes of adding their name for the first time on the prestigious trophy. Among them will be Michael Chartier of Fair Haven, Michigan, who won last year's Friday and Saturday finales, but fell short on Sunday with a third place finish. Up to that point, Chartier had been almost flawless winning five of the six TLR Cup Championship rounds. The Ski-Doo rider also collected six other wins in Pro Champ 440 competition last year, including the World Championship round in Eagle River. This season, Chartier is still on a roll with five overall wins in eight starts. Wisconsin riders Ryan Kniskern of Marinette, runner-up last year at the Grand Prix, and 2007 Valcourt champion Matt Schultz of Wausau are also returning. Kniskern and Schultz respectively finished second and third in this year's race at Eagle River behind winner Malcolm Chartier.
Other Pro Champ 440 riders on the rise are Quebec's Felipe Roy-Lalonde and Dustin Gherke of Morrisonville, NY. The 2013 Circuit Pro Tour champion finished twice in third place last year in Valcourt, a first for Roy-Lalonde. 2013 Pro Tour runner-up Gherke is coming up quickly in that class after winning eight titles in the junior ranks.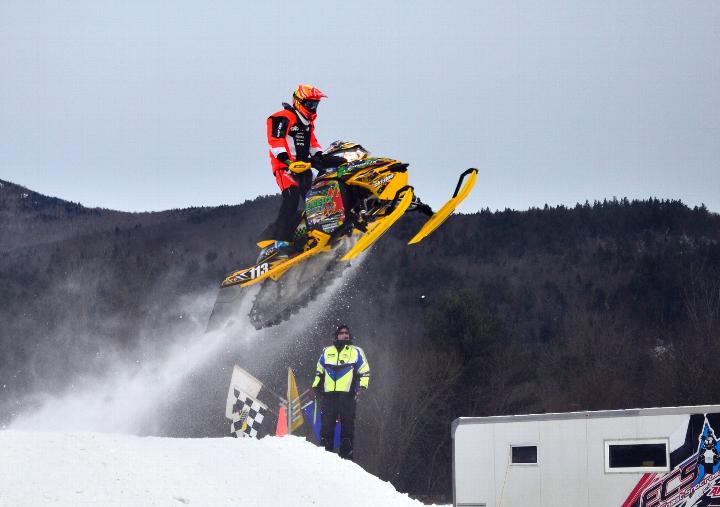 In the Semi-Pro Champ class, Sabrina Blanchet of Quebec City has a hard task awaiting her if she hopes to win the class title. Runner-up last year behind Cole McMichael of Lefroy, Ontario, and third in her first season in 2012, the 18-year-old will also be competing in the Pro Champ 440 class where she finished fifth overall in the 2013 standings. In Valcourt last year, Blanchet won the Friday finale, Michael Soucy of Hopkinton, New Hampshire was the winner on Saturday, while McMichael won Sunday's race.
A Full Weekend of Racing Activities Awaits Fans
The 32nd running of the Grand Prix Ski-Doo of Valcourt presented by Intact Insurance will again offer fans a full weekend of racing activities that will also feature the top professional snocross riders in North America as they battle for the big prize. Included on the program for the Grand Prix weekend are the daredevil motorcycle and ATV racing riders competing on the Yvon Duhamel ice oval speed track. Fans can also attend, free of charge after 4:00 p.m., the Friday night under the lights Round 2 of the professional Top Speed Racing snowmobile drag racing competition. On Saturday, Xtreme enthusiasts can attend the highflying freestyle snocross show schedule to start around 5:00 p.m. Admission to the Freestyle Snocross exhibition is $15 per person after 4:00 p.m., and free of charge for Grand Prix of Valcourt ticket holders. There is plenty of fun and games for the whole family, including slides for kids and live on-site rock bands.
General Admission Tickets Still Available On-line
Fans of the great outdoors can still buy an all-inclusive, three-day general admission pass at a reduced price of $45 instead of $55, taxes included, until February 11, 2014. A minimum service charge of $1 is added for each ticket ordered online or by phone. Tickets are available online at https://www.grandprixvalcourt.com/en/billets/ or by phone at 1-866-532-7553 or 1-450-532-3443. Daily general admission tickets are also on sale at $10 each for Friday and $30 each for Saturday and Sunday. The heated Grand Prix Suites tickets are sold out. Accompanied by an adult, children under 12 are admitted free on the Grand Prix site. However this offer does not apply for the heated suites.