It's a dream come true : at last, we take possession of our new 2015 Polaris 800 Switchback Pro-S mounted on the new AXYS platform. This long-term trial has been made possible thanks to the hard work from Polaris' people and CM Barbeau, Polaris dealer north of Québec City. It has been more difficult this year due to the quantity of units available for 2015 and to the numerous requests from North American medias. When we finally touched the beast, we knew it was worth the wait !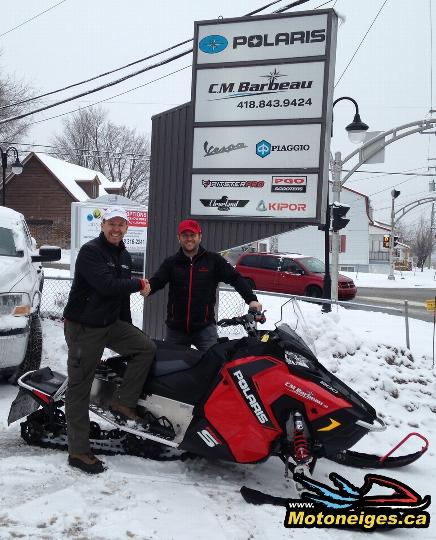 Christian Barbeau, CM Barbeau owner, with Marc Thibeault, test pilot and columnist for Motoneiges.ca / SledMagazine.com
Everything has been taken care of during the preparation of our new sled, such as its delivery. Christian Barbeau, CM Barbeau owner, chose to keep a customized dimension and approach. «Unlike many snowmobile dealers who choose to expand their business, we decided to keep it simple and close to our customers…» says Mr Barbeau. « Here, we recognize you and we take your needs into consideration when everything is allright as well as when you need us. » adds the man who took over this family business.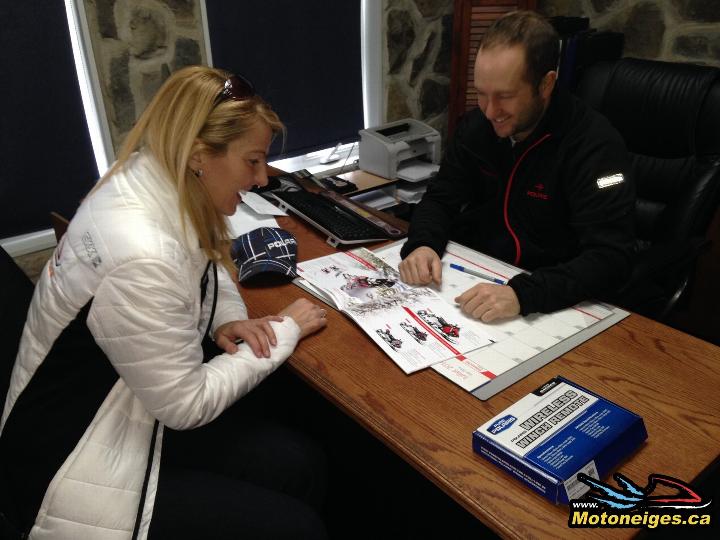 Christian Barbeau, CM Barbeau owner, presents the features of the 2015 800 H.O. Switchback to Karine Beaudoin, columnist and test pilot for Motoneiges.ca / SledMagazine.com .
It was obvious that they wanted us to experience the new AXYS chassis ; however, CM Barbeau team members had their say about the final model of our new snowmobile. This choice mostly depended upon the strong tendancy of the market for high-performance crossover machines. Special thanks to our partners.
We are now going to get ready for the coming season. Before our first ride, we will examine this new sled and present to you our pre-ride analysis during the next weeks.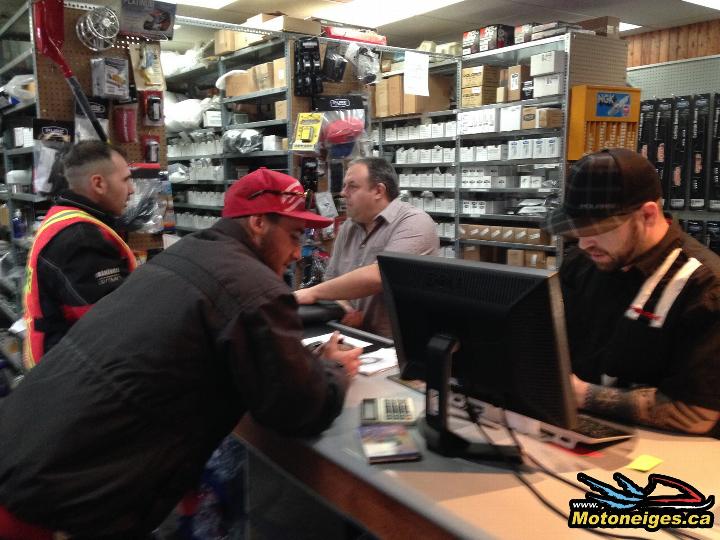 CM Barbeau Service team members take care of the numerous customers present at the beginning of this season.