I've had several opportunities for initial impressions of the 2015 AXYS models, but none were as special or intimate as the first meeting in the comfortable privacy of my shop.
No crowds or distractions, just me and a 93% new snowmobile, all alone. Without interruption I was able to really experience and appreciate the clean simplicity of the AXYS' premium fit and finish.
I popped the top of a cold one and spent half of a hockey game sitting on the AXYS' new seat going Vroom, Vroom. The firm foam density has a premium feel, the rider position seems very natural and the sculptured design gives you the anticipation of easy movement offering a performance advantage. I railed each imaginary turn with impressive precision without ever moving an inch.
| | |
| --- | --- |
| «Vroom, Vroom!» | It just feels right! |
I adjusted and re-adjusted control and handle bar positions to be just right and noted once again that the larger left hand buttons are very user friendly. I worked the go buzzer 100+ times to experience what 35% less throttle effort feels like due to the use of an electronic oil pump on the 2015 AXYS.
| | |
| --- | --- |
| Very user friendly | 35% easier feels like fun, lots of fun! |
I played with the new Polaris Interactive Digital Display (PIDD) until I felt it was a good idea to hook up the battery charger to ensure a full charge for my first ride. This gauge package takes display and vehicle information capability to the highest level ever offered. I can't wait to experience the RiderX powered GPS functions on the trail.
When you are all alone with someone or something special you have a chance to notice and really appreciate the simple things. With the AXYS it was things like the large ¼ turn side panel releases, simple bodywork removal, under hood access, accessible LED headlight adjustment and easy compression adjustment of the Walker Evans shock package.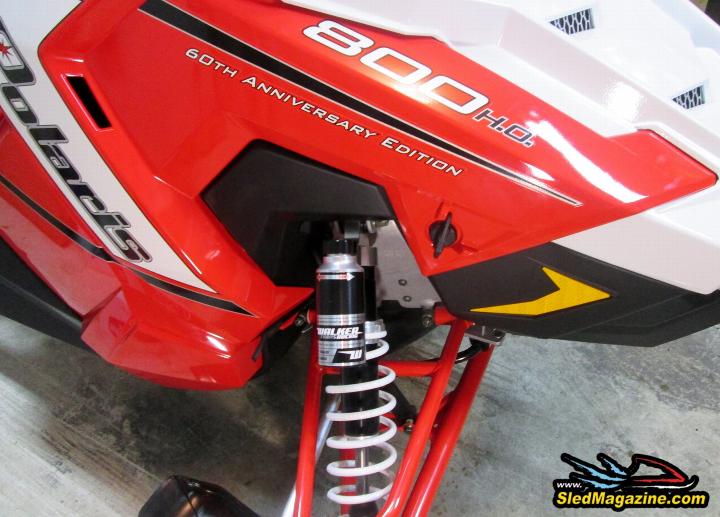 During our special time together, I put the Polaris mirrors on which appear to give excellent visibility without looking out of place. I also switched to a Black windshield to give the Switchback a little touch of personalization.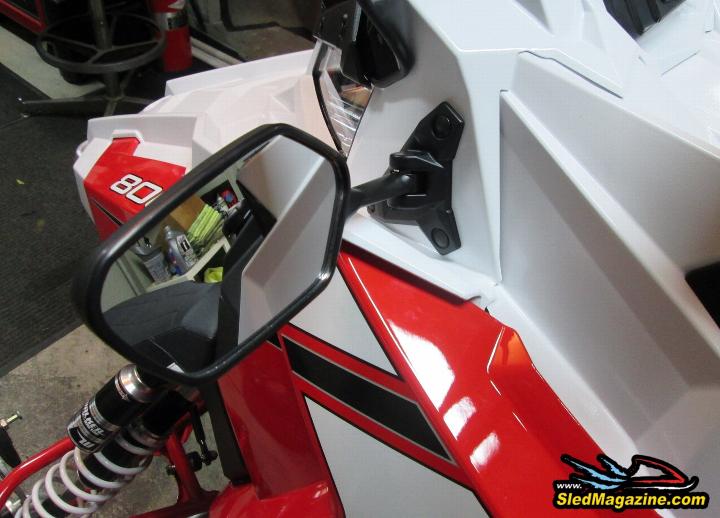 As mentioned the improvement in fit and finish is noticeable and attractive, but what really catches your eye is Polaris' beautiful presentation of Brilliant Red, Black and White on the 60th LE. The Red A Arms and Red rear suspension rails really contrast next to the black tunnel and are stunning.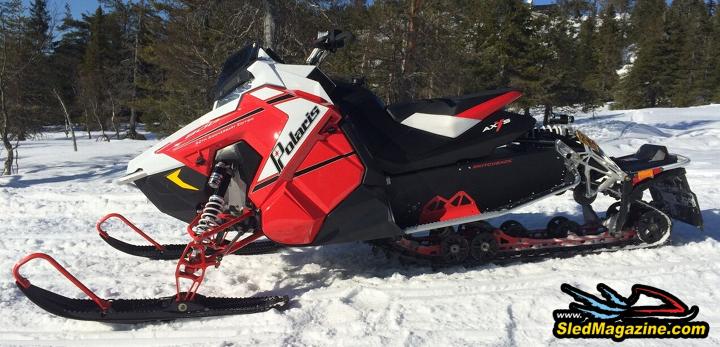 Photos are good, but up close and personal is even better.
It was getting late and I really should have turned out the lights, but I could not leave without spending a little more time to put Qualipieces Top Gold 6" carbides and Roller Skis' on the Pro Steer skis. Throughout last year's long term trial the Polaris Pro Steer ski design proved to be very capable in a wide variety of conditions and the RollerSkis were an excellent addition.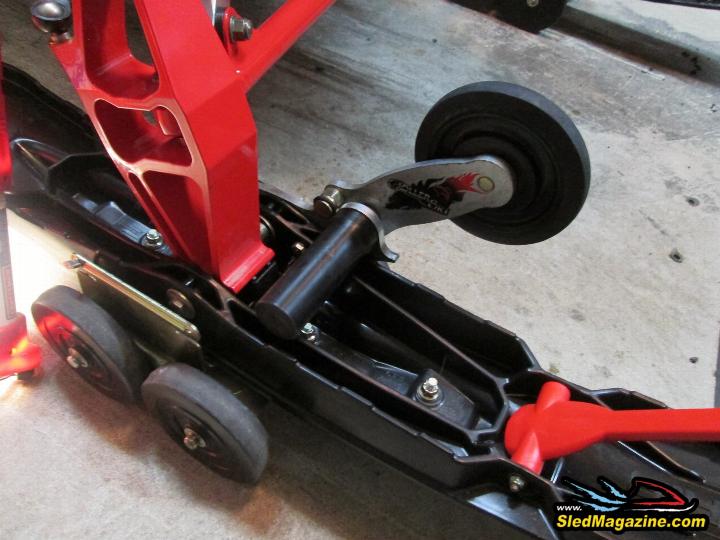 RollerSki Auto-Retractable Ski Wheel System by Qualipieces
I look forward to my next time alone with the AXYS SB 60, when I will take our relationship to the next level with Woody's studs and Polaris' ultimate bumper and storage accessories. As the final touch I'll add a few SledMagazine.com and trail pass stickers and we will be ready to ride.
A few snowmobilers enjoy early opportunities, but soon we will all be living the dream of another season in the snow.
Look for the Polaris Switchback LE on the trails throughout the Northeast………….VERY SOON!