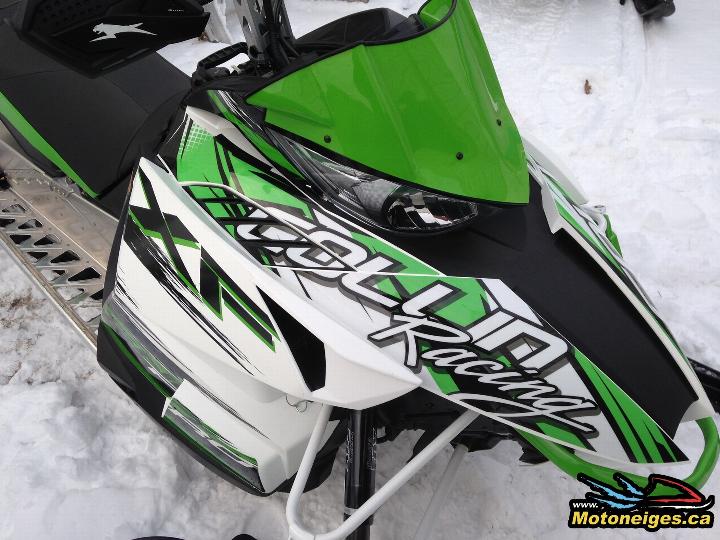 Arctic Cat XF 8000 Sno Pro 2015
Hello, fanatics!!!!
Even if Mother Nature keeps me waiting for her white coat, it is time for me to present my pre-ride analysis of the 2015 XF 8000 Sno Pro, the beast I am going to ride this winter!!
Personally, it is a return to 2-stroke engine, as I have been riding a 4-stroke snowmobile for the past 4 years. I am going back to lightweight handling this season.
Its market…
The XF 8000 Sno Pro is a 137" crossover snowmobile. Despite being in this category, I think that this model will offer greater performances on trail than off trail. Its pilot will be able to ride occasionally out of trails, but this machine will never replace powder snow models like the M that are purpose-built off trail sleds. With my experience on trail, I expect more comfort in small bumps than I would with the 128" editions. However, it will be very interesting to test its handling. The Sno Pro edition is designed for more aggressive pilots who like to play in bumpy trails. Those who prefer total comfort will be more satisfied with the LXR versions.
Engine…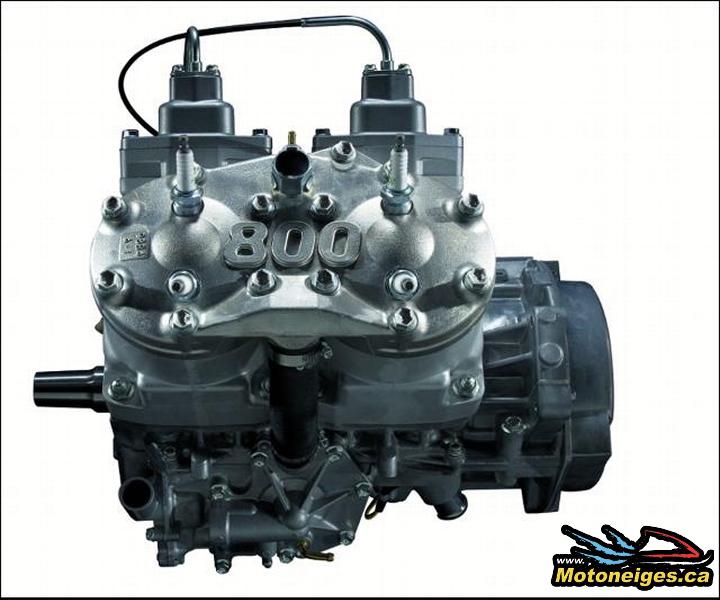 800 cc H.O. engine
The XF 8000 is propelled by the legendary 800 H.O. engine produced since 2010. This fuel-injection engine uses 46 mm throttle bodies. It is a 2-stroke with 85 mm bore by 70 mm stroke that uses a 3D ignition with throttle position sensor. We add the oil injection and the APV exhaust valves to complete the motorization. The estimated power delivered by this engine is about 160 HP. Built by Suzuki, it still has the same design than the one used on the first 2003 Firecat 700, which means intake and exhaust on the same side of the engine. Are we going to see in the next years an Arctic Cat 800 cc engine with dual-stage injection like the 600 cc? Future will tell…
Rear suspension…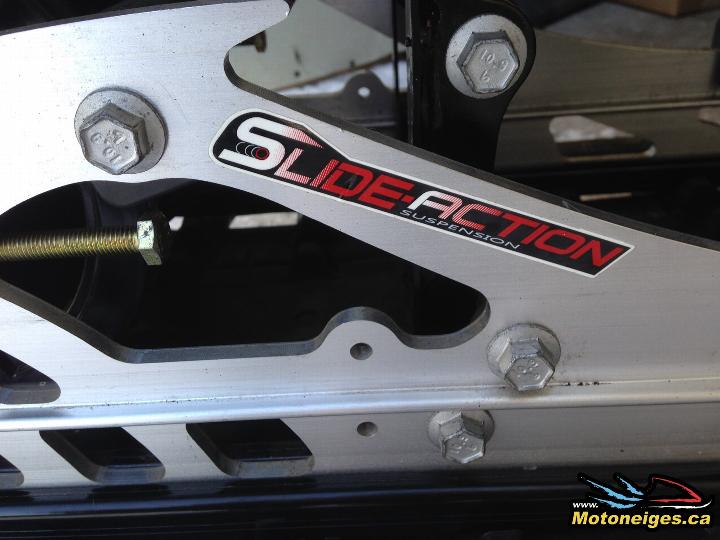 137" Slide-Action
The 137" edition of the Slide-Action has been introduced last year, but this will be my first experience with it. It works like the 128" version does. The free-action front arm has some looseness at the attachment point to the chassis that provides more comfort in small bumps. You can adjust the pre-load of the free-action front arm via the center shock; just screw or unscrew the adjustment rings. Pre-load of the rear part can be adjusted by the adjustment blocks of the torsion springs. Unlike the 141" edition, the 137" Slide-Action is coupled which allows, among other things, to keep your skis planted during acceleration and cornering. Coupling blocks offer 4 adjustment positions.
| | |
| --- | --- |
| Free-action front arm of the Slide-Action suspension | Pre-load adjustment ring in center part of the suspension |
| Rear pre-load adjustment blocks | Coupling block |
Our machine is equipped with the 1.25 Ripsaw II track. Specially produced by Camoplast for Arctic Cat, this track offers the silent track design introduced a few years ago.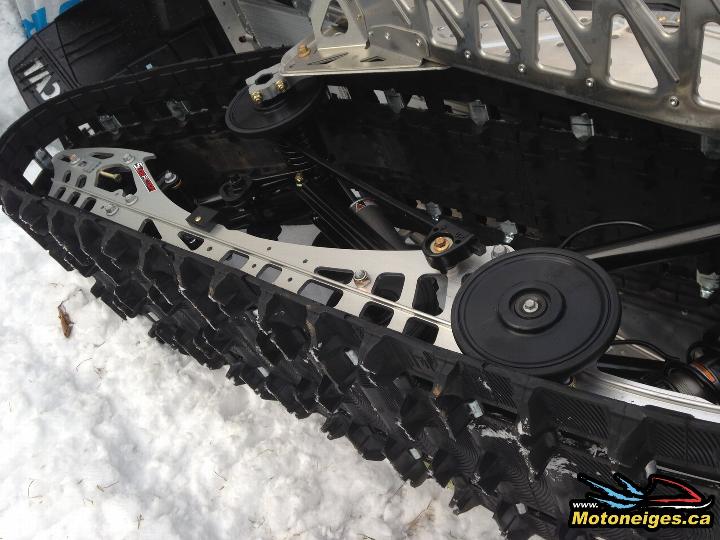 Ripsaw II Track
Front suspension…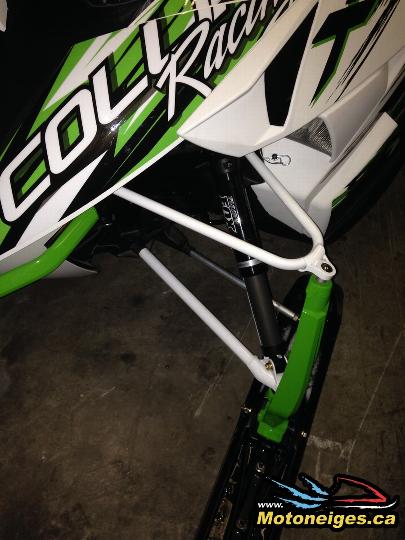 Arctic Race front suspension
Introduced in 2012, the Arctic Race is back for 2015. On our trial snowmobile of this season, we have the Fox Float 3 air shocks, adjustable with the included air pump to an almost infinite adjustment possibility. The 6" trail skis have dual carbide runners and you can adjust ski stance between 42 or 43 inches by moving the adjustment ring.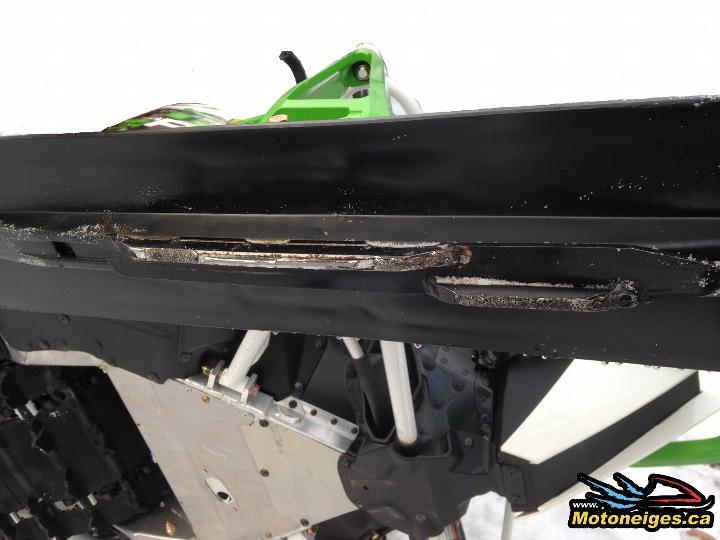 :Dual carbide runners

Ski stance adjustment at 42 or 43 inches
Features and accessory…
The Sno Pro model is renowned since many years as the most snocross Arctic Cat machine and lightweight is among the most important elements of this segment. So, we are not surprised that electric start is not a standard feature on our sled. We have the push-button engine reverse; at first sight, it will not be easy to operate it with gloves on… The standard deluxe digital-analog gauge includes odometer, tachometer, trip meters, along with many others.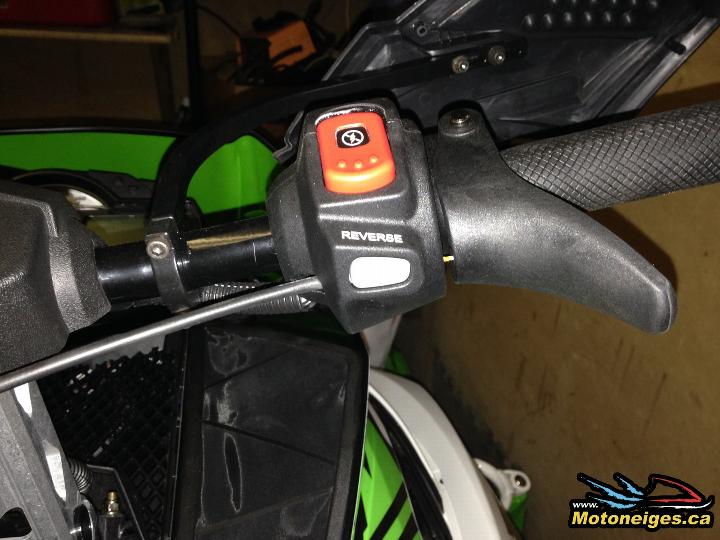 Push-button to activate the engine reverse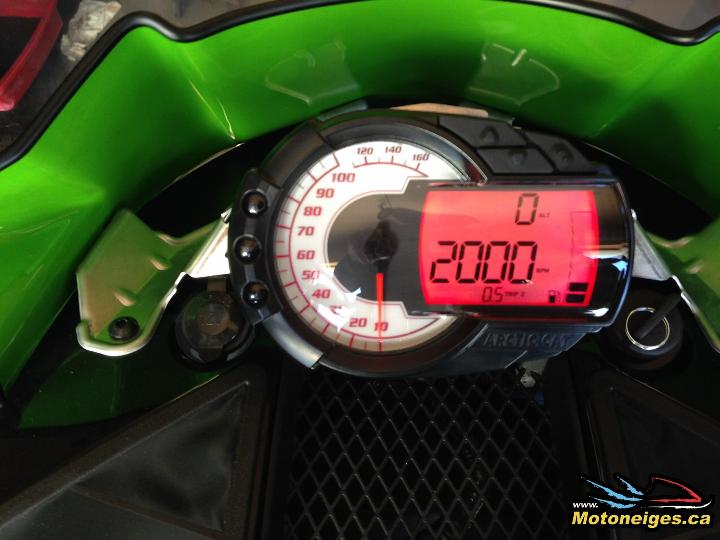 Deluxe digital-analog gauge
The only optional accessory that has been added to our trial model is a pair of hand guards. It will keep our fingers from being hit by pieces of ice and it will provide increased protection against wind…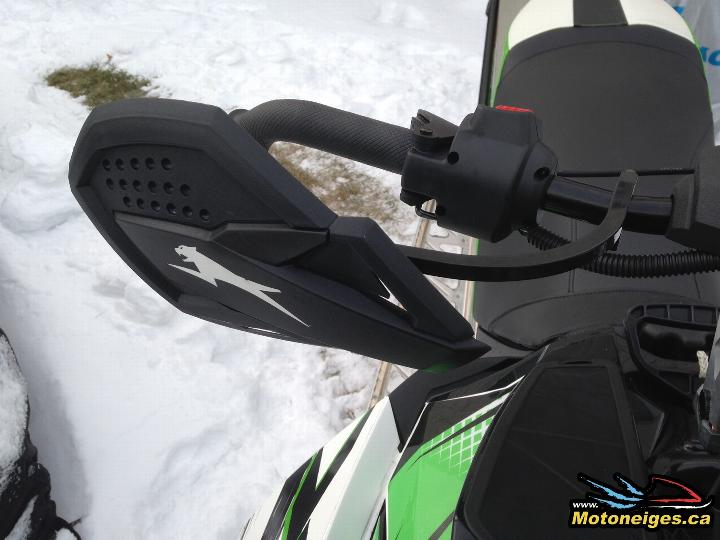 Optional hand guards
You will have to think about buying additional storage bags because the only storage available is the belt bag where you may keep a belt, the shock air compressor and the small tool bag.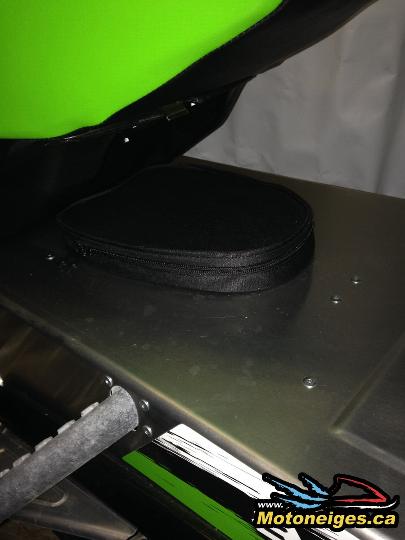 Standard storage bag
As for all Sno Pro models, mirrors are offered in option. So, it will be added before our first ride.
One of the 2015 innovations is the increased airflow of the side panel to the clutches. The air intake is larger and at a better location, so it provides a more efficient cooling of the pulleys and belt.
| | |
| --- | --- |
| 2013-2014 side panel | 2015 side panel |
I can't wait to ride and test for you the handling and performances of our sled. Watch for my first ride on which I will report in my first trial article!!
Now.. Let it snow!