Well, as an icebreaker, here is my first article about long-term trial. I am far from experiencing lack of words syndrome; it is rather lack of snow syndrome. Sadly, snow did not fall yet on my region (Laurentides), but here, I am going to talk about pre-ride analysis. So, while we are waiting for snow, let's talk about Ski-Doo!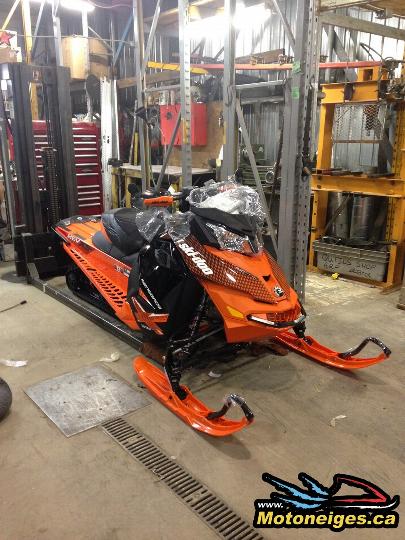 Newly unpacked!
Riding category : sport, touring
From BRP (Bombardier Recreational Products) manufacturer, the Renegade X 800 E-TEC was available on Spring Exclusive order only. Built mainly for trail snowmobilers, it is however in the crossover category. It allows short off-trail adventures to the reskless! This machine is yet aggressive and sporty like the shorter 120" edition.
Track and suspension…
Renegade means long track and its ICE Ripper XT 15 X 137 X 1.25 track will be tested for you this winter! As it is pre-studded, I am sure to get more traction on icy surfaces. It is important to note that the RipSaw track was also offered as Spring Option.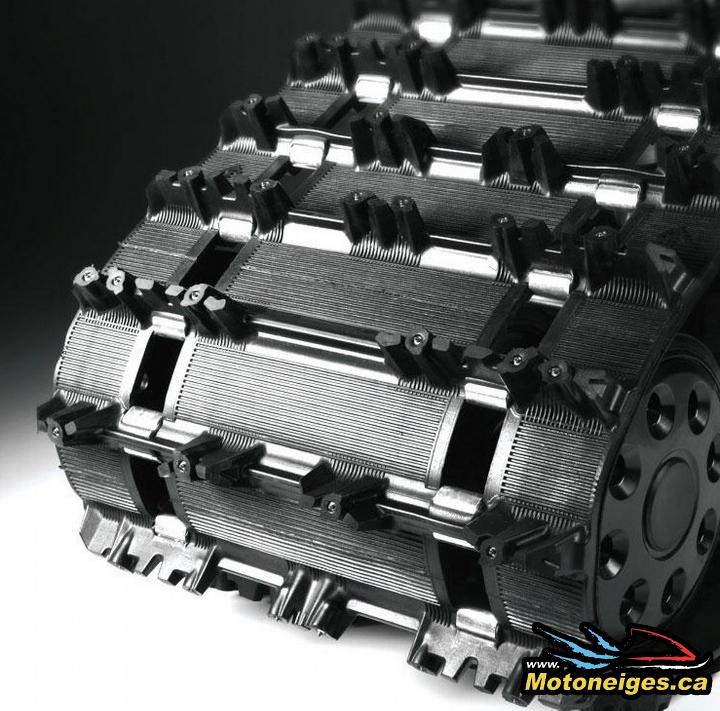 ICE Ripper XT
New this year, we have the RAS 2 (Response Angle System) front suspension. According to the manufacturer, its new geometry and its lightness will increase precision mainly in extreme bumps and I just can't wait to try it! Oh yes, I almost forgot to tell you that we have HPG Plus R front shocks with rebound damping adjustment!!!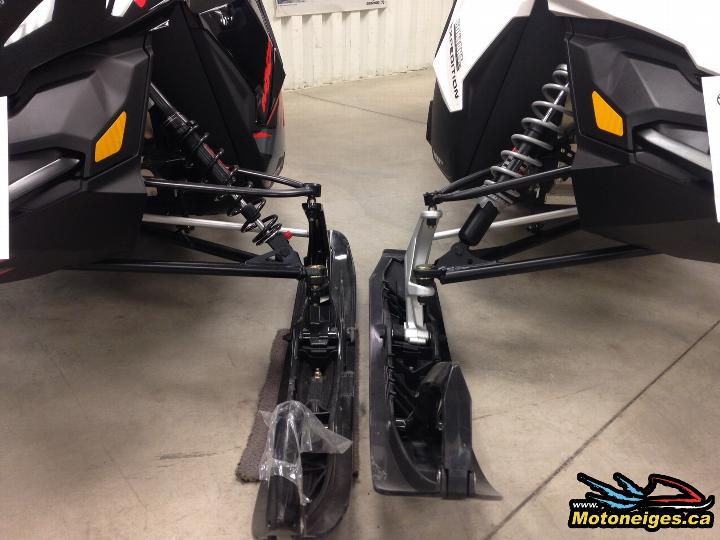 Left, RAS 2; right, RAS
The proven rMotion is back for 2015, one of the best thanks to its most rising-rate motion ratio in the industry! Center shock is the HPG Plus. Rear shock is the aluminium piggyback KYB Pro 36 Easy-Adjust and, as before, with no-tool compression damping adjustment system by push-button that works very well.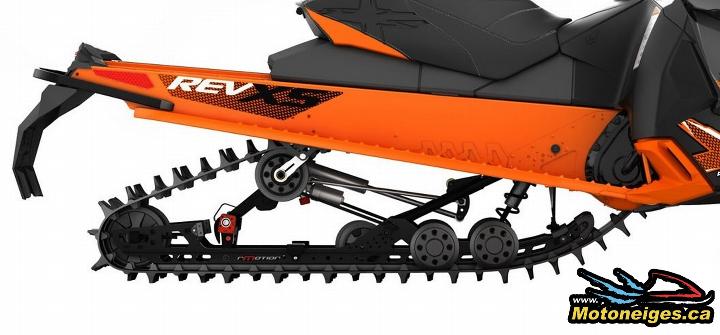 rMotion suspension
Engine : 800 E-TEC!
Fuel-saving, powerful, clean… Introduced in 2011, there is no doubt that Ski-Doo engineers hit the nail right on the head with this 800 cc direct-injection engine. It delivers about 160 hp and offers up to 30 % less oil consumption than its previous editions with carburetor and this, with virtually no smoke. I wish for a snowstorm soon so that I can try it out!!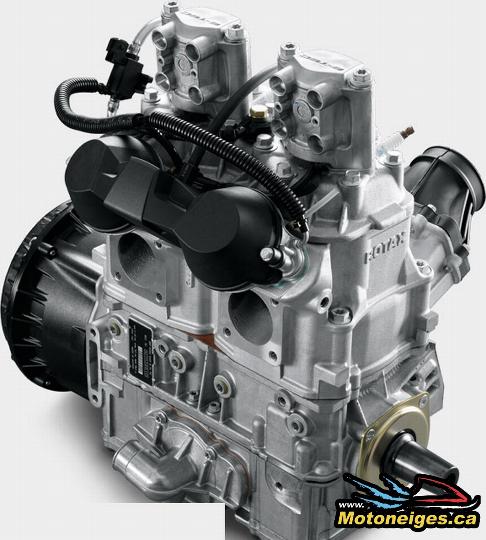 Rotax 800 E-TEC Engine
New RF D.E.S.S. key
Another innovation for 2015 is that the Renegade X is equipped with the new radio-frequency RF D.E.S.S. key. On previous models, there had to be a connection between the key and the receiver. With the new system, there should not be any fuel shut-off under 3 000 RPM anymore!! The ball joint attaching system seems to be very efficient and even under extreme cold, it works well, according to BRP.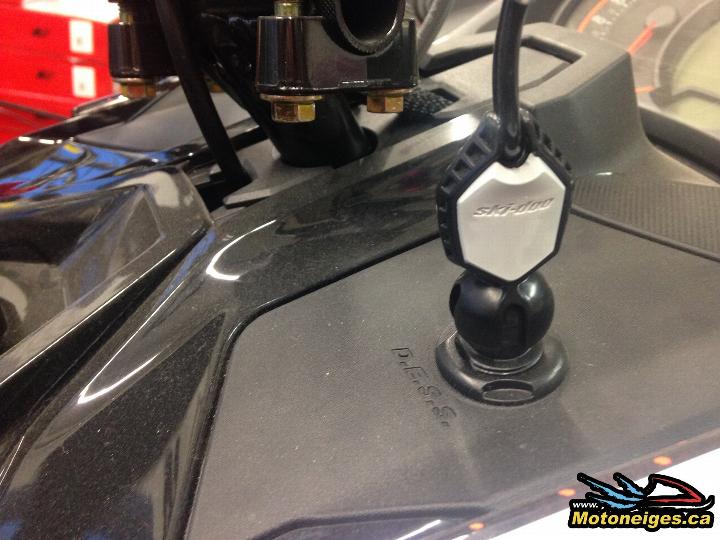 RF D.E.S.S. key
Sharp new styling
The Spring Fever Orange is attractive and matches the Black color very successfully. The all black rMotion brings out the orange line of the tunnel. And what about the new transparent handguards? Quite original, I think!! As we have been used to in the past, the finish is excellent and the assembly is perfect!! Just take note, my friends, that my machine shows customized graphics of Contant Laval, Mirabel and Ste-Agathe dealer! In short, you won't miss me this winter!!!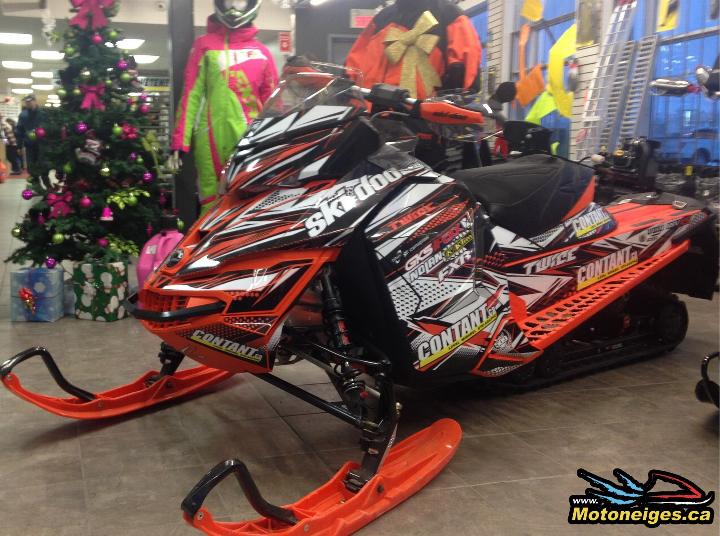 Customized graphics