Snowmobile ice racer Jacques Villeneuve has announced that he will compete in the 32nd running of the Grand Prix Ski-Doo of Valcourt next February 14-16, 2014. Villeneuve, who was seriously injured during the second day of competition in Valcourt last year, said he is ready to return to competition as early as January 26, Round 2 of the 2014 Circuit Pro Tour schedule. Record cold temperatures hitting most regions of Quebec of late have made it perfect to work on the ice oval rink, and the Canadian rider is ready to test his machinery and check out his physical condition.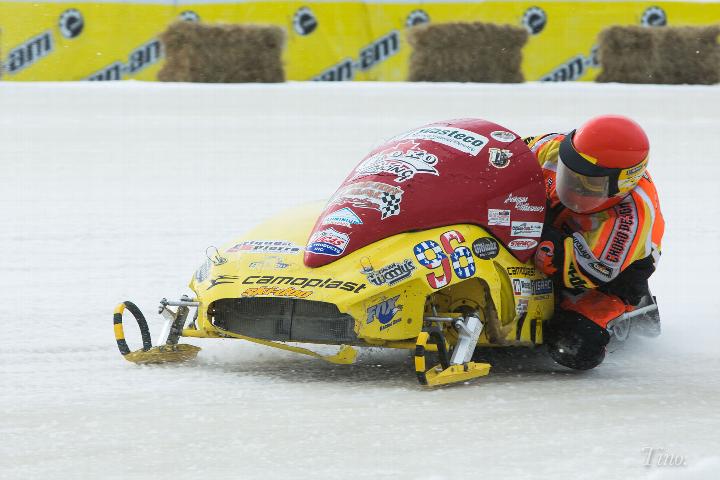 Snowmobile ice racer Jacques Villeneuve has announced that he will compete in the 32nd running of the Grand Prix Ski-Doo of Valcourt next February 14-16, 2014.
Photo by Ghislain Gagné, courtesy of Grand Prix of Valcourt
Villeneuve is well known for not being a physical training buff. "I hate that stuff. I find it quite boring. I'd rather train in the field on a snowmobile in order to get back into physical form. This is where you find out how fit you really are," remarked Villeneuve, a three-time winner of the Grand Prix of Valcourt (1986, 2005 & 2006), who also said that his ride will be ready-to-go upon his returns to competition. "Right now everyone knows how to get the most out the current engines, and we are pretty much all even in straight line speed. What is left is the fine-tuning of the exhaust pipes and the suspensions set-ups. It is a question of budget to get the most out of these components with a top-notch mechanic. A competitive racing budget for a whole season reaches nearly $70,000, and that is not easy money to find."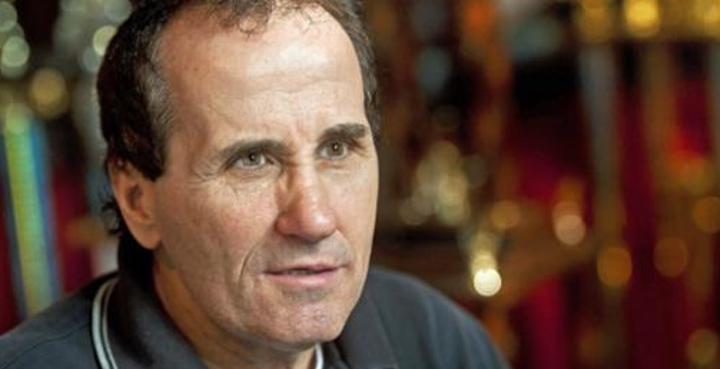 The last time Villeneuve won a Pro Champ 440 titles dates back to 2011, when he notched his third consecutive Eastern Pro Tour championship, winning six of the 10 class finals that year. Prior to his season-ending race incident in Valcourt last year, Villeneuve had won the previous event in Boonville, New York. "The young drivers coming up have gained a lot of experience in the last couple of years, and it is becoming a lot harder for the older drivers to keep up with them. But, I have not given up yet. In racing, it's all in your head. This is where it is all played out. I have to be mentally prepared in order to run at maximum speed. When I am in the groove, I am a tough customer on the track," said the veteran rider who according to the legend, will take part in his 28th Grand Prix of Valcourt, come next February 14.
Intact Insurance becomes the new presenting sponsor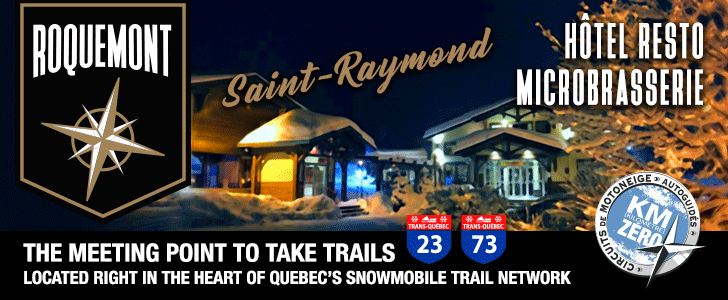 The Grand Prix of Valcourt is also announcing that Intact Insurance, Canada's largest home, auto and business insurance company, has become the presenting sponsor of the 32nd running of the great winter motorsport classic. "The Grand Prix is pleased to partner with the Intact Insurance Company," said Marie-Pier Lemay, General Manager of the event. "The implication of a partner that has compatible goals helps us to maintain the tradition of offering fans the best possible motorsport event in North America. Year after year, the world's best ice oval track racers, and the top professional snocross riders in North America come to Valcourt to showcase their talent in front of a very enthusiastic sell-out crowd." Also on tap for the Grand Prix weekend is the exciting motorcycle and ATV ice racing competitions. Fans can also attend the Friday night under the lights snowmobile drag racing competition and enjoy the freestyle snocross contests on Saturday night. There are plenty of fun and games for the whole family, including slides for kids and live on-site rock bands.