Are you looking for a snowmobile related gift for a wife, husband, riding buddy or a, to you from you Christmas treat?
Here are a few ideas that can make the snowmobile experience easier or better for not a lot of $.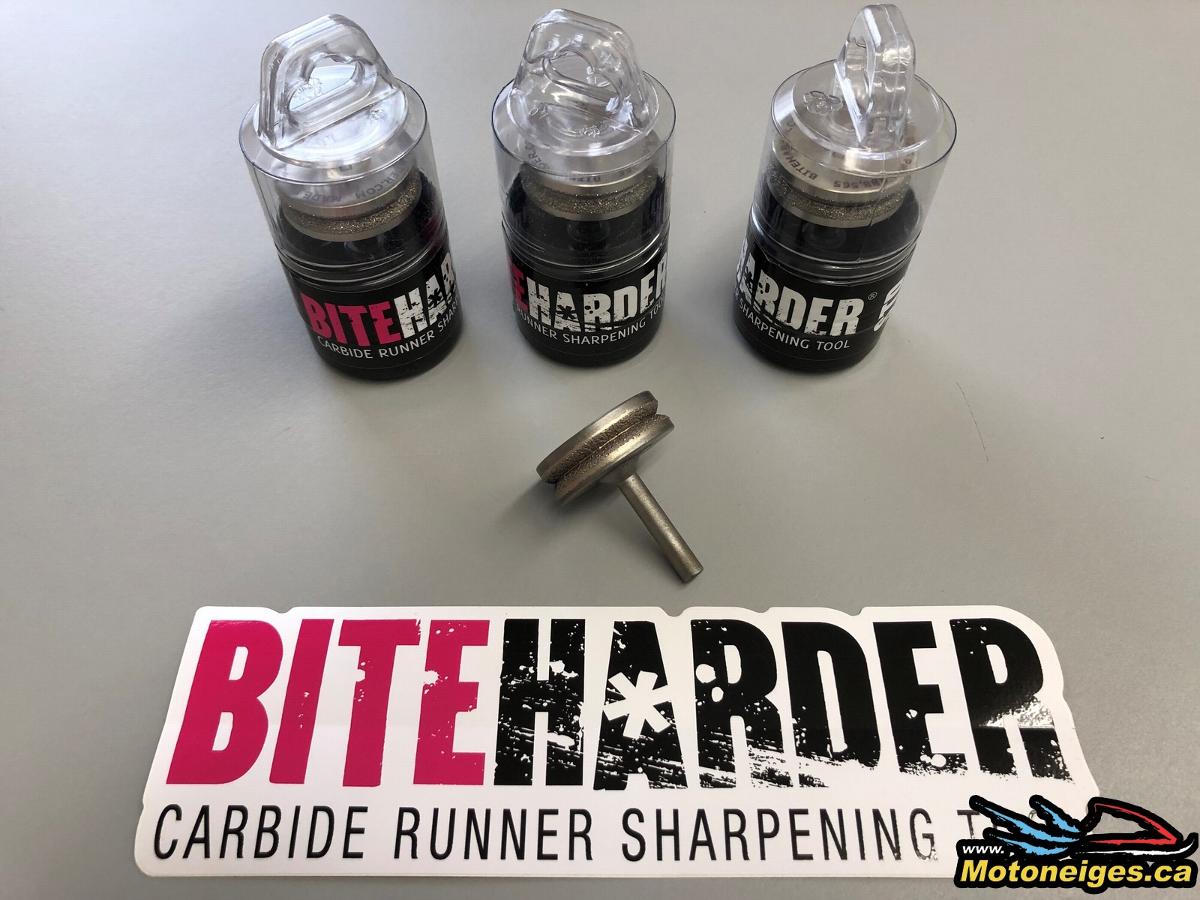 A BiteHarder Standard series carbide runner sharpening tool is an easy top of the list gift. Industrial grade cutting diamonds ready to work in any corded or cordless drill, will increase bite and safety on every ride ($64.95 US retail). Holiday Pak discounts are now in effect. Check out their entire line of standard and professional series tools as well as BiteHarder apparel at BiteHarder.com.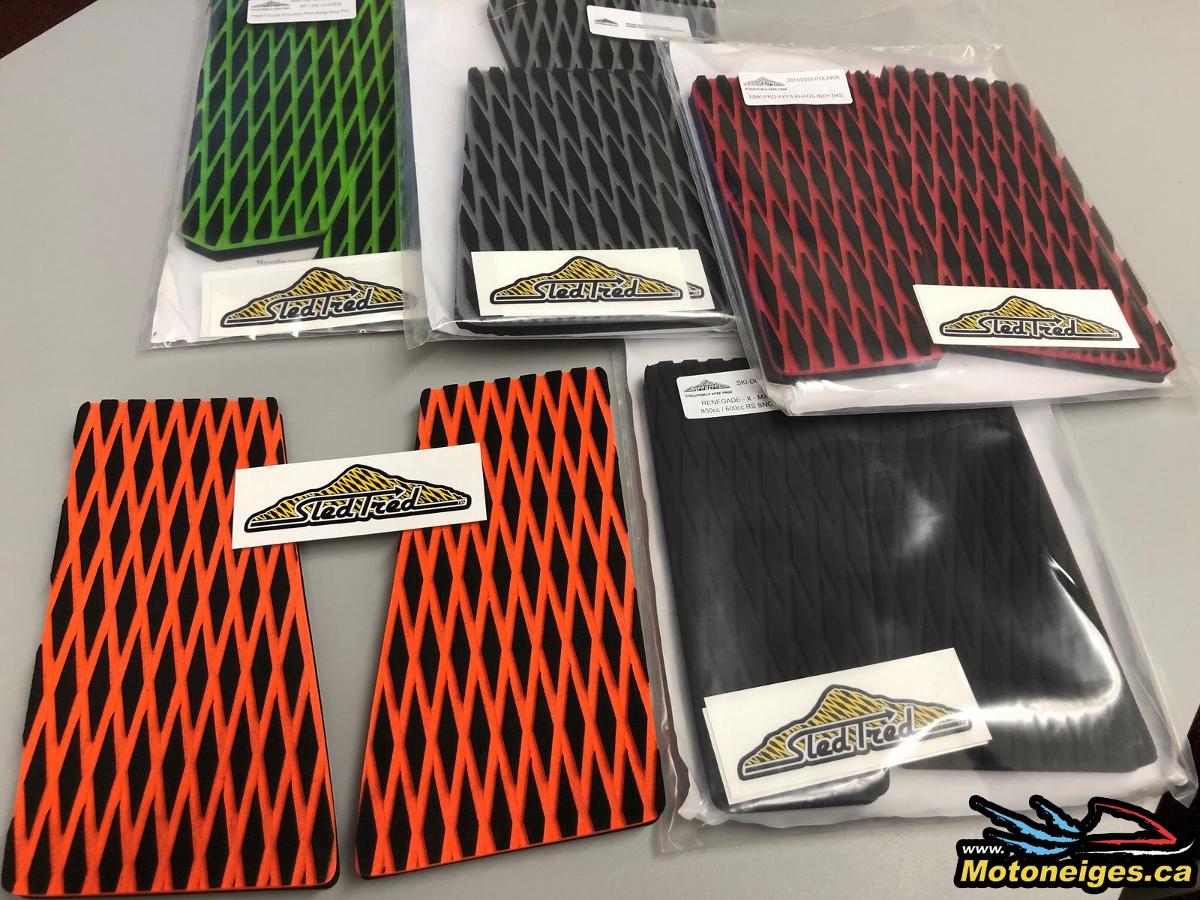 New to the market SledTreds. Stylish custom fit console knee pads ($49.99 US) specifically made for your sled model in colors that are sure to add a touch of accent. High quality impact absorbing textured foam and 3M adhesive. Sledtred.com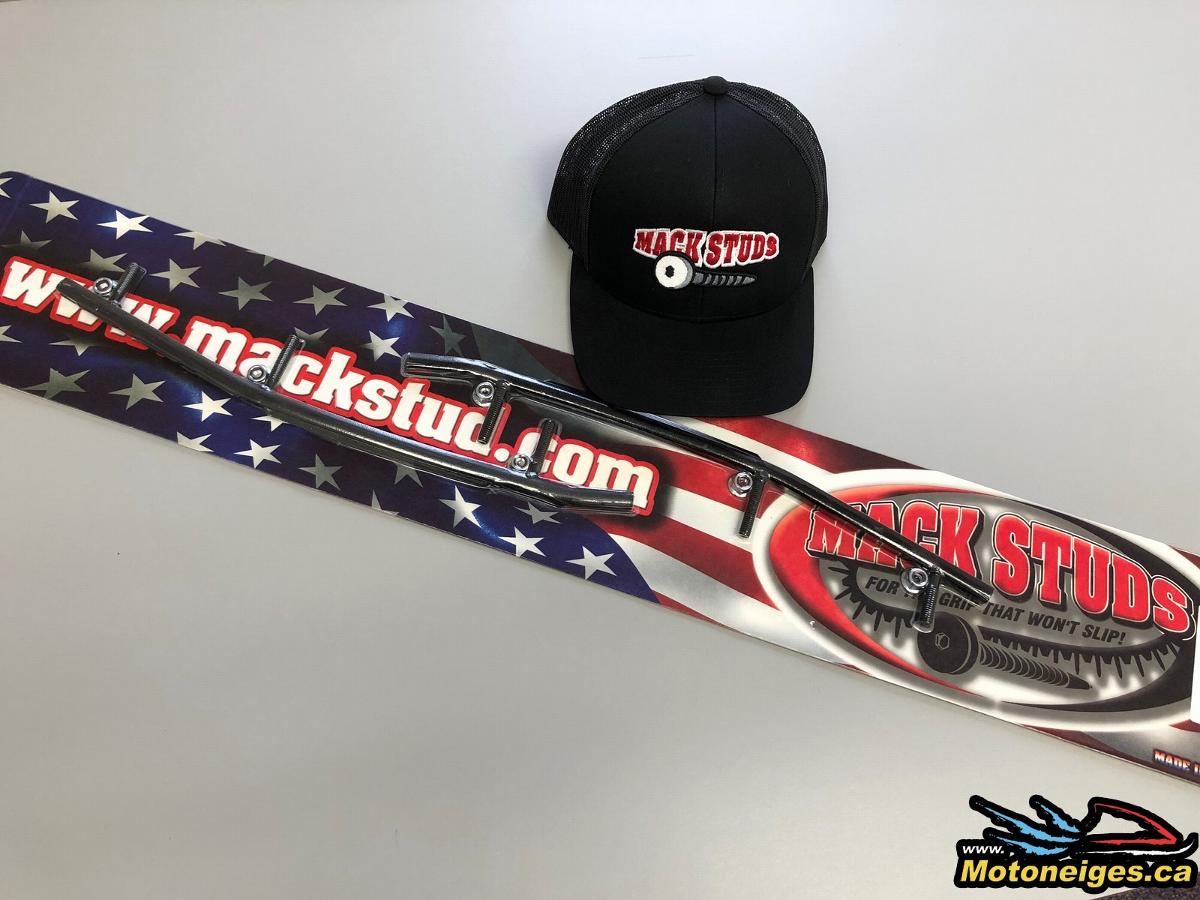 A fresh set of Mack Stud carbide runners. Nothing beats the feel and safety of a new set of carbide runners. Mack Stud is well known for their "5 year no bend no break warranty" traction studs, but their runners are also a great buy. The 6", 60 degree versions ($65 US) are perfect for most applications. Go to Mackstud.com to get the perfect fit for your sled and riding style or call Jim or Carla at 603-279-3330. Mack Stud will hook you up!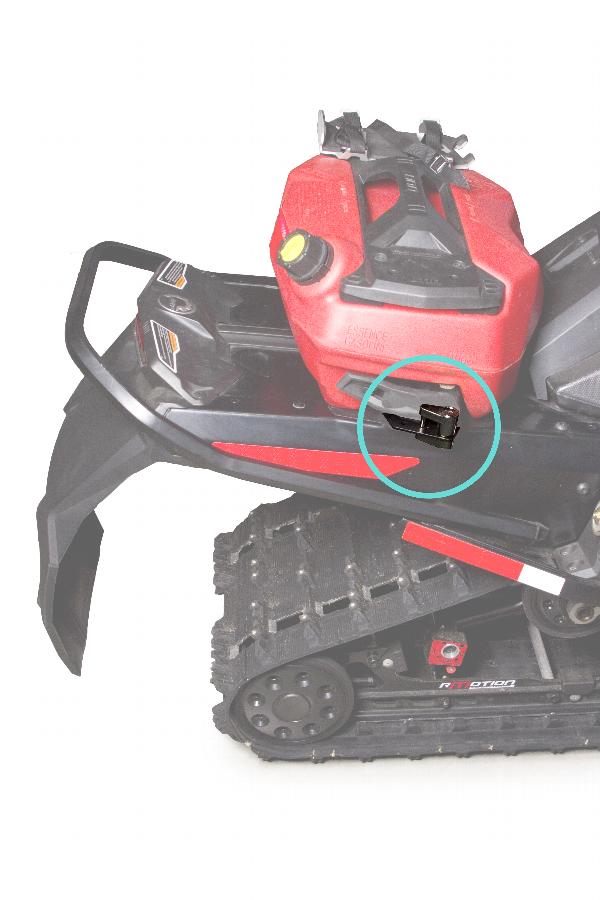 LinQ Locks from Qualipieces Our friends at Qualipieces are always taking a good idea and making it better. The result………………. high quality snowmobile products and accessories. The BRP series of LinQ accessories are one of the most widely used storage attachment systems in the power sports industry. The LinQ system has been adapted for use on all makes of snowmobiles. Qualipieces LinQ lock plates and lock ($33.99US, $44.99CA) make sure that your LinQ accessories remain yours. For some reason the LinQ locks are a little difficult to find on Qualipieces extensive website. Type product code K04-8001 into the Qualipieces.com search bar and it will take you directly to them.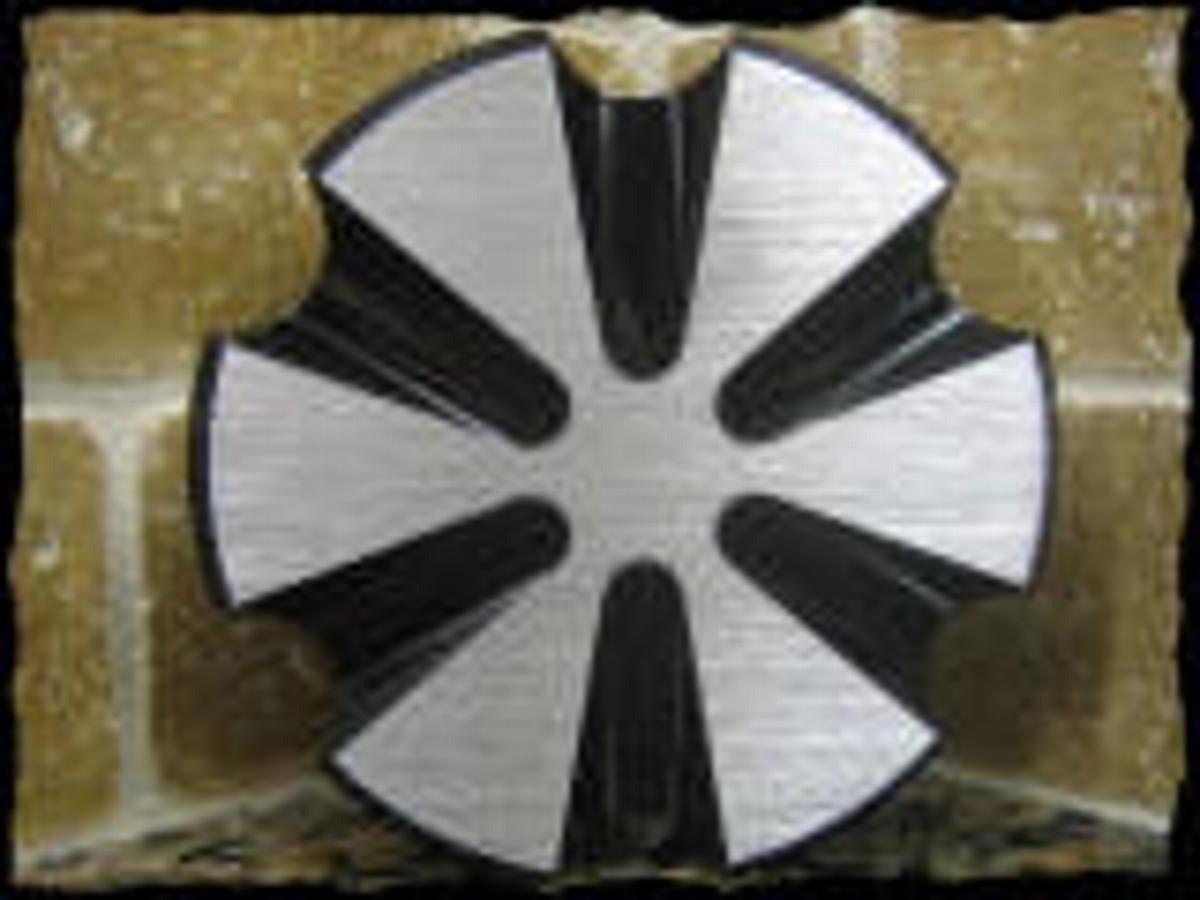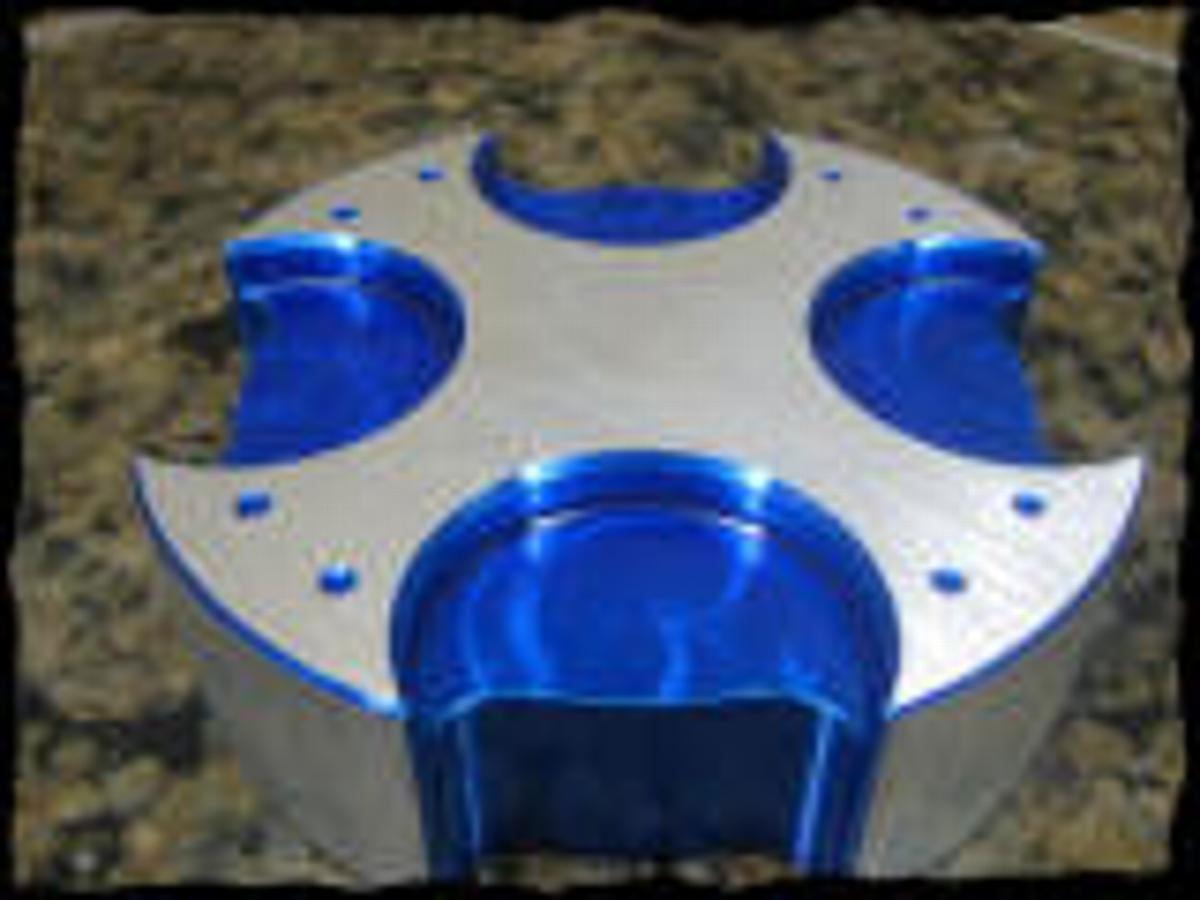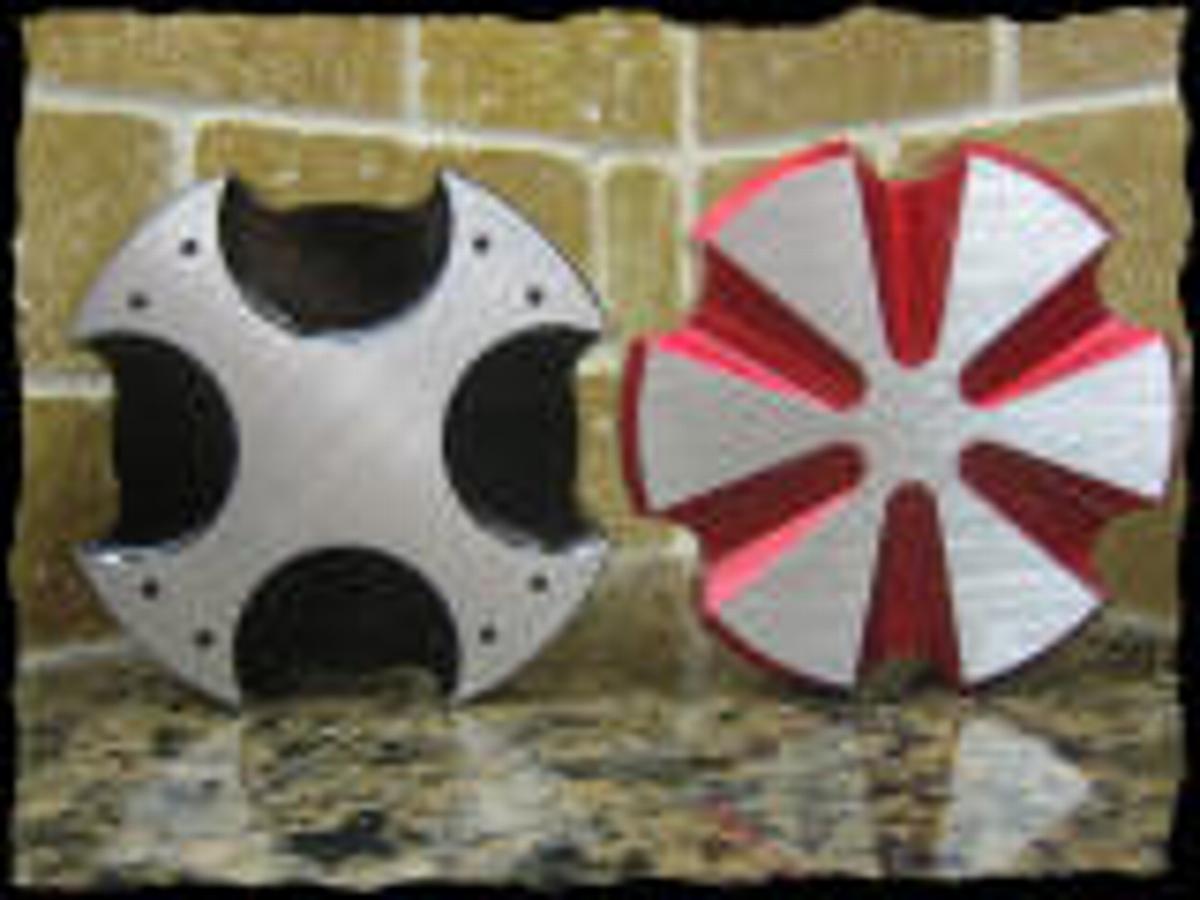 Custom gas caps from Tricked Toys. Add a little bling for the holidays and beyond with something custom. Trick Toys is a great place to find and get custom CNC machined billet aluminum accessories for snowmobiles and more. Tricked-Toys.com offers billet aluminum gas caps ($60-$70 CA), suspension wheels, pull cord handles, brake reservoir covers and more all in a wide selection of powder coatings.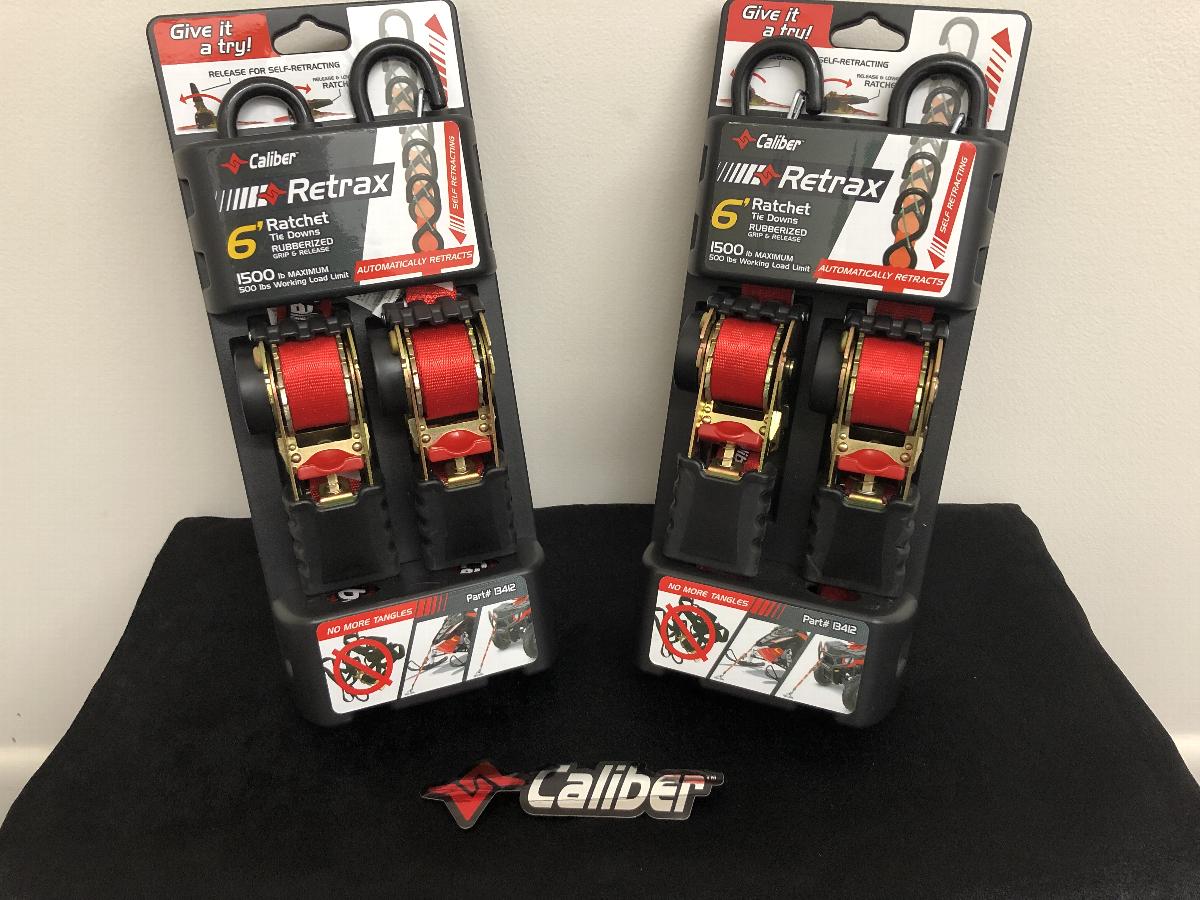 Caliber Retrax Self Retracting tie down straps. Caliber Products have long been known for offering the best in trailer accessories and their Retrax tie downs ($34.95 US per set) are a perfect compliment. They have extra large 2" hook with spring clips, a 6' length that is perfect for all powersports tie down and a 500lb working load rating. Retrax install in seconds without leaving a tangled mess of unused strap behind. Check out everything Caliber at Caliberproductsinc.com.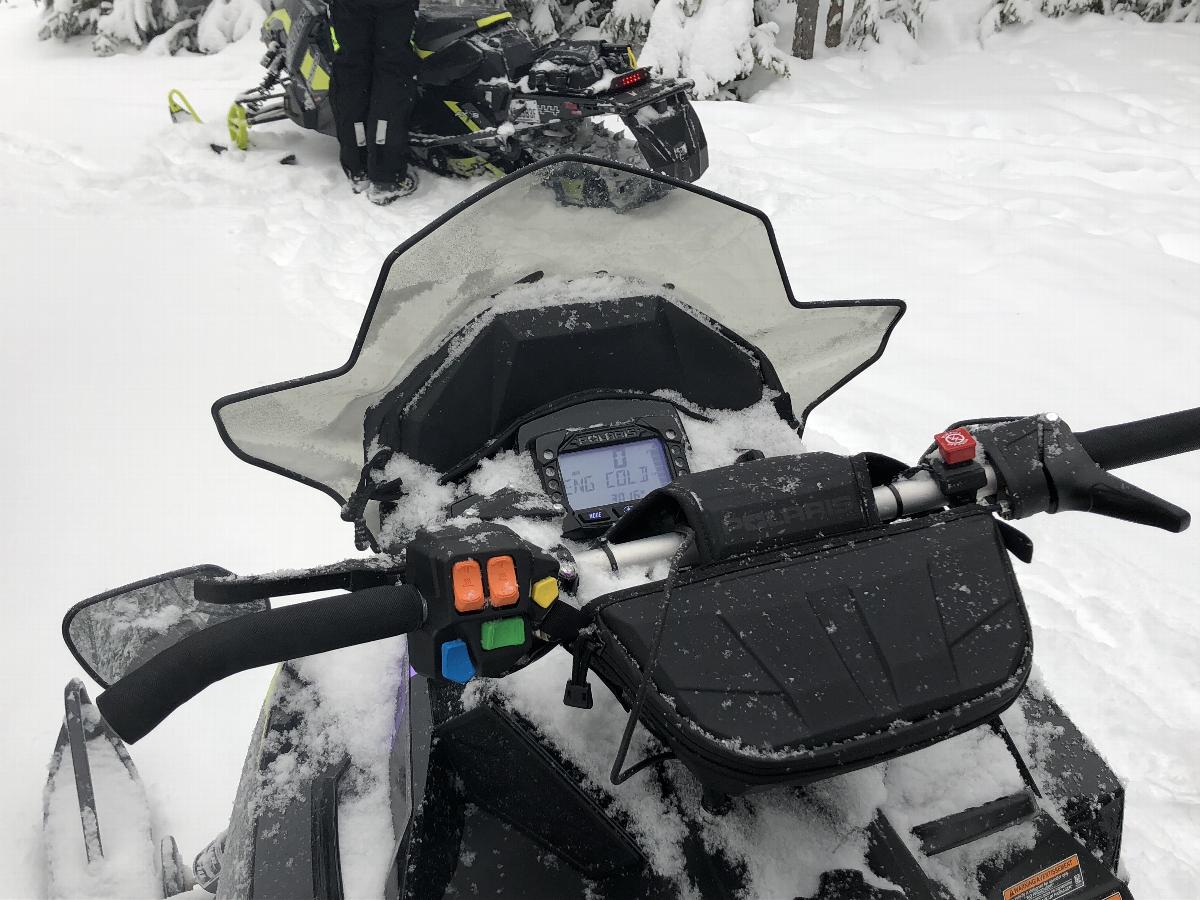 Polaris' cell phone charging handle bar bag. Last year we put this accessory to a successful test. This bag could easily be adapted for use on any brand, just put a sticker over the small Polaris marking. Here is a short excerpt from our "Polaris Indy XC 850 year in review" article.
I take my SledMagazine.com photos like most snowmobilers, with my phone. Just like you, my photos are not professional , they are only occasional and on the fly. As a result my phone needs to be always ready. The USB bag ($129.99 US) kept my phone charged and warm enough to perform whenever. I miss a lot of fantastic photos because I'm a rider first and foremost, but I never missed a shot because my phone wasn't ready.
PN 2883786 at Polaris.com Check it out.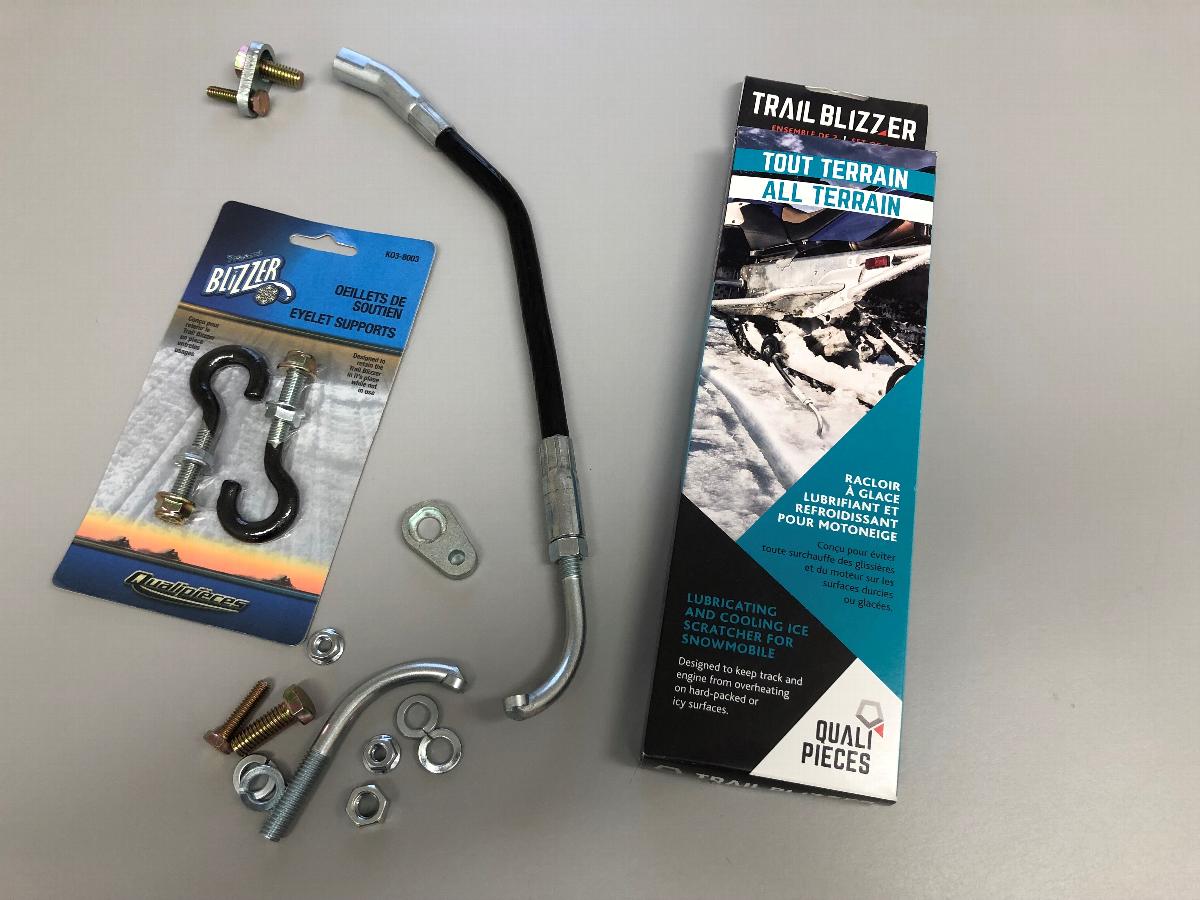 Qualipieces Trail Blizzers Qualipieces is well known for their high performance Top Gold Carbides, non darting Cobra head carbides and RollerSki products. Their Trail Blizzer ($114.99 US) flexible cable carbide tipped ice scratcher improvement is simple, but makes a significant difference. The addition of a machined mounting plate keeps the unit firmly attached without the potential for rotating loose or out of position like other similar products do. Small change, world of difference! Qualipieces.com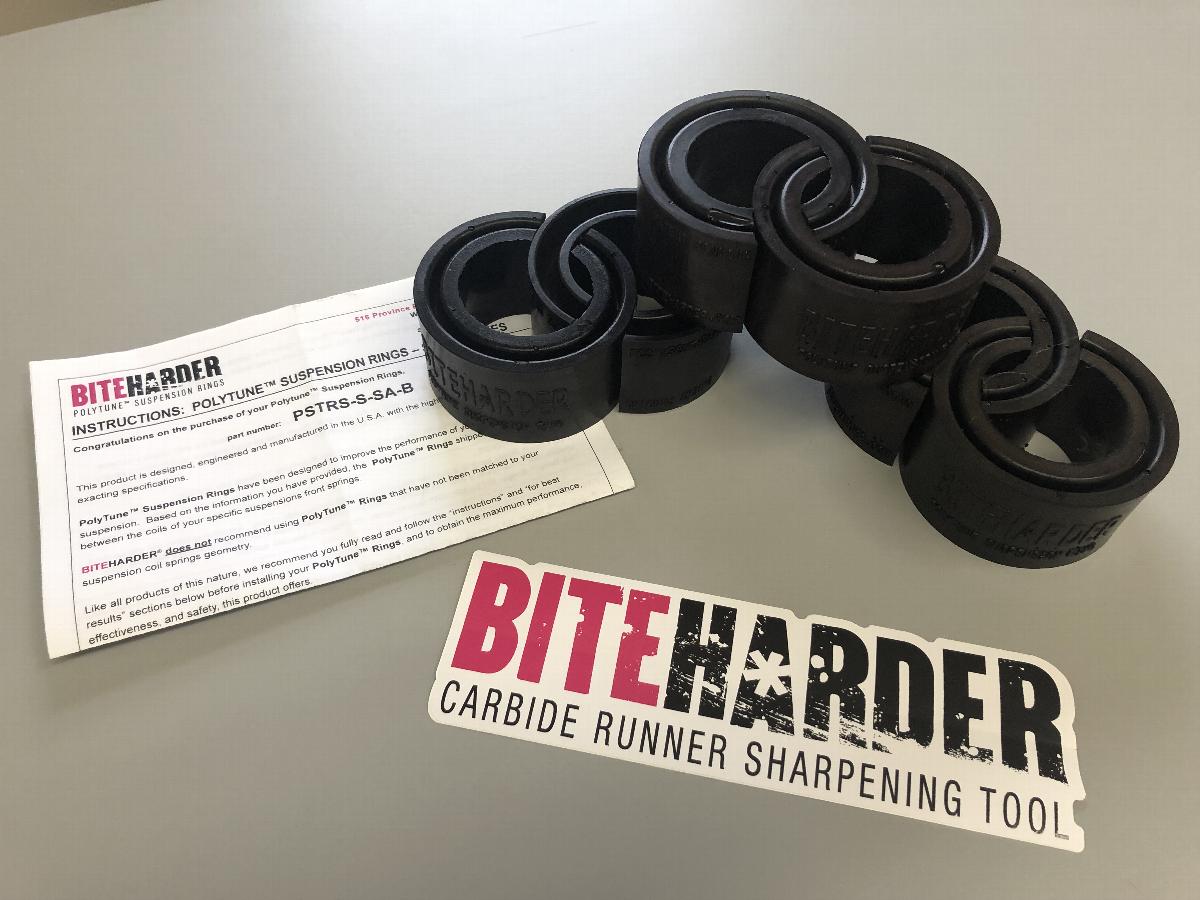 PolyTune suspension tuning rings. BiteHarder has successfully brought suspension tuning from the race track to the snowmobile trail with their innovative PolyTune product ($19.95 US). This simple approach to tuning your front suspension offers a greater level of performance with flatter handling, bigger hit capability, improved stability and greater comfort. Progressive spring benefits at an insanely affordable price. Go to BiteHarder.com because performance is nothing without control.
Sledmagazine.com wishes everyone the very best of the holiday season. May early season conditions, excitement, prudence and safety be yours in abundance.