Two years ago, I tried the CKX Yukon boots and I liked them. Today I'm testing the CKX Muk Lite Evolution, here are my impressions.
First of all, I have to mention that I usually have freezing feet when it's cold because I sweat a lot. With these boots, this is not the case. Offering a comfort zone down to -85 degrees, they are ready to take on the cold. With their EVA base, the boots are flexible and lightweight. With their 400G PrimaLoft padding, one of the best insulations on the market, they are very warm. Even if I wear them for long hours, they are comfortable. The pair of boots weighs less than 3lbs, I simply forget that they are in my feet.
During this pandemic, having less access to the various restaurants and stops, I sometimes stayed for long moments on the edge of the trail to eat a meal. Even in the coldest weather, I feel a chill, but my feet don't freeze. By using breathable socks, my feet stay dry during long snowmobile rides. Inserting your foot into the boot is easy, but also the band on the back of the boot makes it easy to remove.
Compared to the CKX Yukon boot, what I like is that when I walk, the front position of the boot is even more mobile compared to its design and its nylon portion in the top of the boot. The boots bend well at the ankle. In addition, the laces keep the ankles tight so the heel doesn't ride up in the boot. As a result, the boots are comfortable for long walks, but also allow me to walk with more ease. In addition, even though these boots have laces, they have no opening in the front. By pulling on the elastic cord at the back of the boot, there is no possibility for snow to enter the boot.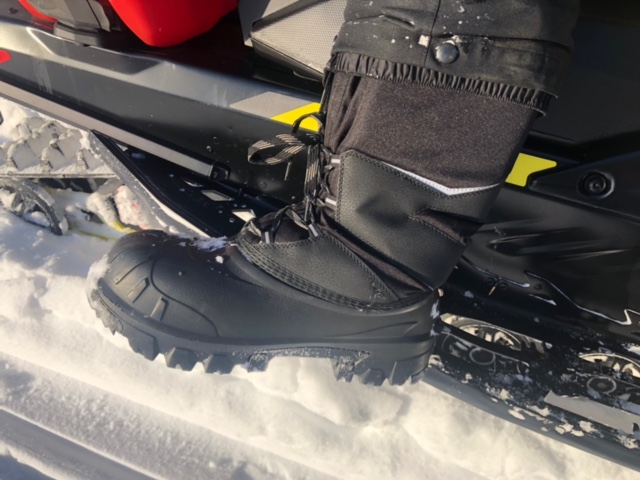 The large rubber soles of the boots have a good anti-skid effect, which allows me not to slip when there is ice, but also to adhere well to the snowmobile's footboards. It is possible to remove the liners from the boot to dry them after a long day and also to wash them, which avoids unpleasant odors in the house. Over the years, it is possible to replace only the inner liners instead of the entire boot, making this a long lasting pair of boots.
Finally, I simply love these boots. For trail snowmobiling, I think they are one of the best boots on the market at a great price. I use them frequently for many other activities, such as ATVing, snowshoeing, shoveling my driveway and even walking. They are versatile and very well designed for our harsh winters. It's not an understatement to say that I feel like I'm walking in slippers.  A big thank you to CKX and motoneiges.ca for allowing me to do this test.
For the product info: CKX Muk Lite boots