Firstly, here is how I ended up testing this outfit. Since a few years, during snowmobiling season, when it was around -15 °C, I felt cold penetrating my clothes. It made me uncomfortable and I was not enjoying my rides to the most.
During a ride with my friend François Éthier, he was wearing the Absolute 0 clothes. He told me that before, he also used to get cold during rides under extreme cold temperatures. But since he has bought this outfit, he does not get cold anymore and he really has fun snowmobiling. So, BRP Apparel Division offered me this outfit to test it and to share with you my observations.
Weather during tests
For a thorough trial, I had the opportunity to ride during a winter with very changing temperatures. It could be +2 °C in the morning to finish at 15 °C at night. I also rode at 25 °C to 38 °C and under rain. This is why it is easy for me to give you the facts about this outfit.
Style
Being black, the outfit is neutral and matches any snowmobile color. The clothes fit the shape of our body and we do not look inflated when we wear them. Discrete reflective detailing at back of the pants and the jacket do not make it look like traffic light.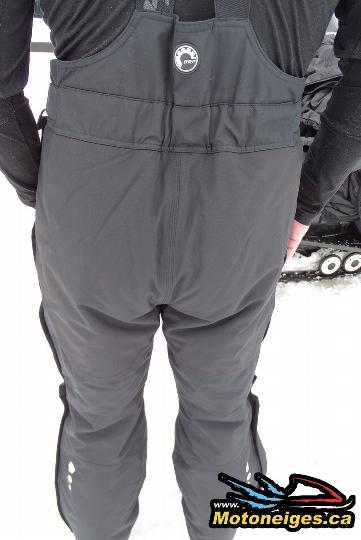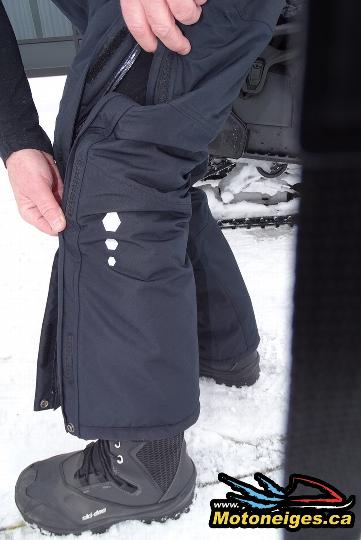 The single Ski-Doo logo is small and discrete.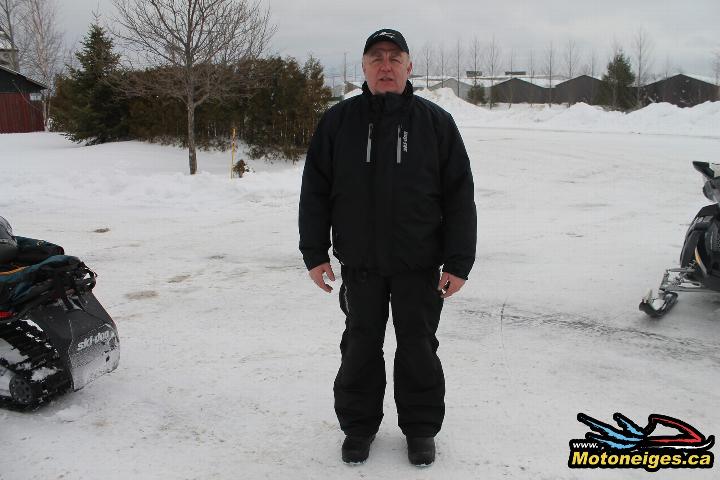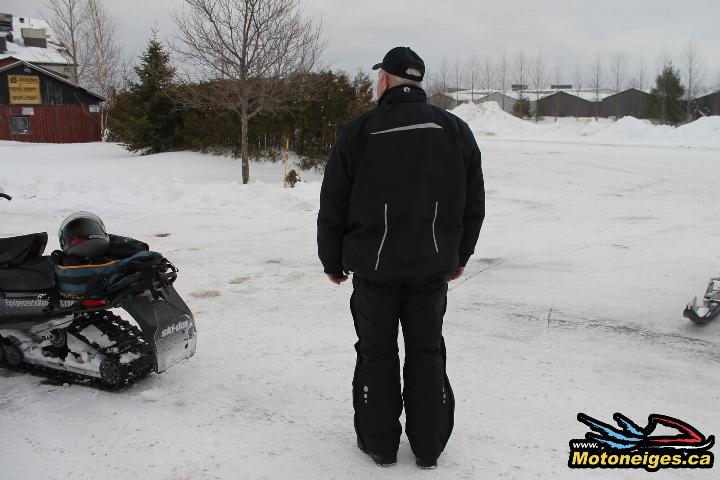 Jacket insulation
It is obvious that BRP has correctly studied the market to produce such a top quality jacket with a high performance synthetic insulation. PrimaLoft is in partnership with over 500 different brands of outdoor products and of car seat covering. PrimaLoft is renowned for its comfort, its effectiveness and its nice softness. The PrimaLoft designer has respected the three layers on the jacket, as said above, to produce a top quality clothe that provides excellent protection against cold.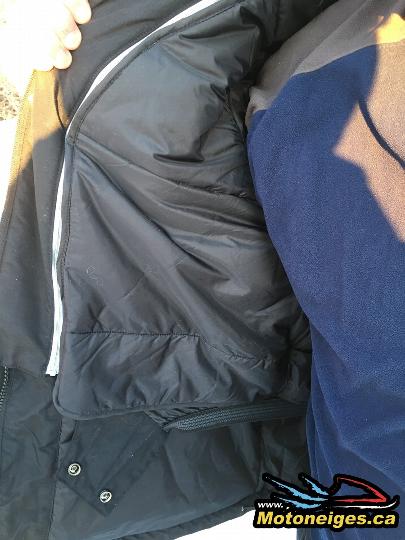 Pants insulation
The Sympatex membrane offers protection, comfort and optimal performances no matter the weather conditions. This top quality product is 100 % waterproof, 100 % windproof and breathable. The membrane is made of tiny pores and is very stretchy, extremely robust, and with dynamic ventilation. All these characteristics make the membrane protect us against cold all while being supple and resistant. Most of the products used here are 100 % ecological and recyclable.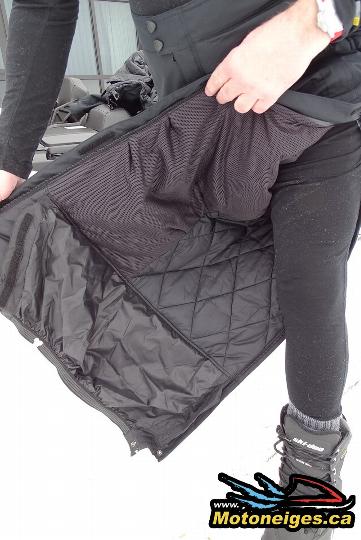 Practical aspect
I noticed that there is plenty of inner and outer storage capacity on both the jacket and the pants. It must not be like some manufacturers who produce clothes that look like bags with too many compartments and with no style. Velcros at the wrists of the jacket prevent air entry.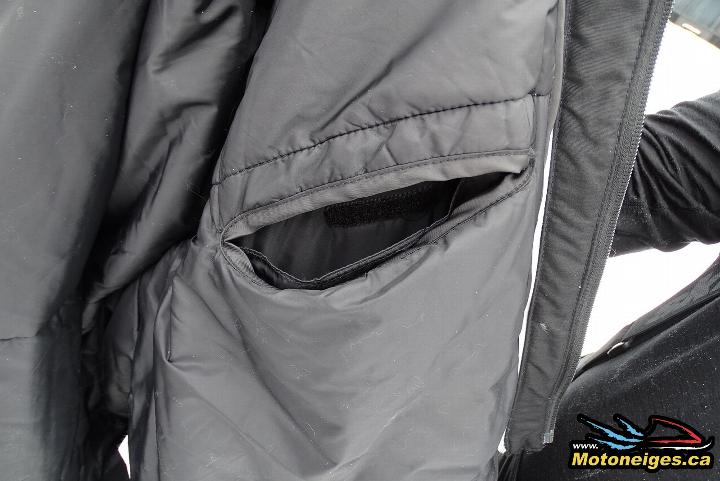 The numerous velcros on the jacket and on the side of the pants make these clothes more sealed.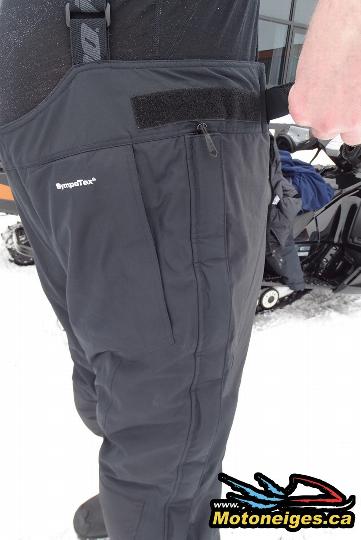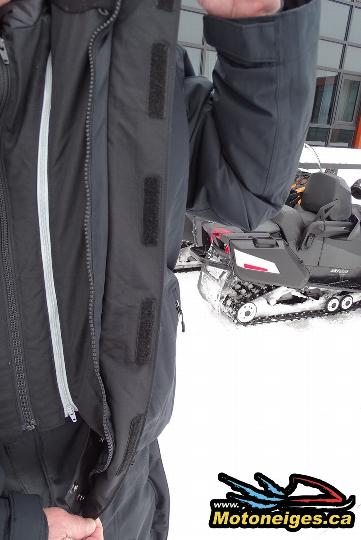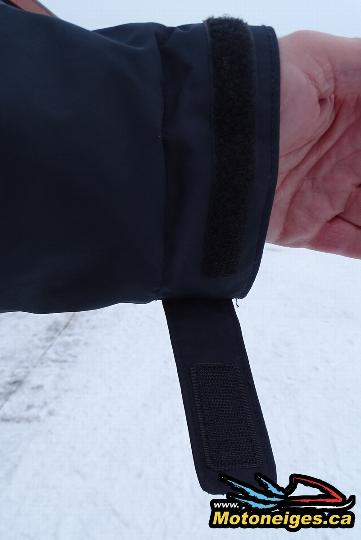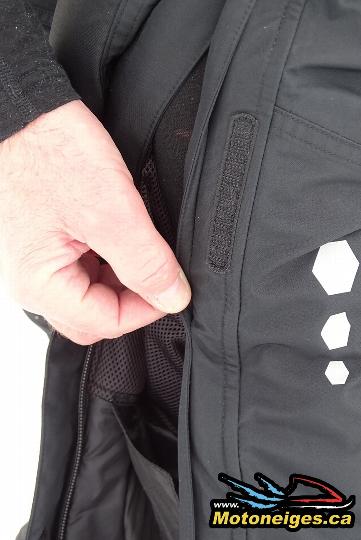 Zippers

The top quality zippers are waterproof to prevent air and water infiltration. The full-length zipper on the side of the pants prevents overheating inside. At the bottom of the leg, a membrane with a small hook to tie to our boot will keep it from sliding up and will prevent cold entry.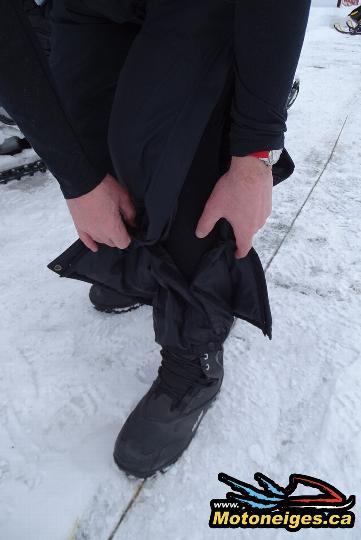 Versatility
I also like the versatility of this outfit, because the liner is well designed for cold weather. Also, an inner jacket protects our upper body mostly in colder temperatures when we pilot snowmobiles with low windshields.
And when temperature is milder, we can take off this inner jacket and we will still be well protected against cold. All depends on our resistance to cold.
Points of entry
The collar is high enough to prevent air entry. At other places of entry, the tightening cords are adequately located and let us adjust air entry as we wish. The underarm venting makes the jacket even more comfortable under warmer temperature and makes moisture evacuate to keep our body dry.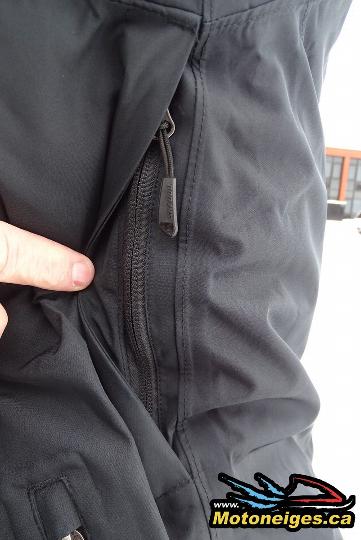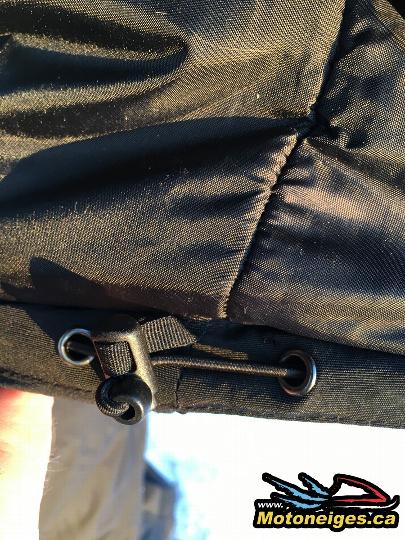 To conclude, this outfit made my rides most enjoyable in cold temperatures and also in milder temperatures. The liner is very comfortable and the outer fabric is waterproof, water never went through the clothes.
An important fact I noticed during my tests is the flexibility of the fabric that gave me full freedom of motion.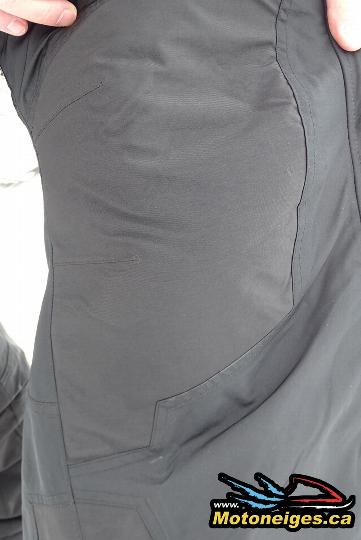 Due to its design, the outfit is very light and can compete with any top quality snowmobile apparel. You will say that it is expensive at 1 000 $ plus taxes, but this is the price to pay for clothes that will last for many years. You can be sure that you will get your money's worth.
I strongly recommend this outfit. I took time to test it in all winter conditions. Thanks to BRP for letting me put to the test these snowmobile clothes that will surely please their actual owners and also, the future buyers. Enjoy your shopping.