I like to go snowmobiling on long rides, no matter the conditions, and I like a glove to be warm, comfortable and that evacuates moisture.
So, BRP offered me to test new gloves on the market, the Outdry gloves made in 3 models :

Performance Outdry

Highmark Outdry

Backcountry Outdry
The Highmark Outdry model is rather designed for mountain riding. It is shorter.
The Backcountry Outdry model is built for moderate temperatures and for mountain and trail riding. Thus, it is less insulated than the Performance Outdry model.
The Performance Outdry is made for cold temperatures and it is warmer, thus rather for touring.
These 3 models have almost the same characteristics.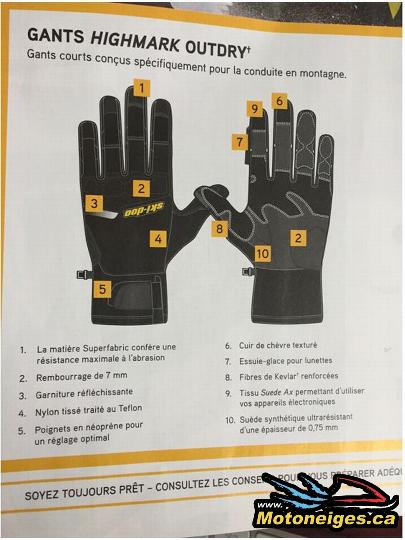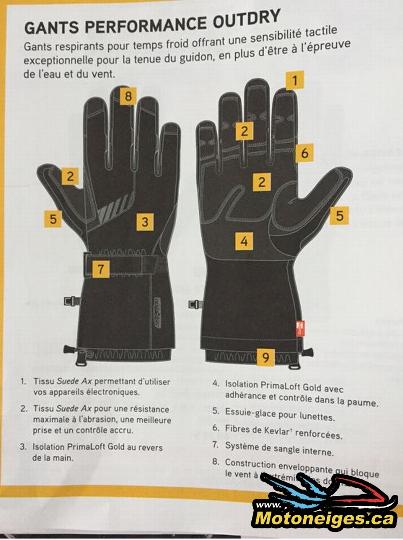 This winter, I tested the Performance Outdry gloves and I was eager to see it they were effectively warm, waterproof and if they evacuate moisture.
Here are my observations.
I found the gloves to be very comfortable, supple and nice. Fingers are shaped and articulated.
My hands were warm, not humid. The Outdry membrane is really effective to take moisture away and to stop wind.
The glove is insulated with PrimaLoft Gold, the best in the industry.
Also, we keep a very good grip on the handles, we can feel them in our palms.
It was just great that I could use my cell phone without taking my gloves off. This is made possible thanks to the AX suede at the fingertips.
The gloves have visor wiper.
They are easy to adjust and overlap the sleeves of our snowmobile jacket.
They are really waterproof. I rode in storm of wet snow or under rain and I had to remove that wet snow or rain from the seat or the visor. My hands always remained dry.
I can tell you that these gloves have met my expectations and made my rides more enjoyable.
However, we must not forget that these are gloves, not mitts. So, in extreme cold, if you do not use the hand warmers and if you do not move a lot, your hands will get cold. Yet, I have been surprised to see that my hands stayed warm much longer than with other models I used in the past.
On SledMagazine.com , you will find another article I wrote about the BRP Absolute 0 gloves that should also be taken into consideration.
Finally, I would like to thank BRP for this opportunity to test these gloves.
Have great rides!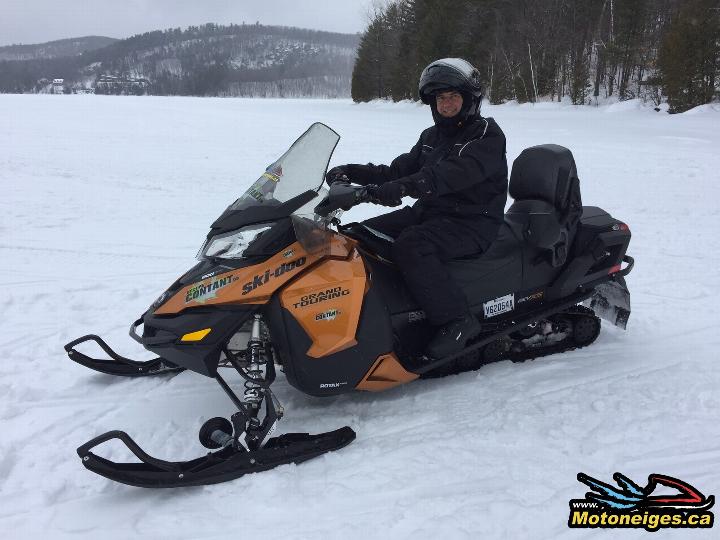 Daniel Sasseville, test pilot, wearing the Absolute Trail suit, the Ski-Doo Tec+ boots and BRP Performance Outdry the gloves