Snowmobiling is definitely an experience that everyone should have at least once in their life. Regular riders will agree with me on this statement. However, over the last few years, we have seen a staggering progression of technologies related to the improvement of our vehicles. These advances and improvements have had the effect of considerably increasing the cost of acquiring them.
Some may be tempted to go to the used vehicle market with the uncertainty of acquiring a snowmobile with a future mechanical problem. It is well known that 2-stroke engines have a relatively short lifespan and the cost of refurbishing them can scare off some potential buyers.
Is it still possible to own a new entry-level snowmobile without breaking the bank?
This is the fundamental question that many are asking themselves with the explosion of the craze for our activity.
Manufacturers offer a wide range of models with very diverse characteristics. Therefore, buying a new snowmobile, free of artifice, allows you to ride and enjoy the winter wonderland is still possible.
A new snowmobile will have the advantage of having a warranty and will provide security of mind to its owner. Moreover, it is possible at the same time to follow rigorously the evolution of its maintenance to avoid bad surprises.
The sledmagazine.ca team has prepared a list of entry-level snowmobiles that will interest you without putting your finances at risk. Here are, in our opinion, the models that will give you the best value for your money.
Our Valcourt manufacturer has several engines, but we'll focus on those that are under 100 HP. Among these, we find the ROTAX ACE 600 and 900 engines, which develop 60 and 90 HP respectively. These two 4-stroke engines have been available for several years and have proven their reliability and fuel economy.
The low maintenance they require is also a significant advantage. Their low emissions are certainly an asset when starting up in an enclosed area. Since these two engines are naturally aspirated, they won't give you the same lightning acceleration as an ACE 900 turboR, but snowmobiles equipped with these two mills will have very appreciable economic advantages.
The ROTAX 600 ACE is available in SPORT, basic, GRAND TOURING, RENEGADE, EXPEDITION and TUNDRA models.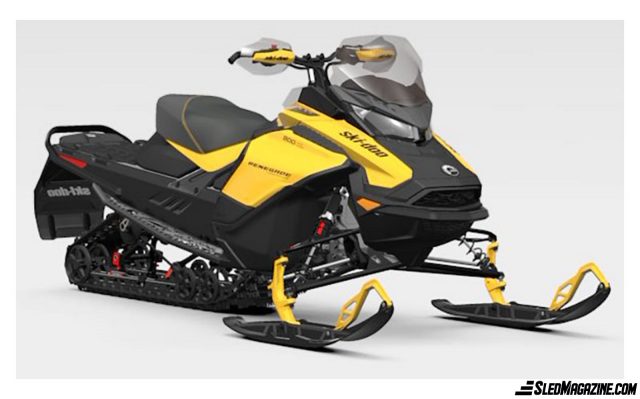 The ROTAX 900 ACE engine is used in several Ski-Doo models, but we suggest these entry-level models:
MX Z ADRENALINE,
GRAND TOURING SPORT,
EXPEDITION SPORT,
TUNDRA SPORT.
Ski-Doo has introduced a new engine for the 2022 model year in the 600 cc class. This new electronically injected engine has proven to be a worthy replacement for the fan-cooled 550 and the carbureted 600 used for many years. This new 599 cc liquid-cooled 2-stroke engine develops 85 HP and honestly, suits a large majority of snowmobilers. Its power-to-weight ratio is very interesting and is one of the reasons for the performance of the snowmobiles to which it is attached.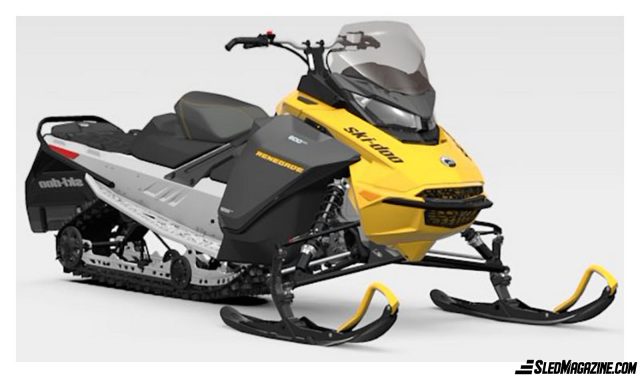 The snowmobiles equipped with this engine are the most unequipped and therefore very affordable. The MX Z, RENEGADE, EXPEDITION, TUNDRA and BACKCOUNTRY with the SPORT designation have this engine. It only remains for you to determine your use to select the one that will suit your needs.
It's well known that the manufacturer from Roseau, Minnesota, offers a wide range of snowmobiles for all tastes and budgets. These entry-level snowmobiles will allow some to get familiar with the activity, while others, more experienced, will find a snowmobile with everything they want and even more.
Polaris once again offers the LIBERTY 550 fan-cooled engine in some of its snowmobiles. While the manufacturer doesn't say much about its capabilities, its horsepower is estimated at 55 HP. It offers consistent performance at an unbeatable price that provides reliable driving power.
Our suggestions:
TRAVELER 550,
INDY LXT,
INDY ADVENTURE,
INDY SPORT,
SWITCHBACK SPORT,
-RMK EVO.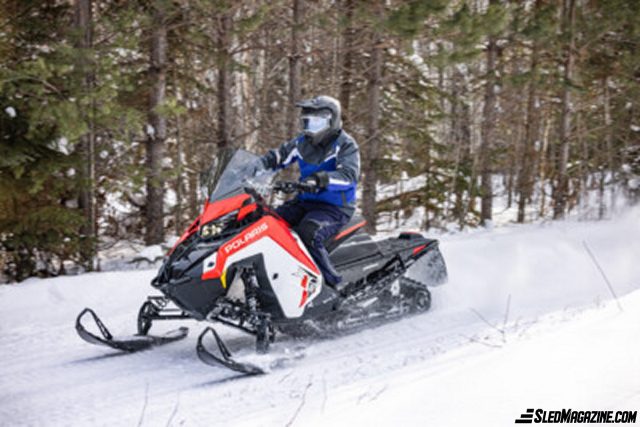 The year 2023 marks the return of a 4-stroke engine at Polaris. This 1000 cc twin-cylinder engine under the 100 HP mark is intended to be reliable and economical. The ProStar S4 engine allows the use of 3 driving modes: ECO, Standard and Sport. The ECO mode will allow for the economy at the pump while the Sport mode will help to exploit the full potential of this engine. It will certainly be the envy of many snowmobilers because of its versatility.
Our suggestions:
INDY XC 129/137,
INDY ADVENTURE 137,
INDY ADVENTURE X2 137,
VOYAGEUR 146,
TITAN ADVENTURE 155.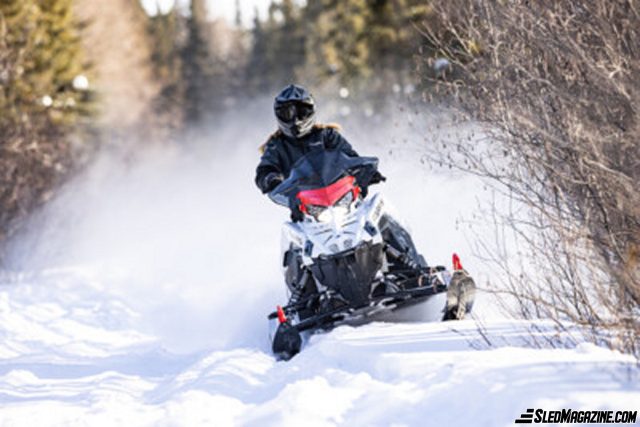 The snowmobiles with the SP designation at Polaris are worth considering, as they have a lot to offer. The INDY SP and the SWITCHBACK SP are now offered for 2023 with the Matryx chassis. They are a bit more expensive to buy, I confess, but they are among my favorites. They have the 650 Patriot engine which is powerful but offers savings at the pump with the use of 87-octane gas. These snowmobiles may be entry-level + + snowmobiles, but they will not make you regret your purchase, believe me!
We decided to combine Arctic Cat and Yamaha for obvious reasons. They offer similar vehicles through well-known commercial agreements. The snowmobiles discussed here can also be classified in the beginner category.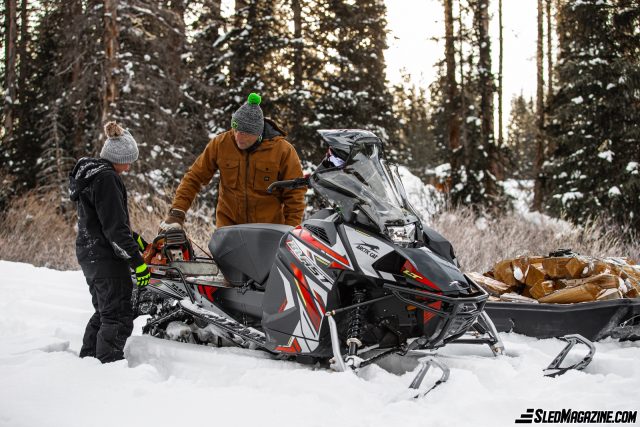 The Arctic Cat BLAST, Yamaha SXVENOM and TRANSPORTER LITE are 7/8 of a full-size snowmobile. Its single-cylinder 400 cc engine, producing 65 HP, will be able to introduce new enthusiasts while satisfying those who want to own a vehicle without having to spend an astronomical amount of money.
Several different versions are available depending on the type of rider you are. Whether on the trail, off-trail or in a two-seater configuration (TRANSPORTER LITE 2-UP in the case of Yamaha), these snowmobiles are not the most powerful, but they are sure to put a smile on your face.
In conclusion, it is possible to practice snowmobiling for recreational purposes without having to subscribe to a second mortgage. In some cases, these entry-level snowmobiles will also be ideal for those who are occasional snowmobilers.