I would like to thank Maniwaki Equipment for the loan of this Ski-Doo Renegade Enduro Rotax 900 ACE Turbo R snowmobile for the 2023 season, in order to be able to do my tests and then present my chronicles to the readers of SledMagazine.ca.
Choosing a Snowmobile
In April, I chose my new snowmobile, among the new 2023 models, the Ski-Doo Renegade Enduro, yellow and black in color. Its profile and several innovative features caught my attention. At the time of taking possession of my snowmobile, I examined it well and I was really very satisfied with my choice.
Snowmobile Designed for Trails
My first impression before even being able to test it on the trail, this snowmobile has all the characteristics to provide a lot of pleasure to the driver. This snowmobile is equipped with a 4-stroke ACE 900 turbo R engine that develops 180 horsepower. The engine, the air suspension, the shocks, and all the other high-tech components, make sure that it was built to provide trail riders with a lot of comfort and performance.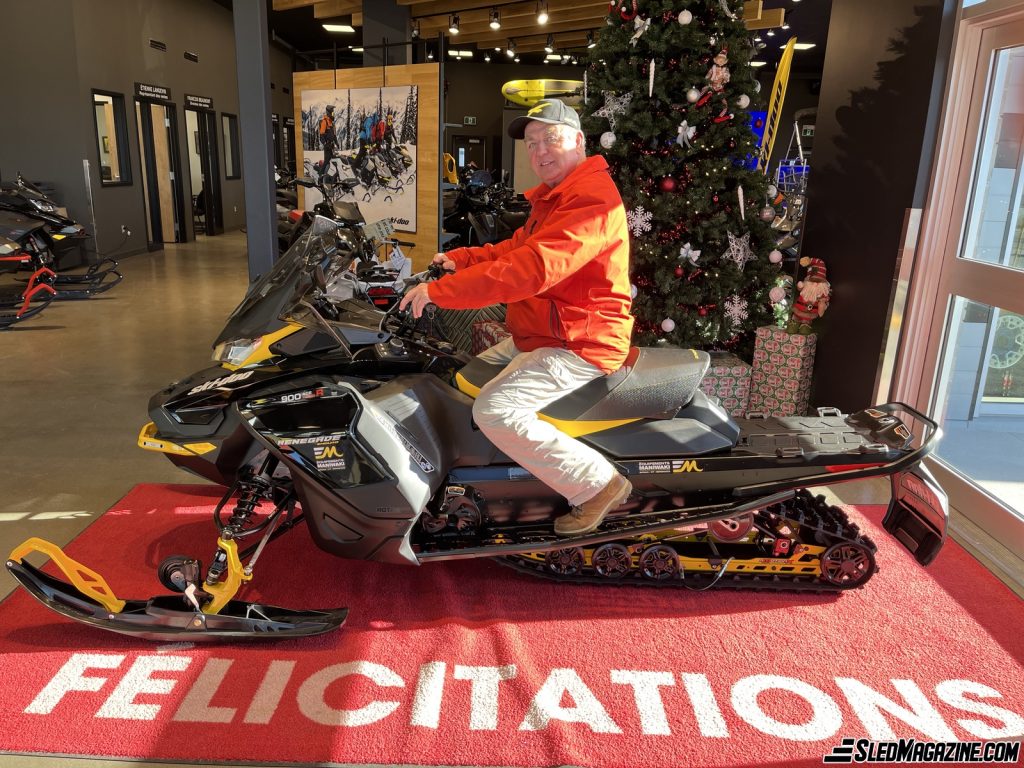 First impression of my 1st Ride
My first ride, a short 3-day trip, allowed me to get to know this new snowmobile. For this review, I will briefly comment on three aspects that trail riders are looking for in a snowmobile; performance, trail handling and comfort.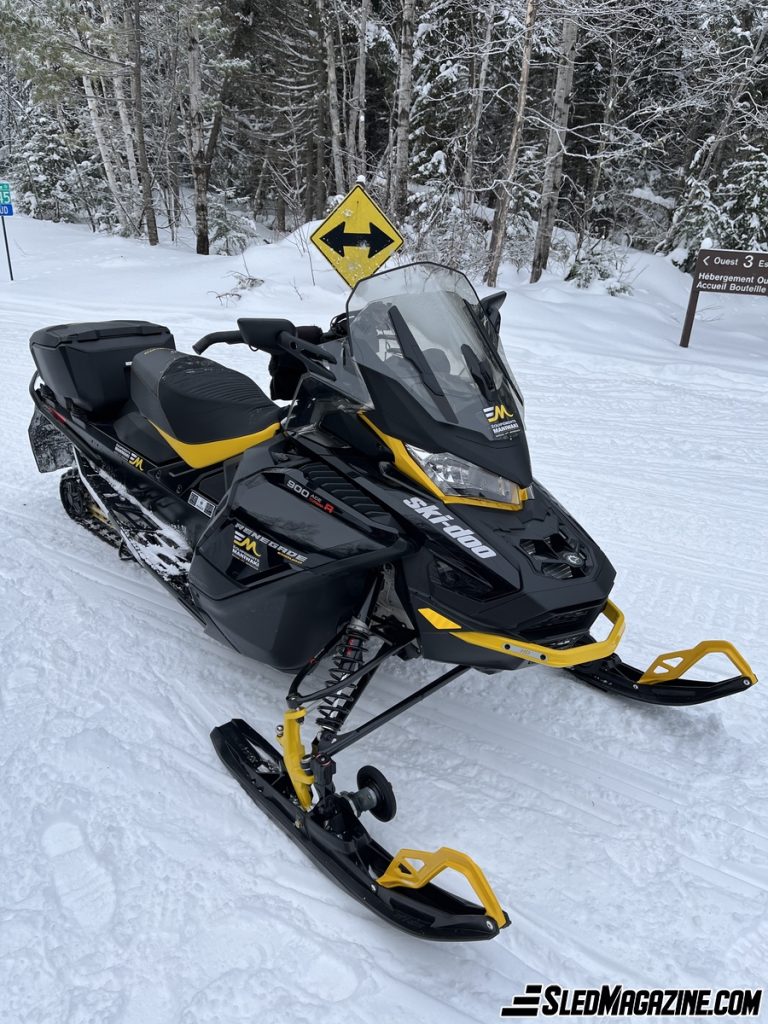 Performance
With this engine, we find 3 types of driving (Sport, Standard, Eco) I had fun during my ride making several kilometres on each of the three positions. With the Eco and Standard positions, the engine does not perform at its maximum power. However, in Sport mode, I felt like I had changed snowmobiles and that's when I really noticed that there were 180 engine forces with a very good acceleration that gives a good feeling to the driver.
Comfort
I did not doubt that with the high-tech shocks and suspension, this snowmobile makes riding more enjoyable even with a rough and bumpy trail.
The rMotion X suspension with the ACS (air-controlled suspension) shock gave me 5 levels of position and I could adjust the suspension according to the trail condition.
I tested the performance of this air suspension starting with level 4, in a bumpy trail I felt like I was being thrown off my snowmobile, so I adjusted to level 1, much more stable, and with better control without neglecting comfort. In a trail, without bumps, the level was from 3 to 5 depending on the preference of the driver.
Trail behavior 
With a weight of 556 lbs and the pilot TX skis and the length of the 137 cramped track, after a few kilometres on the odometer, we notice great stability on the trail and the negotiation of curves is done with ease.
An overview of this snowmobile: Ski-Doo Renegade Enduro Rotax 900 ACE Turbo R
As promised, this was a brief overview of my first impressions, hoping to have piqued your interest in this model.
There are still several accessories and features to test and master.  In the next review, at mid-season, I will be able to provide you with more details and maybe even some secrets!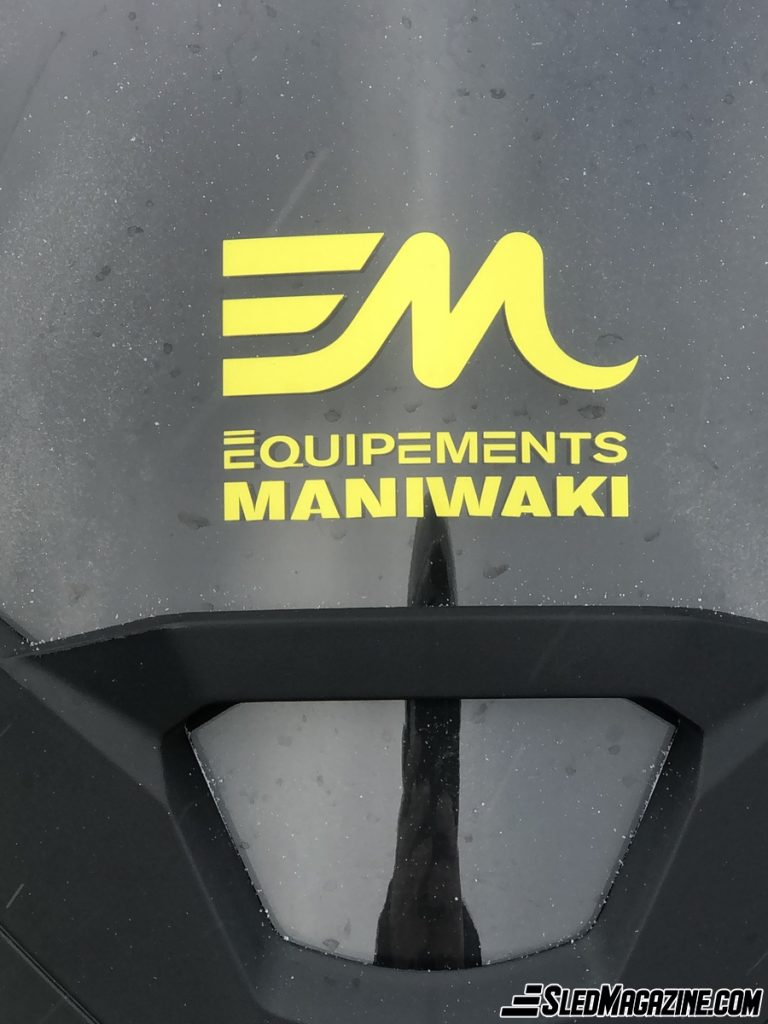 Have a good season and be careful on the trails.
Other Ski-Doo articles: