The Yamaha Snowmobile Cross Country team served notice that it is a force to be reckoned with in its second week of competition, earning a victory at the Lake Parlin 100 in Maine and a podium finish at the Beach Bar 200 in Minnesota!
Big win in the eastern series opener
Aboard his 2012 FX Nytro, Yamaha's Erik Frigon put in a commanding performance to win the Semi Pro class at the Lake Parlin 100 cross-country snowmobile race in western Maine on Sunday, Jan. 29. So dominant was Frigon aboard the four-stroke Yamaha that he finished only three seconds behind the Pro class in the grueling three-lap, 18-mile race. The victory was the talented Yamaha racer's first of the year while Scott Brownell, another FX Nytro driver, finished seventh. "We are proud of Erik's first win of the season and look forward to more wins on his way to a Semi Pro championship," commented Wade West, Yamaha's snowmobile marketing manager.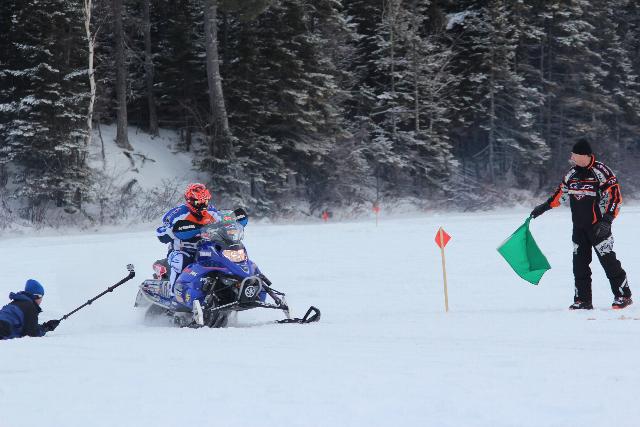 The racecourse's six long miles encompassed a wide variety of frozen terrain – including Lake Parlin surface ice roughened by wind drifts, its nearby shoreline, and the surrounding woods. Frigon, a Maine policeman and perennial Yamaha demo ride contractor, had just a single day to test his FX Nytro race sled and set the suspension, clutching and gearing to his liking prior to the event. Riders were flagged away at 20-second intervals, and when Frigon quickly caught the first rider ahead, he knew that his FX Nytro had a power advantage. In all, he eventually passed nearly a half dozen sleds by the finish. Posting seven-minute lap times, he also averaged over 51 mph – wicked fast considering the difficult nature of the course.
A time-trial event structure made it impossible for drivers to know their overall place or class position while competing – especially since Pro, Semi Pro and Masters sleds were on-course simultaneously. This meant the only approach was to go out hard and keep right on doing it for the entire race. And that's precisely what Frigon did, using the FX Nytro's blend of four-stroke power and handling to best advantage – and validating the machine's multiple American Snowmobiler Shootout acceleration awards in the process. "I was impressed with the power," he said afterwards. "Without a lot of test time I didn't know how much power it was going to have, but I could easily tell that I was gaining on riders in front of me."
Lindbom backs up his debut race with second podium
Yamaha Semi-Pro racer Ben Lindbom backed up the second place podium finish at his first ever cross-country snowmobile race two weeks ago with another podium at the J&K Marine Beach Bar 200 in Detroit Lakes, Minn., this past January 28-29. Pro rider Ross Erdman, who won the Pro final at the opening race on Pine Lake near Gonvick, Minn., grabbed a hard-fought fourth-place finish in the Pro final at Detroit Lakes. The two-day event used combined times from each day of racing to place the riders in the final standings. The race was held on Big Detroit Lake and featured a 7.2-mile track with 44-turns.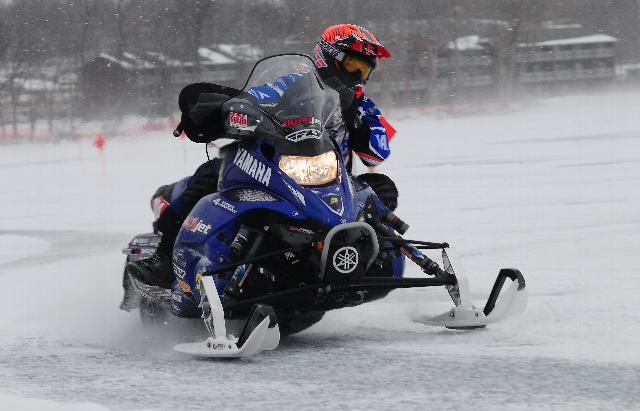 The event was the largest in the recent history of cross-country snowmobile racing with upwards of 300 total race entries. The Semi-Pro class is one of the biggest and hardest-fought classes on the circuit and Lindbom faced a field of 22 other riders on his way to taking third in the class, posting a time just over 30-seconds out of first place after two days and 36-miles of racing.
"This is only my second cross-country race and my second race on ice," said Lindbom. "The team has worked really hard to get me to the front and my Yamaha Nytro RTX is the best, most reliable machine out there. I've got a second and a third, next time out I'll be looking for a win for sure."
Erdman, fresh off his Pro win at Pine Lake, had an equally good showing in the highly-competitive Pro class at Detroit Lakes. After two days of racing Erdman placed fourth, missing a podium finish by just three seconds on the time charts.
Yamaha's Eric Josephsen added, "This is the second ice race in a row and backing up our results from Pine Lake shows we're right at the front. These guys are great riders and our crew is top notch – I see more wins coming this season for sure."
Yamaha racers are sponsored by: DynoJet, Fly Racing, Camoplast, Woody's, SpeedCell, Fox Racing Shox, Trail Tank, FXR, Yamalube, Ulmer Racing, Evolved Nutrition, and EVS.
Stay up to date with the Yamaha Race team on the Yamaha Snowmobiles, USA Facebook page.