It is now time to continue our trip in Portneuf. The circuit L'Étape, the accomodation and the available parking lots will complete the information you need to know for the most memorable experience.
Go to " Tour in Portneuf! – Part I " for the beginning of this wonderful expedition.
Circuit L'Étape
This circuit of about 330 km from Saint-Raymond to L'Étape, coming back by Charlevoix, is probably the best known of the region. We leave Saint-Raymond on TQ #23. Do not be surprised to see the grooming machine that goes back and forth to L'Étape almost each day. We are here in the center of the Réserve faunique des Laurentides, so there is no gas station between Saint-Raymond and L'Étape. Make sure to refuel before departure. On the way, take time for a halt at the Sainte-Anne relay and the Champlain relay, where previous visitors have put some logs in the stove to warm you up. These will be the only relays you are going to see before L'Étape. Please take note also that there is no food service at the relays. Once arrived at L'Étape, there is a restaurant that is also a halt for road vehicles driving between Québec City and Saguenay. On the way back, the regional trail #369 keeps on running in the Reserve till we get to TQ #3 on Côte-de-Beaupré. Here, there are many quality restaurants. Finally, come back to Saint-Raymond by TQ #3 to discover the only trail that crosses Québec City.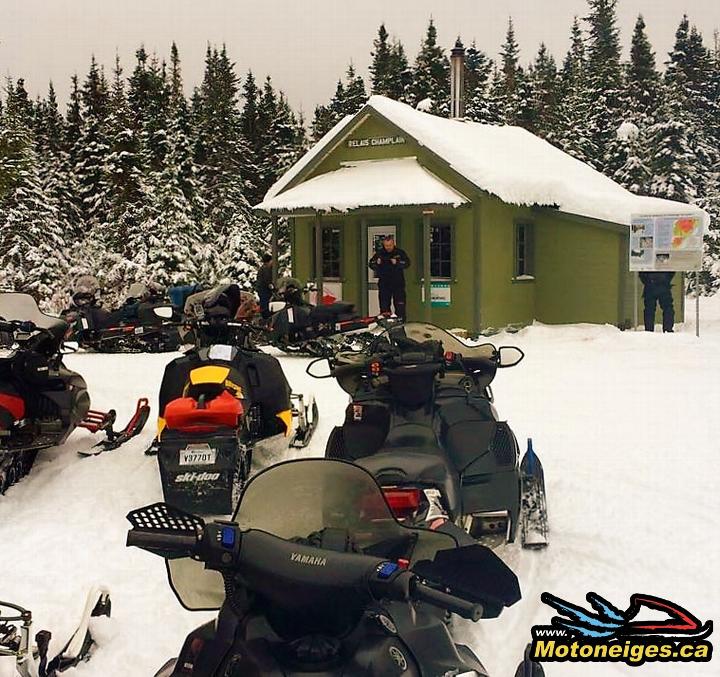 Accomodation
With more than 1 200 km of trails reachable from Saint-Raymond, you may want to stay in the region. Tourists will be surprised by the quality accomodation offered here.
Larger groups will really like to stay Au Chalet en Bois Rond. Located in Sainte-Christine-d'Auvergne, a few minutes from Saint-Raymond, this remote village brings you in a unique authentic experience with its 45 log cottages available for rental. Groups from 2 to 40 persons are welcomed here. You can enjoy the Chef at the Cottage service and rent a snowmobile. You get here by trail #73.

The Hotel Roquemont will fulfill epicureans' expectations. In 2014, the establishment took a new turn by choosing to renovate and extend its installations. The hotel now offers 41 rooms and a microbrewery. Get cozy by the large fireplace in the restaurant-bar where you get a nice view on the 11 beers being brewed on the premises. The Roquemont is located at the intersection of trails #73 and #23 and provides a large parking lot to its clients.


Parking lots
Two free parking lots are available for traveling snowmobilers. The first one is by the garage of the Club Motoneige Saint-Raymond, 326 route des Pionniers. It will give you direct access to TQ #73. The second parking lot is located at the Relais Motoneige Saint-Raymond, 569 rang Saguenay. It will give you access to trail #23.
To conclude, Portneuf County is a great area to enjoy winter activities and great services. Usually, snow starts falling early in season and until the end of March. So, do not hesitate to add this destination to your travel plans in order to discover new horizons.
For more details :
www.clubmotoneigest-raymond.com
www.motoneigesaintraymond.com
www.auchaletenboisrond.com
www.roquemont.com
www.associationdespourvoyeurs.com