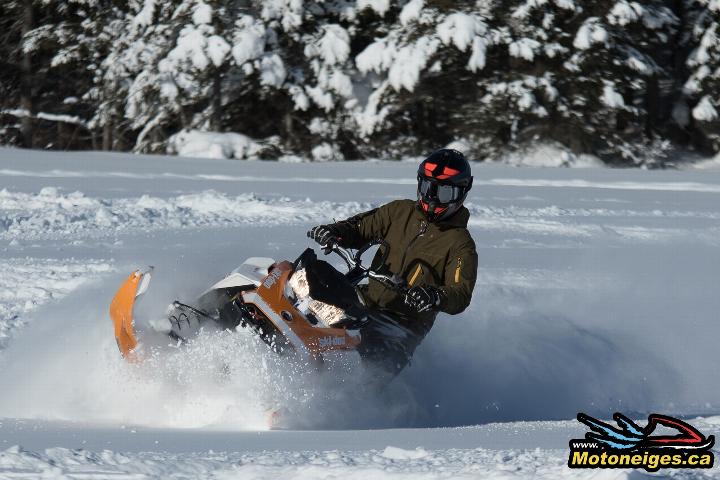 Thanks to the generosity of TOBE Outerwear, I had the chance to test the Privus Mono Suit during the 2016-2017 snowmobile season. This premium outfit made of extra-efficient fabrics is designed to face extreme winter conditions. The one-piece apparel offers many characteristics that make it necessary for mountain snowmobiling!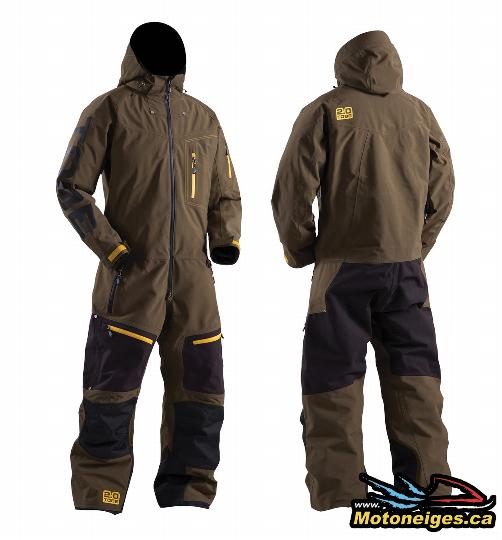 What makes this suit so efficient? Simple… For a good off-trail snowmobiling suit, we must have quick body moisture clear-out, wind protection, waterproofness and light fabric that remains supple at all times. The Privus Mono Suit is excellent in all these matters.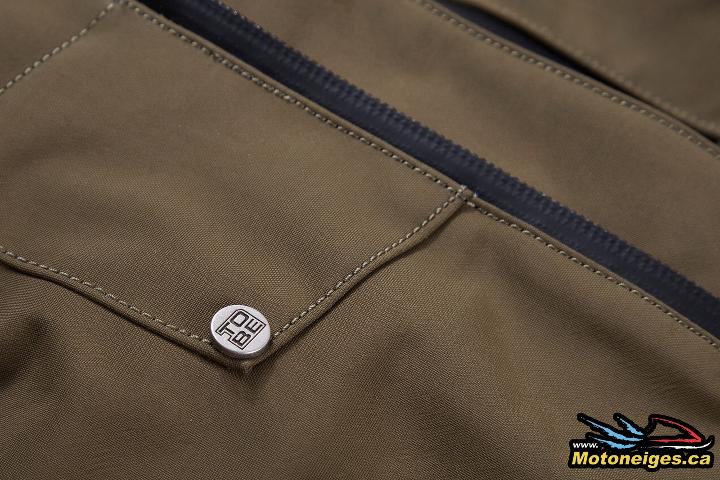 TOBE has chosen top quality materials to produce this one-piece suit. The shell is made of 2 successive layers of Sympatex and Cordura to block snow and humidity and still remain supple.
Then, a very efficient Sympatex membrane is added inside. This makes the suit waterproof and windproof all while letting your body moisture clear out. To make sure it is waterproof and durable, all seams are sealed and with double stitching.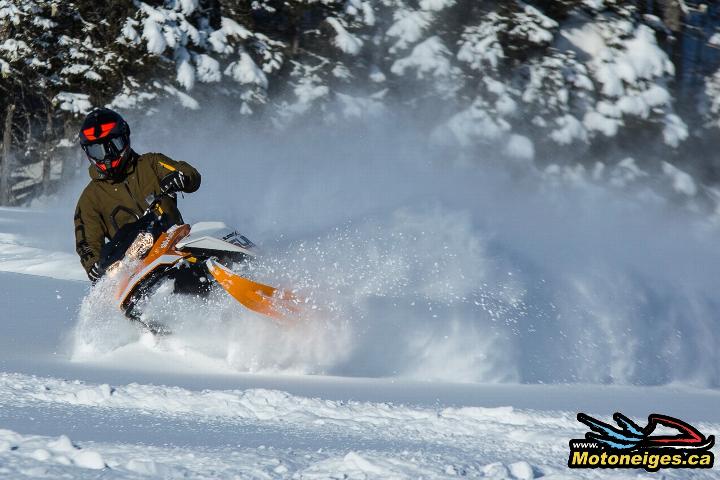 To put the TOBE Privus Mono Suit to severe test and to make up my mind about it, I tested it during various snowmobile rides before presenting this article, in fact during about 20 rides on trail and also off trail in all conditions and temperatures.
However, the ride that really made me understand the efficiency of the TOBE Privus Mono Suit and that I will use to describe my overall impression is that ride on lake Jalobert in Monts Valin. It was -37 °C in the morning and -45 °C with wind chill factor. It was freezing outside! Despite that, I decided to wear only my usual underwear and the TOBE suit.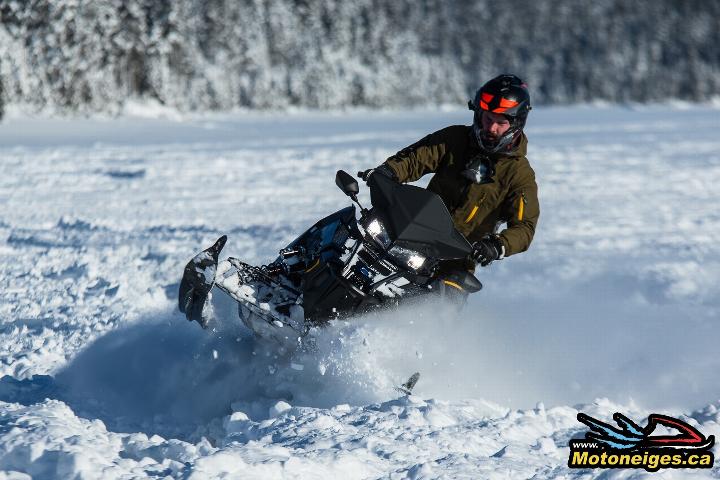 Final result : I was warm and very comfortable inside thanks to the efficient moisture evacuation. The material remained supple all while being extra-light, thin and efficient even in extreme cold. No snow penetrated the suit even if I fell a few times in powder snow. It is impressive to see how much this suit is reliable!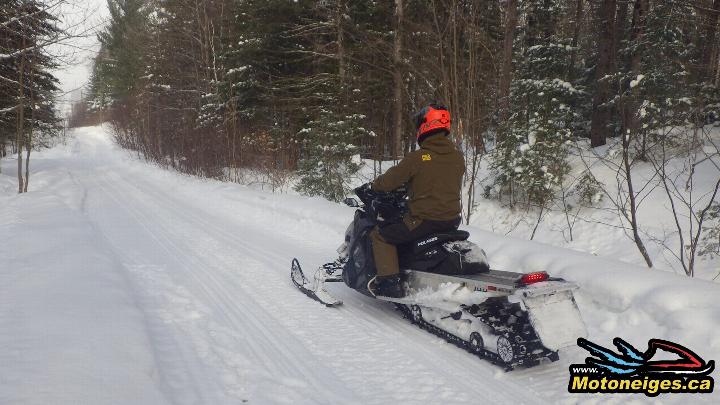 The only disadvantage I found is the slight lack of insulating material if you are not active enough to create heat inside. So, when it is extremely cold and you do not think that you are going to move a lot, it is better to add an inner layer or a down jacket for example. Then, you can take this layer off when you get more active.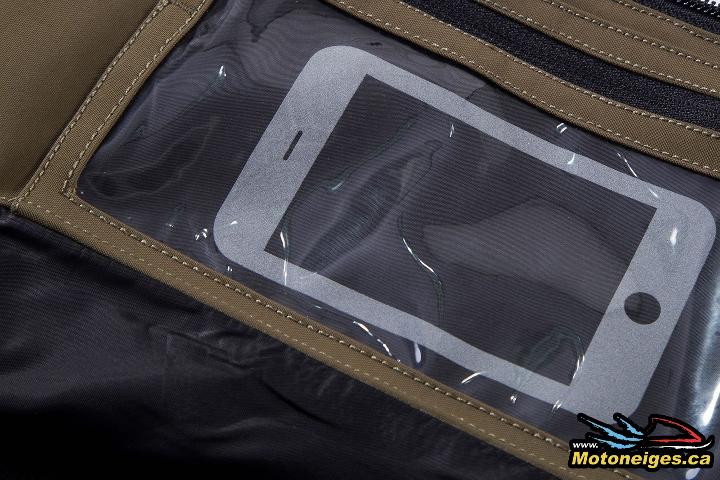 The TOBE Privus Mono Suit offers many characteristics that are really interesting, like the large number of pockets. There are 6 very large outer pockets to store almost anything and 2 inner pockets, one for goggles and the other for cell phone with a very convenient clear surface.
The knees, inner calf and leg cuff are reinforced with Armortex (Kevlar) for increased durability and waterproofness, and also for added grip at the right places.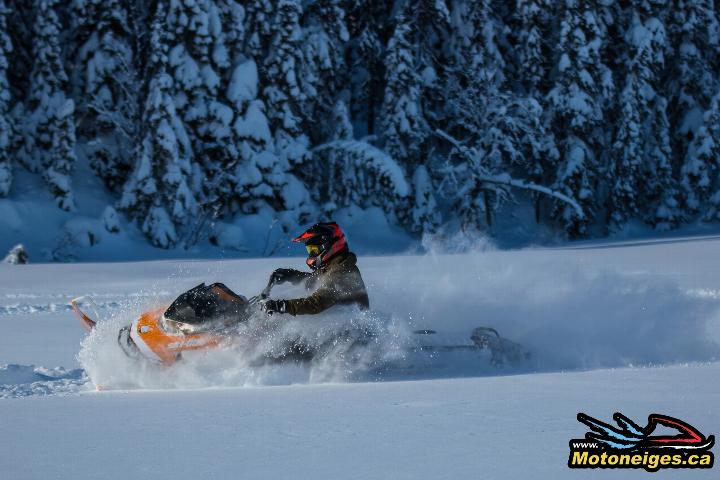 Air vents under arms and on thighs are equipped with zippers for usage on milder days or simply to clear out moisture faster during intensive efforts.
There is an ingenious suspender system inside to keep the suit from sliding down and being uncomfortable, as it happens with usual jumpsuits. It is so clever! Adjustments are located at many places to fit your body, at waist, legs and neck.
The TOBE Privus Mono Suit offers a large hood to keep you warm in extreme cold when you stop and take your helmet off. You can also remove the hood using the zipper and lateral ties.
Finally, the suit has a very important element for mountain snowmobiles, the kill switch D-ring.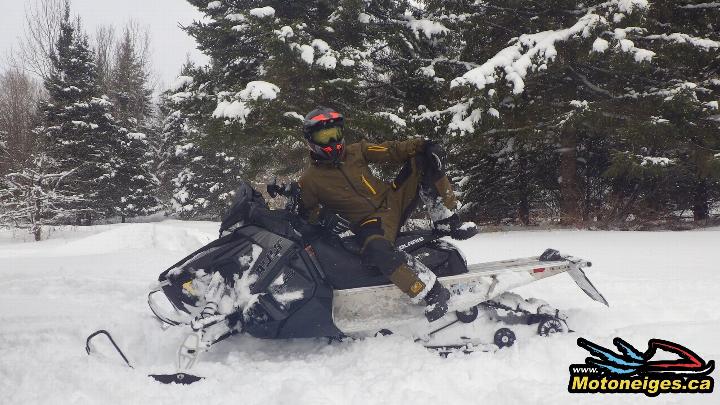 The TOBE Privus Mono Suit has exceeded my expectations. The fabrics are reliable, resistant and mostly efficient no matter the winter conditions. I strongly recommend it without any hesitation. And if you find the jumpsuit style annoying, you should know that TOBE Outerwear offers a wide range of more usual apparels (jackets, bibs, …)
SledMagazine.com is sincerely grateful to TOBE Outerwear who made this test possible. We invite you to click on www.TobeOuterwear.com to see all their very efficient winter apparels.