Daniel Sasseville and myself, Yves Therrien, have been the lucky ones sent by SledMagazine.com to stay a few days and experience the top-quality outfitter called Balbuzard Sauvage. One word describes our stay : awesome!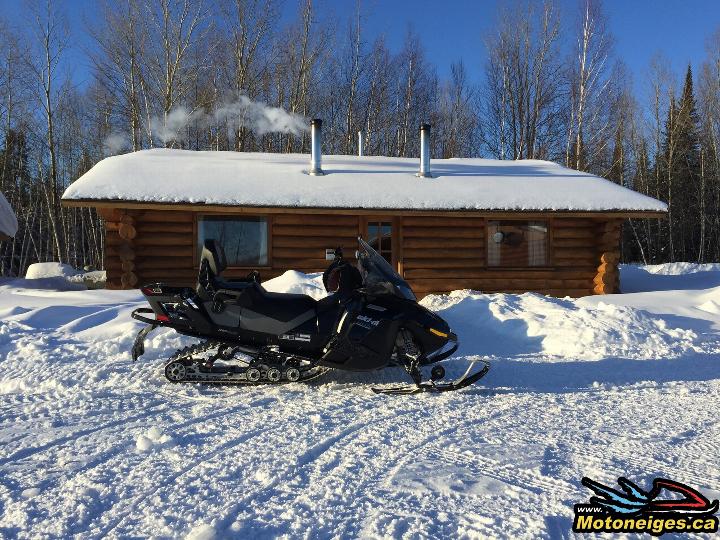 Everything was fantastic : the scenery, food, comfort, staff, groomed trails and off-trail riding. The client is king and master.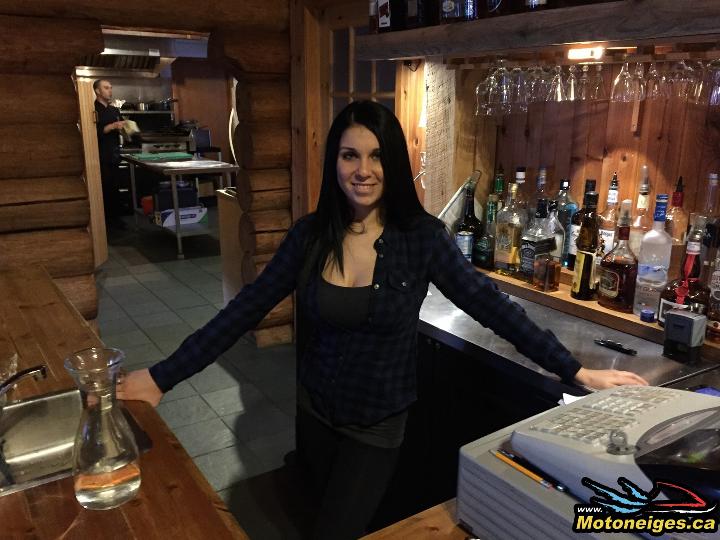 Scandinavian log outfitter, the Balbuzard Sauvage is located in Abitibi, between Clova and Senneterre, on trail 83. We can also get there by logging roads from Senneterre.
About 10 years ago, a forest fire devastated the territory; by some miracle, the outfitter has been spared. The half-destroyed half-spared landscape provides sometimes a magical scenery, sometimes a lunar decor. The exclusive territory of the Balbuzard covers 320 square kilometers with 200 lakes and is, by the way, an excellent hunting and fishing territory.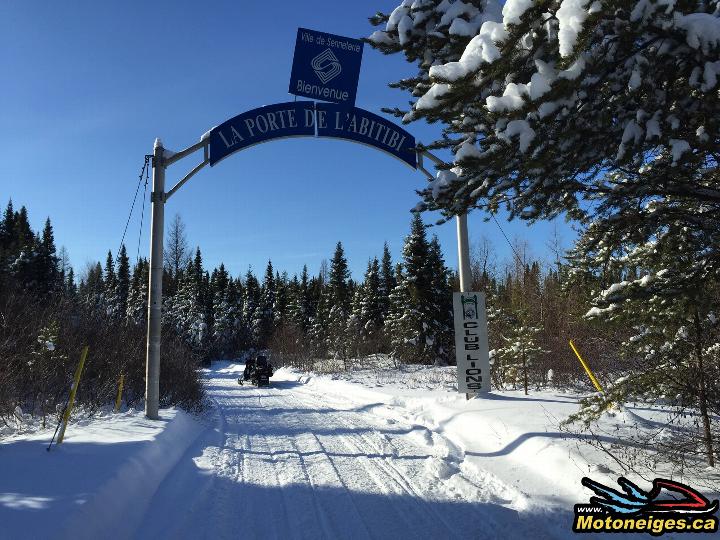 At the Balbuzard, two reknown chefs take care of your stomach. Christian Simard and Maxime Jacob (who is also the Balbuzard Manager), offer a gastronomic adventure that is worth the finest restaurants in the world. We have been really impressed by the six-service diners made of fresh and cooked products presented with care. Fish, meat, chicken, sea food are available every night, perfectly cooked as we desire… just like at the King's Palace!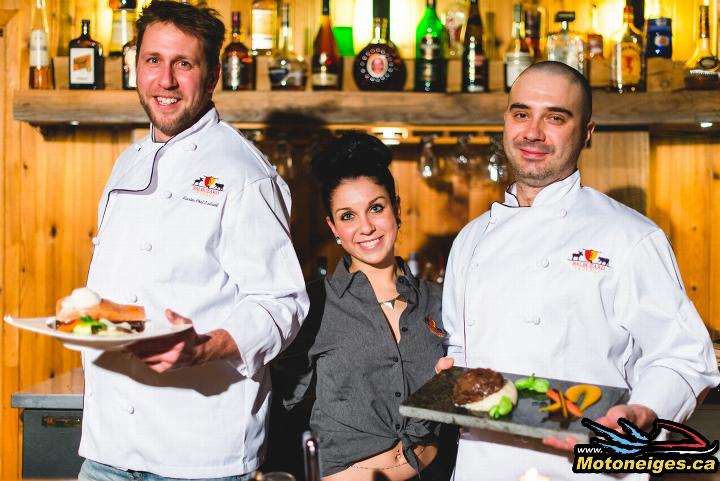 In terms of breakfast, the question that summerizes perfectly the morning menu is : « Hi, what will you have for breakfast this morning? ». Everything is available, just ask for it. At lunch, the Balbuzard also offers surprising meals for snowmobilers who are riding between Senneterre and Clova.
Furthermore, the cellar offers an extraordinary choice of wines. I enjoyed, among others, a delicious Marion 2007… In brief, the gourmet cuisine of the Balbuzard is remarkable and surprising.
The Balbuzard Sauvage consists of four log cabins and one main building. In each cottage, two nice rooms are available, each one with two double beds and complete bathroom with bath and shower. The rooms are also equipped with a wood stove for a nice comfortable heat and with many hooks to dry out our snowmobile gear. Small important detail : the wood supplied for the stove is dry and of very good quality. Rachel, a friendly and joyful person who likes snowboarding and who listens continuously to music on her phone, makes sure all the time that we are comfortable and that our room is clean.
The main lodge of the Balbuzard, also a log construction, is absolutely spectacular. When we come in, at the center, we see a large fireplace always burning, surrounded by a table and comfortable armchairs. To the right is located the bar, well supplied, masterfully operated by Mélanie, who calls herself «The Diva of the Bar»; she is a nice young woman with large grey eyes, bright and quick as lightning, who will carry on a conversation with eloquence and spirit. She will also carefully serve you with a smile and attention.
More to the right going in front of the bar, we find the dining room with leather chairs and large nice tables made of wood cut in huge trees. Paintings and antiques complete the peaceful and relaxing atmosphere of the dining room. Behind the fireplace, is a large panoramic living room with a breathtaking view, sofa and television to watch the Canadiens, the news or weather forecast to plan your next snowmobiling day.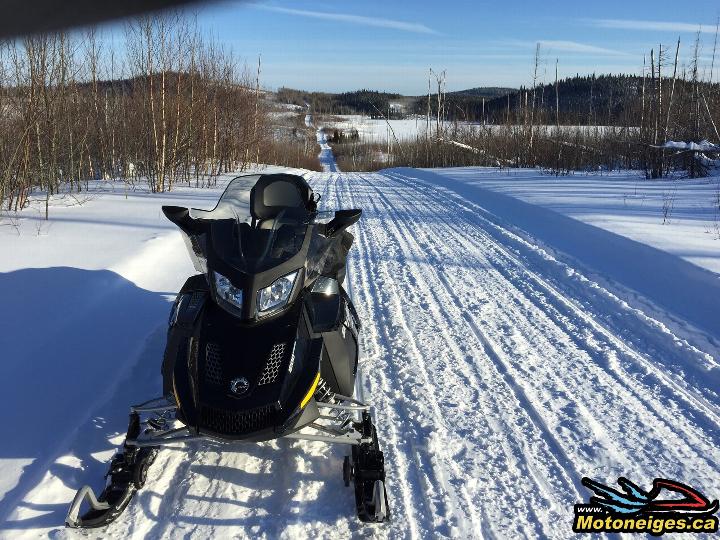 To the left are the cellar, the office and a small meeting room for 12 persons. In fact, during our stay, we met members from the native reserve of Pikogan in brainstorming with Synergie Solutions RH. Best regards to Valérie and Maryse, from Synergie, and also to David, Tom, Françoise and Bruno, members of the Pikogan Band Council. We lived memorable moments with all of you.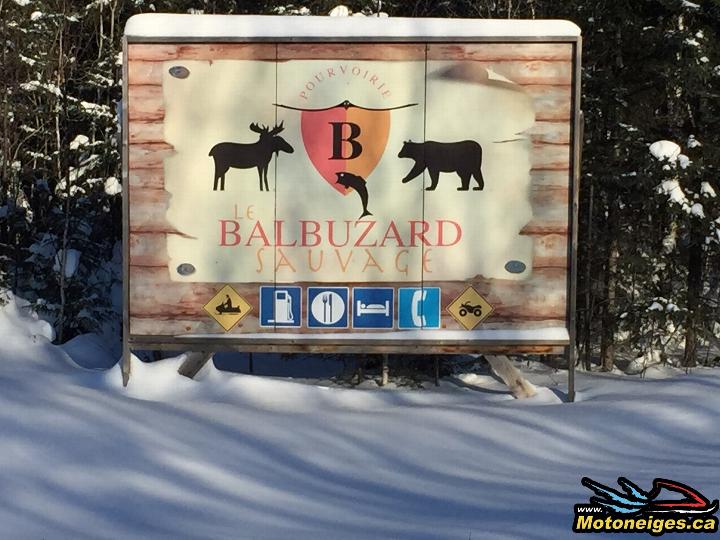 Daniel and I went snowmobiling off-trail with one of the two owners, Daniel Bujold along with three of his fellow snowmobilers, Joël, Sébastien and Philippe. The territory covers thousands of kilometers of trails and logging roads; it is so huge that we did not explore the area in detail. We spent an unforgettable day. Daniel Sasseville and myself have lived extraordinary adventures with smart, friendly, talented and resourceful guys. Thanks to you for those incredible moments.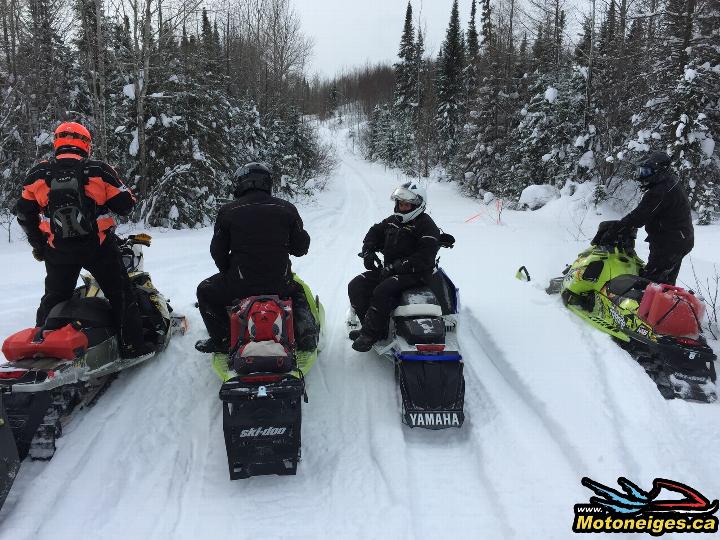 Whether your are a couple or with friends, on groomed trails or off-trail, on transit for one night stay or a lunch, for many days off-trail, for a fuel stop or a Lac à l'Épaule, for bear or moose hunting, for fishing, no matter, you will be happy with your stay at the Balbuzard Sauvage where the quality / price ratio is unbeatable.
March is a very beautiful month at the Balbuzard.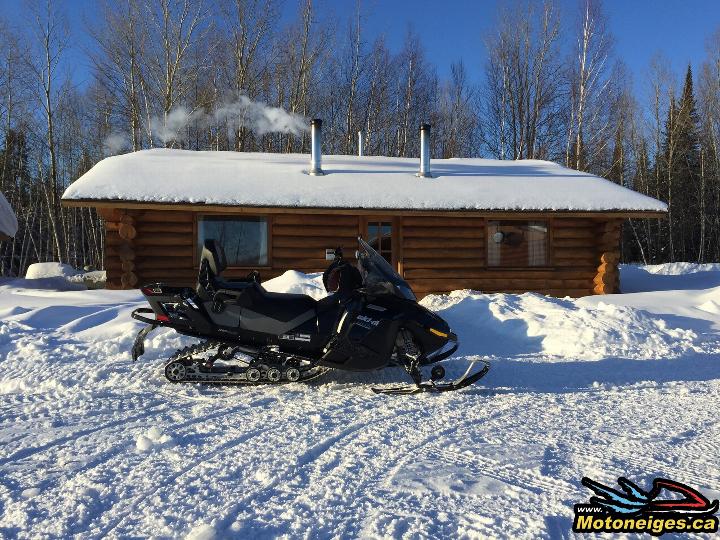 Special thanks to Daniel Bujold and Daniel Gamache who let members of SledMagazine.com stay a few days among them. Thanks to your incredible team : Mélanie, Rachel, Christian, Maxime and Gaétan (who took care of our snowmobile fuel supply and our wood stove).
For more informations : www.balbuzard.com