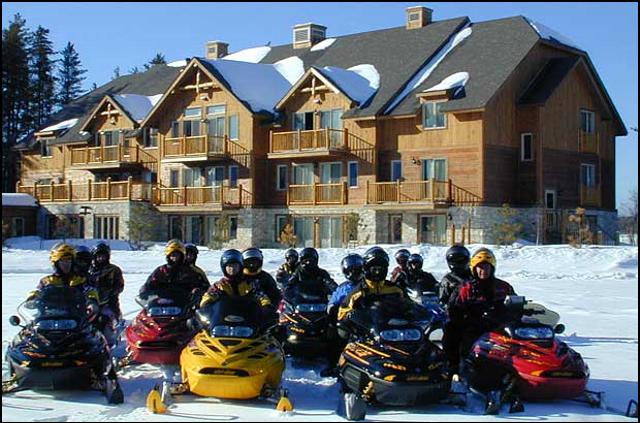 Snowmobile fans zoom through the countryside at speeds of 30 to 70 km/h along a staggering 33,000 kilometres of trails – more than the number of kilometres of paved roads overseen by the province's Department of Transport. More remarkably, the trails interconnect. Keen snowmobilers can travel from the Gaspé in the east to the Outaouais in the west, south through Montérégie and north as far as Nunavik.
"It's an impressive sport – you mix the beauty of nature with the sensation of speed," said Mario Côté, a technician and designer of snowmobiles who also is the volunteer president of La Fédération des Clubs de Motoneigistes du Québec. "We can go where cars cannot go, and we can cover as much as 250 to 400 kilometres in a day. Plus it is so family-oriented."
Quebec is prized for its well-groomed trails that often run through near-wilderness areas and its abundant services like equipment rentals and repairs, maps, heated shelters, gas stations and snowmobile-friendly lodging with secure facilities for overnight storage for those arriving with their own machines.
The original snowmobile, a lumbering, 12-passenger vehicle, was created in the 1930s in Valcourt in the Eastern Townships by mechanic Joseph-Armand Bombardier to help rural parish priests reach their snow-bound parishioners. He mounted the engine and body of a Model-T Ford on skis in front and tractor treads in back.
Today, Quebec has 168,000 licensed snowmobiles and about twice as many snowmobilers. Streamlined machines continue to be used for transportation by about 20,000 people, including Hydro-Québec repairmen, the police and communities in the far north. But the majority of users are out for exhilarating fun in the bracing winter air. With its many trailside country lodges and the allure of wide open spaces, snowmobiling in Quebec draws more than 30,000 visitors a year from Ontario, the United States and Europe.
If you are new to the sport, head for a winter resort or major outfitter. Start with a short course on safety and driving techniques, and then take a test drive. If a guide is not included in the price of a snowmobile excursion, hiring one is a great investment. You'll see more choice landscape, cover more ground and have a more relaxing, safer ride.
Auberge du Lac Morency in St. Hippolyte in the lower Laurentians is a good place for an easy-going outing. It is a family-style resort with 126 functional hotel rooms and apartments, lake-front dining and a new Nordic spa. It also has a fleet of 20 snowmobiles. Even novices can conquer mountains and valleys on trails that pass through Ste. Marguerite du Lac Masson, Val David and Ste. Agathe. Stop at a cabane à sucre for an old-fashioned Quebec lunch of pea soup, ham and sugar pie.
The Lanaudière region northeast of Montreal has extensive, well-groomed trails linking such towns as St. Donat, St. Gabriel de Brandon and the wilderness of Mont Tremblant Park and the Réserve Rouge Matawin. Auberge du Lac Taureau in St. Michel des Saints makes it accessible, combining winter adventure with the comforts of a deluxe resort hotel and spa.
"Touring Lac Taureau is very picturesque," said Mario Gouin, general manager of Auberge du Lac Taureau. "It's exceptional because you are riding in a snowy wilderness only two hours from Montreal. You pass through St. Zenon, one of the two highest-elevation villages in Quebec, and traverse a dam, the Barrage Taureau, which crosses the Rivière Matawin."
Fabulous snow is a key component of snowmobiling, and the Saguenay region receives four to seven metres of the white stuff annually.
"The Saguenay has the advantage of both great quality and quantity of snow," said Denis Gagnon, director of Évasion Sport, an outfitter near Chicoutimi that organizes customized snowmobile excursions. "We don't have many thaws, so there is little or no ice (on the trails), and that makes for smooth, safe driving. Plus, we have mountains, lakes, plains, forests and, of course, the fjords of the Saguenay River."
Many of Gagnon's customers stay at B&Bs or hotels like the Auberge Battures in La Baie or Le Montagnais in Chicoutimi. It's only an hour by snowmobile from Évasion Sport to the winter wonderland of the Monts Valin region. Or you can go inn-to-inn from La Baie to l'Anse St. Jean, traverse the Saguenay at Tadoussac and wind up in the picturesque village of Ste. Rose du Nord. You'll be riding along the escarpment of the Saguenay River, with rare views of the steep, towering cliffs of the fjords both from above and from the base.
FCMQ's volunteer members, with financial assistance from the Department of Transport for equipment, handle trail maintenance, which begins in the autumn with cleaning up brush, repairing bridges and fixing signage. The organization also has green endeavours, which include planting 850 trees around Sherbrooke and Quebec City. The FCMQ also worked with the Used Oil Management Association to set up 800 reclamation points for used oils, filters and containers. In recent years, snowmobiles have been manufactured with quieter, four-stroke engines without oil injection and with less exhaust emission.
The town of Valcourt still is passionate about the big, old "auto-neige" of the 1930s and the streamlined, sporty "moto-neige" invented in 1959. The town is home to the Musée J. Armand Bombardier (www.museebombardier.com), which is celebrating a half-century since the two-passenger snowmobile was created.