Snowmobilers in the Thunder Bay area could still do a lot of riding this year. Snowpack under groomed trails is thick, and weather forecasters predict a cool spring — fuelling optimism for next year's snowmobiling season.
For the man in charge of grooming for Thunder Bay Adventure Trails, receiving positive feedback from riders who don't normally get season passes is also something to be happy about.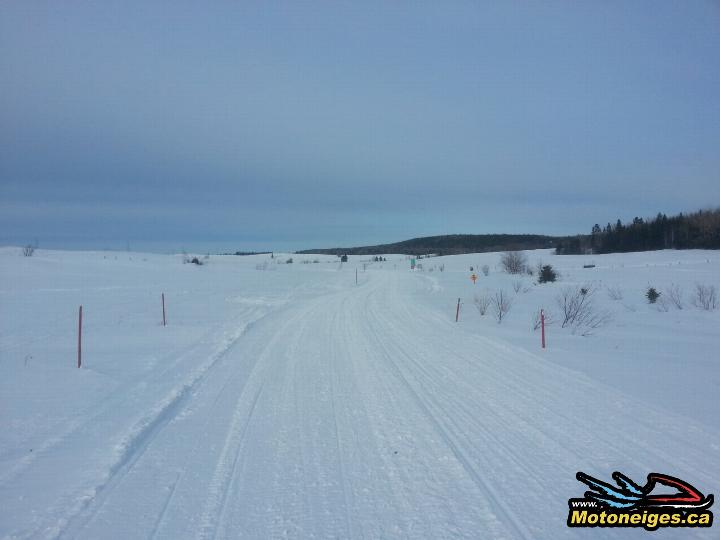 «The comments coming back [are] 'Man, I had no idea your trails were like that,' [and] 'Man, are those ever nice trails,'» said Adrian Tessier, relaying comments from a charity snowmobile ride earlier this month.
Many of those riders did not have season trail passes. Tessier said the club sold about 100 day passes for the charity ride, and the participants' positive experiences should help the club next season.
«I'm convinced that that's going to spin off into a number of seasonal sales for next year,» Tessier said.
«That exposure and friends telling friends and visitors [that] … our trail conditions have been so exceptional over the last couple of years … I'm really sure that that's a little bit of help for our pass sales."
Thunder Bay Adventure Trails sold about 75 season passes this year, up from 65 last year.
Last year, the groomed trails lasted into May, and Tessier said he's not betting against that happening again.
Buying sleds for next year
This is all good news for snowmobile retailers, too.
«A lot of the season gets taken down to the weather,» said Randy Neufeld, who manages North Country Cycle and Sports in Thunder Bay.
«If it's too cold, sales aren't great. If there's not enough snow, the sales aren't great. But you know, this year we've had a combination of some good weather, so it's been positive.»
Neufeld said he's already seeing more customers buying sleds for next year.
Snow depths this year are similar to what they were like in 1996, Tessier noted. In some places snow is packed two feet deep.
«We've got a really good hard base now. That took a lot of work,» he said. «Our trails are all in really good condition."
Neufeld remarked this year and last year have been the best years for snowmobile sales in recent memory, thanks to weather conditions.
"We've had more snow in the last two years than we have had in quite a while,» he said.
«Last year the snow started a little later, but ended strong. And this year, it's been good right through."