Sandra Mitchell doesn't care that the U.S. Fish and Wildlife Service is wanting to protect the wolverine, even though it could force snowmobilers and skiers out of some of the powdery backcountry they love.
Mitchell, executive director of the Idaho Snowmobile Association, has been working with noted wolverine researcher Jeff Copeland on a study that is revealing where these elusive animals live and how snowmobile recreation affects their numbers.
She and her members know the study could stop them from riding into places that disturb females as they den in the winter.
"We want to make sure they survive in healthy numbers," Mitchell said.
She and her members are hoping that knowing more about where snowmobilers ride and where wolverines live will keep land managers from closing off huge swaths of forests unnecessarily.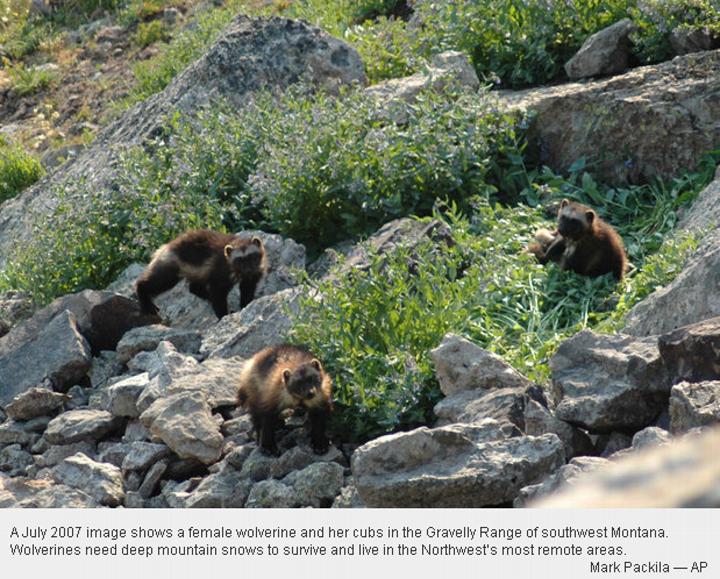 In the meantime, snowmobile groups have helped fund the research and have become friends of the wolverine.
"Sandra called me," Copeland said. "We wanted to create an environment where the recreationists take some ownership of this and say, 'Hey, that's our wolverine. This year she's denning in this basin so we'll stay out of there.'"
CHIEF THREAT: GLOBAL WARMING
The Fish and Wildlife Service announced Friday that it is proposing listing the wolverine — which has a population of fewer than 300 animals in Idaho, Montana, Washington, Oregon and California — as a threatened species under the Endangered Species Act.
The major threat to these members of the weasel family that live in high-mountain areas is a warming planet, federal biologists say.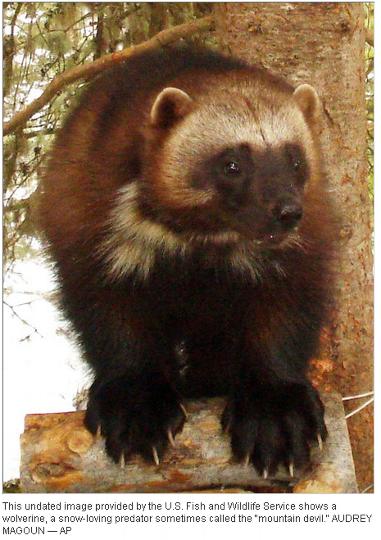 Wolverines could lose up to two-thirds of their suitable habitat by the end of this century as spring snowpack is expected to recede by 33 percent by 2045 and 63 percent by 2099, federal scientists say.
"The wolverine has a reputation for killing prey many times its size, but it's no match for global climate change," said Noah Greenwald of the Center for Biological Diversity, one of the groups that pushed the listing.
The remote, rugged and snow-covered mountains where wolverines live most of the year was a winter wilderness largely without humans until the 1980s, when more powerful snowmobiles made traveling through the deep snow easier. Backcountry skiers also increased their access into alpine areas and raised concerns among biologists and land managers.
Female wolverines are known to be sensitive to disturbance around their dens. If disturbed, mothers might abandon the den and move their young — kits — exposing them to cold, predators and other hazards.
MAPPING WOLVERINES AND SNOW MACHINES
Copeland and biologist Kim Heinemeyer conducted a study in the McCall area in 2010 using GPS monitors to track the movements of wolverines (via collars), snowmobilers and skiers in the backcountry.
Researchers got great cooperation — 90 percent of recreationists were willing to carry the devices — thanks to support from Mitchell and the snowmobile association.
"Imagine what we would have got if we had someone from the Forest Service go out to a trailhead and ask, 'Can we give you this GPS monitor so we can see where you are going?'" Copeland said.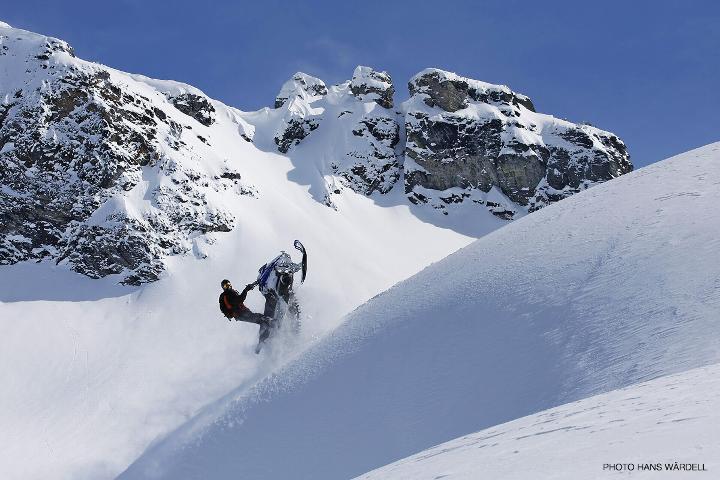 The study became the Idaho Wolverine Winter Recreation Research Project, which is run by the U.S. Forest Service's Rocky Mountain Research Station.
Copeland is a retired Forest Service biologist who is now head of the Wolverine Foundation.
With just four years of data, Copeland said it is too early to draw conclusions from the research.
Other groups, such as the Winter Wildlands Alliance, which represents backcountry skiers and snowshoers, are also supporting the effort.
"For our members to see wolverine tracks or, in the rare case, a wolverine, goes to the essence of the experience backcountry skiers are looking for," said Mark Menlove, executive director of the Boise group.