BRP's Ski-Doo X-Team Freestyle competitor Heath Frisby pulled off the incredible Sunday night by front flipping his snowmobile to take the gold medal in the Best Trick competition at ESPN's Winter X-Games. It was the first time anyone had ever attempted the feat in competition, and the only time anyone has landed it to snow.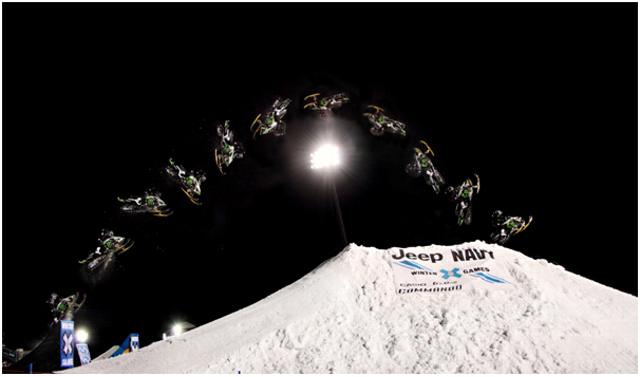 When word spread about the trick through a New York Times interview, the buzz lit up through social media sites and on ESPN's airwaves like wildfire. The anticipation was incredible.
Frisby's confidence did not waiver as he prepared to jump right after fellow freestyler Justin Hoyer crashed hard and was taken off on the medical sleigh. The crowd, after seeing several competitors complete back flips (where riders use the throttle to help spin the track and machine), wasn't prepared for the silence of Frisby locking up his track with the brake right after take off. You could hear the gasps as everyone watched in awe, held their breath, and then exploded in cheers when he landed the trick.
X-Games gold, the first ever front flip, and the respect and admiration of his fans, fellow competitors and the world. Proud of the shy kid from Idaho? Yes ,for sure. – congratulations Heath!
Link to ESPN video:
https://bit.ly/Frisby_front_flip
The feat has garnered international attention, with the video clip going over
1 million views on YouTube, featured as the #5 featured video on YouTube, featured on ESPN SportsCenter Top 10 (#7), CNN Today and named the 2012 X-Games Most Historic Moment. An article in Sports Illustrated is also in the works.
Joe Parsons, Heath's best friend and training partner, used a Ski-Doo snowmobile to take a silver medal in Freestyle on Thursday night, followed by a bronze on Sunday in the Best Trick competition. These were Parsons' ninth and tenth X-Games medals. Congratulations to Joe, who, riding without factory support, has been this sport's Iron Man.
Bombardier Recreational Products Inc. (BRP), a privately-held company, is a world leader in the design, development, manufacturing, distribution and marketing of motorised recreational vehicles. Its portfolio of brands and products includes: Ski-Doo and Lynx snowmobiles, Sea‑Doo watercraft and sport boats, Evinrude and Johnson outboard engines, Can-Am all‑terrain and side-by-side vehicles and roadsters, as well as Rotax engines. BRP products are distributed in more than 100 countries.