Cold-weather records have been registered during the week of January when we ran our short-term trial of the Ski-Doo manufacturer. Again this year, we could count on the close collaboration of TY Moteurs.
Inside TY Moteurs building, we met the friendly Patrick Beaudoin, Service Manager. We asked him a few questions about the innovations and then, he explained to us the characteristics of the Ski-Doo snowmobiles we are going to test today. Employees have nicely brought the machines to our point of departure. We now present the opinions of two test pilots who rode over 100 kilometers on federated trails and this, in respect of snowmobile riding regulations that include safety and speed limits.
This evaluation concerns the following elements :
Riding
Look and finish
Engine
Noise
Track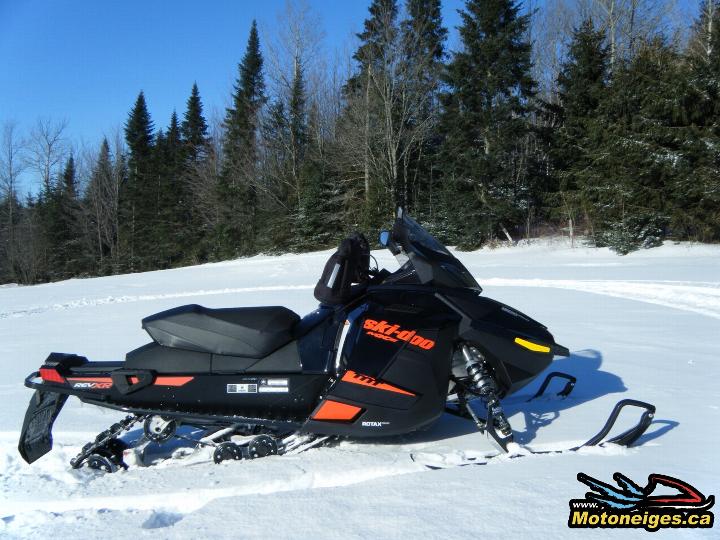 Motoneige Ski-Doo MX Z TNT 1200 2015
Modifications
The Ski-Doo MXZ TNT 1200 we tested had not received any modification. The suspension adjustments are set to normal position for the ride. The machine is not equipped with visor outlet and mirrors are to be revised.
Riding
We liked the riding position that makes the pilot comfortably seated. The wind exposure is important, the global aspect of the windshield and the hood does not provide enough protection for our forearms and elbows. Clothes of higher quality and good muffs for the hands are recommended when it gets below -20 °C.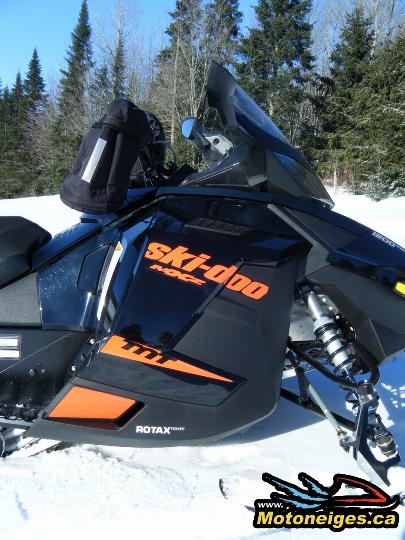 The analog/digital gauge is easy to consult at a glance. The controls are located on the left handle (brake) and are quite easy to operate with gloves on.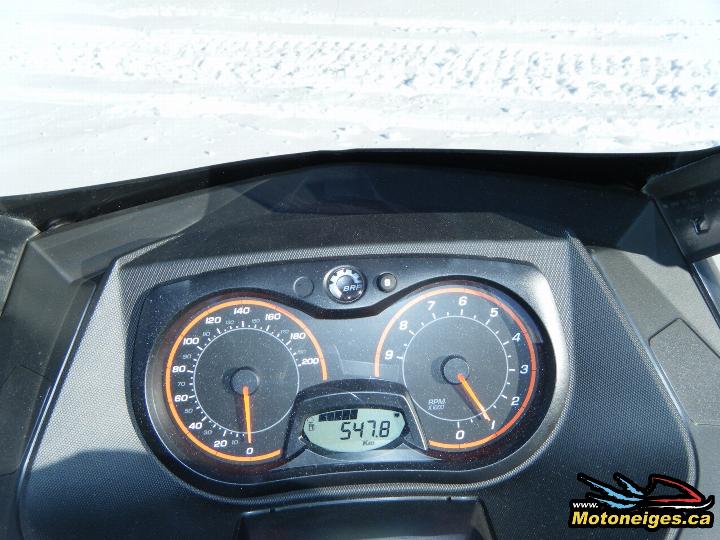 The heat controls with dimmer are much appreciated during rides with variable temperatures. The highlight of this snowmobile is its balance, thanks to its lightness, its power and the handiness of the person who will have the privilege to pilot it (sport riding).
Look and finish
The red color of the decalcs marks the total black of the machine. Ski-Doo snowmobiles offer you some spaces where you can customize the look of your purchase.
On this model, the bridge is now painted for a new customized look in its category.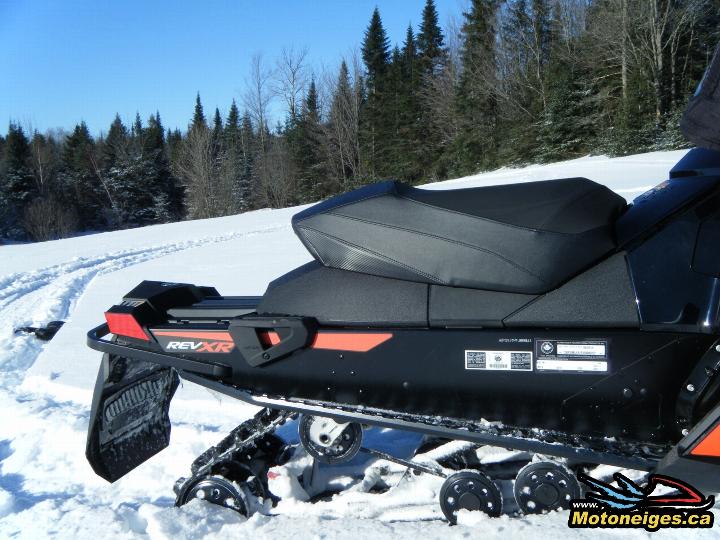 When we look at it from the side, it gives a sport and aggressive style with its forward edge design and its new shaped seat for a better pilot support. All components of the seat have been designed and adapted to the size of most of the pilots.
Engine
We have been surprised by the softness of the 4-TEC 1200 cc engine of the 2015 TNT. It seems to offer low fuel consumption and it produces a performance sound distinctive for this machine. The track is not very noisy at all cruising speeds on trail, despite the lack of snow along with extreme cold and strong winds. We must say that most of Ski-Doo snowmobiles equipped with a 4-stroke engine meet the emissions and noise standards. The track is rather quiet, well-balanced for a better comfort during long rides.
Conclusion
The 4-stroke MXZ TNT 1200 is a very powerful snowmobile and mostly a well-balanced machine (power vs maneuverability). It is designed for sport riding pilots. Its trailholding has been greatly improved and is now remarkable. The throttle response is instant and accelerations are very strong. The throttle control is electronic and can be rotated for a better comfort of our right hand. In terms of equipment, it remains mostly the same, except for its location that has been redesigned. For example, the adjustable throttle block and wireless. The fuel consumption seems to be reduced, ergonomics are appreciated, better time of response from the throttle. This 2015 Ski-Doo TNT is going to fulfill even more the requirements and needs of a larger number of snowmobilers. This is a trail machine and it will be a hit.
SledMagazine.com is sincerely grateful to TY Moteurs who made this review possible. You can contact TY Moteurs at these coordinates :

TY Moteurs (Saint-Jean-Chrysostome)


1091, rue Commerciale
Saint-Jean-Chrysostome (Québec)
G6Z 2E8
Tél : 418-833-0500

TY Moteurs (Saint-Raphaël)


684, route 281
Saint-Raphaël (Québec)
G0R 1C0
Tél : 418-243-2292
Remember that when we run our tests, all pilots are equipped with CKX clothes and accessories from Kimpex. We wear them on each of our rides and we appreciate them.
.
https://www.kimpex.com/en-ca