I have been asked lately to test the Ski-Doo Backcountry gloves. My first question was : « Do you wear only these gloves? » Effectively, they are really thin! At first, I thought I would have to wait till the end of the season before being able to test them. Then, I heard they were « miraculous », so my only choice was to check it out myself.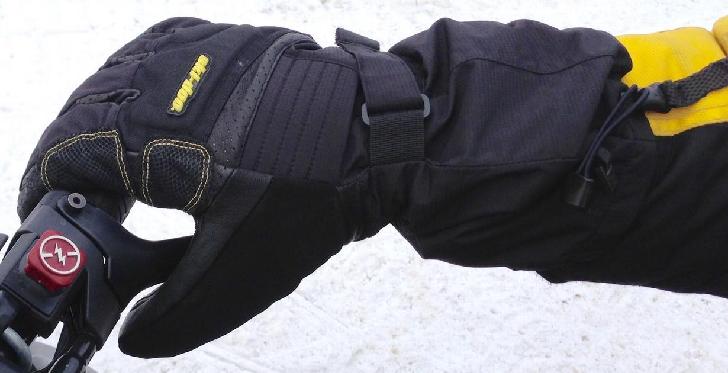 The glove is very sober, all black except for the Ski-Doo traditional yellow logo. A strap at the middle height of the glove lets you adjust it very easily. Also, I noticed that the glove gets very high on the forearm. This is very useful because it will prevent wind infiltration between the sleeve of the jacket and the glove.
It was about -30 ºC when I left home with these gloves. Without any hand guards on my snowmobile, I was sure I would get chilblains on my hands. And yet, the only bad surprise I got was that I had to turn off the hand warmers because my hands were beginning to get too warm.
On trail, the glove is very comfortable and light; it seems like you are riding bare hands and I really liked it. However, this is a probem : if, like mine, your snowmobile is not equipped with hand guards, you may receive snow pieces from the machine ahead of you and it may be quite painful sometimes. Also, during long rides in extreme cold, the Backcountry gloves require that you wear « magic » gloves underneath if, like myself, your hands get too warm and you get accumulation of moisture inside the gloves. However, during a ride of reasonable duration, there will be no problem with the gloves.
I mostly appreciated this glove when I was riding off trail. As I said earlier, it is ultralight and thin which makes you feel like riding bare hands. Furthermore, as my off-trail ride went by, I noticed that the glove evacuated moisture very efficiently. Effectively, at the end of the day, there was only a little moisture left in my gloves, which is normal because if your hands did not get warm in off-trail riding, it is because you were not riding off trail.
To conclude, I confirm that now I put the Ski-Doo Backcountry Gloves with my other gloves in my backpack when I go snowmobiling. I must resign myself and agree with all the people who said that they were excellent. Thanks to Ski-Doo who put their trust in your web magazine Motoneiges.ca / SledMagazine.com to test their products.