Today, we are testing another snowmobile that we are not used to. The Bearcat is a utility machine, made for hard work. We feel we are also going to work hard, riding on trail with a workhorse. This is serious matter, since we notice as optional feature at front of the sled, a receiver bumper required to use a winch.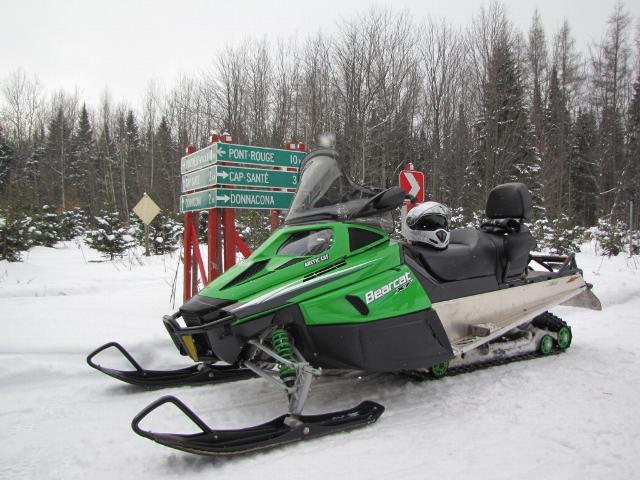 First observation : the hard working large sled is not ugly ! And the engine starts as easily than discreetly. It is a huge 2-cylinder 4-stroke 1056 cc engine, with strong torque at low speed and quite power delivering at higher speed. The driving wheel has been rather silent all day long, in all conditions we tested it.
The ski stance is 40 to 44 in. adjustable and the sled is equipped with 8 in. wide skis. We have been very surprised by the lightweight steering in all conditions. We expected to work hard, but it did not happen that way. Furthermore, the snowmobile is stable in trail, without darting. A first class steering performance.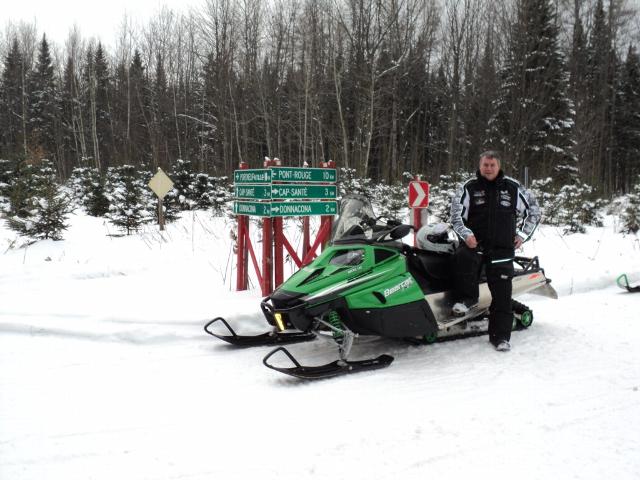 The track is 20 in. wide, 154 long and 1,38 lug. A very good lift on alll surfaces we rode, a very satisfying pulling and a very reasonable noise level after all. Add to this some rather soft suspensions with plenty of clearance, some surprisingly well controled absorption, and finally, the comfort level is close to a touring one.
Despite its oafish looks and rather high comfort level that could lead us to expect too much softness or stiffness, the hard working large sled delivers a very sound performance in trail, easy to control and with a surprising maneuvrability.
The panel instrument, nicely presented and practical, offers analog/digital display. The data are easy to read and it is simple to go from one function to the other. The display shows a fuel gauge, dual stage trip meter and a clock. There is also a 12v power outlet for accessories.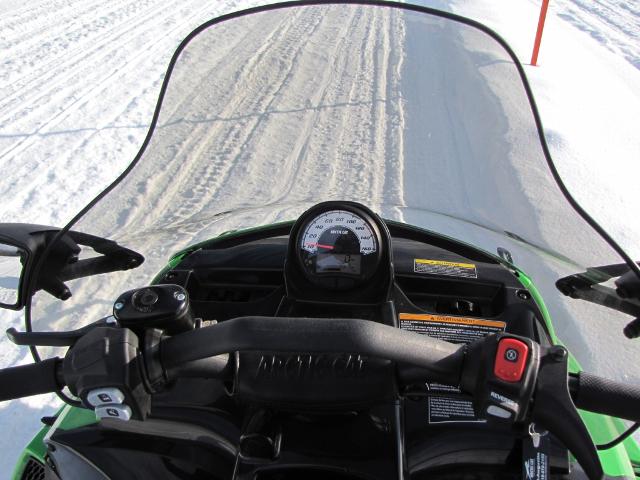 The Bearcat is equipped with an electric reverse. The passenger seat is detachable for more storage room or on the other hand, we can add a third seat for another passenger.
Hand and thumb warmers controls are simple and easy to use; the adjustment level is shown on the dash. The mirrors are standard and offer an excellent vision in all conditions.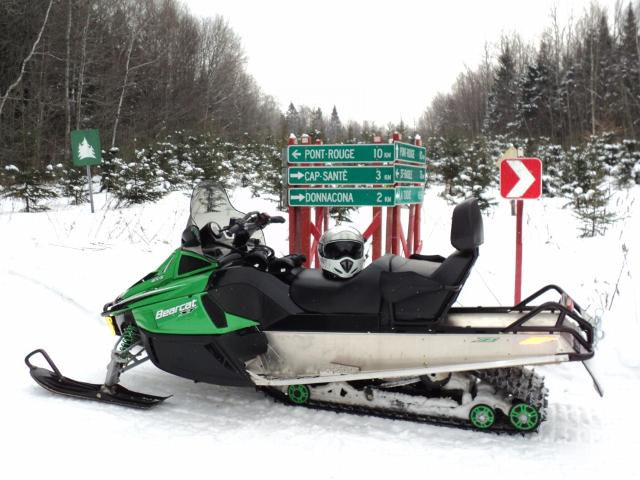 To ride such a beast is impressive, of course. With its strong hips, we must set our feet, legs and thighs apart to be comfortable; we definitely have something significant between our legs. The handlebar is maybe a little high but hands and arms have so much space in a natural position that our posture is very comfortable and makes the handling easier. Furthermore, there is space for our feet and the pilot can modify his riding position. However, if you are a jockey size or short-legged, you will probably find this sled a little too large.
We have only one less positive comment. My colleague Jacques Turgeon and I have both felt some wind return on our back. At high and steady speed, this can get annoying.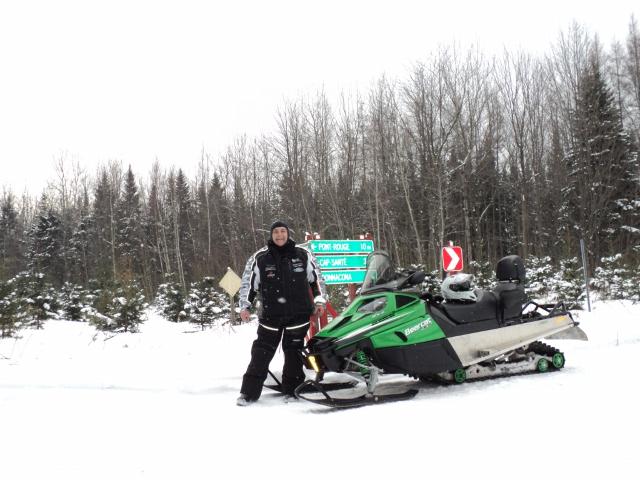 Made for hard work, powerful and comfortable, with a surprising handiness, the Bearcat has seduced us!
Today, we rode 125 km and consumed 28,4 l of fuel, for an average consumption of 22,7 l / 100 km. This seems a little high to us and since we did not check the real fuel level in the tank before leaving, we must take the consumption data cautiously here.
1 Handling and riding position 4 / 5 4 / 5
2 Comfort and suspension 4 / 5 4 / 5
3 Access to controls 4 / 5 4 / 5
4 Engine power 4,5 / 5 4,5 / 5
5 Engine noise and vibrations 3,5 / 5 4 / 5
6 Track rolling 4 / 5 4 / 5
7 Track pulling 5 / 5 5 / 5
8 Vehicle finishing 4 / 5 4 / 5
9 Odors and gas fumes 5 / 5 5 / 5
10 Fuel consumption 3 / 5 3 / 5
11 Passenger position N/A N/A
12 Passenger comfort N/A N/A
Total 41 / 50 41,5 / 50
The snowmobiles we tested today have been gracefully made available to us by our excellent collaborator Centre de location d'outillage Carl Lambert.
CARL LAMBERT Centre de location d'outillage
200 A Route 138
Saint-Augustin, QC
G3A 1W7
Phone : 418-878-2153
We would also like to mention how much we appreciate the collaboration of Kimpex. Indeed, our test pilots are equipped with Kimpex clothes and accessories. We really wear them and we appreciate them !