When snowmobile racers from around the northeast and eastern Canada converge on historic Airborne Speedway, a different kind of horsepower will be unleashed hallowed grounds.
Snocross riders of all ages and ability levels are preparing for a cold-weather assault on Airborne,
as East Coast Snocross (ECS) gets set for Round 2 of its nine-race 2012-13 schedule on Saturday and Sunday,
Jan. 12-13, at the famed ½-mile paved oval in Plattsburgh, New York.
Spectator gates open at 10:30 a.m. each day, with amateur qualifying rounds already in progress.
Pro racing begins at 12:30 p.m. both days. Admission is $12 per day for adults, $5 for children ages 6-12, kids
age 5 and under will be admitted free with a paying adult.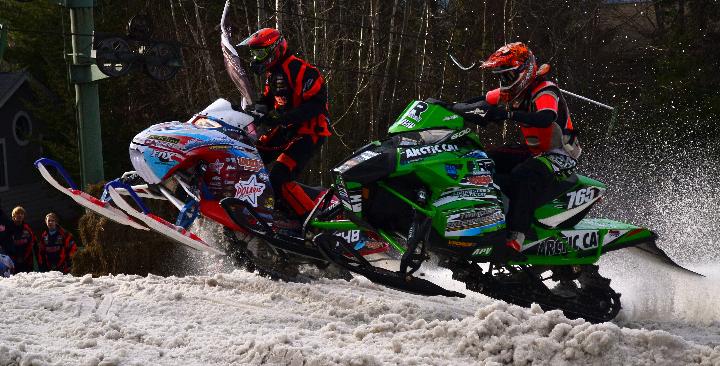 Montana Jess and Mike Pilotte
The weekend will feature a full card of championship points racing in five divisions (Pro, Pro Lite,
Sport, Junior and Women), along with the first leg of the new $7,500 Triple Crown. This three-race series for
Pro and Pro Lite riders from ECS and the Quebec-based SCM circuit adds even more excitement for fans –
and the international rivalry starts at Airborne.
Riders from every division are excited about the opportunity to bring snocross to a place known for
fast-paced racing. Many feel competing at Airborne should be very special.
"The track at the Crete center the past two years has been great," said veteran Sport division rider
Bruce Gaspardi Jr., of Team Southside/Polaris in Massachusetts. "I think the decision to move the event to
Airborne Speedway is going to make it a better experience for both fans and racers. Racing at high-profile
facilities like Airborne moves our sport forward and improves snocross racing here in the Northeast."
Former Pro champion Mathieu Morin has been practicing during the holiday break and is anxious
to see Airborne for the first time. A native of Quebec, the ECS regular who rides for Damexco Racing and Skidoo
has won at the national level and is an extremely gifted athlete.
"I know when we get there, a lot of attention will be paid to the Triple Crown races and Pro action
in general," Morin said. "I am hoping to give Ski-doo and my team a great run. We didn't get off to the best
start at Burke Mountain, but the sleds are ready and we're putting in laps to train. I've heard about the history
at Airborne, and would love to make a little history of my own next weekend."
Pro Lite rider Mike Pilotte (Team Southside/Polaris) is coming off a red-hot start to the season,
sweeping the finals at Burke Mountain. The former ATV racer from Fall River, Mass., knows Airborne is a
popular track among the stock car crowd and wants nothing more than to win there.

Riders anxious to compete at Airborne Speedway
"I think kicking off the Triple Crown at a nice track like Airborne is fantastic," Pilotte said. "That
place hosts those wild Dirt Modifieds that run with pavement tires, and they fly. We won't be quite that fast
there, but I know snocross will be exciting for fans in the stands. I hope to win for Polaris and my team, and I
hope we all put on a good show for the fans."
This weekend's snocross extravaganza at Airborne is made possible by highly-valued sponsors like
the Akwesasne Mohawk Casino, Della Motorsports, Econo Lodge, Liquor & Wine Warehouse, WOKO,
Morrisonville Septic, WIZN and KOOL 105 FM. Officials from both ECS and SCM thank them for
supporting this event.
East Coast Snocross, presented by AMSOIL and Woody's Traction, strives to maintain a regional
circuit intended to keep grass-roots snocross racing healthy in this part of the Snowbelt while also cultivating
new talent for tomorrow's factory-backed Pro teams.
For more information, please go to www.eastcoastsnocross.com.