Poirier notches second straight clean sweep in Bangor for East Coast Snocross

Presented by AMSOIL, Woody's Traction and FXR
BANGOR, Maine (Feb. 1, 2016) – Five-time reigning champion Danny Poirier powered his way to a second straight sweep of the Pro finals over the weekend, as East Coast Snocross (ECS) completed Round 2 on the nine-race 2016 race schedule at historic Bass Park in Bangor.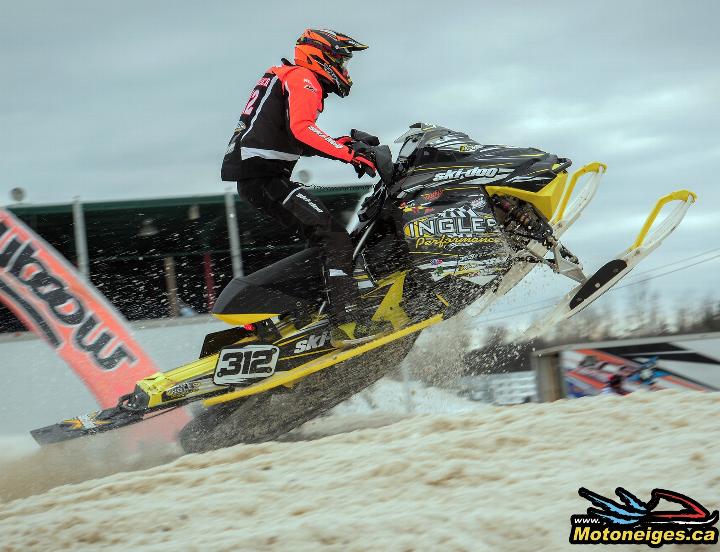 Poirier, (Ingles Performance/Ski-doo) 35, of St. Theodore, Quebec, grabbed the holeshot in Saturday's 14-lap final and led from wire-to-wire. Teammate and former champion Mathieu Morin finished in the runner-up spot just two seconds behind, while Mikko Osmo of Finland (Team Southside/Polaris) filled out the podium in third.
On Sunday, Poirier blistered the field with a nearly 15-second margin of victory over Morin, while New Hampshire veteran Jake daSilva (daSilva Racing/Ski-doo) bagged his first podium finish of 2016 in third. The big crowd on hand at Bass Park roared with approval as the Pro Open riders aired it out over the table-top.
"It felt great to get back up on the podium," daSilva said with a smile as wide as his sled. "My team did a fantastic job of rebuilding my engine before the final. It takes a big effort, both on the sled and inside the trailer, to make this all happen. I'm thankful for Ski-doo, my family, and a great group of marketing partners that keep this organization running. I'd love to keep this up all season."
In Pro Lite action, former series regular Leo Patenaude (Ingles Performance/Ski-doo) returned to New England with a flair. The veteran from Hartland, Vermont, powered past early leader Connor Roscoe at lap six and hung on for top honors. Roscoe (daSilva Racing/Ski-doo) hung on for second, while Hunter Patenaude (Ingles Performance/Ski-doo) filled out the podium.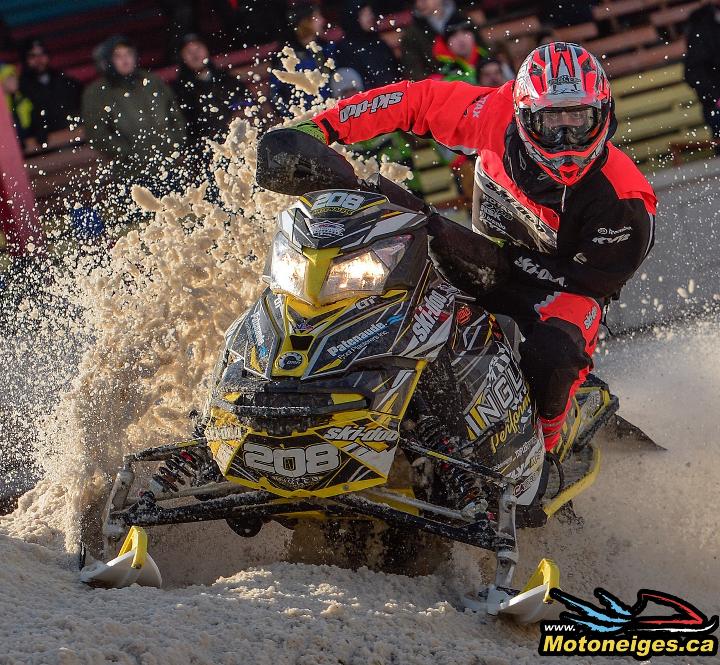 Hunter prevailed in a thrilling photo finish on Sunday (half-second margin of victory) over series newcomer Scott VandeBorne (Team Southside/Polaris), with Roscoe on top of his game once again in third. Leo and defending class champion Cody Paolella completed the top five.
There was plenty of side-by-side action in the Southside Sales/Team Southside Sport class at Bangor, as well. Connecticut powerhouse Michael Newman (Kislowski Racing/Arctic Cat) posted his second consecutive sweep, winning the Super Stock finals on both Saturday and Sunday. Nicholas Edwards and Bruce Gaspardi Jr. filled out the podium on Saturday with solid runs, while Ryan Dupont squeezed his way into second behind Newman in Sunday's six-lap battle.
Defending Pro Women champion Nykea Williams (Team Southside/Polaris) continued where she left off in Plattsburgh, sweeping the finals on the big track in Bangor. Williams' teammate Kassie Thibodeau put in a career-best recover effort on Sunday, powering back through the field to finish third after an early off-sled incident put her out of contention.
"I've been putting in a lot of time at the gym to build my stamina," an elated Thibodeau said after the final. "To rebound for a podium finish meant a lot to me. I had a ton of family and friends on hand and wanted to do well for them. I put my heart and soul into that charge after my off; I was more than frustrated and needed to get back up to the front. I was able to pull it off; now I just hope I can carry that momentum into the Nationals this weekend. It felt great to do so well at my home track."
Thibodeau is from Rumford and is the first female snocross athlete from Maine to do this well since East Franklin native KC Anderson turned heads several years ago.
Nathan Bourassa (Saturday) and Bruce Gaspardi Jr. (Sunday) split the Plus 25 finals over the weekend, while Tucker Kierstead (Kislowski Racing/Arctic Cat) was the man to beat in Junior classes. Anthony Paige won Sunday's Jr. 16-17 battle, proving that Kierstead won't be able to run away with these classes without a fight.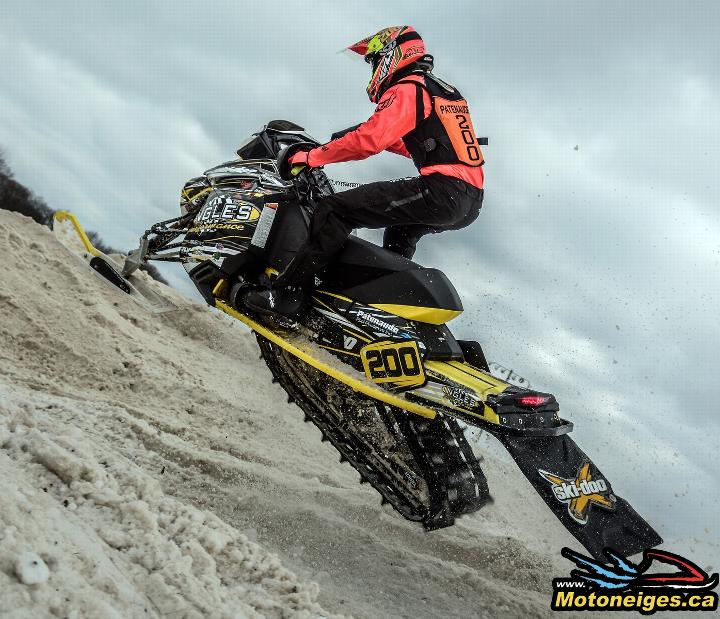 Other final round winners over the weekend in Bangor include Ethan Gagne (Jr. 8-10 Fan Sunday); Nikos Soklaropoulos (Jr. Novice 10-13 Saturday and Sunday); Nicholas Edwards (Sport Stock 600 Weekend); and Josh Connolly (Transition 8-10 Saturday and Sunday). Congratulations to all of our final round winners in Bangor. We realize the warm weather made for a challenging track.
East Coast Snocross would like to thank Jennifer Khavari and the entire staff at Eastern Maine Community College Foundation for hosting Round 2. Our second annual visit to Maine's Queen City was met with the same level of enthusiasm we enjoyed in 2015. We hope to return again in 2017 to help raise funds for one of the finest Community College programs in all of northern New England.
Teams and officials will now prepare for the long haul to western New York this coming weekend, Feb. 5-6, as the series joins with International Series of Champions' (ISOC) AMSOIL Championship Snocross (ACS) series at the Seneca Allegany Resort and Casino in Salamanca, NY, for the U.S. Air Force Snocross National. Each year, ECS riders get to compete alongside their national heroes as they make their annual trip "out east." It's a weekend most consider a highlight of the season.
East Coast Snocross, presented by AMSOIL, Woody's Traction and FXR, is an ISR-affiliated sanctioning body for snowmobile racing in the northeastern United States. ECS maintains a regional circuit intended to keep grass-roots snocross racing healthy in this part of the country while also cultivating new talent for tomorrow's factory-backed national Pro teams.
For full results from Bangor or to learn more, go to www.eastcoastsnocross.com.