MEDINA, Minn. (Jan. 29, 2016) – Racing in the Winter X Games for just the second time, Polaris snocross racer Corin Todd (Leighton Motorsports) earned the bronze medal in the snocross final as he finished third in racing held Jan. 28 at Aspen, Colorado. Earlier in the day, Polaris racer Paul Thacker celebrated after finishing second in adaptive snocross to win the silver medal.
Todd got off to a strong start in the 20-lap final, coming out of the first corner in third, then holding off all challengers before steadily stretching his advantage to earn a spot on the podium and win a medal. The Otego, New York, racer finished ninth one year ago in his first Winter X Games final.
Todd finished third in his X Games heat race, which qualified him for the final. In the same heat race, Ross Martin (Judnick Motorsports) finished fourth to also reach the final, and Andrew Carlson (Carlson Motorsports) finished ninth. In the other heat race, Polaris racer Kyle Pallin (Team LaVallee Mystik, Loctite, Polaris, Red Bull) finished sixth, Iain Hayden (Rockstar Energy OTSFF Polaris) was seventh, and Trevor Leighton (Leighton Motorsports) was eighth.
Except for the annual Winter X Games, the Polaris racers compete full-time on the ISOC National circuit. Todd, in just his second season of Pro Open racing, earned his first Pro Open podium finish on Jan. 22 in Deadwood, S.D., where he finished second in the final.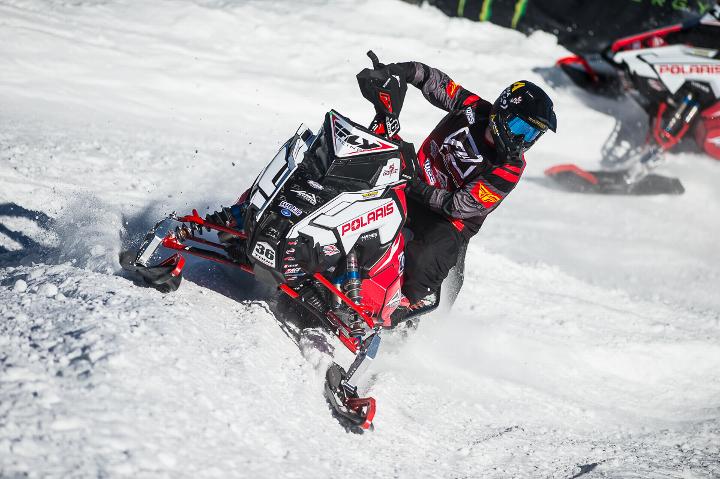 In ISOC National Pro Open points, Kyle Pallin is currently in fifth place, Corin Todd is sixth, and two Hentges Racing teammates who have been sidelined with injuries, Kody Kamm and Petter Narsa, are ninth and 10th, respectively. Ryan Springer (Carlson Motorsports) is 11th in Pro Open points, Trevor Leighton (Leighton Motorsports) is 13th, Andrew Carlson (Carlson Motorsports) is 17th, and Ross Martin (Judnick Motorsports), who has been racing despite an ankle injury, is 18th.
The ISOC National schedule resumes Feb. 5-6 in Salamanca, New York.
Thacker Wins Silver Medal
Alaska native Paul Thacker was a top snowmobile freestyle rider and was featured in several extreme riding videos before a riding accident in late 2010 left him partially paralyzed. He never lost his passion for snowmobiling, and he continued to ride and race. Everything fell into place for the Polaris rider on Jan. 28 as he finished second in Winter X Games Adaptive Snocross to earn an X Games silver medal.
He shared his excitement with friends and fans via social media, telling them: "After 9 years of X Games, all the hard work, sacrifice, dollars spent and days on the road finally came to fruition. Silver medal in SnoX today. Literally couldn't be happier. Such an indescribable feeling of finally making it happen. So many people have been in my corner for so long, I can't thank you all enough… Thanks to my family, immediate and extended. Wouldn't have happened without you. Beyond excited."
Before his injury, Thacker, now 42, had competed in the X Games in snowmobile events including freestyle, best trick, long jump, and speed and style. Plus, in 2009, Thacker was the first rider ever to jump at least 100 yards on a snowmobile, flying 301.5 feet on a Polaris 600 IQ®.
About Polaris
Polaris Industries Inc. (NYSE: PII) is a global powersports leader with annual 2015 sales of $4.7 billion. Polaris fuels the passion of riders, workers, and outdoor enthusiasts with our RANGER®, RZR® and POLARIS GENERAL™ side-by-side off-road vehicles; our SPORTSMAN® and POLARIS ACE® all-terrain off-road vehicles; VICTORY® and INDIAN MOTORCYCLE® midsize and heavyweight motorcycles; SLINGSHOT® moto-roadsters; and Polaris RMK®, INDY®, SWITCHBACK®, and RUSH® snowmobiles. Polaris enhances the riding experience with parts, garments, and accessories sold under multiple recognizable brands, and has a growing presence in adjacent markets globally with products including military and commercial off-road vehicles, quadricycles, and electric vehicles. www.polaris.com