You may remember the Christmas gift I received last year. I actually wrote an article on the subject: Christmas on December 20 – Thanks to Olympia, Our new Partner!
This gift was the pleasure of trying on a snowmobile outfit (Olympia jacket and pants) from the Synergy series, Vernon model.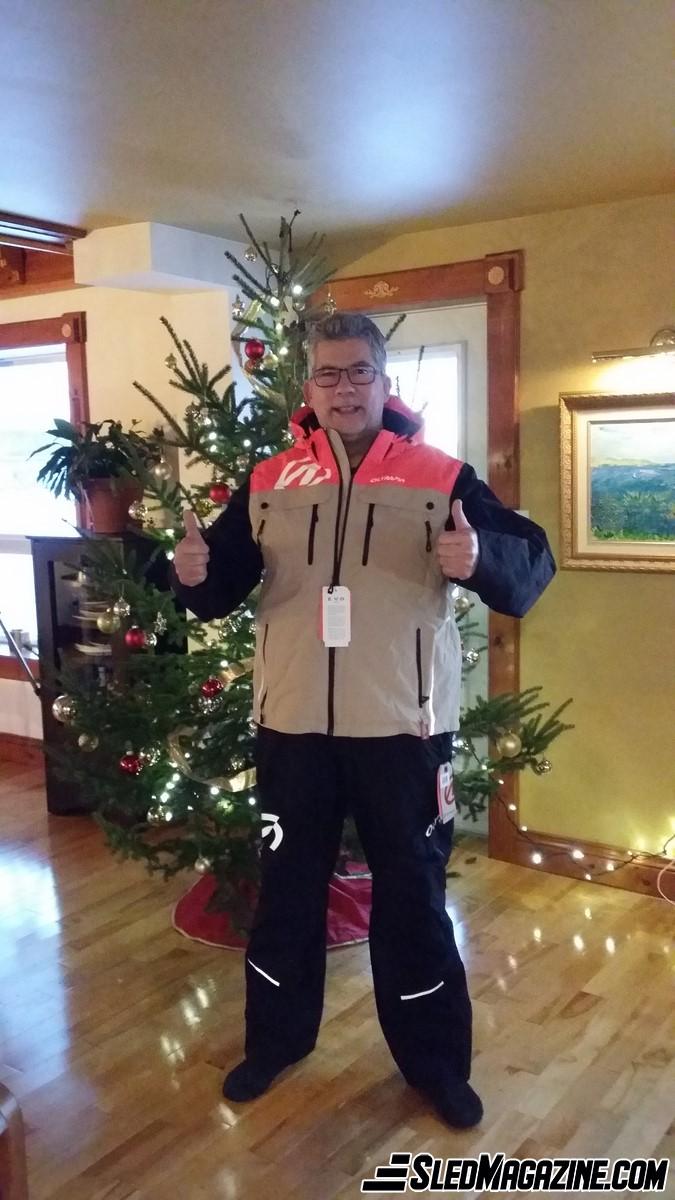 For those who have not read it, here are a few excerpts:
The pants fit perfectly and are very light. A snow belt around the waist and back seals the whole thing to avoid cold or snow intrusion.
I will surely get off the trail to test its waterproofness, breathability, abrasion resistance, waterproof zippers, ventilation zippers, and protective knee pads.
The coat is just great, and it fits perfectly.
The powder skirt is accessible through an interior opening that is not visible when not in use. Some other features: extensible wrists, inside zippered pockets, internal goggle pocket, ventilation zipper, comfortable neoprene collar, reflective stripes, adjustable, and removable hood.
Having tested several clothes models in different conditions, I believe that this model will be a perfect off-trail. It has a wow effect!
After using this technical garment in real conditions, I can only reiterate my initial impressions: it's extremely comfortable in active driving conditions such as off-trail riding as well as waterproof and breathable.
It's also amazingly comfortable in very cold conditions and on trails if you factor in extra layers under the jacket. I remind you that this jacket has a thin removable inner insulated lining. Nowadays, with all the technical undergarments out there, layered dressing is highly recommended. Combined with this Olympia product, it's the perfect versatile setup for all conditions.
It has been designed to include small details that make the difference from other technical clothing. For example, I was able to keep my knees intact thanks to the protective shells installed inside the pants.
On the other hand, small details that do not alter the garment's quality and waterproofness may need to be rethought, such as fastening the pants' bottom. In my opinion, there are too many different types of fasteners to seal the bottom of the pants. First, you need to fasten a hook (there are two hooks where the second one can't line up with the Velcro), then stick a Velcro lengthwise, join a push-button, tighten the bottom of the pants with another Velcro, hook the powder cuff to the laces of the boot and close the zipper of the bottom of the pants. Multiply by two boots and do the reverse procedure to remove them.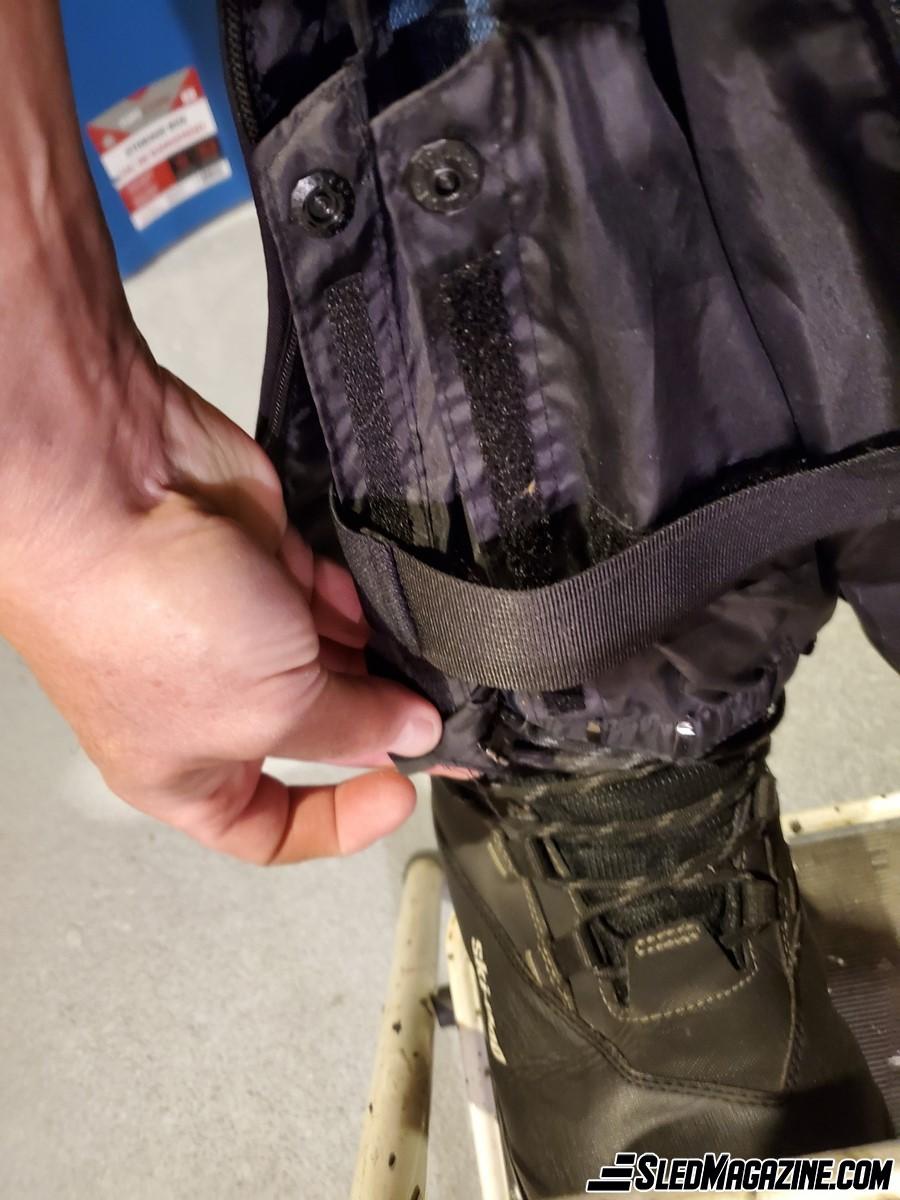 There's another small detail to improve that should be a must, which is the fastener of the high belt around the waist. The waist belt is adjustable, and the pants fit perfectly, but for potbellied people, there is no adjustment, and the buttons don't hold! A second set of buttons or an elastic band on the sides would solve the problem.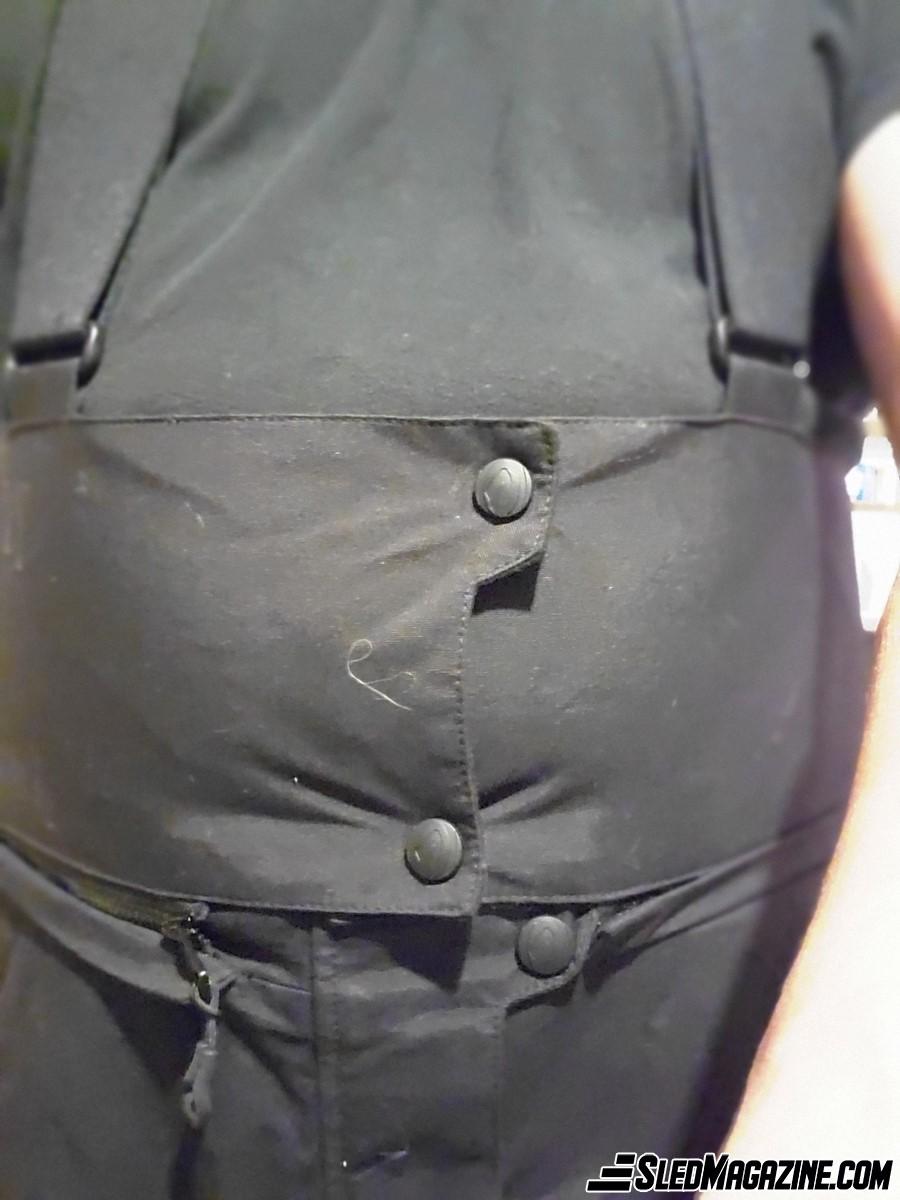 As mentioned in the previous article, if you are looking for technical snowmobile clothing, it's worth going to a retailer with this product in stock. In my opinion, it's a technical garment that can't be ignored.
Olympia has been recognized for 17 years in North America's motorcycle industry and has decided to launch a new technical clothing line for snowmobiling in the fall of 2017. It's a manufacturer that should be closely followed for its quality offer in the world of snowmobile clothing.
It's Motovan Corporation that ensures the distribution of the Olympia brand. Check out their website for more details or to find a retailer.