We went with pleasure to TY Moteurs in St-Jean-Chrysostome, a Ski-Doo dealership owned by Mr Yvan Théberge. We received a warm welcome and met two representatives, Mr Jimmy Brochu and Christian Moreau.
They described to us the features of the Ski-Doo snowmobiles we were going to test and then, they kindly moved it to our point of departure. Here are the comments gathered by the three test pilots who rode over a hundred kilometers on groomed trails, in respect of the snowmobiling regulations such as speed limits.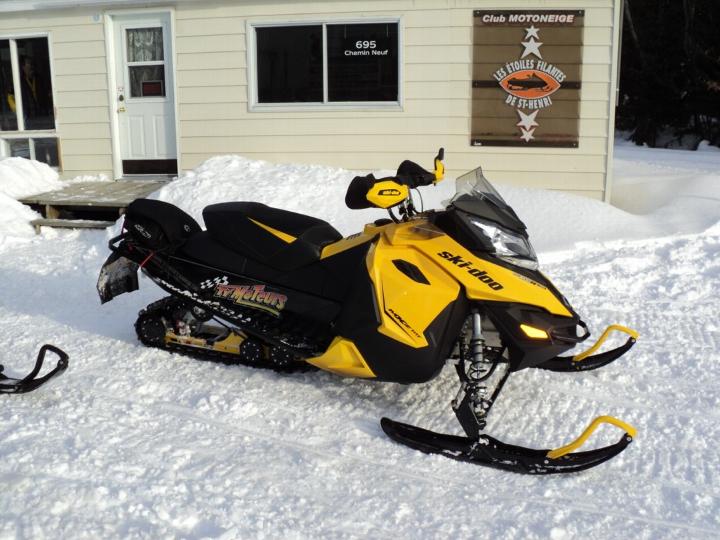 The following elements have been evaluated :
riding, ergonomics

aesthetics, finish quality

engine, noise, fume

track
The 2013 Ski-Doo MX Z TNT E-TEC 800R snowmobile that we tested is the same model than the one used by Jimmy this season. It had been modified to offer a sport type of riding. A sway bar has been added, aggressive ski carbides have been installed and finally, studs have been fixed to the track. We all noticed that this type of riding was designed for experts.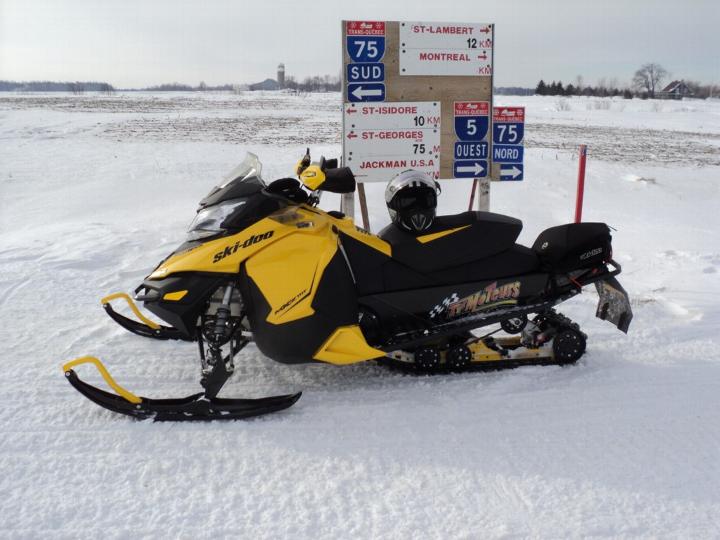 We all liked the riding position that allows short as well as tall riders to be at ease. However, we must be aware of the exposition to wind because the cockpit and windshield configuration does not protect our body. At -25 °C, as we experienced, we must absolutely wear excellent clothing and install handlebar muffs.
The analog gauge with display is easy to read at a glance. On Ski-Doo snowmobiles, the controls of the handles are located on the left handle (brake); their size could be a little larger. We liked the gradation of the heat controls, which are easy to use. The J-hook handles, for a sport riding, require some practice since their grip is a little short. Once familiar with this, we liked to use it in curves.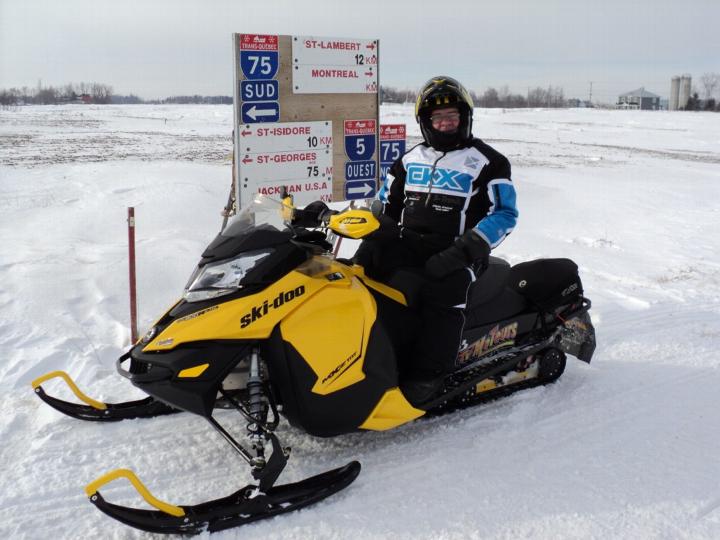 The new rMotion suspension, with the most rising-rate motion ratio and longest travel in the industry, did such a great job that we did not feel the bumps as much as usual. The balance of this snowmobile is a main strenght, being light, powerful and easy to handle (if you prefer a sport riding).
The MX Z TNT E-TEC 800R is really nice in yellow and black, the colors of the brand. The finish is satisfying. The small warm glove box is really useful for your goggles. Ski-Doo gives you the chance to customize your snowmobile; there are some surfaces ready for you to apply your favorite decals.
The 2-stroke E-TEC 800 cc engine is very powerful with its 163 HP. Its lightweight allows a nice balance of the snowmobile. We have been surprised by its smoothness. Effectively, this engine is more silent than the 4-stroke 1200 cc found on the 2013 Grand Touring we tested.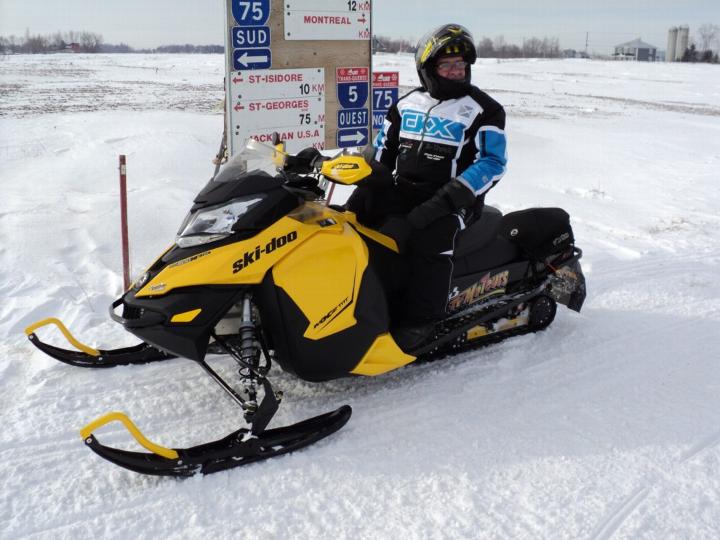 The E-TEC 800 cc produces virtually no smoke, thanks to the direct injection technology. The track produced low noise at any speed on trails, despite the surface covered with packed snow hardened by wind and extreme cold weather.
The 2013 Ski-Doo MX Z TNT E-TEC 800R is a light, very powerful and moreover, very well balanced snowmobile (power vs handling). This machine is built for pilots who prefer sport riding.
SledMagazine.com is sincerely grateful to :

1091, rue CommercialeSt-Jean-Chrysostome, QCG6Z 2E8Tel : 418-833-0500

684, Route 281St-Raphael, QC G0R 4C0T
https://www.tymoteurs.ca/index.htm
Thanks to Kimpex for their appreciated collaboration during this trial.

Effectively, our trial pilots wear Kimpex clothing and accessories during every ride and they appreciate it !
Test pilots for SledMagazine.com