See Snowmobiles reaching speeds of 100mph, as well as vintage ATV and Side/Side races on the ice oval.
Also see the exciting cockpit style sleds in action
For the past 38 years, we have hosted professional Eastern Pro Tour ice oval snowmobile racing at our track, the Benson Sports Oval.
Some of the greatest names in snowmobiling history have experienced the 'thrill of victory and the agony of defeat' right here at our track. Names like Lee, Vandolder, Riemenschneider, Wahl, Vessair and of course, Villeneuve, have all shaped the course of their careers at the Bonnechere Cup.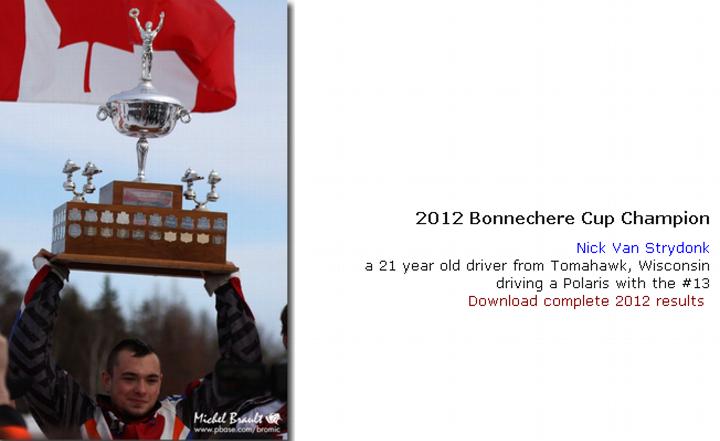 It has become one of the most elusive and coveted prizes in snowmobile racing! In 2013, history will be made again, as the top drivers chase down another $20,000 + prize purse.
For Eganville, February 22nd to 24rd, 2013. Practices will be held on Friday February 22nd from 1 to 4 pm. Registration will be as follows:
Pre-registration prior to 9 pm on Wednesday Febuary 20th 2013 (a surcharge of $5 will be charged for those who are not pre-registered.
Registration

Friday from 11 am to 4 pm and from 7 pm to 9 pm.

Saturday from 8 am to 8:30 am

Sunday from 8:30 am to 8:45 am
At the indicated end times for registration we will give a coupon to each driver present waiting to be registered. If you do not have your coupon after the end time you will not be able to register.
The Bonnechere Cup Final has been changed to a 15 lap race.
Hope to see you ALL in Eganville !!