Two former regional snocross champions returned to top form over the weekend, as Quebec natives Mathieu Morin and Danny Poirier split a Sunday afternoon Pro Open doubleheader at the Riverbrook RV Resort.
The event kicked off the 2013-14 season for East Coast Snocross, and featured more hurdles than an Olympic-level track meet. Racers faced incredibly tough track conditions, thanks to brutal cold, a lack of snow on Saturday and a broken groomer on Sunday.
Morin, of Val D'Or, blasted his way to victory in the first final after a rough start and serious challenge from Wisconsin native Mike Bauer. The 2010 RMR champion dug deep, and proved beyond a shadow of doubt he is 100% healthy and ready to go after another championship.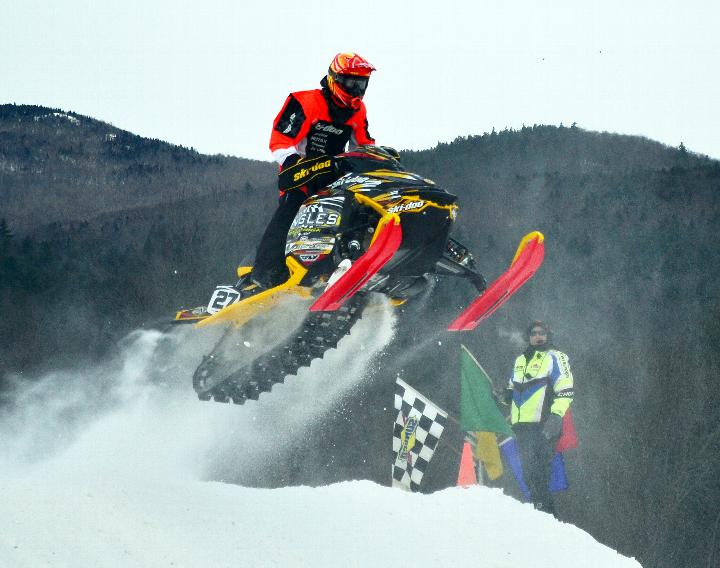 Pro Open Winner Mathieu Morin
"I jumped a little bit on the start, so they put me in the third row," Morin said. "I was pretty mad, so I think that motivated me to get out front early. A few riders tangled in the first corner, but I was lucky enough to sneak by them."
Series newcomer Bauer slotted into second after the first lap and started to gain on Morin. Just past halfway in the grueling, 14-lap final, Bauer took the lead, forcing Morin to dig deep yet again.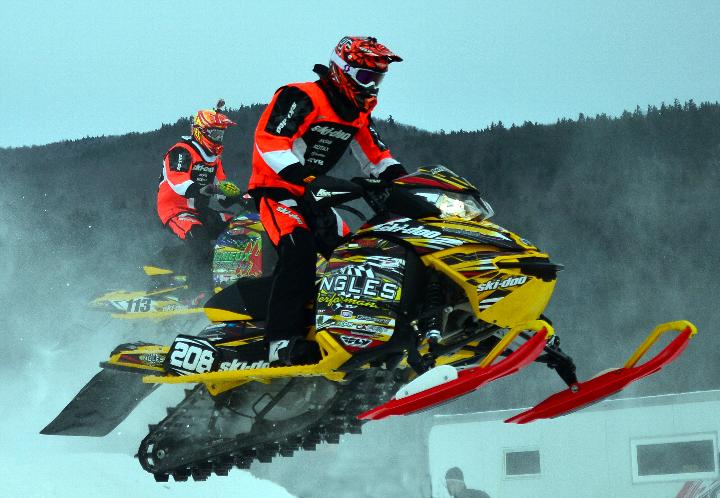 Hunter Patenaude
"Mike is pretty fast, and when he passed me I knew it would be a good battle," Morin added. "I found a good line on a pretty nasty track going down the backstretch and retook the lead. I have to thank my Ingles Performance team and Ski-doo, they gave me the sled to pull this off. It feels fantastic, and I can't wait to get to Fonda Speedway next month for Round 2."
Poirier held off a strong challenge from Morin (finished second) and fellow Ski-doo rider Lincoln Lemieux (third) for top honors to complete a clean sweep of Pro Open for the team.
"I am getting very comfortable on the new Ski-doo, and that helps my confidence to push hard," Poirier said. "After spending three weeks out west this year, I found some things that have helped the sled a lot. I have great support with this team, communication is smooth and we have what we need to win. It feels great to start a new season with a win for both Mathieu and myself. I'm pretty happy."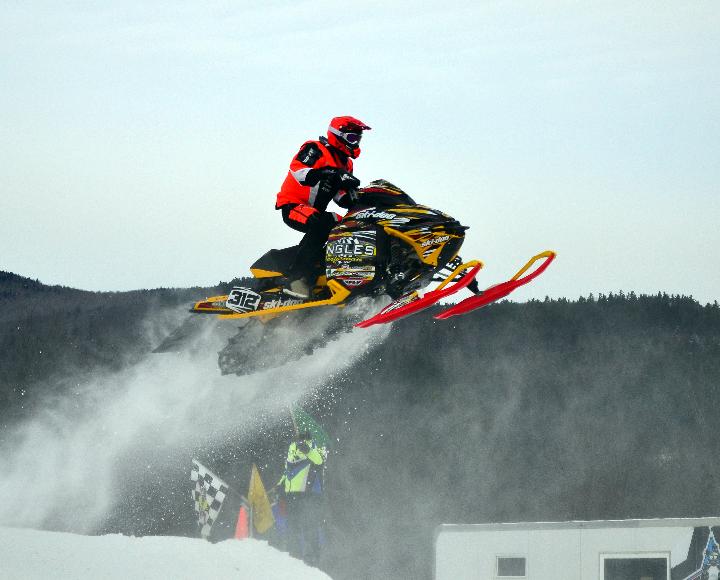 Pro Open Winner 2 – Danny Poirier
Miksen Racing/Ingles Performance rider Jesse James Bonaduce had an outstanding weekend of racing in Pro Lite action. The Somerville, NJ, native finished second to Swedish sensation Emil Sundvisson in the first final, then found redemption in the nightcap by passing the Swede for the lead and never looking back. Bonaduce got a nasty cut next to his right eye out west, yet appears to be in excellent shape for the ECS season.
"I had a lot of stitches in that area, but it has healed up pretty well and I am in good shape," Bonaduce said. "The sled ran perfectly all weekend, the track was pretty sketchy but it was the same for everybody. I just tried to find a decent line, stay focused and run my own races. I'll take win and a second place finish to start a new season, we have the championship in our sights so this is a great start. I'm ready for Fonda."

Vermont native Hunter Patenaude was impressive in his first outing of Pro Lite competition. The talented rookie made a terrific last-lap pass on Swedish rider Emil Sundvisson in Sunday's second final to score a solid third-place finish, starting his rookie season on a positive note.
Adding to this successful season opener was a pair of Sport class podiums by Chris Ingles. Despite a full plate in college this winter, Chris is racing with focus and landed on the podium twice over the weekend. Ingles Performance will return to ECS action again on Jan. 11-12 in Fonda, NY. On behalf of team owners Mike and Robin Ingles, best wishes to all for a Merry Christmas and Hapy New Year. We hope to see you in 2014.
For more information, please go to www.inglesperformance.com.