Last season, I suffered severe hand injury; so 2013 season has a special meaning for me. I worked hard all summer to rehabilitate my hand, this is the one I use to push on the throttle. I can't wait to put it at work as much as I can't wait to pilot my new trial snowmobile. Which one would it be this time? I had quite a good surprise because not only is it equipped with a new advanced chassis, but this snowmobile is a model from my favorite category, the increasingly popular crossover segment. My trial snowmobile will not be less than the famous Renegade X with the powerful E-TEC 800R engine delivering 160 hp.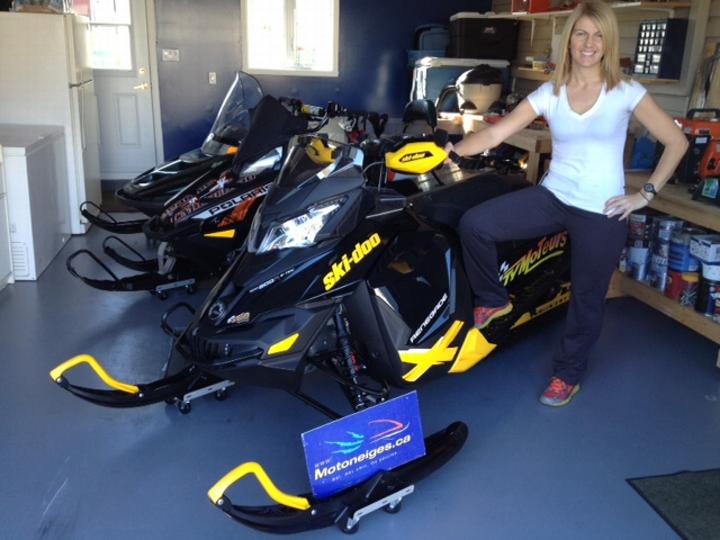 I liked the new REV-XS chassis right away. In fact, most of the snowmobilers I discussed with agreed that Ski-Doo designers successfully revamped their models. Modern, rounded and refined body style combined with neat finish and obvious attention to detail, these are characteristics that lots of snowmobilers seek for and that women always notice. Don't worry, the Renegade X has a dynamic and aggressive look yet. Let's admit it, gentlemen, snowmobilers enthusiasts take pride in their machine and the beauty of your beast is very important to you. This is confirmed by our long-term trial partner, TY Moteurs Ski-Doo dealer in Québec City region. Effectively, snowmobilers' interest for the new models is obvious and the 2013 sales are doing great.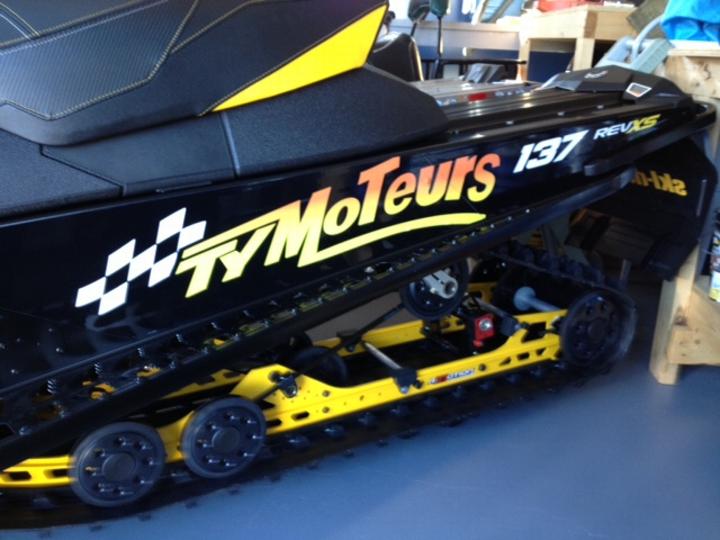 If we take a closer look, we can see that the XS chassis is not as revolutionary as the REV and REV-XP chassis. No, it is rather an advanced XP chassis and it is far from being a bad thing. Snowmobile market regularly demands changes in order to keep sales stable. Regarding the XP chassis however, it is right to say that it was still technically up to date. So, engineers did not make the mistake to redesign completely a winning product; no, they decided to improve it, smart rather than over proud! For more details on the specifications of the Renegade X E-TEC 800R, please see our buyers' guide on this site.
The totally new setup of the engine compartment may be the improvement that mechanics, or snowmobilers who proceed themselves to the maintenance of their machine, will appreciate the most. In fact, the cab, including lights and gauge, can be removed in a few minutes. Also, the various electric components surrounding the engine have been «classified» for an easier access and maintenance. Technically, it may seem insignificant to most of us, but many maintenance hours are billed due to the difficulty to reach some parts. So, theoretically, we should expect lower maintenance costs… Wow! This is another great idea.
In the old days, hybrid meant compromises on snowmobile handling and control. Modern snowmobiles are so well-balanced that the issue does not exist anymore. They beneficiate from a 137 X 16 X 1,25 track, such as the Ripsaw on the Renegade X, for traction and comfort without the old days annoyances. Will this new generation of Renegade make the crossover category even more advanced? It seems to me like ever more difficult, but let's keep an open mind.
Regarding the E-TEC 800R engine, it should still be powerful but I will keep an eye on the fuel and oil consumption. Often, available data are collected in the best conditions at a particular moment. Over a mileage of 4 000 or 5 000 km, we will have many opportunities to test this impressive direct-injection Rotax engine in all types of riding, while considering the annual average. We will also check the durability of the drive belt combined with the efficiency of the TRA VII drive clutch, that will face the regular assault of the 163 hp delivered by the 800R E-TEC.
I particularly appreciated the comfort of the Renegade models under various conditions. For 2013, the introduction of the 137 in. rMotion rear suspension should catch my attention. My feminine touch is going to appear in the following lines about this matter… Already impressive on its first year, this year X edition is equipped with a KYB Pro 36 piggyback rear shock, with Easy-Adjust compression adjusters. We will have the opportunity to make a few adjustments before finding the optimal one. Concerning comfort, we must remember to talk also about the quality of the seat. BRP has understood it for ages and even if it is not an innovation anymore, we noticed the fine quality of the X seat that will add to our comfort. Talking of which, the riding position of the XS chassis is very similar to the XP chassis and is still very enjoyable. It is easy to go from a touring riding to an aggressive one, and vice versa. An interesting feature at front is the new warm glove box behind the handlebar, above the gauge. Designed for your gloves or goggles, you will also like to store smaller items that should not freeze (for example, eyes products) when riding long hours. The box is warmed by the engine compartment and we will soon check how warm it gets.
Another feature catches our attention and will be tested: the new LINQ system. The rear tunnel has been preperforated for an easy installation by clients. This year, 3 accessories are offered: a jerry can and 2 tunnel bags of different sizes useful on longer rides. The LINQ system is designed for fast and secure installation and removal. No more bungee cords so long to tie up if we do not want to lose our personal goods. We do not know yet which accessories we are going to test.
Last detail before my first ride: the new snow flap. Ski-Doo representatives say that its rounded shape should keep it from coming into the track when going backwards, thus stopping the sled. It may seem unimportant, but when this happens at the end of the day, when you are tired, you wonder why they did not think about it earlier. Well, now it's done.