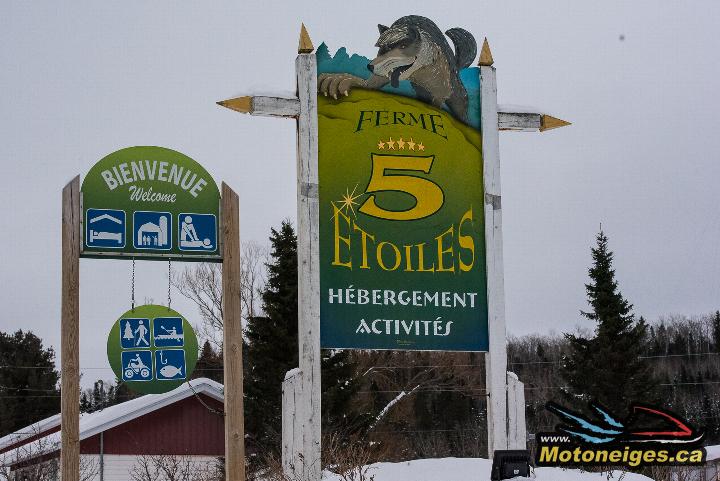 Last January 8, 9, 10, 2016, the annual riding congress of SledMagazine.com was held in Monts Valin, in Saguenay region. The collaborators of SledMagazine.com who were present have been granted with some privileges, such as a warm welcome on Friday for lunch at Ferme 5 étoiles in Sacré-Coeur, Saguenay. We had a delicious meal along with a friendly reception in charming surroundings ! Our sense of taste has been delighted right upon arrival with delicious hot soup, traditional boeuf bourguignon and homemade blueberry pie cooked and served by two sisters named France and Catherine Gauthier, respectively cook and waitress. Now, let me introduce all the treasures to be discovered on this dream location !
Ferme 5 étoiles has been established in 1979 by newlyweds Claude and Imelda, both coming from farm families. Their goal ? To have children and to live in harmony with nature and wildlife. And later, to start a wonderful project that today makes several members of the family happy. From Claude and Imelda, three children were born, Bastien, Jimmy and Stéphanie. Since the parents retired in 2007, the Ferme is now owned by three members of the tribe, Jimmy, Stéphanie and her spouse Yannick. They are surrounded by a complete team, including our friendly coordinator and guide, Jean-Sébastien. In fact, he is the one who showed us all the attractions of the Ferme.
As we had a busy day ahead of us, we had a short tour of the premises. Still, we have been able to take a look at all attractions described on their web site www.ferme5etoiles.com . Since we were obviously a group of snowmobilers, Jean-Sébastien guided us on snowmobile to the tip of a rock on the north shore of the majestic Saguenay Fjord. What a breathtaking view ! Believe me, when standing here, we are totally impressed by the gigantic panoramic view and we feel privileged to belong to such a great part of the country with so incredible landscapes. In summer as well as in winter, you must experience it. Ask Jean-Sébastien to bring you here. Along the few kilometers through woods and fields, you will feel an extraordinary pleasure in the heart of this enchanting nature.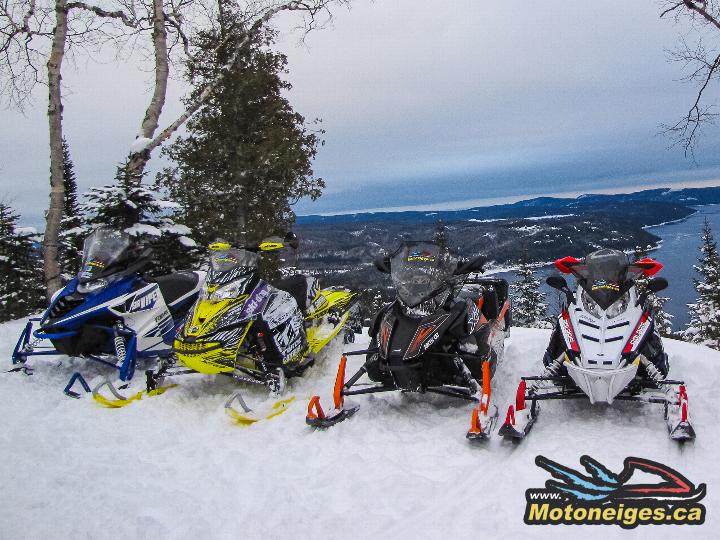 One thing that impressed me greatly at Ferme 5 étoiles is the diversified choice of activities we can practice and the complementarity of the attractions. Everything for all seasons. Whether you are a fan of motorized sports or not, there is something for you.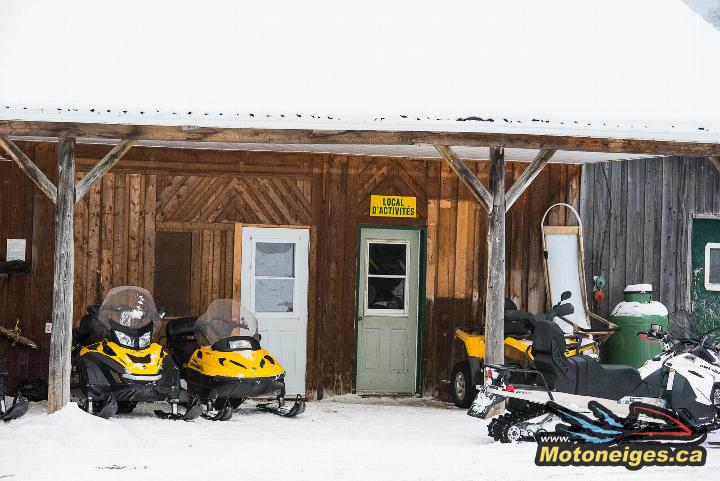 At spring time, you have the only sugar shack in the region where you eat traditional lunch or dinner with all maple products. Sugar shack involves fun, and fun involves entertainment and musicians in week-ends with lively traditional dancing. However, if you are not too much of a dancer, you can enjoy the presentation about sugar bushes and a sleigh ride to visit the animals of the farm.
In summer, lots of activities are offered ! Sea kayaking on the Saguenay Fjord, quad riding in mountains, special encounters with wolves, yes I said wolves ! … And black bear observation in forest. All this of course is experienced in the safest way possible. You will also be able to go fishing in a ponds, hiking with the Fjord as a backdrop, horse riding or to enjoy a whale-watching cruise.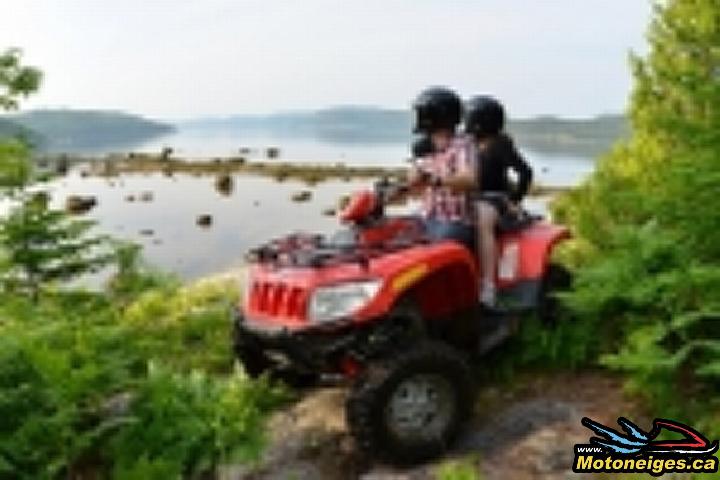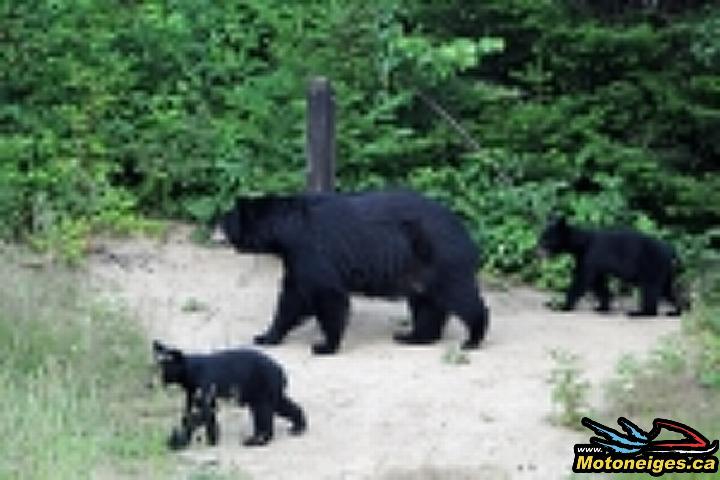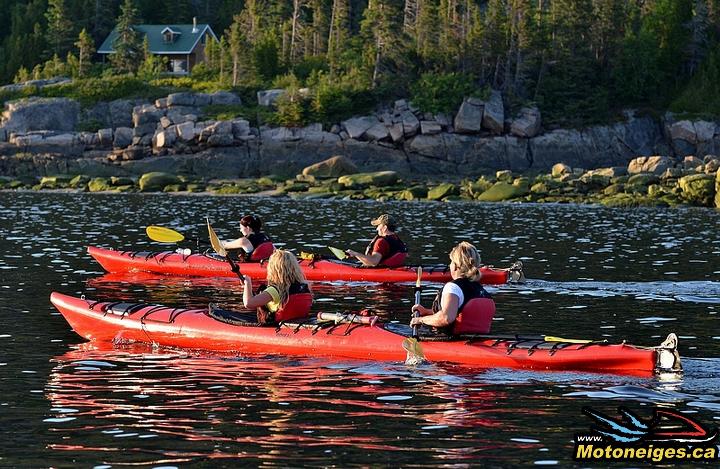 In fall, summer activities are continued now with automnal colors that add so much charm to the mountains and various landscapes.
In winter, you can have fun snowshoeing on special trails made to offer treats to your sense of sight. You can also go ice fishing, which I did not enjoy yet, but I was told that it is very special to go fishing in winter, or else, you can experience a close encounter with wolves, if you feel like it. Personally, the most exciting winter activities are to go snowmobiling of course and dog sledding. These beautiful animals are trained to pull and to make your dog sledding adventure unforgettable. We must say it, if you have not felt this pleasure yet, you must absolutely go for it. You feel special thrills when you hear the Huskies and Malamutes bark; all they ask for is to run and have fun themselves in snow, pulling you over several kilometers ! Back to snowmobiling. The Ferme offers latest well-equipped snowmobile rental for the pilot and a passenger. Short, mid and long duration packages are available at very interesting price. Many Europeans take advantage of these packages, said Jean-Sébastien, coordinator and guide.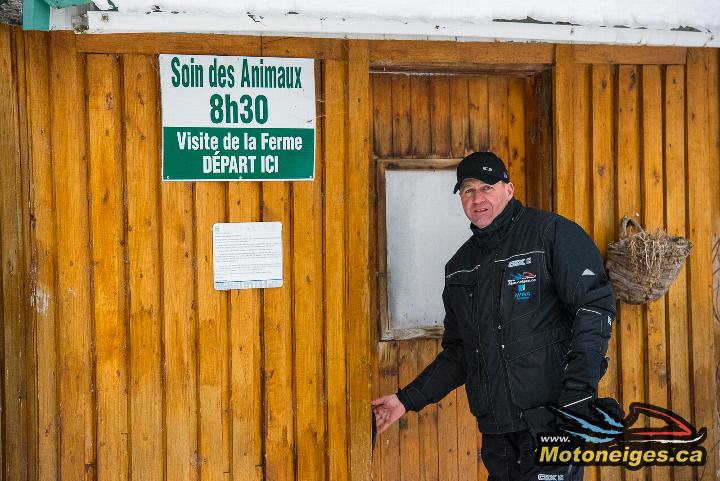 At Ferme 5 étoiles, you find everything, even a friend ! It is sure that after a while chatting with courteous and friendly employees, you will create personal links but maybe you will find your friend among the animals living on the site. During your visit, you will meet the usual farm animals like cows, horses, hens, rabbits, sheeps and others, and most particularly, the canadian wild animals found injured or orphan in forest such as buffalo, deer, cougar, racoon, bobcat, moose and others. To bring together these wild animals with farm animals makes the place unique. We feel like in a dream, like it is unreal, like if it was impossible to meet at the same place all these species each more attractive than the other.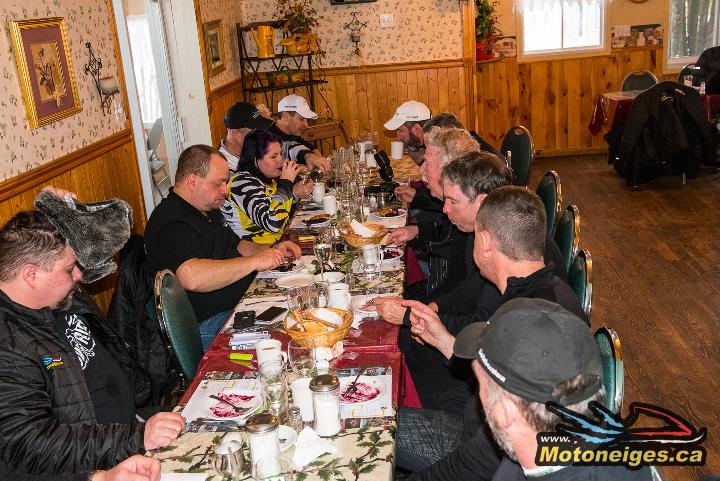 The diversified lodging offer meets all needs. Bed and breakfast, motel rooms, condo appartments, cottages (some with view over the Saguenay Fjord), suites, yurts, trapper's cabin, camping with or without services, or large cottage for group and reception, everything is available at very fair price. School groups come here regularly at the end of school year to close it with an unforgettable experience !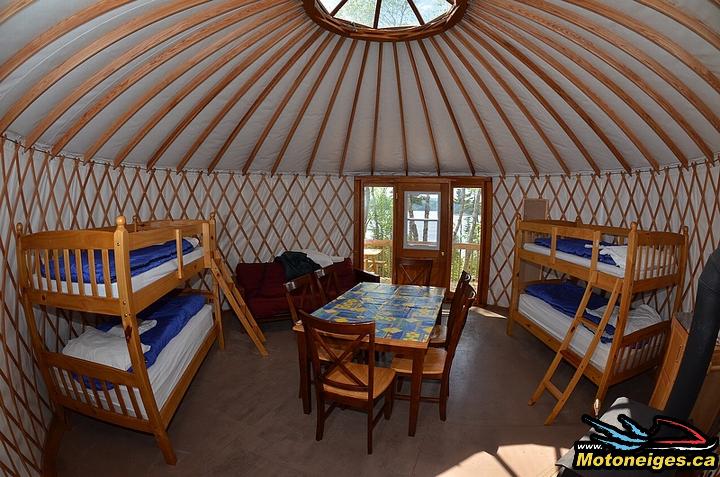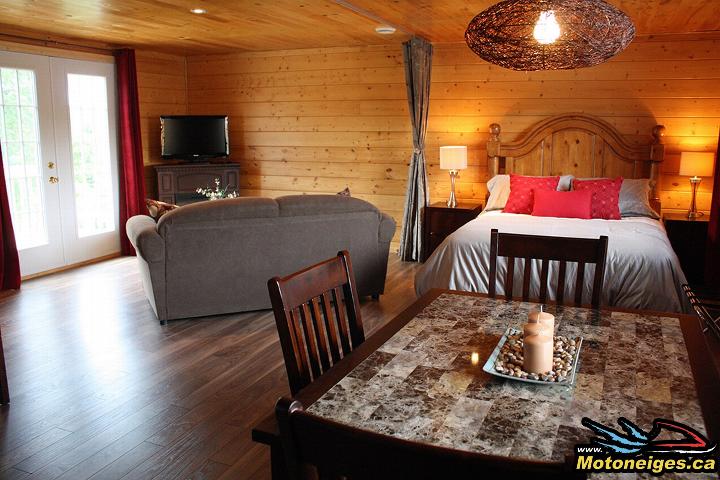 Of course, my presentation would not be complete if I did not talk about the relaxation centre on the premises. You will find care packages like massage therapy, body care, spa and sauna, along with the reading corner for complete relaxation. Just the outdoor beauty of the place makes you want to get inside and enjoy its attractions and treats.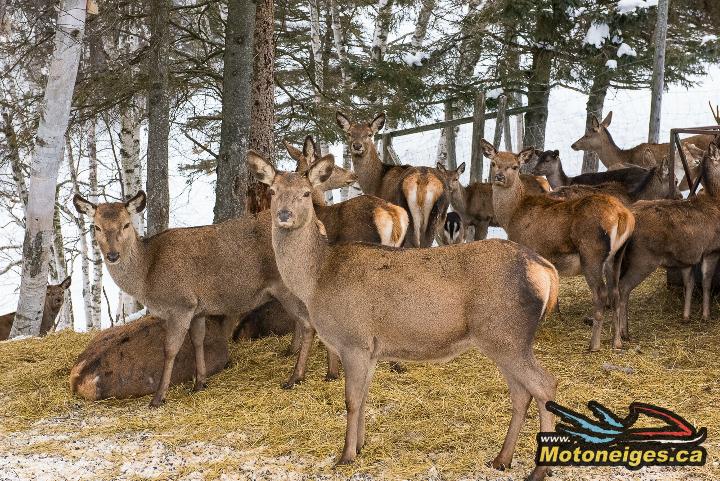 To conclude, I will say that Ferme 5 étoiles seduced me not only with its wide variety and interesting offer for a stay with family, group, friends or spouse, but now I can' wait to have grand children and bring them here one day to make them discover all the wonders of nature and wildlife brought together on a territory with a name that says all its charms and beauties.
CONTACT DETAILS :
Centre de vacances Ferme 5 étoiles
465, Route 172 Nord
Sacré-Cœur (Québec) G0T 1Y0
Tel. : 418-236-4833, No charge : 1-877-236-4551
Fax : 418-236-1404
Email : [email protected]
Web site : www.ferme5etoiles.com