Even if the season began late and with lack of snow, I already rode over 2 000 kilometers, so I can share with you my first impressions. It should reach riders who like this type of model and it will answer many questions you might have about the 2016 innovations.
BRP innovations show clearly that the manufacturer is constantly evolving to improve the performance of BRP products. In this article, I will talk only about the 2016 innovations and give you a short presentation of the modifications. I will also report on the performance on trail.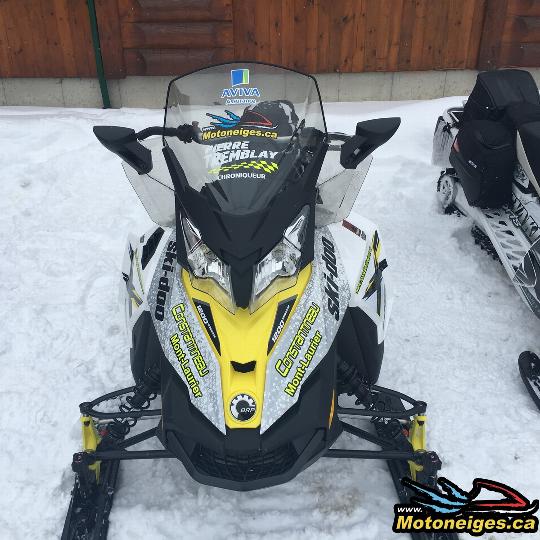 The 1200 cc engine now with iTC technology
This engine has already proved its worth since its introduction in Ski-Doo snowmobiles. The addition of the iTC technology with three driving modes (Standard, Sport or ECO) allows the pilot to choose his type of riding, from normal to more aggressive.
I had this engine technology on my 900 ACE last year and I liked it, but this year on the 1200 cc, the power offered me quite a sensation because zip is there, mostly in Sport mode.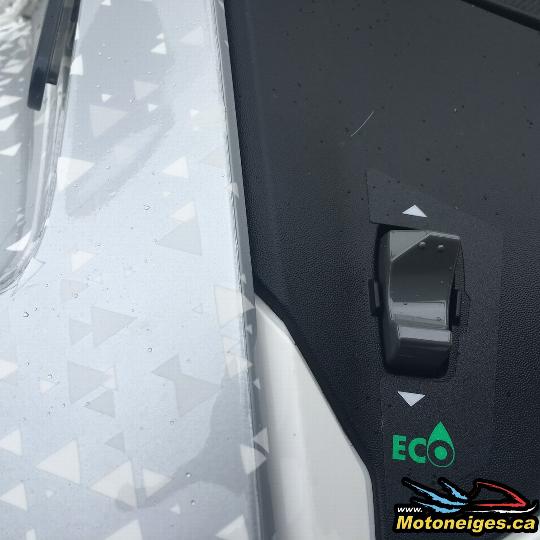 Suspension
This snowmobile is very easy to handle since all components are on the REV-XS chassis, such as the HPG shocks, the new rMotion 129 rear suspension and the center shock with controlled motion These features and the weight of 515 lb/234 kg provide to the pilot, on trail in good conditions or in worse conditions, a supple and amazing maneuverability in a straight line as well as in turns. When I was negotiating a curve, I had no or almost not any maneuver to do thanks to the great handling of the snowmobile provided by the new REV-XS platform.

rMotion 129 HPG shock

REV-XS chassis
Adjustable Pilot TS Ski
I must say that the adjustable ski is an innovation in the snowmobile industry. I have been impressed on snowy trail when I had trouble to operate my snowmobile.
To increase the runner depth, we just need to turn the knob located on the ski leg. In a few seconds, I have been able to adjust the height of the runner for improved bite and better control of my snowmobile.

Pilot TS Ski
Track length
The track of 129 in./327 cm is an advantage because with the shorter tunnel of previous years, the snowmobile was less stable on bumpy trails and pilots were not comfortable. Today, thanks to this length, the snowmobile is more stable and more enjoyable in bumpy trails.
Reversible throttle lever
I liked to be able to change the throttle position, mostly at the end of a day when fatigue can set in. This feature allows the pilot to rest his thumb and to enjoy his ride until the very last minute. You can also switch the setting even during short rides.
>

Throttle in its usual position Reversible
So, those are the 2016 innovations and I continue to ride my snowmobile. I will present a global report on this snowmobile later. However, to date, I am very satisfied with the machine. Have a great end of season.
La Voix des motoneigistes, for SledMagazinecom, asks you to ride safely on trails, because your life is important to us.