I am happy to introduce the four following products installed in the trailer for easy loading and unloading of your snowmobile :
two systems of glides to protect the trailer decking;
the traction mat;
the platform extensions for easier loading of a snowmobile.
And the decking protectors installed for easier control of the snowmobile skis and easier moves inside the trailer. The first two projecting panels allow other types of vehicles to have a good grip when getting on the trailer.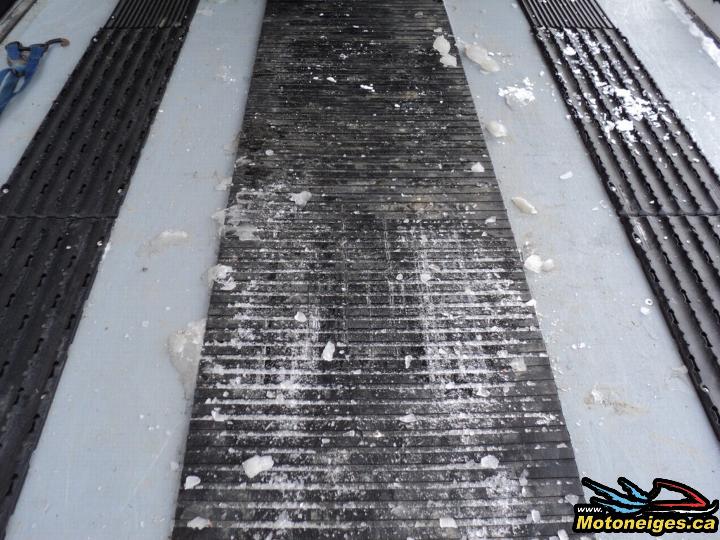 We can also notice that the snowmobile pilot can get off without slipping on the cold plastic. Usually, the decking protectors are flatter and it is more dangerous to slip and fall down. This is why I put them in this order for more safety.
The second part of the protectors is designed for the snowmobile runners. It is molded with deeper and narrower grooves to keep skis parallel and to ease moves inside the trailer. I added a small white block as a guide to always place the snowmobile at the same position. This way, a reasonable weight is applied on the trailer hitch to avoid leverage.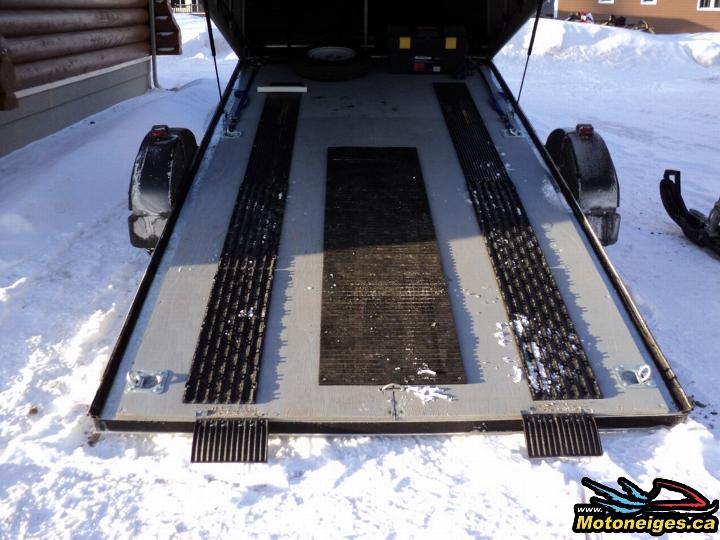 The traction mat is wide and long to allow the snowmobile to get on and off the trailer without losing its traction that is reduced by accumulated ice when we get the warm snowmobile on the trailer. The small grooves of the protectors allow moisture to dissipate on each side and to prevent ice forming.
The platform extensions provide easier loading of your snowmobile. Their hinges allow us to get them inside the trailer to close the top. I can assure you they are very flexible, even under extreme cold temperatures. I used them lately at -30 °C and I am very satisfied with these equipments that provide easy and safe loading and unloading of different vehicles. The Caliber products are well designed and well manufactured.
Caliber helps loading and unloading easily and safely your ATV, Side-by-Side, Spyder, motorcycle, etc… Personally, I think that safety is essential at all times.