Over the course of 3 days at the recent Polaris Terrain domination Challenge event held at the Northern Outdoors lodge in The Forks Maine, I had the pleasant experience of spending 245 miles of trail time, meals and several comfortable conversations with extreme snowmobiler Levi LaVallee.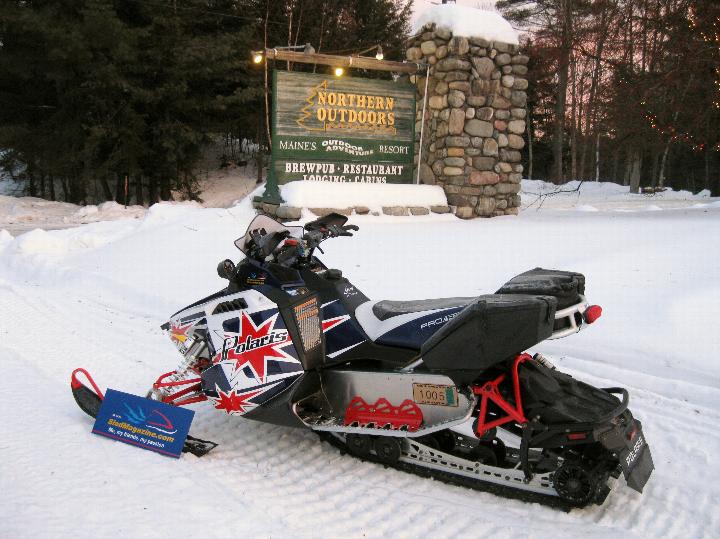 The SledMagazine.com long term trial Polaris Switchback ProR LE
Levis' personality was always polite, accommodating and comfortable which is exactly what is always written about him. He is down to earth, easy to talk to and is full of interesting stories. His stories and the way he shares them with ease and flair easily makes him new friends and fans every time he speaks. And a new friend is exactly how he leaves you feeling.
We rode together on 4 separate rides with 4 different groups and I had the opportunity to watch him not only ride but also interact freely with snowmobilers from a diverse variety of locations, age groups and backgrounds.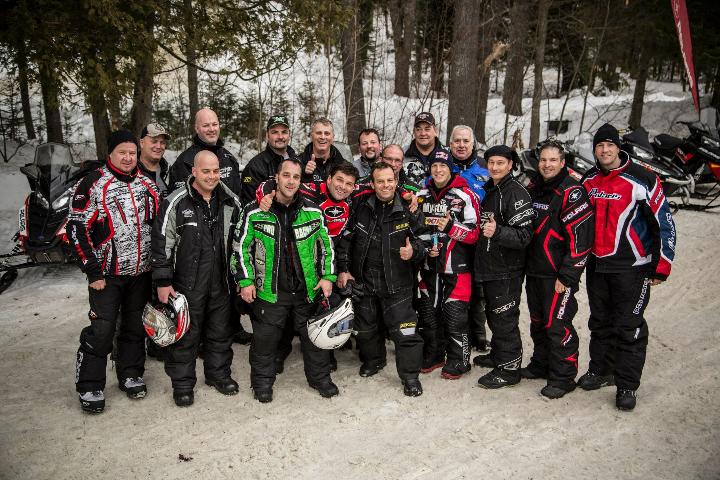 His passion and respect for the sport of snowmobiling is ever present.Yes he was a celebrity at this Polaris Challenge event but most importantly he was a snowmobiler just like the rest of us.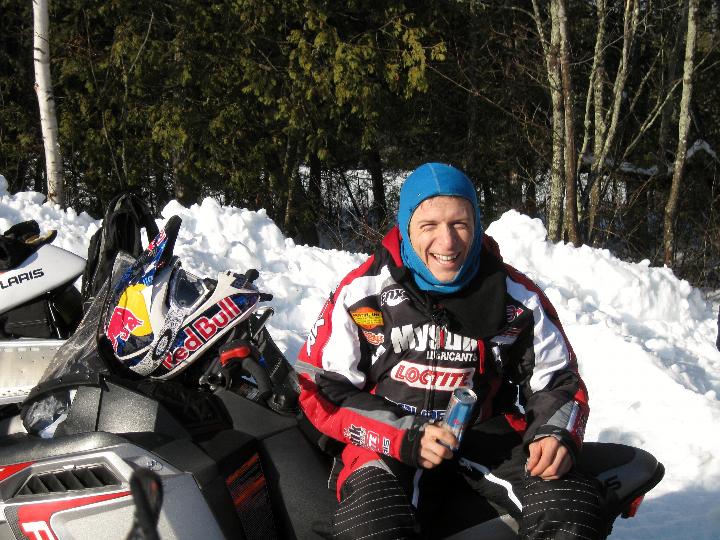 One evening after dinner several of us were gathered around the table and I challenged Levi to a little light hearted and random lightning round of Levi LaVallee trivia that I thought others might find interesting or at least amusing. Everyone asks Levi questions about his record setting jump of 412' or double back flips, I wanted to be different. So here we go……… a little Levi LaVallee trivia.
Favorite color? – Red

Family pet?– Bruno the family dog, unofficial hometown mascot and wandering treat searching neighborhood celebrity

Favorite meal?– Tacos

How do like you eggs? – Over easy

Pancakes or Waffles? – Waffles

Real maple syrup or some crap called table syrup? – Real Maple syrup of course. *A correct answer for which I reached into my bag a prizes and gave Levi a jug of Real Vermont Maple syrup.

Bacon or sausage? – Bacon

Coffee or tea? – Coffee

Chocolate chip cookies or peanut butter? – Chocolate chip

Red or white wine? – Red

White or wheat pasta? Wheat

Dark or milk chocolate? – Dark chocolate. *Once again I reach into the prize bag and presented Levi with a dark chocolate candy bar
Chunky or smooth peanut butter? – Chunky

Real or artificial Christmas tree this Christmas? – Artificial

White or colored lights? – Colored

Did you drink any egg nog this holiday season? – No, not opposed to it, just didn't have any this year

Favorite pizza? – Hawaiian Ham and Pineapple

Apple or banana? – Banana

Carrots or Broccoli? – Carrots

Regular or light beer? – Light

Bottle or can? – Bottle

Black or green olives? – Green

Favorite ice cream? – Blueberry Cheesecake

Plain or spicy cheese? – Spicy. *A reply which earned Levi a block of Vermont Cabot Pepper Jack cheese from the prize bag

Dirt or pavement auto racing? – Dirt

Circle racing, road racing or drag racing? – Road racing

Skiing or snowboarding? – Snow boarding

Boxers or briefs? – Boxers. *To his slightly hesitant laughter, I once again I reached into the prize bag, but this time said "just kidding, no more prizes"
Football or Hockey? – Hockey. *A good answer considering that Hockey legend Patrice Brisebois was also a featured special guest of the Polaris Terrain Domination Challenge event.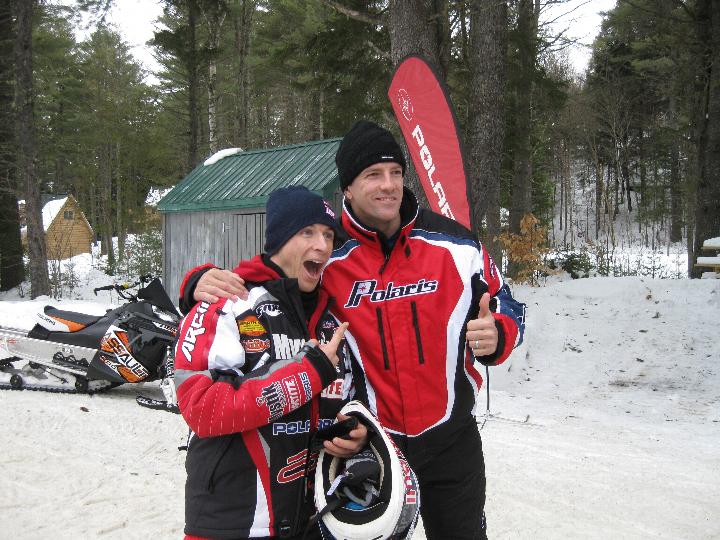 (photo, Levi and Patrice)
Baseball or basketball? – Baseball

Machine or free weights? – Free weights

Treadmill or elliptical? – Elliptical

Ever do Zumba? – No

Plain or flavored chips? – Plain

Soap or shower gel? – Soap

Any particular superstitions ? – No superstitions, but Levi faithfully carries a very personal, valued and worn smooth, family symbol of commitment, perseverance and personal strength.

Silver or Gold? – Gold of course. And with that we concluded the Levi LaVallee trivia lightening round.
We all had a friendly laugh and I thanked him for being a good sport. Levi LaVallee, one of the good guys.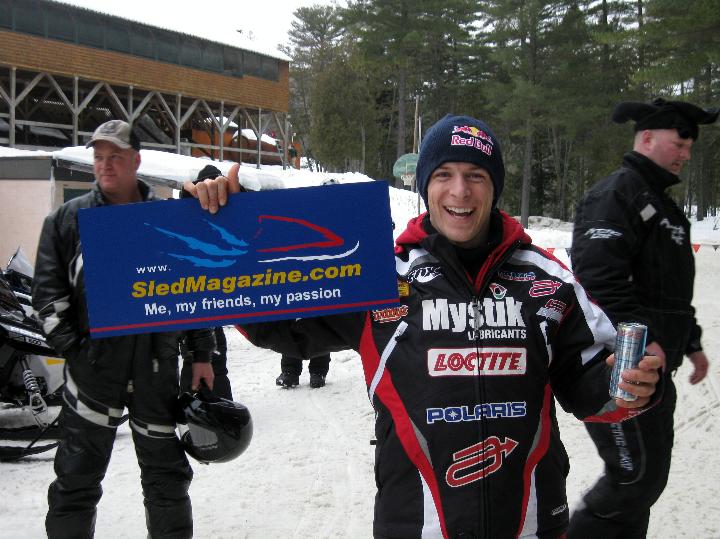 Join the SledMagazine.com team in rooting Levi on in the upcoming Januray 24-27 Winter X games 17 in Aspen Colorado.