I started snowmobiling at a young age on my family's farm and surrounding fields. However, when I reached adulthood in the 90s, that's when I really had the means to achieve my ambitions and was able to buy my first more powerful snowmobiles.
From then on, I was able to hit the trails with snowmobiles designed to handle the bumps and the thousands of kilometers at my disposal. It was a paradise that opened up to me and an infinite number of possibilities.
This premise expresses my feelings about the short test I was able to do with the help of Max Longtin, director of the Polaris division at Mathias Sports of St-Mathias sur Richelieu. Despite the scarcity of available snowmobiles this year due to the increase in this activity, Max was kind enough to suspend his season for a while to allow me to test his 2022 Polaris INDY XCR 650 128.
So, what could be better than a snowmobile specifically designed to ride for miles and miles in a sporty way. To tell the truth, it's as if this XCR was designed to fit my type of rider exactly.
"It fits me like a glove!
Even though this expression refers more specifically to clothing, I would like to use it to describe how I feel when I sit behind the handlebars of this Polaris XCR. I feel like it was designed especially for me, down to the last detail.
I am not mistaken, because the Matryx chassis was designed and thought around the rider. Many details have been thought to facilitate the movements and remove everything that could be intrusive. Polaris is changing the game and taking the ease of controlling a snowmobile to another level with this platform.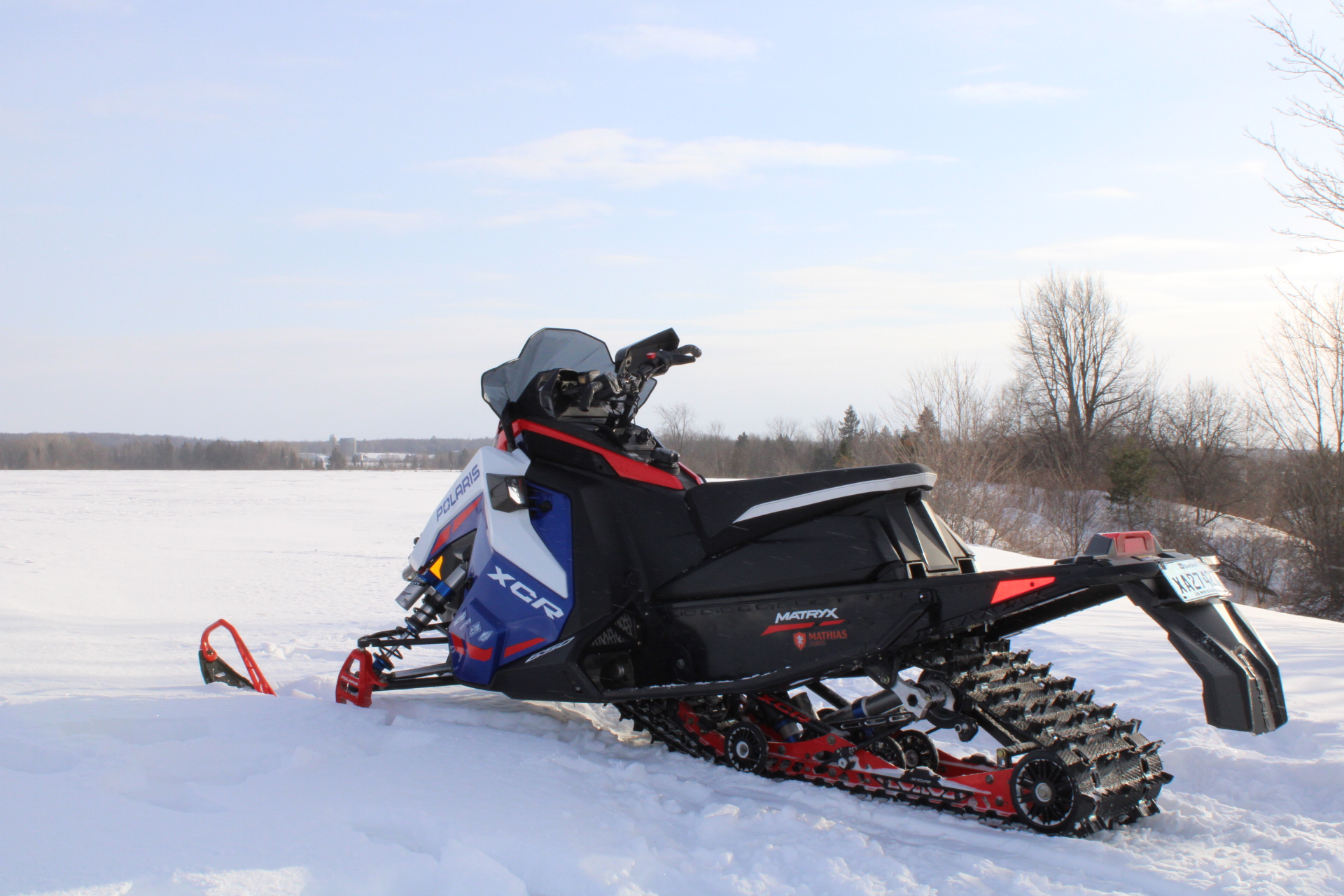 The Matryx chassis was introduced in the 2021 model year. The basic concept then was to make the models narrower at the interface to provide more comfort and control to the rider while lowering and balancing the center of gravity of the snowmobile. Naturally, the Matryx trail models have been outfitted with the best suspension products to allow them to absorb bumps and fly through turns.
If you've enjoyed the AXYS platform over the past few years, you'll love the Matryx. The best features of the AXYS have been captured, such as predictability, while increasing versatility and handling. It's a huge step forward and we're all witnessing a revolution in that regard.
To put it in perspective, I'm almost 6 feet tall and my driving position usually puts my knees in constant contact with the front panels. This platform removes this inconvenience. It's quite a feat from the designers!
Uncompromising handling!
When I sit on the Polaris INDY XCR 650 128 2022, I feel like I have a go-kart in my hands. It's a snowmobile that responds exactly to my instructions and it steers punctually to where I want it to go with accuracy and precision. Its predictability is probably one of its strengths, as it allows us to maneuver with confidence.
The confidence it provides gives us the assurance that we're going to make a turn in the exact groove we had planned. There are no surprises because of its anticipation and predictability. It's almost too easy and too good to be true.
I have a confession to make: when I first saw his seat, I was fearful and suspicious of its comfort. I found it simply too narrow and flat for my preferences. I thought that I was going to be a nuisance and that I would have to stop frequently to rest my rear end. Well, I was dead wrong, because at no time did I suffer any discomfort. In fact, this thought never occurred to me during the hundreds of kilometers I spent on this Polaris XCR.
I would honestly say that the flat surface of this snowmobile's seat is conducive to a sporty ride. It facilitates right-left and left-right movements in a series of curves. This greatly simplifies weight transfer for a better ride, and the seat allowed me to make many turns without letting go of the throttle. My fellow riders were amazed at the maneuverability and speed of a snowmobile that is less powerful than theirs.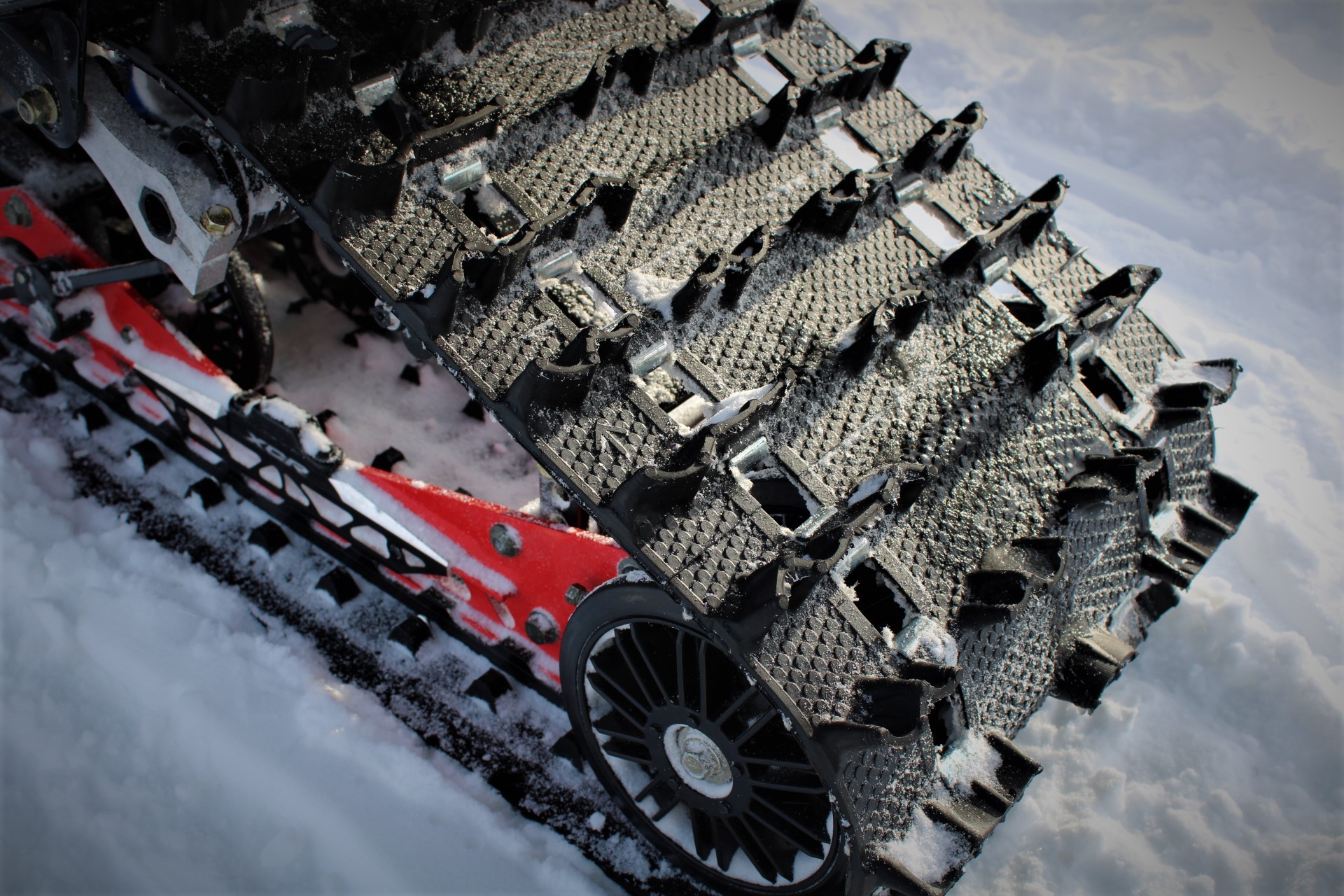 Amazing traction!
I must humbly admit that I was a bit hesitant about the traction of this snowmobile because of the length of its 128 inch track. However, this one is equipped with the optional Camso Cobra 1.6″ and is excellent for all conditions. I quickly realized that it really surprised me and that it provides a lot of rear traction when needed.
The Cobra 1.6 track's flexible, hollow lugs did a good job of picking up snow without causing any vibration or skidding when driving through turns. The raised, snakeskin-like points provided excellent traction on hard trails. The aggressive pattern also caught the attention of other snowmobilers at trail-side rest stops, leading them to inquire about its interesting design.
The only negative to having a 1.6″ Cobra track, is that it will limit the top speed of the Polaris XCR 650 compared to a 1.25″ ICE Ripper XT. If you ask me if I prefer traction or high speed, I would say that a grippy track will definitely get my attention.
The Patriot 650 engine, a real gem!
I will not call this 650cc Patriot engine a missile, as purists will quickly remind me that its 850cc big brother is the master of the trails when it comes to high-level performance. However, if you are on a tighter budget, or simply feel that a snowmobile in the 600-650cc class is more suited to your type of snowmobiler, you simply will not be disappointed.
It's hard to say exactly how much power this Patriot 650 engine has, as Polaris refrains from divulging this type of information. However, we can put it at around 130 -135 horsepower, which makes it an engine that humbly meets the expectations of 95% of snowmobilers.
When buying a snowmobile, we have to ask ourselves: are we going to use it mainly on winding trails or on long straight lines? If you answer to the first option, then this Patriot 650 engine is the one for you.
The new 650 is based on the 850 architecture, essentially being a smaller bore version. The 650 uses the same engine mounting strategy as the 850 for vibration isolation and alignment consistency of the heavy-duty drive belt.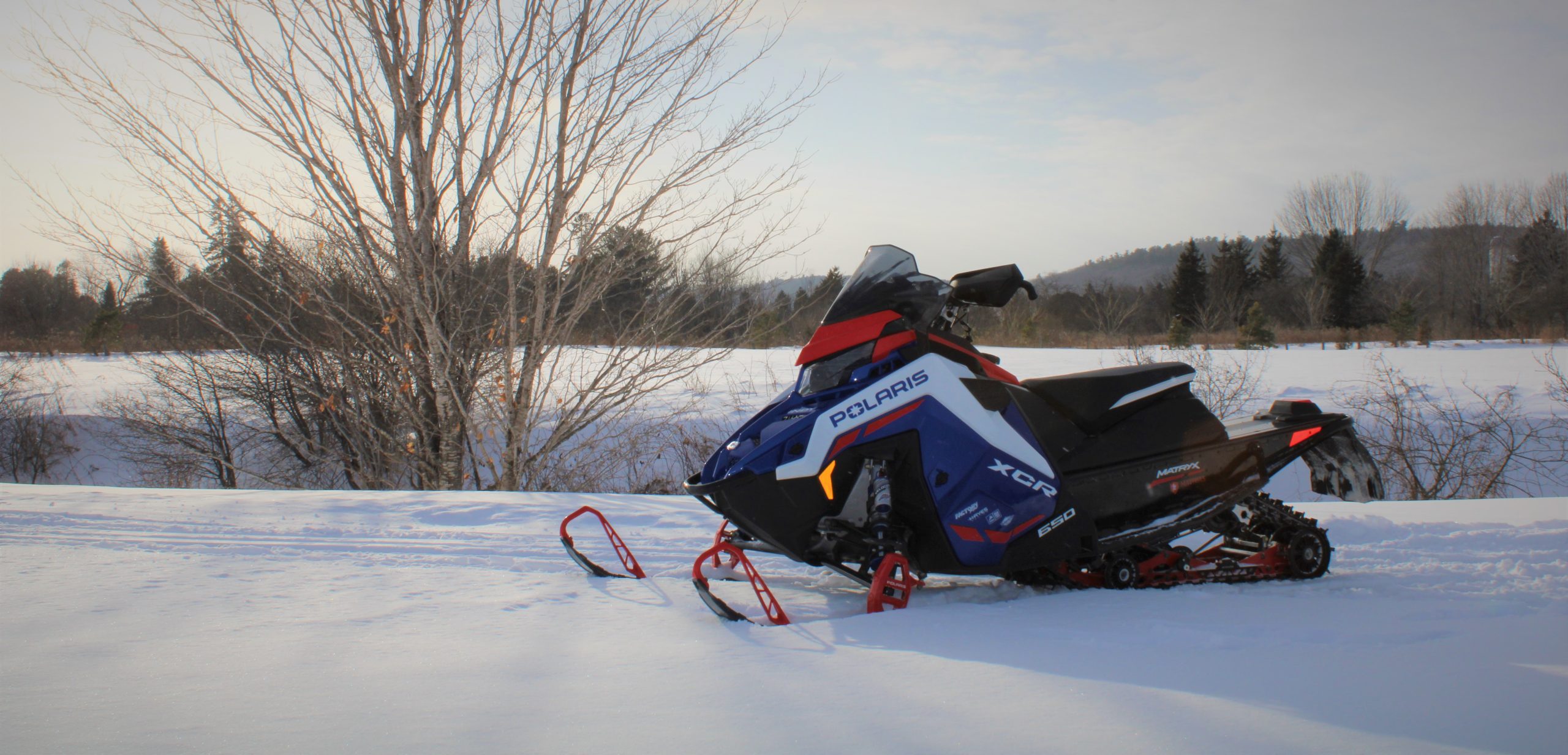 In the process of building a smaller-bore version of its now-proven 850 engine, Polaris has strived to provide many of the advantages that 4-stroke engines offer. Their strategy here is to offer all the advantages of a 2-stroke over a 4-stroke (light, cheaper, reduced complexity) and tune it to offer comparable low- and mid-range fuel economy.
What catches my attention is that it is designed with exceptional durability as well as smooth and quiet operation. Its muffled sound is noticeable to those who are used to it, and it differs greatly from the Patriot 850.
It is calibrated to run best on 87 octane fuel. That's a huge cost savings for drivers who put on a lot of miles. However, even though Polaris claimed fuel economy ratings that were similar to those of a 4-stroke, in my short-term test, I found that these claims did not prove to be correct.
In my defense, I have to say that I have a heavy thumb and I like to have a strong acceleration when coming out of a turn. This is probably the reason why I did not reach the promised fuel consumption targets.
One feature I must point out is the Patriot's radically revised engine mounting system. The difference in shaking of the hood, windshield and handlebars is remarkable. This is the same system used on the 850, and its lack of vibration keeps the 650 in perfect alignment with its clutches and adds a tangible touch of sophistication and refinement.
A suspension to face any obstacle!
When given the opportunity, it allows us to attack a series of bumps with disconcerting ease and we can almost imagine ourselves being at the same level of skill (or almost) of the very famous Polaris rider, Levi Lavallée. This is a snowmobile designed for the more adventurous, and it delivers.
The Pro-CC rear suspension is Polaris' new generation and offers, in my opinion, one of the best handling and ride in the industry. It's very predictable and easy to adjust. The Walker Evans Racing Velocity 2.0-inch adjustable high/low compression shocks can be adjusted more easily and allowed me to set the compression to suit my riding style.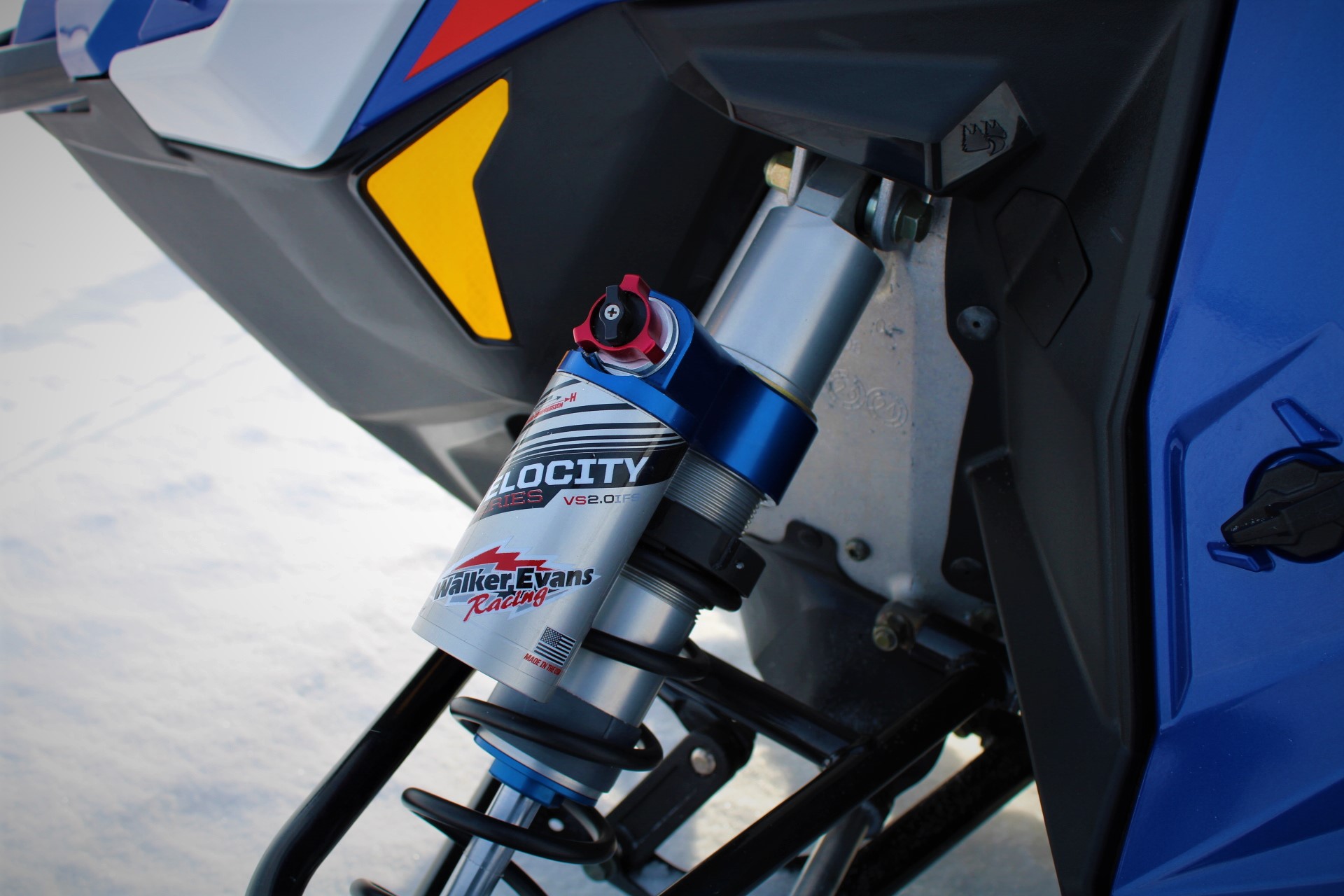 Up front, the Walker-Evans shocks are simply sublime for a rider like me who is looking for accuracy in turns and landing in jumps. They provide the necessary stiffness, and I didn't feel any roll in corners. Also, very surprisingly, this snowmobile has almost no ski lift when turning or accelerating. This is an aspect that adds to the feeling of safety that it provides.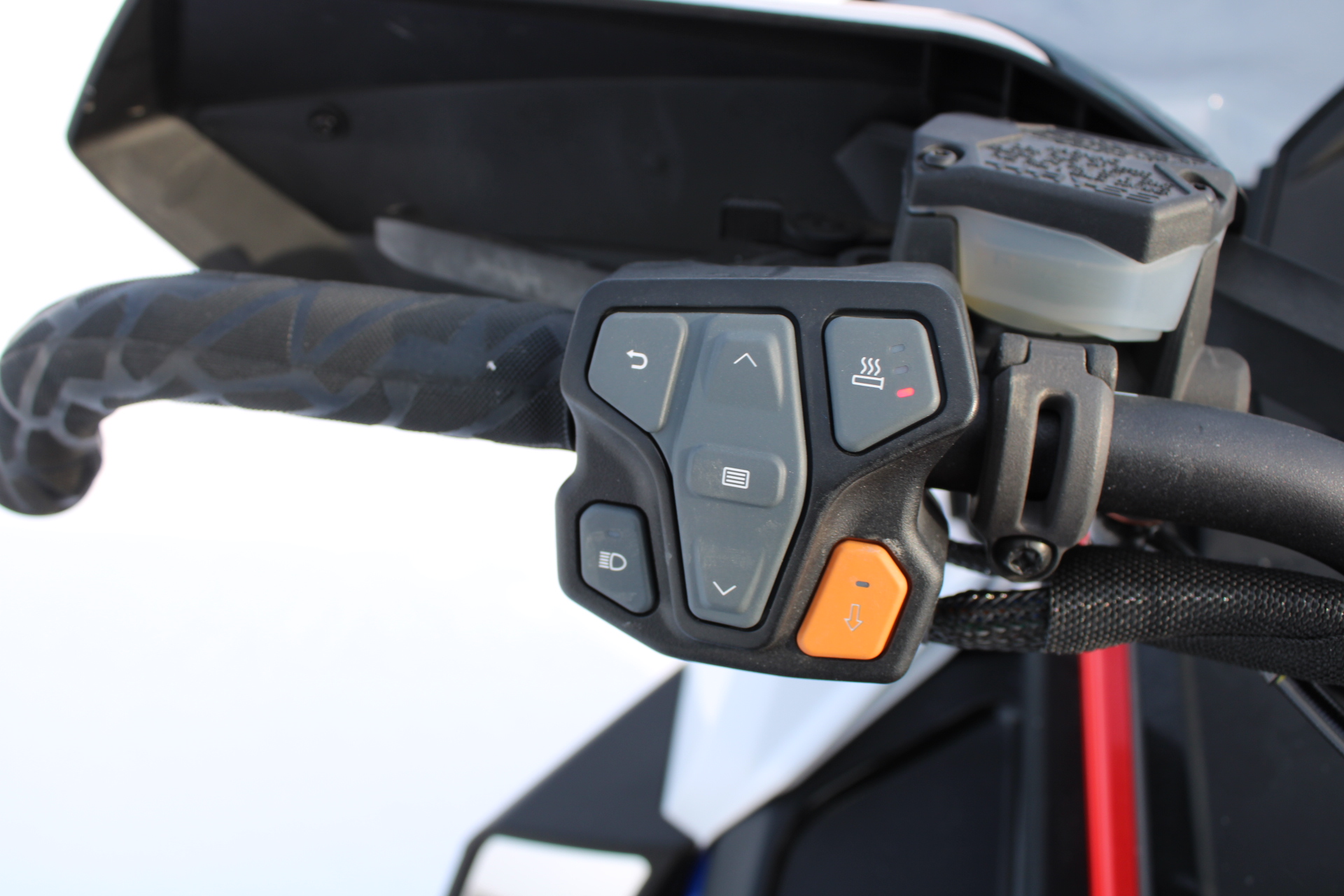 Perfect or almost perfect…
Nothing is perfect in this world and I wouldn't be objective if I didn't suggest a few points for improvement. First of all, since my test model was not equipped with the 7S screen and the new smart hand and thumb warmers, I had to be satisfied with the standard hand warmers with 3 intensity levels. If there is one thing that should be improved, it is the ability to have independent hand and thumb controls for this snowmobile. Moreover, the intensity was constantly at its maximum level and to tell the truth, I have already known more efficient snowmobiles on this point.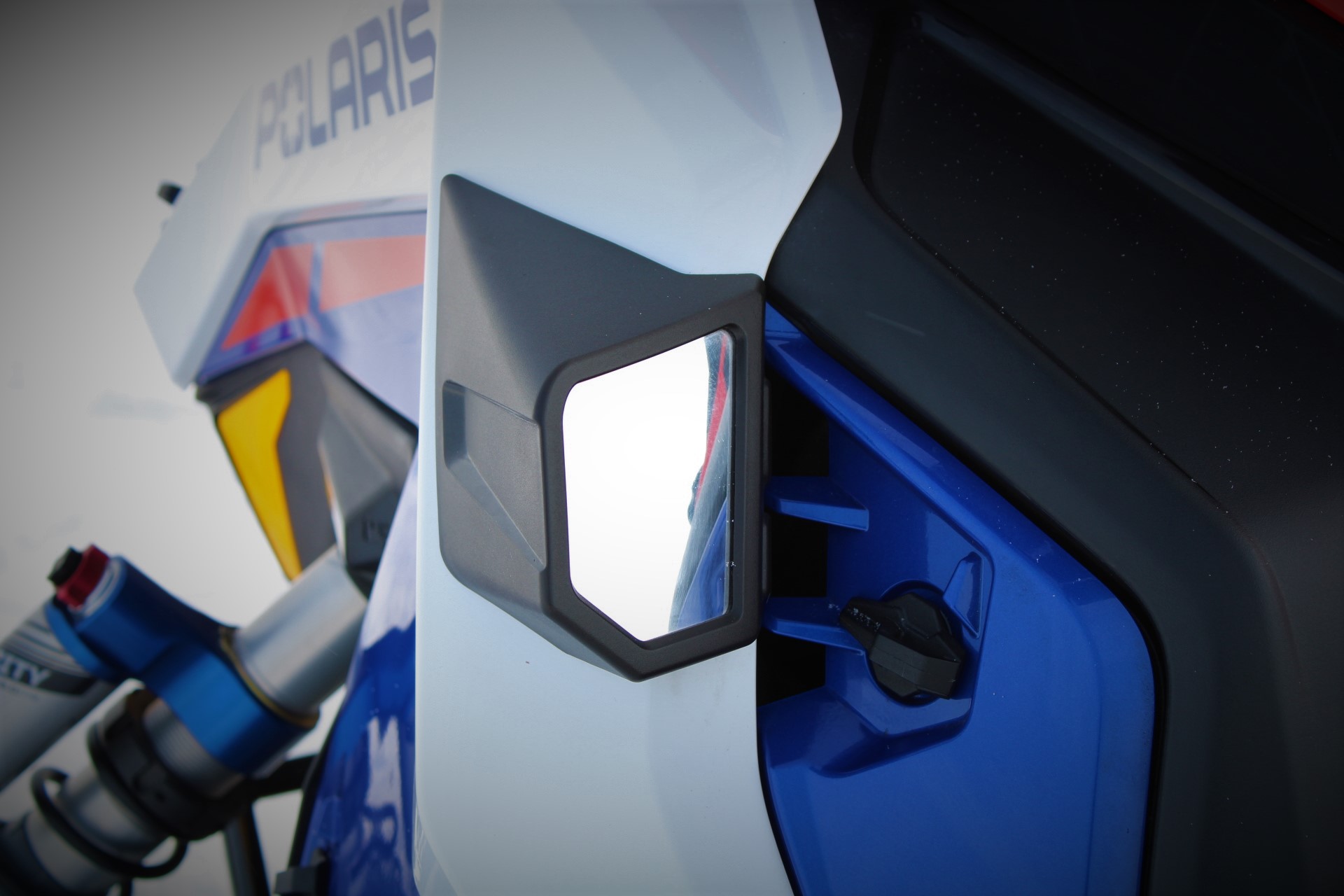 The second point is the positioning of the mirrors. At first glance, we might think that Polaris omitted to install mirrors on this snowmobile until you lower your eyes to the height of the panels. The location of the mirrors is, I admit, aesthetically pleasing, but not practical. Moreover, we are so used to having mirrors at hand level that I was constantly looking for them on this XCR. The safety aspect was simply neglected and I preferred to slow down and turn my head to the back to check on my companions.
In conclusion, this test ride was simply too short and I attracted lustful looks everywhere I went. Those patriotic colors made it impossible to pass incognito and I felt jealous glances and envy from everyone. Isn't it true that Polaris hits the bull's eye with this 2022 INDY XCR 650 128?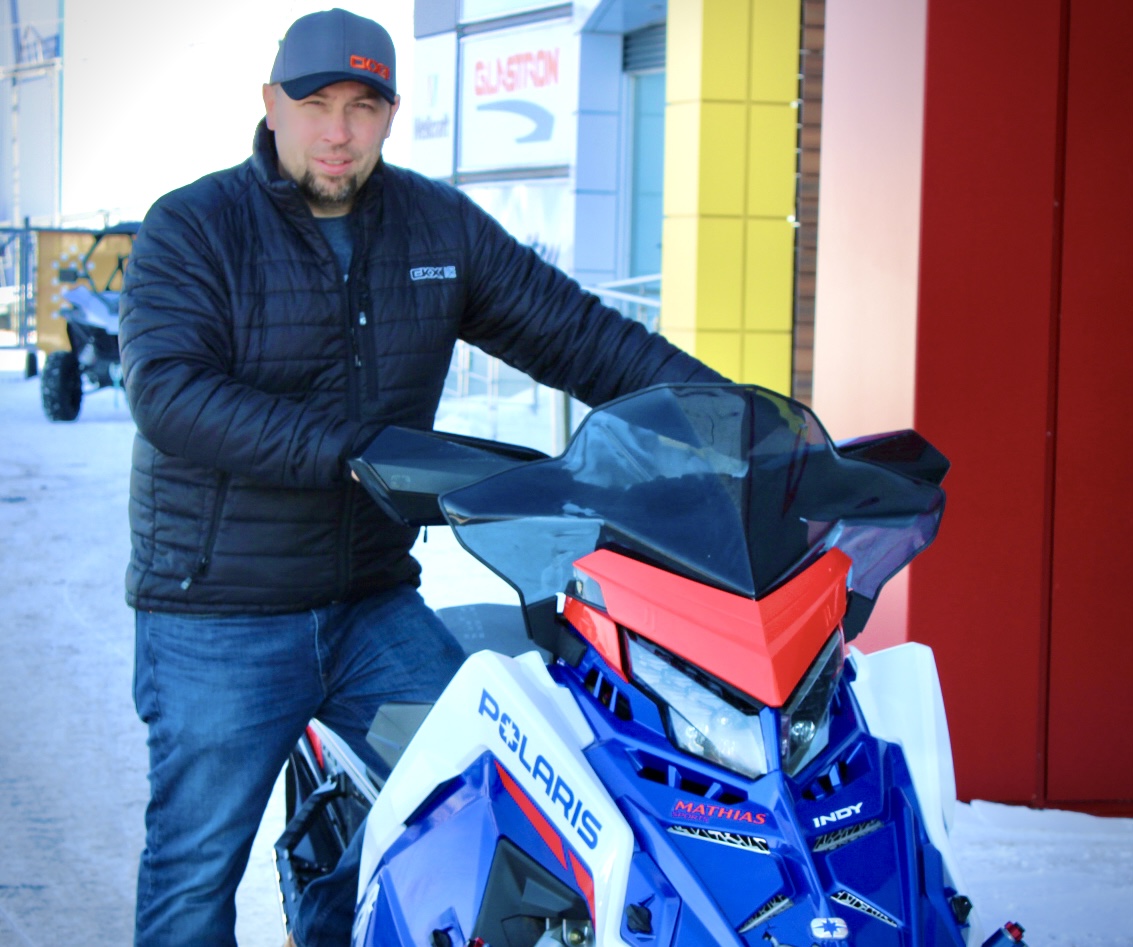 While waiting for the next test ride in collaboration with Mathias Sports, we invite you to pay them a visit when you pass by on Chemin des Patriotes in St-Mathias sur Richelieu, and tell them that I sent you there 😉