It's with great enthusiasm that I have the opportunity to present our pre-ride analysis of the 2021 Yamaha Mountain Max. As it's a new model from the Japanese manufacturer, all the focus is on this truly stunning snowmobile. It's (finally) the return of 2-stroke engines to Yamaha's mountain snowmobile lineup. To give you an idea, the last year that Yamaha was producing 2-stroke mountain snowmobiles, I wasn't even old enough to drive a snowmobile. This will literally be a first for me!
To put you in context, our version will be the 154" with the 2.6" track, a configuration that I personally prefer.
So besides its great look, what will we be focusing on this year? Several aspects, in fact! Naturally, we would like to validate and compare Yamaha's gear adjustments. In previous years, our team had been extremely surprised by the performance obtained with the adjustments made by Yamaha's engineers. The 800cc engine supplied by Arctic Cat is already very powerful and pleasant, and we are looking forward to trying it out with the Yamaha style.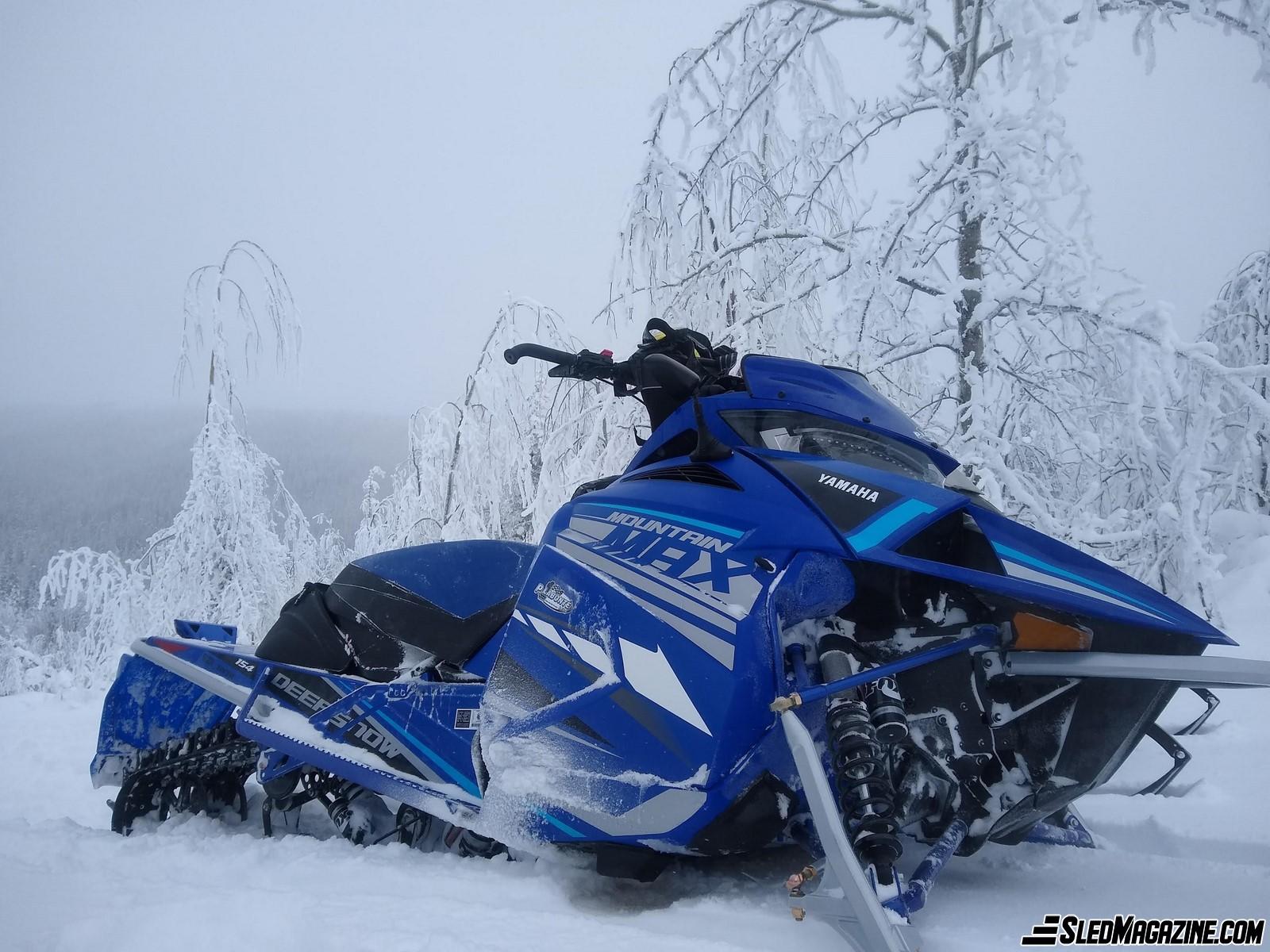 After that, we would like to test the monorail with the QS3L suspension. Remember that the monorail makes it possible, among other things, to avoid snow accumulation underneath the snowmobile. You can also literally put the Mountain Max in the side-hill position with one hand by pulling the handlebars towards you while standing next to it. Not bad, right? It's combined with the QS3 at the front, which should not only allow for a wide range of possible suspension configurations but also allow you to do it without spending ten minutes trying to figure out which way to turn the ratchet. Seriously, this unique and premium suspension package will be the cornerstone of Mountain Max's success in 2021.
Apart from the graphics, the skis also differentiate the Mountain Max from an Arctic Cat. It will be interesting to see if they provide good flotation on the snow and ease of handling on the trail, although we don't expect to do a ton of trail kilometers.
Even if all the reasons are good, the Mountain Max is the one at the top of the list for making me look forward to the deep snow. It goes without saying that it will be a real treat to test drive this new Yamaha beauty. It's really nice to come back to four manufacturers in the mountain sector.
I would like to thank Yamaha Canada and the P. Labonté et Fils dealership in Mont-Joli for making this test drive possible in collaboration with Sledmagazine.com. See you at my mid-season analysis. Have a good start to the season!